CHECK IT OUT: Karnitas Korner at Phil-Am Road, Kapitolyo, Pasig
One word: PORCHETTA
Karnitas Korner
25-A Phil-Am Road, Kapitolyo, Pasig City
Contact: 639-4559
Open daily from 11 a.m. to 2 p.m.. and 6 p.m. to 10 p.m.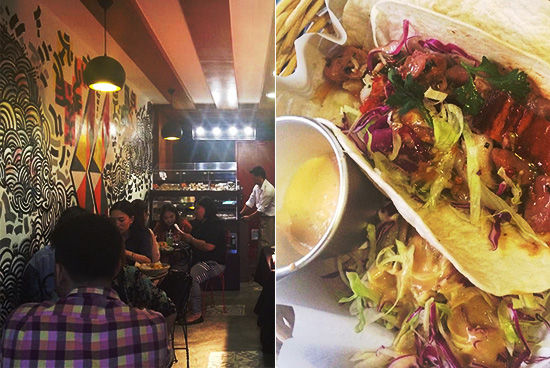 (SPOT.ph) Right smack in the middle of a secluded residential area along Phil-Am Road in Kapitolyo is a 30-seater hole-in-the-wall called Karnitas Korner—the most unexpected gate to a gastronomic journey where you get to enjoy hearty gourmet dishes that put porchetta in the spotlight.
ADVERTISEMENT - CONTINUE READING BELOW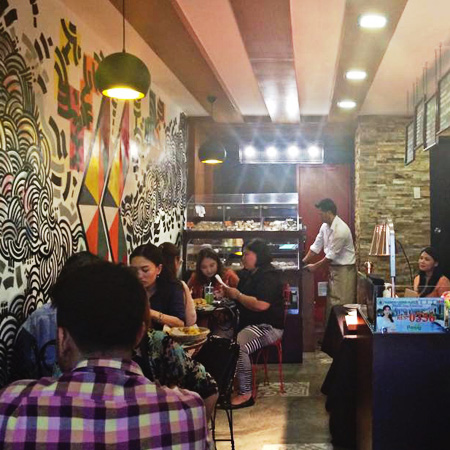 The porchetta joint opened in March 2015, with the aim to be a destination place. Hence, this location. The place is quaint and simple—where modern industrial meets art and color. There is a hand-painted mural on the wall, which was done freestyle, emulating the Karnitas Korner logo.
Carnitas means small pieces of meat—in Karnitas Korner's case, it's the sliced porchetta (their core product) that they add to their dishes. What was initially meant to be a gourmet sandwich joint is now a place that offers rice dishes and other specials to better suit the Filipino palate—which is also why they spell their name with K's instead of C's.
ADVERTISEMENT - CONTINUE READING BELOW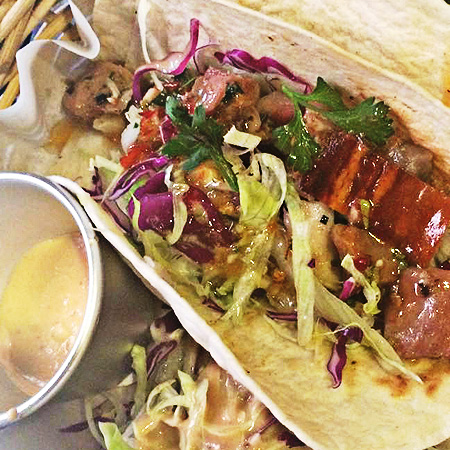 The Porchetta Tacos (P185) are stuffed with herb-roasted corn slaw, crispy pork rinds, sweet chili sauce, with chipotle sour cream on the side for that extra kick. If you're a nacho person, the Porchetta Nachos (P135) is slathered with Tex-Mex Cheese sauce with porchetta bits, mango salsa, and sliced jalapeños. They serve in generous proportions, so best to bring a friend.
ADVERTISEMENT - CONTINUE READING BELOW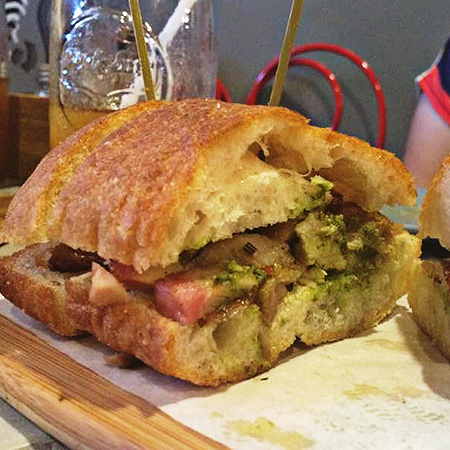 One of their bestsellers is the Porchetta Sandwich (P185)—oven-roasted pork loin drizzled with salsa verde and topped with crispy pork rinds enveloped in ciabatta bread. At Karnitas Korner, the porchetta is heavily seasoned with herbs and are served fresh every day.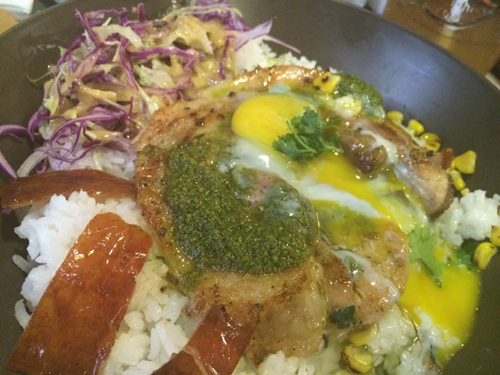 ADVERTISEMENT - CONTINUE READING BELOW
The Porchetta Rice (P185) is another dish that they take pride in—succulent pork loin that's oven-roasted to perfection on top of a generous serving of steamed white rice, soft-boiled egg, and roasted corn slaw. Mix and toss everything around to spread the flavors evenly. To make the meal even more interesting, put a bit of their sambal matah into the dish and enjoy the explosion of flavors that will cause your palate to celebrate.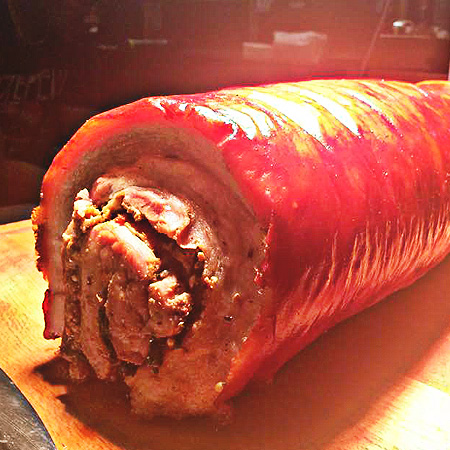 ADVERTISEMENT - CONTINUE READING BELOW
Karnitas Korner wants porchetta to be part of any celebration, may it be a birthday, a promotion, a baby or if you're simply celebrating life. We want the same thing, too. Because just look at that glorious slab!
Recommended Videos
Load More Stories