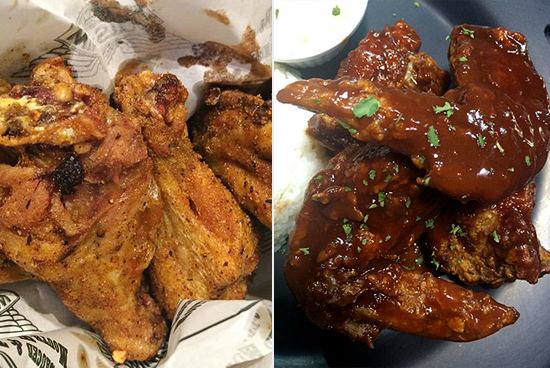 (SPOT.ph) Wings. Sometimes they're on an angel (hopefully, the Victoria's Secret kind), sometimes they're on the plate. Either way, they're both hot, not to mention delicious. The kind of wings we're talking about now won't give you the ability to fly, but they're definitely high on flavor. The good ones anyway, like the ones we listed here. Puns aside, we're sure they'll put you on a heavenly state of bliss.
Roll up your sleeves, put on a bib. It's time to get dirty.
Also read:
Top 10 Buffalo Wings (2011 Edition)
Top 10 Hot Wings (2014 Edition)
All SPOT.ph Top 10 lists are researched, paid for, tested, and selected by the writers and editors. They are discreetly conducted without any notice made to the restaurants or their owners.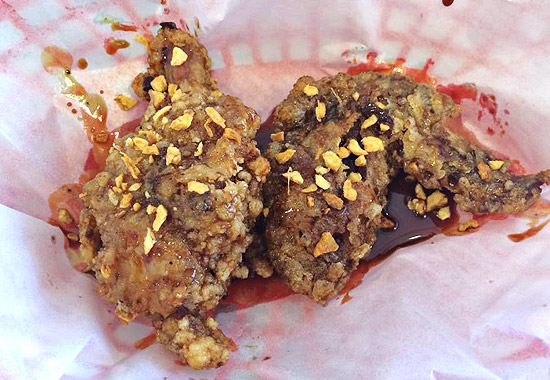 ADVERTISEMENT - CONTINUE READING BELOW
10. Honey Garlic wings (P179/six pieces) from Manila Wings
If you're not a fan of too much sauce and spice, try Honey Garlic wings. It's sweet and garlicky but not the kind that explodes in your mouth—just the right amount to give you the kick that you need, and a crunch in every bite. (It has real garlic bits, too!) The restrained heat makes us want to keep eating and eating!
Manila Wings is at 40 Lilac Street, Hacienda Heights, Concepcion Dos, Marikina City.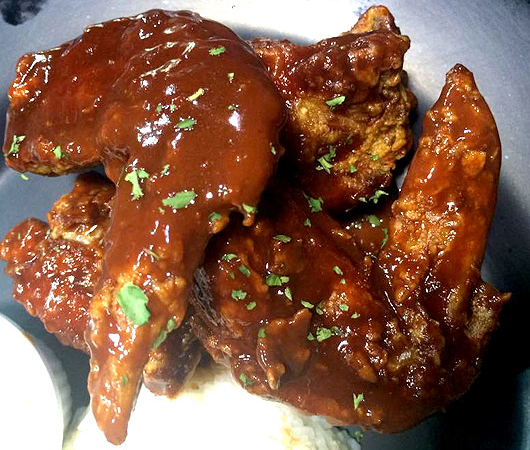 9. Black Mamba (P150/4 pieces) from B Wings
If you're up for something different, this bestseller from B Wings is a treat for your taste buds. Two words: chicken and chocolate. It may sound like an odd combination, but it works. It has a bittersweet mole sauce (that's a chocolate-based sauce used for savory dishes) and chili spices. The cocoa undertone really imbibes a great, deep flavor.
B Wings is at Loyola Heights Condominium, Esteban Abada Street, Quezon City.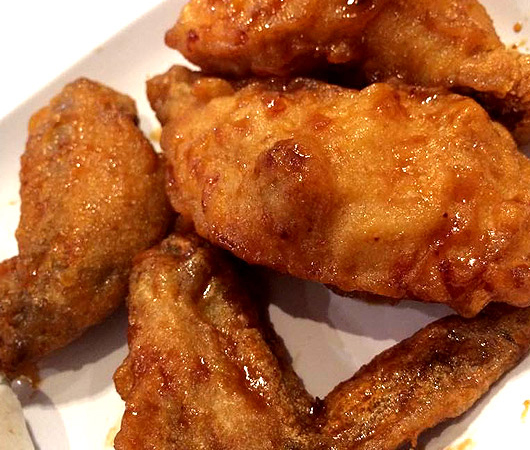 ADVERTISEMENT - CONTINUE READING BELOW
8. Soy Garlic wings (P155/four pieces) from BonChon
A constant BonChon wings comment is that the seasoning is only skin deep, but these wings deserve a spot on our list because, well, there's something about the distinct crunch and sweet-saltiness of this particular flavor that our taste buds can't get enough of. It's the habit-forming soy-garlic glaze (Don't be shy! The servers will indulge you if you ask for extra glaze!), and how it's fried and then flash-fried to achieve the perfect crisp coat.
Click here for a list of BonChon branches.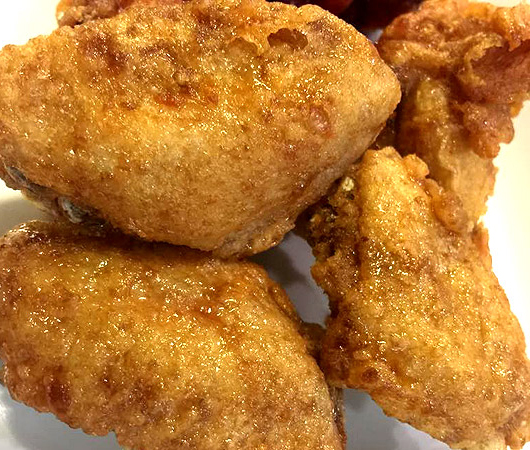 ADVERTISEMENT - CONTINUE READING BELOW
7. Original Series (P149/five pieces) from Kyochon
Their Red Series is a must-try, but if you're chickening out (pun intended) because the bright red hue is from Korea's hottest chilies, the Original Series is your best bet. Double-fried to get that golden crisp, these give pieces will leave you wanting more. It's also wonderfully buttery.
Kyochon has branches at UG/F, SM Megamall Building B, Mandaluyong City; and Theater Mall, Greenhills, San Juan City. Read more about Kyochon.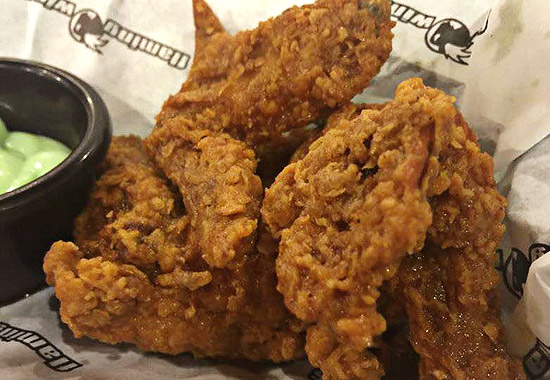 ADVERTISEMENT - CONTINUE READING BELOW
6. Original Buffalo Wings (P150/3 pieces) from Flaming Wings
Fried to technical perfection, the skin on Flaming Wings' wings is the kind that sticks to the meat even with the biggest, most carnivorous bite. These medium-sized babies, inspired by the original New York recipe, promises tastiness and juiciness with every bite. It has the perfect balance of tart and heat.
Click here for a list of Flaming Wings branches.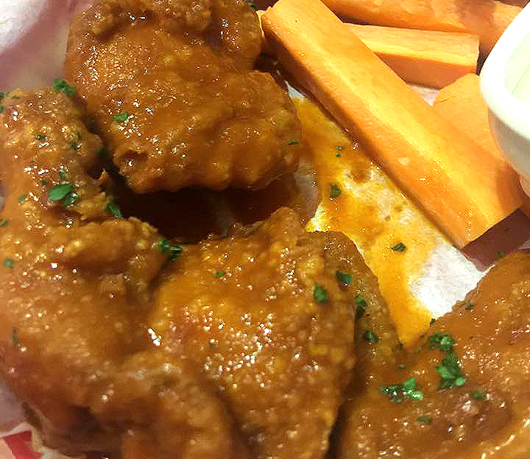 ADVERTISEMENT - CONTINUE READING BELOW
5. Classic Buffalo wings (P200/six pieces) from Wingman
Equal parts spicy and tangy, the Classic Buffalo wings from Wingman are consistently juicy and crispy-fried. They're customizable, so you can choose the level of spiciness that you can take—medium, hot, apocalyptic, or inferno (we recommend hot to get really even flavors from every element). It comes with carrot sticks and a ranch dressing on the side, too!
Wingman has branches at The Collective, Malugay Street, Makati City; and LG/F Casa Real, Acacia Estates Town Center, Acacia Avenue, Taguig City.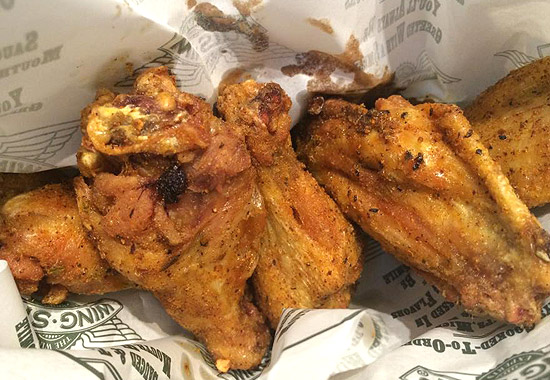 ADVERTISEMENT - CONTINUE READING BELOW
4. Louisiana Rub (P235/5 pieces) from Wingstop
This dry rub lets crispiness take the spotlight. The perfect blend of tangy seasonings and spices seeps into the meat which is evident in every bite. We also can imagine each wing being rolled on barbecue powder. The result? A bowl of bones licked clean and dry and satisfied taste buds.
Click here for a list of Wingstop branches. Read more about Wingstop.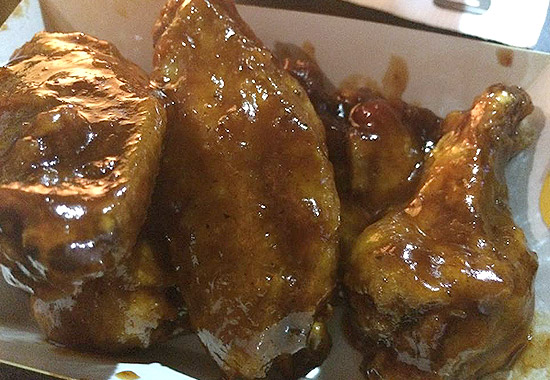 ADVERTISEMENT - CONTINUE READING BELOW
3. Honey BBQ (P295/five pieces) from Buffalo Wild Wings
These pieces kind of play with your head a little. Are they really wings or ribs? The thick honey barbecue sauce layers a flavor on the chicken that reminds us of ribs. It doesn't really matter though. The flavors are there, and they're great. If you like your wings sweet, spicy, and smoky, then head over to Buffalo Wild Wings now.
Buffalo Wild Wings is at G/F Estancia Mall, Capitol Commons, Pasig City. Read more about Buffalo Wild Wings.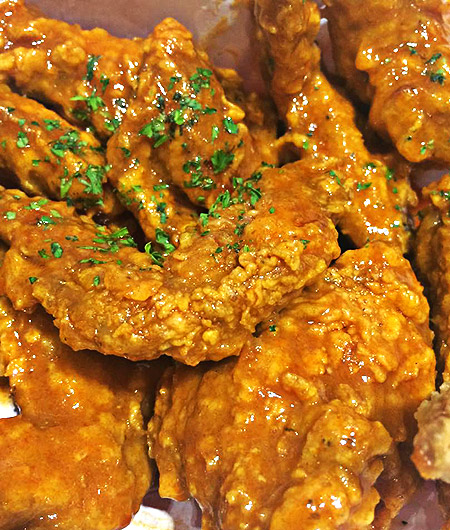 ADVERTISEMENT - CONTINUE READING BELOW
2. Classic Buffalo Wings (P188/six pieces) from Frankie's
Their crispy wings are doused in a sauce that embodies the definition of tangy—but with a kick of heat. You will find yourself gnawing at wing after wing after wing until you've gotten every tasty morsel. Then you'll be waving your hand at the waiter for more. We could eat this forever, if our wallets didn't give us limitations.
Frankie's has branches at G/F City Golf Plaza, Doña Julia Vargas Avenue, Pasig City; and 5/F SM Mega Fashion Hall, Mandaluyong City.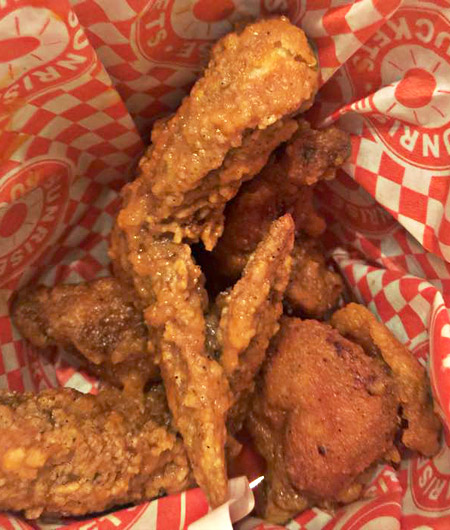 ADVERTISEMENT - CONTINUE READING BELOW
1. Original wings (P175/four to five pieces) from Sunrise Buckets
Crispy and buttery (the really, really good kind), we can't help but wonder if Sunrise Buckets fries their wings in golden butter instead of oil. Let it be so! That decadent flavor seeps well into the meat, and it gives off a whisper of heat that builds as you make your way through the basket. For its consistency, affordability, and the cool use of butter, it's obvious why Sunrise Buckets is on top in this round.
Sunrise Buckets has branches at The Grove By Rockwell, C5, Pasig City; and Madison Square, Madison Street corner Ortigas Avenue, Greenhills, San Juan City.
Also read:
Top 10 Buffalo Wings (2011 Edition)
Top 10 Hot Wings (2014 Edition)
Share this story with your friends!
---
Help us make Spot.ph better!
Take the short survey
More Videos You Can Watch
Load More Stories