New Restaurant Alert: The Tasting Room at Crown Towers, City of Dreams, Paranaque
Let Michelin-starred chefs show you how it's done.
The Tasting Room
G/F Crown Towers, Parañaque City
Contact: 800-8080
Open daily from 6 p.m. to 11 p.m.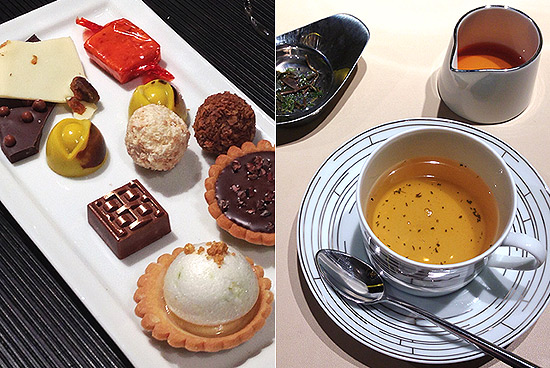 (SPOT.ph) Tasting menus, though a longtime fixture in fine-dining culture, have become popular in Manila in the last few years. And about time, too; they are a great way to experience the best that a restaurant has to offer, without being too heavy on the stomach.
ADVERTISEMENT - CONTINUE READING BELOW
This is what drives The Tasting Room, the Crown Towers dining spot which shares the same name as Chef Guillaume Galliot's Michelin-starred restaurant at City of Dreams Macau. The restaurant enables diners to create their own menus from five to eight courses and pair them with select wines and whiskies.
Behind The Tasting Room in Manila is Chef William Mahi, previously Chef de Cuisine Assistant to one of France's most celebrated chefs, Christian Tetedoie. Mahi has 19 years of industry experience; he was recognized as "Meilleur Apprenti de France" (Best Apprentice of France) at age 16, and has worked in one-, two-, and three-Michelin star restaurants all over the globe. He has received numerous awards, including a Gold Medal as one of the Best Apprentices of France in 1998, Best European Restaurant for LAN Club Shanghai in 2010 by Shanghai Travel and Leisure, Best Hotel Restaurant in Turkey for Gaja Restaurant in 2012, and two stars in the Michelin Guide in 2014. His menu boasts a selection of imaginative, exquisitely constructed dishes that demand that they be tried. Here's an example:
ADVERTISEMENT - CONTINUE READING BELOW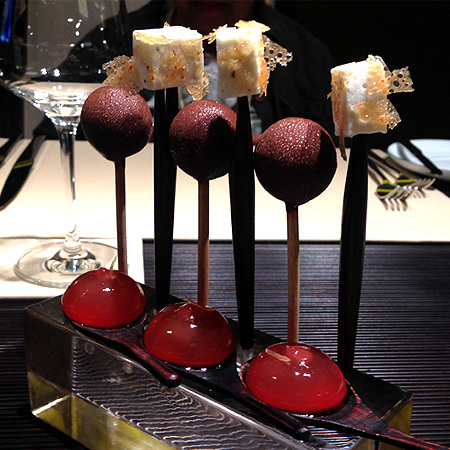 All meals start with the amuse-bouche, a decadent trio that sets the tone for the rest of the evening: cubes of goat cheese with pork flakes, chocolate-covered foie gras lollipops, and limoncello jelly; all of them bite-sized, to tease the appetite.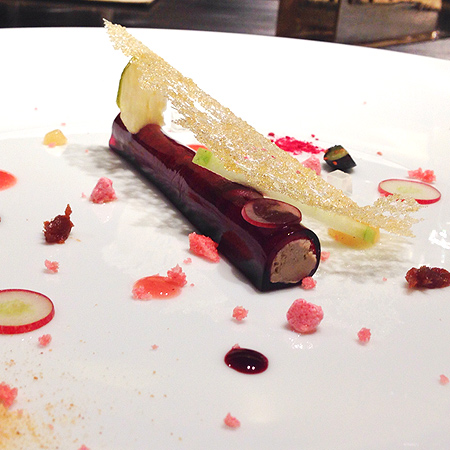 ADVERTISEMENT - CONTINUE READING BELOW
The duck liver terrine, cigar-shaped and encased in spicy red wine jelly and served with port wine sauce, is complemented with flavors of cinnamon, apples, strawberries, pear, and honey. The dish tastes as delicate as it looks, the jelly balancing the liver's richness, while the bits that dot it add contrast.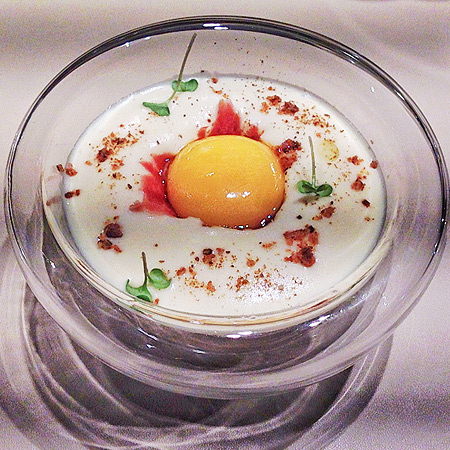 ADVERTISEMENT - CONTINUE READING BELOW
The 52-degree egg is a favorite and a must-try: an egg, cooked in 52 degrees for an hour, is poured on a strip of Iberico ham that rests on a bed of potato mousse. The dish is luscious, with a silky mouthfeel that coats the tongue.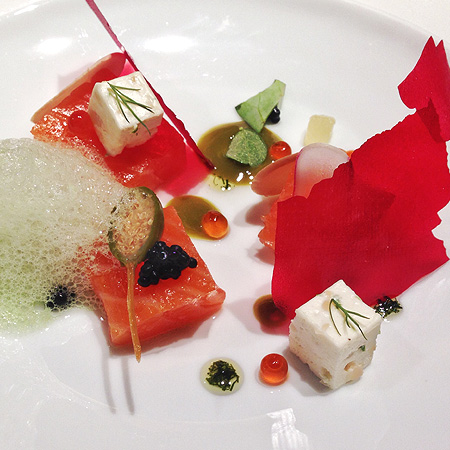 The homemade smoked Norwegian salmon is fun to eat, the assemblage of capers, cheese, beet sheets allowing you to match flavors, the celery foam purposely obscuring a lone clam, which adds a pleasant surprise.
ADVERTISEMENT - CONTINUE READING BELOW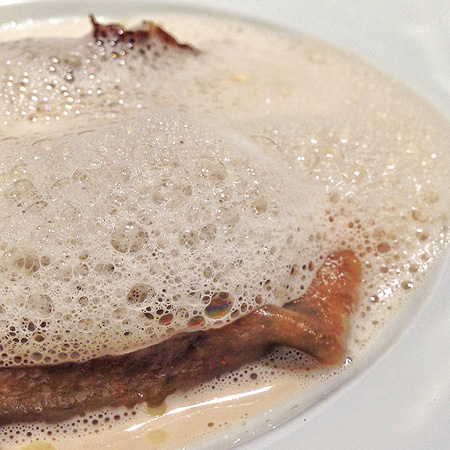 The ravioli is another crowd-pleaser; stuffed with mushrooms, topped with cappuccino foam, and finished with truffle powder, it is both simple and decadent.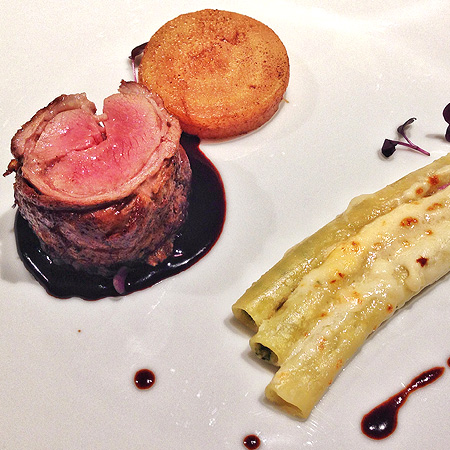 ADVERTISEMENT - CONTINUE READING BELOW
The French lamb saddle, with lemon confit, turnip, pine seeds, and rosemary, served with stuffed macaroni and roasted daikon, is tender and subtly flavored; a fitting ode to the animal whence it came.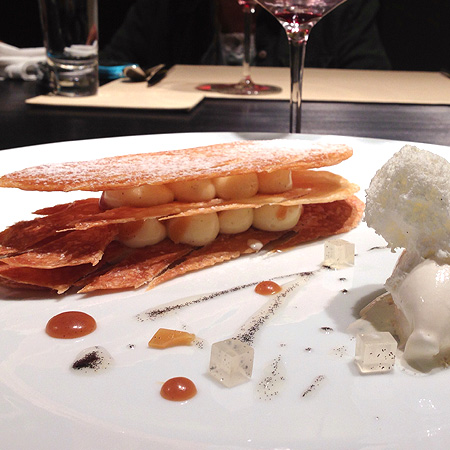 Finish with a mille-feuille, the classic French dessert paired with vanilla ice cream, a nod to the chef's heritage.
ADVERTISEMENT - CONTINUE READING BELOW
Rates are P3,200 for five courses, P3,600 for six, P4,200 for seven, and P4,500 for eight. The restaurant has set course menus specially designed so that guests experience the best combination of dishes. As The Tasting Room's restaurant manager Damien Planchenault says, the order in which the dishes are served are just as important to the diner's enjoyment as the way they taste; he will gladly help pick and choose a personalized menu for those who request for one.
For something extra special, drop by The Tasting Room from May 19 to 23, and experience the cuisine of both chefs Christian Tetedoie and William Mahi. The dinner will be limited only to 50 guests per evening and will feature a six-course degustation. "The dishes that William and I (are) preparing for our guests is a combination of two different personalities, two different sensibilities, and also a mix of two generations," Chef Christian says. The event, which features two Michelin-starred chefs, is priced at P4,888++ per person and is available for reservations only.
ADVERTISEMENT - CONTINUE READING BELOW
Recommended Videos
Load More Stories