CHECK IT OUT: Ba Noi's Caphe at Kapitolyo, Pasig
Vietnamese coffee and sandwiches, coming right up.
Ba Noi's Caphe
8 East Capitol Drive, Kapitolyo, Pasig City
Contact: 477-9761, 0923-515-8242
Open daily from 11 a.m. to 12 a.m.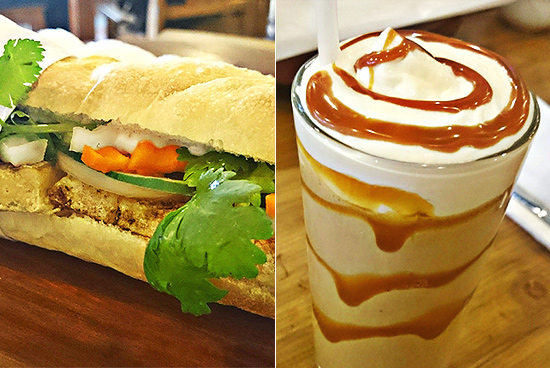 (SPOT.ph) The pho is always a worthy proposition at Ba Noi's, which has established itself to be a reliable source for this brand of Southeast Asian fare. Even on a hot day, the Pho Hai San (P260/regular, P410/large), a less obvious but equally desirable choice after bestsellers like the beef and chicken, is an exciting slurp-to-the-last-drop-and-noodle experience. It's seafood—a mix of shrimp and squid—with flavors that are frank but tame. If you were to have soup in the summer, this would be it.
ADVERTISEMENT - CONTINUE READING BELOW
This Ba Noi's may be the fourth outlet, but if the UP Town branch goes for the student-centered crowd and the getaway in Makati pushes to be that hidden gem, Kapitolyo is decidedly cozier in its approach. It fills the gap left by other cafes in presenting the Vietnamese coffee tradition. At Ba Noi's Kapitolyo—really Ba Noi's Caphe—you sit, linger, and sip.
As with any cafe-styled establishment, the coffee at Ba Noi's Caphe is a must-try. Owner Dodjie Violago, a long-time coffee lover himself, swears by their bold brews served in three Specialty Blends (P120/cup): an original, as well as Breakfast and Afternoon, each with varying degrees of potency backed with a smidgen of sweetness. You can get them via pour-over coffee or cold.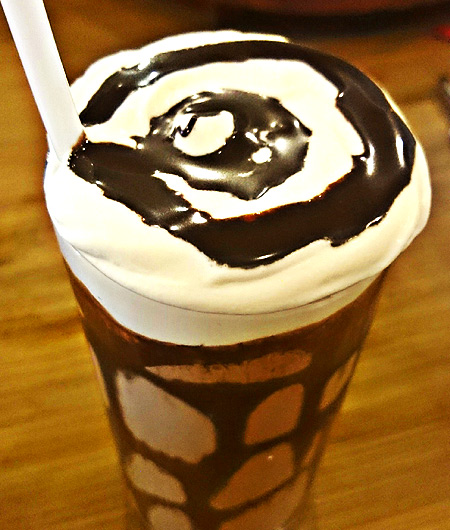 ADVERTISEMENT - CONTINUE READING BELOW
Mocha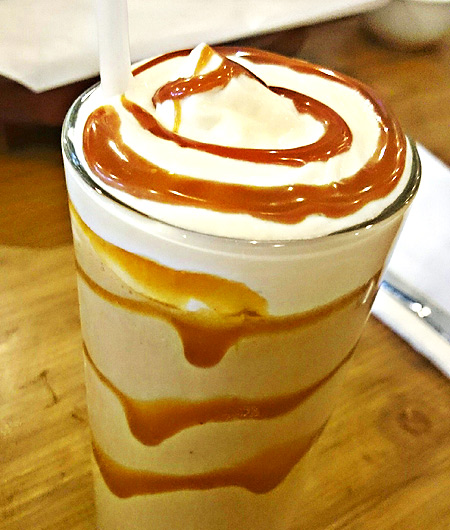 Caramel
The iced blends boast more intricate profiles. The deep, pleasantly bittersweet flavors aren't masked by sugar. Rather, it's a perfect complement of profiles. The Iced Vietnamese Blended Mocha (P150) is a punch of coffee and (Ghirardelli) chocolate; the homemade whipped cream—which threatens to overflow with every swish of the straw—flaunts just a kiss of sweetness. Even the weakest sweet tooth would be weak-in-the-knees over the Iced Vietnamese Blended Caramel (P150). It's a light, frothy mixture that's conversely light on the punch but just as heavy on impact.
ADVERTISEMENT - CONTINUE READING BELOW
The coffees are available in all other Ba Noi's branches, which makes the banh mis at Caphe extra special. Their special freshly baked baguettes, narrow things with a fluffy garlic-butter-tinted marrow and a crackling golden-brown crust, are served plain in the three other outlets, but it's here where they get special embellishment.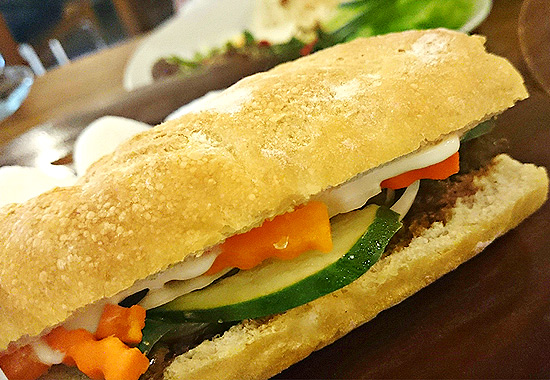 ADVERTISEMENT - CONTINUE READING BELOW
Banh Mi Than Bo (P220)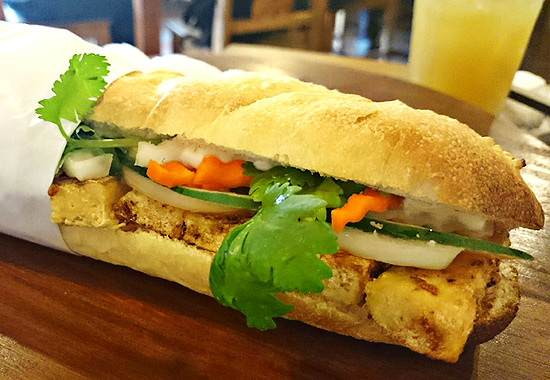 Tofu Sandwich is actually good
Caphe features a set of five—fillings derived from their more popular entrees. The sandwich version of the crowdpleasing Bo Luc Lac (P350) shreds those delectable cubes of stir-fried beef tenderloin to create a neat and compact hand-held meal. Tofu makes up the Dau Hu Xa Ot (P140). It's not the most common sandwich material, but Ba Noi's proves that with the right supporting elements, you could boost even the quietest of profiles. Here, the tofu is cooked with lemongrass while peanut sauce perks up the taste.
ADVERTISEMENT - CONTINUE READING BELOW
All of Ba Noi's banh mis contain soy chili sauce, onions, cilantro, pickled vegetables, and sriracha (go on, ask your server for extra helpings of the spicy stuff!). Their homemade liver pate—another mainstay ingredient in traditional Vietnamese sandwiches—slathers on that lively richness (sure, ask more more of that, too!).
The sandwiches are already available in store, but they will officially be launched today, May 11. Caphe is offering a second Banh Mi for half price until supplies last.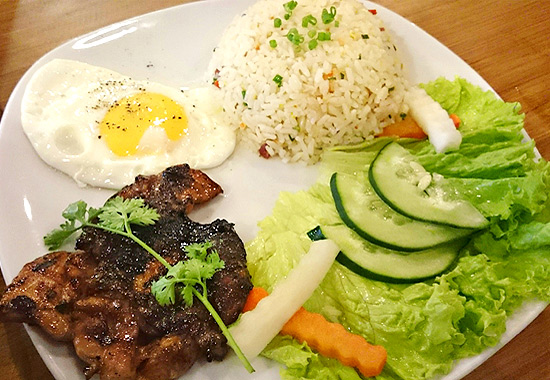 ADVERTISEMENT - CONTINUE READING BELOW
Ga Nuong or grilled chicken in lemongrass sauce (P130)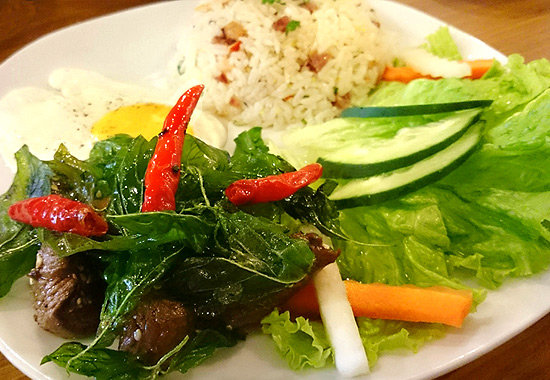 Bo Luc Lac (P190)
The new full-plated meals complete the Caphe's goal of becoming an actual cafe. Their short-order style allows them to match the menu's established favorites (the pork riblets, stir-fried beef, and grilled chicken) with rice, egg, and a little side salad. A Vietnamese version of breakfast, if you will.
ADVERTISEMENT - CONTINUE READING BELOW
Whether you want to sit and stay or eat and run, grab a plate and call it a day at Ba Noi's Caphe.
Recommended Videos
Load More Stories