New on the Menu: Perfect Pint's Tuna Testicles, Bibim-dog + more
Bring out the flavors of craft beer with unexpected dishes.
The Perfect Pint
2/F Crossroads Building, 32nd Street, Bonifacio Global City
Contact: 823-1320
Open daily from 11 a.m. to 2 a.m.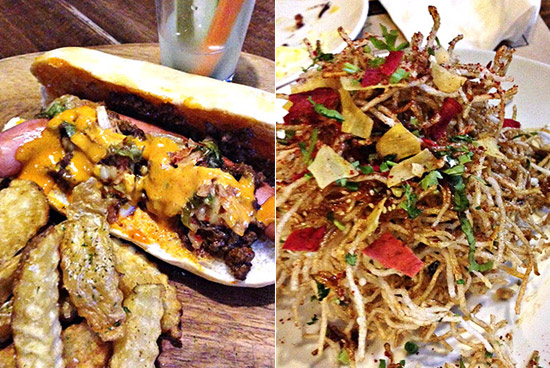 (SPOT.ph) A few short years ago, no one would have guessed that Filipinos would be willing to spend over P200 for a bottle of cerveza, but that all changed with The Perfect Pint, a Bonifacio Global City gastropub that recently celebrated their first anniversary.
ADVERTISEMENT - CONTINUE READING BELOW
"Fresh is best" is the The Perfect Pint's philosophy, and their small-batch beers, which boast complex flavors and alluring aromas, are worth the price. When pub opened in April 2014, only a handful of local craft beers were available. Now, customers are spoiled for choice provided by Turning Wheels, Joe's Brew, Crows Brewing Company, Great Islands Craft Brewery, Baguio Craft Brewery, Katipunan Craft Ales, and many more. The restaurant also offers their own signature brews.
This commitment to promoting local craft beers has made them the número uno purveyor of the stuff, serving close to 70 brands of fresh local artisanal beers on tap on their first year alone.
But their obsession with flavor doesn't end with the beer, which is where Chef Gene Gonzalez, his son Chef Gino, and Chef Toto Erfe come in to develop a food menu that pairs well with their brews. The elder Gonzalez has been doing wine and food pairings in Cafe Ysabel before it was even fashionable, so this is right up the team's alley.
ADVERTISEMENT - CONTINUE READING BELOW
Combinations like the Stinky Pizza and the Pihvo Weizen are already customer favorites, but it was only fitting that, after the first year, it was time to expand the menu.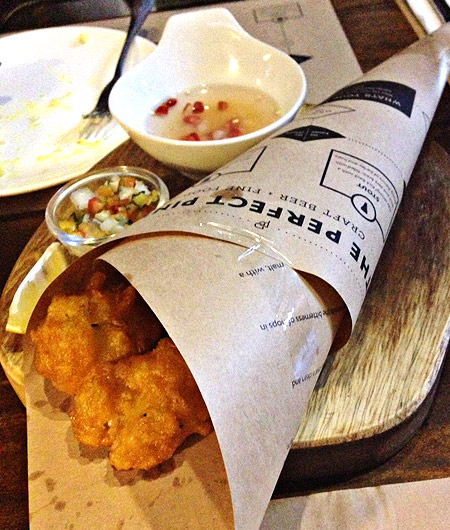 Tuna Tenders
A new favorite would be the Tuna Tenders, a glorious opening act that definitively set the tone for the rest of the evening. By the way, by "tenders" they mean succulent chunks of tuna testicles. Battered and fried, the dish looks innocent enough, but after biting into the crispy morsels you will be pleasantly surprised by the soft, creamy texture. The flavor is briny yet buttery—like foie gras, but seafood—which goes well with the tropical appeal of the home-brewed Hoppy Road.
ADVERTISEMENT - CONTINUE READING BELOW
After that mind-blowing entry, the Gonzalezes simmer things down with something more familiar—Corned Beef Flakes. The corned beef is prepared in-house so the kitchen can make sure that it's not too salty. This will definitely hit the spot early morning (or really late at night) after a few drinks. Some runny eggs and garlic rice on the side wouldn't hurt at all.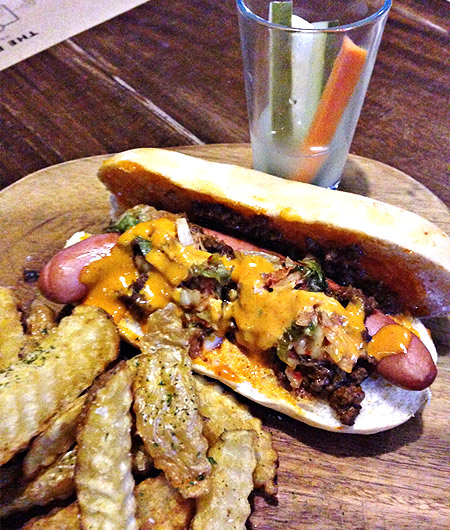 ADVERTISEMENT - CONTINUE READING BELOW
Bibim-dog
Sticklers for spice would be obsessed with the Korean Chili Dog or "Bibim-dog," says the cheeky Chef Gene. On first bite, you get classic chili dog flavors, which are then eclipsed by the tangy heat from kimchi.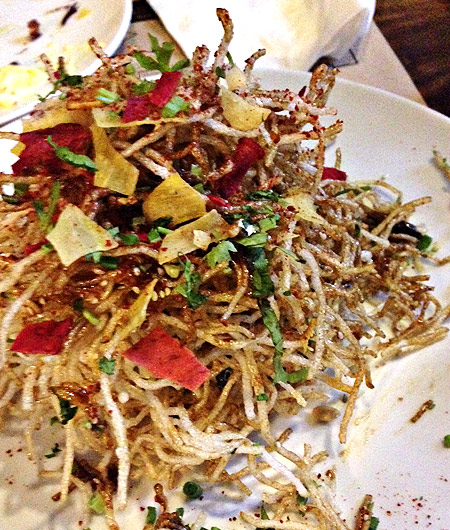 Medusa
Entrancing Asian flavors come with the Medusa—a crispy noodle dish with Thai influences. The sweet and sour note from the tamarind sauce is a good balance to the saltiness from the dilis and the zing from cilantro. It's absolutely addicting and perfect with some of the more aromatic craft beers available.
ADVERTISEMENT - CONTINUE READING BELOW
Every good meal ends with dessert, and The Perfect Pint has two new ones. A smooth coffee panna cotta with some robust Baguio Craft Brewery chocolate stout was more than enough to be a fitting conclusion. However, the banana fritters ala mode definitely stole the show. A splatter of salted egg yolk cream adds texture and just a whisper of saltiness, making for a complex and satisfying dish.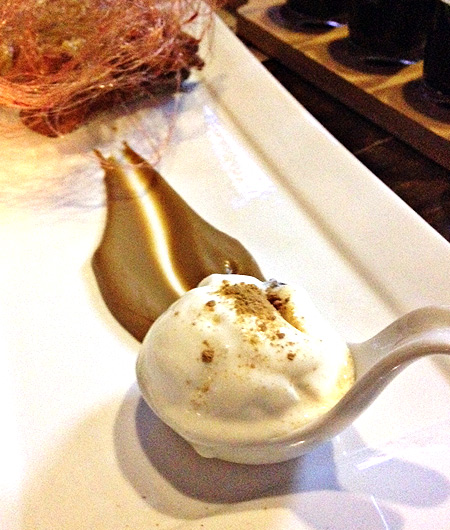 ADVERTISEMENT - CONTINUE READING BELOW
Banana fritters a la mode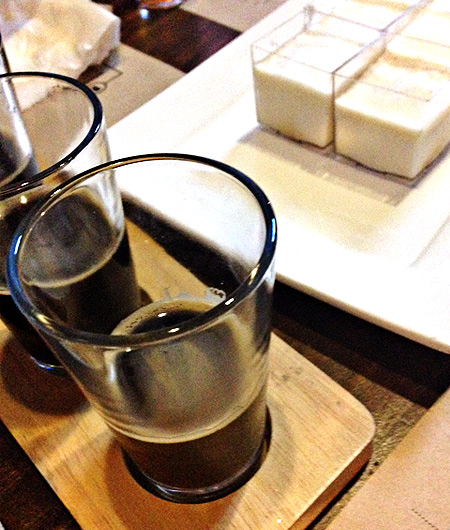 Chocolate stout and panna cotta
Judging from their first year of operations, The Perfect Pint's pioneering efforts in promoting local craft beer is quickly gaining ground. This proves that excellent quality is rewarded, which, hopefully, encourages local craft beer producers to keep improving their, er, "craft" (sorry, we couldn't help ourselves).
ADVERTISEMENT - CONTINUE READING BELOW
Prices are currently unavailable.
Recommended Videos
Load More Stories