10 Must-Try Super Spicy Dishes in Manila
Heat up the final traces of summer with food that will make you cry.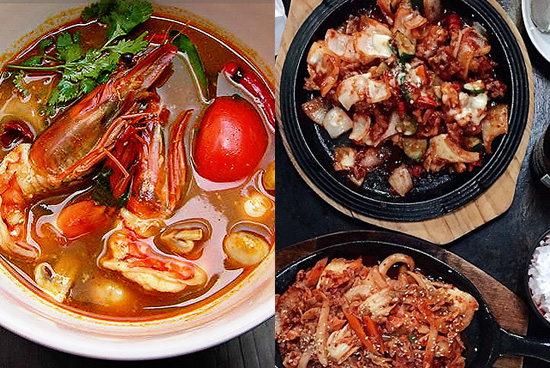 (SPOT.ph) Some people like their food hot, a chili-sauce, chili-flake-peppered heat. Every time their order arrives, they're quick to request hot sauce or extra chillies. Others like their food super hot, a tears-rolling-down-your-face, did-you-just-watch-John-Lloyd-films heat. If they can eat chili peppers raw, they would. They don't go for a prickle, they actually enjoy the tongue-searing sensation of a painfully hot dish. This list is for those in that special second category (mild spice lovers, read this spicy run-through.
ADVERTISEMENT - CONTINUE READING BELOW
We hunted down the spiciest dishes in the metro. Are you up for the hot, hot challenge?
Also read: Your Spicy Food Bucket List: 10 Hot Dishes You Should Eat in Manila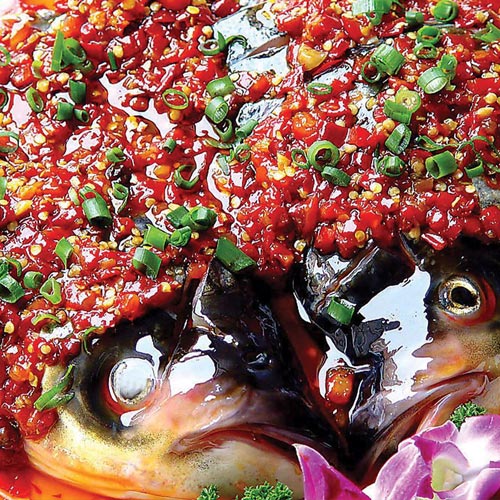 Mao Jia Hunan Cuisine's Steamed Chili Fish Head (P380)
There's nothing quite like the heat of authentic Hunan cuisine, and these types of specialized restaurants aren't easy to come by in Manila. Thankfully, there's Mao Jia, the perfect hole-in-the-wall that gives a rather fiery and stunning introduction to the super-spicy side of Chinese cuisine. Their Steamed Chili Fish Head is a dish that will shock your taste buds. A blanket of chili covers two fish heads, and the stinging fire will have you wondering whether this dish could be any hotter.
ADVERTISEMENT - CONTINUE READING BELOW
Mao Jia Hunan Cuisine is at 7467 Bagtikan Street, San Antonio, Makati City.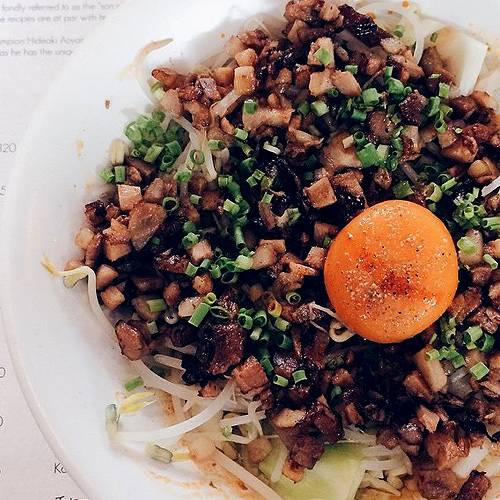 Ramen Yushoken's Karai Maze Soba (P350)
Rich and flavorful broths, springy noodles made from scratch, and picture-perfect gyoza make Ramen Yushoken a cult favorite. While their shoyu and miso ramen bowls are usually the best contenders for noodle comfort, they also have a dish that will fuel the fire in your belly. The Karai Maze Soba is made up of dry ramen tossed with powerful chili miso, and topped with succulent pork charsiu bits and the most gorgeous orange egg yolk. You'll tear up, for sure, but you won't be able to tell whether it's from the heat or from joy for such a brazen dish. Maybe a little bit of both.
ADVERTISEMENT - CONTINUE READING BELOW
Ramen Yushoken is at Molito Lifestyle Center, Alabang, Muntinlupa City.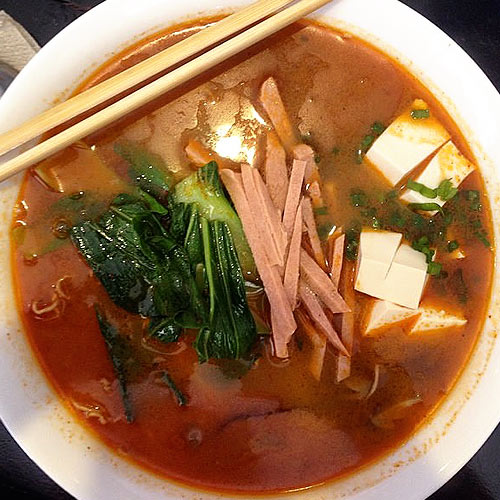 Caution Hot Spicy Noodle House's Noodle Bowls (P165++)
The temperature of Caution's noodles are through the roof and the flavors out of this world. Every bowl is a bowl of comfort, that is, for those whose taste buds like a little pain. At Caution Hot Spicy Noodle House, you get to choose your noodles (wheat noodles or egg noodles), broth (Szechuan, Asam Laksa, or classic), toppings (all-veggie, pork, beef, or seafood), and finally—the best part—heat level. From first-degree burn, second-degree burn, third-degree burn to ultimate burn, you can make your already-hot noodle bowl even hotter. The Ultimate Burn Beef-Szechuan-Egg Noodle combination is ace, and sure to get your taste buds tingling.
ADVERTISEMENT - CONTINUE READING BELOW
Caution Hot Spicy Noodle House is at 87 Magiting Street, Teachers Village, Quezon City.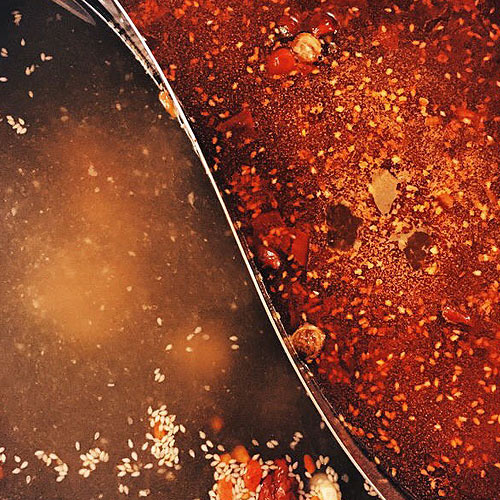 Eat First Shabu Shabu's Hot Pot (P849++)
The loyal Chinese patrons in this hole-in-the-wall joint confirm that you're getting only the really, really good stuff here. For extra spicy satisfaction, choose the Szechuan Spicy broth, and go crazy with your fix-ins. Whether you pick beef, shrimp balls, or chicken, you'll find yourself red-faced, tongue burning, yet hooked. The heat is absolutely addicting. Ask for a napkin, but it won't be for your lips.
ADVERTISEMENT - CONTINUE READING BELOW
Eat First is at 4756 Salamanca Street, Makati City.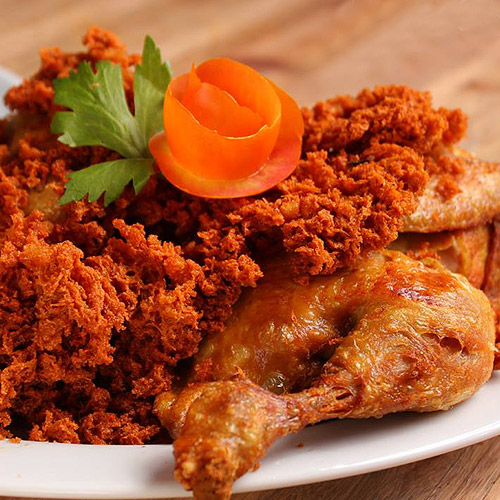 Indonyaki's Ayam Goreng (P130/half, P240/whole)
Charming holes-in-the-wall like authentic Indonesian spot Indonyaki are the ones that usually hit the spot. It has loads of Indonesian dishes to choose from (think satay, nasi goreng, and mie), but it's the Ayam Goreng that will grab attention. This fried chicken dish is topped with crispy kremes (deep-fried rice flour) and has the most tender meat. What elevates it further is the sambal sauce that comes with it. Go for the hottest version, and you'll be (happily) sweating bullets in no time.
ADVERTISEMENT - CONTINUE READING BELOW
Indonyaki is at 54 Maginhawa Street, Quezon City.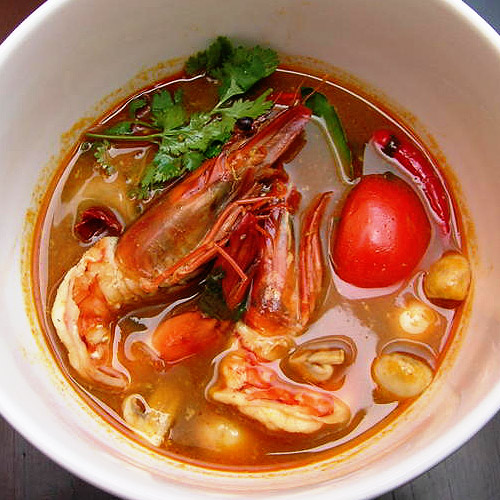 Azuthai's Tom Yum Goong (P445)
Chef Mali Interamolee whips up dishes from her home, but tamed down to tolerate a more Filipino-friendly level of heat. She let us in on a secret though: Ask her to power up the fire level to how it is in Thailand, and she will make you cry. An OMG-is-there-a-hole-in-my-mouth? reaction. Azuthai's Tom Yum Goong is, according to Milkyway Group's Executive Chef J Gamboa, one of the spiciest things on the menu. This hot and sour prawn soup has lemongrass, kaffir leaves, tomatoes, and lots of fiery red chilies. It gives off a fragrant heat that's as refreshing as it is fiery. This dish is perfect for scorching hot days when all you want is a tongue-tingling meal. Go ahead, tell Chef Mali to scorch it up.
ADVERTISEMENT - CONTINUE READING BELOW
Azuthai is at Milkway Building, 900 Arnaiz Avenue, Pasay City.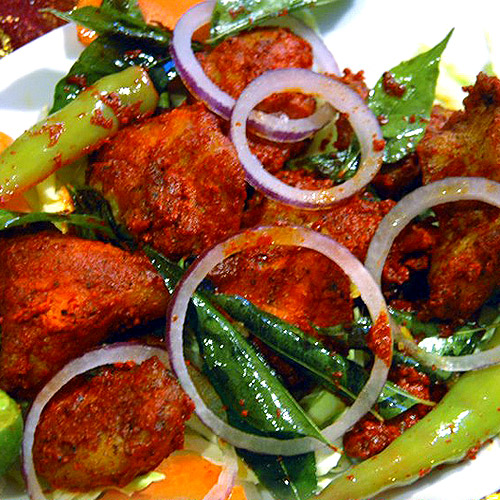 Swagat's Chicken Tikka Masala (P250)
Heat and spiciness are so natural at Swagat that the entire (tiny) restaurant is filled with this spice-infused air that, truth be told, kind of stings, really. You know you've hit the spicy home base when you realize that their default flavoring, the "Regular" spice level, is smack-you-in-the-face painful. If the mild option causes tears in your eyes, the Regular will have you crying and sniffling. You can customize your heat preferences in most of the dishes, but it works wonderfully against the solid ginger and garlic notes of the Chicken Tikka. You might want to pack an emergency bottle of milk in your bag, just in case.
ADVERTISEMENT - CONTINUE READING BELOW
Swagat Indian Cuisine is at 119 Rada Street, Makati City.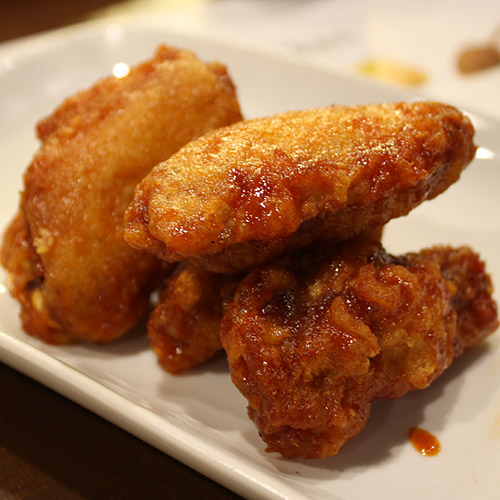 Kyochon's Red Series (P149/four pieces)
The debate for the best Korean fried chicken in town is a relentless one, but we can undoubtedly hand over the "spiciest" prize to Kyochon. That honor goes to their Red Series spicy wings. One glance at its fiery red skin, and you already know you're in for a strong and spicy ride. Kyochon, by the way, uses the hottest red chili peppers in Korea.
ADVERTISEMENT - CONTINUE READING BELOW
Click here for a list of Kyochon branches. Read more about Kyochon.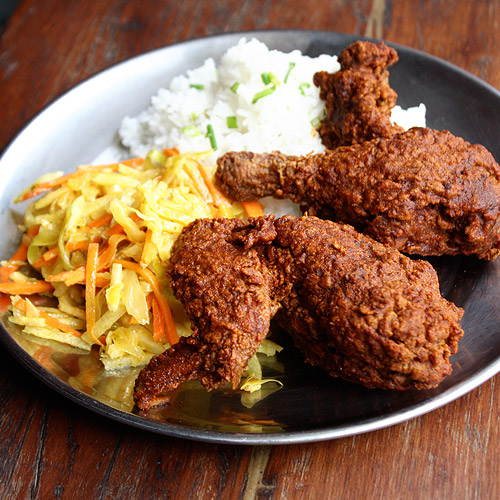 Señor Pollo Spicy Fried Chicken (P99 to P255)
Owner Daniel Mabanta understands that their Spicy Fried Chicken isn't for everyone, but that's just part of the fun. We like being in that elite group. You can see the bright red chili powder deep in the flaky crust. The chicken is served fresh off the fryer, but that searing feeling comes more from that bold seasoning, which is numbing both in mind and palate. It's peppery, almost bitter if you think about it too much. When you're done—if you can finish—lick your fingers (you know chicken is best eaten with just your hands) to stretch that heat. It'll be like your hand just slapped your tongue. And that's just how we like it.
ADVERTISEMENT - CONTINUE READING BELOW
Señor Pollo has branches at 57 Scout Rallos Street, Quezon City; and 5767 Ebro Street, Makati City. Read more about Señor Pollo.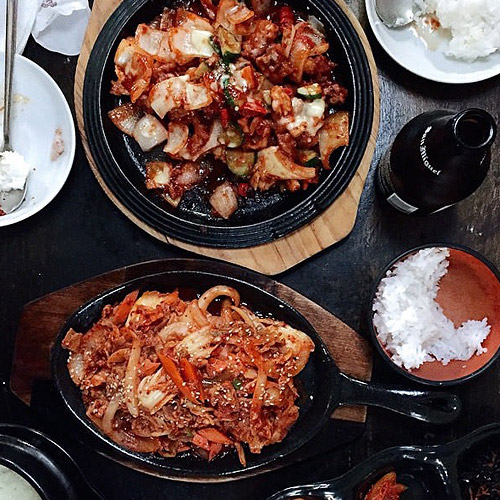 Yukino Hana Spicy Fried Chicken (P450)
This tiny izakaya serves up some of the spiciest fried chicken in the metro. Formerly known as Snowman Izakaya, Yukino Hana is unpretentious, the perfect place to unwind with great and drinks and even better food after a long day at the office. But we're here to talk about the chicken. Doused in chili sauce, you'll start to feel the heat intensify after a few more bites. It's hot, it's addicting. Can we just get more of this with extra rice, please?
ADVERTISEMENT - CONTINUE READING BELOW
Yukino Hana is at 33 Timog Avenue, Quezon City.
Also read: Your Spicy Food Bucket List: 10 Hot Dishes You Should Eat in Manila
Photo from the SPOT.ph archives (Kyochon, Señor Pollo); by Jae Pickrell (Eat First), Chichi Taullo (Yukino Hana), Regine Rafael (Ramen Yushoken), Karla Fernandez (Caution); and from the official Facebook pages of Mao Jia and Indonyaki
Recommended Videos
Load More Stories