New on the Menu: The Bunny Baker Cafe's Matcha Eggs Benedict, Chocolate Chicken Skin + more
The dishes are getting crazier but also more comforting.
The Bunny Baker Cafe and Cake Studio
301 Hemady Square, Hemady Street corner E. Rodriguez Sr. Avenue, Quezon City
Contact: 650-4153
Open daily from 7 a.m. to 12 a.m.
Also read: New Restaurant Alert: The Bunny Baker Cafe and Cake Studio at Hemady Square, Quezon City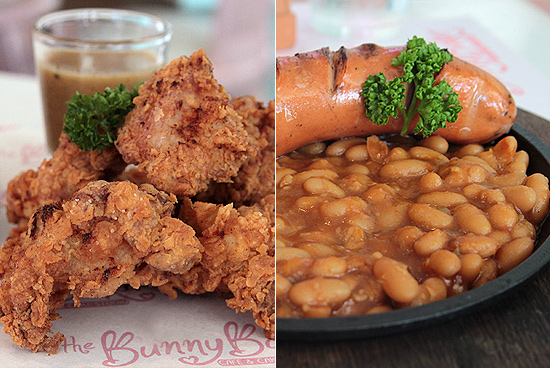 (SPOT.ph) Playful is how The Bunny Baker Cafe likes to play (no pun intended) it. The pink-purple-seafoam restaurant complete with bunny-ear chairs and a starry ceiling is a little girl's dream, but it's their heavy-hitting latte art and life-size cake version of boxing legend Manny Pacquiao that made international headlines.
ADVERTISEMENT - CONTINUE READING BELOW
But playtime isn't over for original bunnies and owners Aila and Zach Yonzon. Since opening in December, The Bunny Baker Cafe has filled Instagram with their bunny-shaped macarons and marshmallow-eared gelatos. That menu is only the start of a whirlwind of quirky experiments-turned-masterpieces.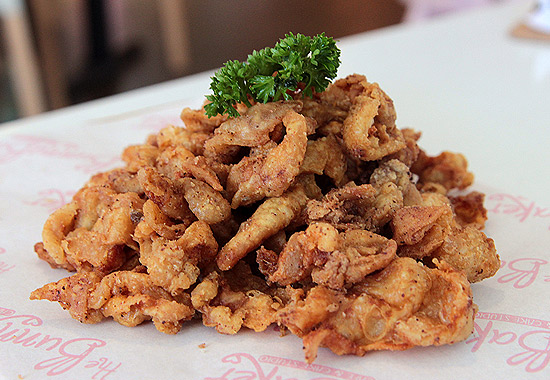 Champoy Chicken Skin
The panko-coated Spam fries have a cult following, but the newer Champoy Chicken Skin (P175) may just challenge that loyalty. The pieces of crispy, golden skin, which have curled up after their time in the fryer, are dusted with that characteristic sweet, tangy, salty champoy powder. The formula works surprisingly well. Chicken skin has always been addictive, but this unexpected seasoning only doubles that effect. Consider us converted.
ADVERTISEMENT - CONTINUE READING BELOW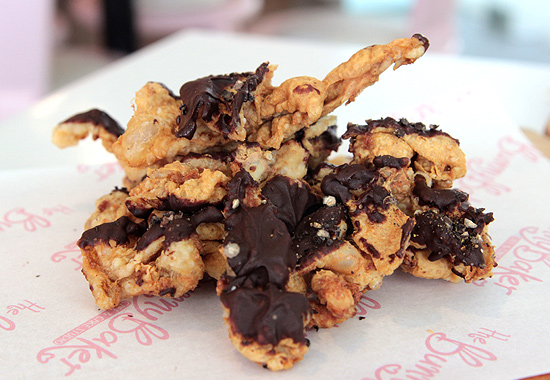 The C4
As if that's not enough, The Bunny Baker also takes that chicken skin, coats it in chocolate, sprinkles some cracked pepper, and christens it a dessert. This dish, the C4 (P175), toes the line between good and bad. We want to say it's crazy, but here, at lunchtime, right after the champoy version, we're picking up piece after piece.
ADVERTISEMENT - CONTINUE READING BELOW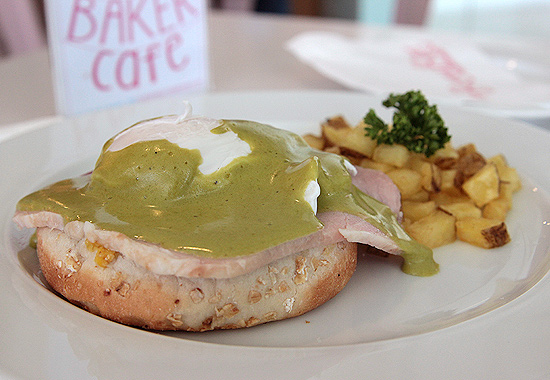 Green Eggs and Ham
Crazy isn't an issue here. The couple goes for bold, and even their home-style traditions are served with flair (Aila and Zach are artists). The Green Eggs and Ham, for instance, is their interpretation of Dr. Seuss' fiction. The Eggs Benedict is traditional in every sense—an English muffin base topped with ham and a gorgeously runny egg—except for the blanket of hollandaise sauce, which comes in this pale green shade. That rich yolk-based sauce turns out to be tinted with matcha, a bittersweet kick invading the tail end of every bite.
ADVERTISEMENT - CONTINUE READING BELOW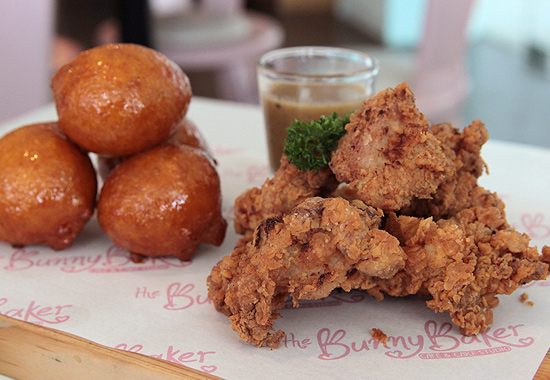 Fried chicken and hush puppies!
In the kitchen, crushed tortilla enrobes slices of juicy, boneless chicken, giving it a crunch quite unlike the usual fried chicken. This Tortilla-Encrusted Chicken (P285) is infused with sriracha, an impeccable dose to show off heat, but not too much that the flavors will get washed out with copious amounts of water. In another feat of intense flavor, they coat boneless chicken thighs in buttermilk, wrap them in a nice crunchy batter, and stun your taste buds with a heavy hit of salty-savory flavor. It comes with hush puppies, only very lightly sweet, to make that classic comfort combination.
ADVERTISEMENT - CONTINUE READING BELOW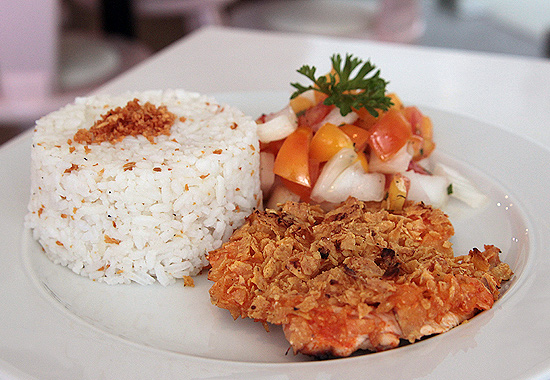 Tortilla-Encrusted Chicken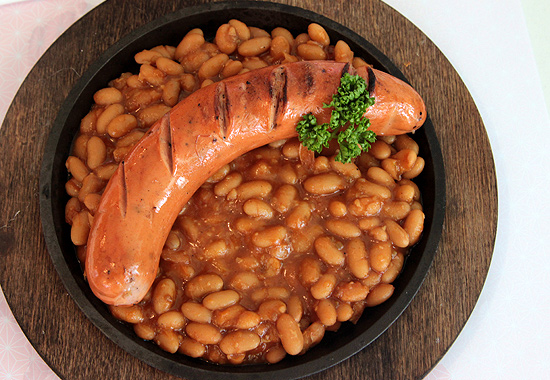 ADVERTISEMENT - CONTINUE READING BELOW
Frankenbeans
The Bunny Baker Cafe warms up a cassoulet and makes it a friendlier (for both adults and children) Frankenbeans (P350), a rustic skillet where soft beans in tomato sauce are crowned with a whole Hungarian sausage. No frills, just flavor and fun.
Desserts are a strong point at The Bunny Baker Cafe. A little historical side trip: Zach and Aila started as home-based cake artists in 2010, and the store was only supposed to be a showcase of their fondant mastery. It evolved to be a full-fledged cafe where cake isn't served, but observed, and you discover other, more decadent treats than cake to sate your sweet cravings.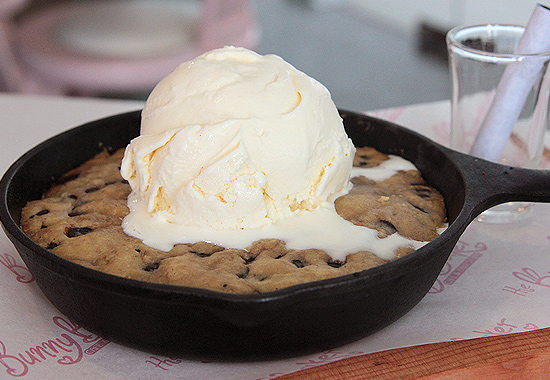 ADVERTISEMENT - CONTINUE READING BELOW
The Skilletor
Like the Skilletor (P285). It's a giant cookie sitting contentedly in a wide sizzling skillet, a fat scoop of homemade vanilla gelato (bunny-lato, in this case) reinforcing our sense of wonder as we watch it melt—slowly and painstakingly, like a plot of a local soap opera—work its way through the chocolate chips. You could stare at it all day, but the best part is picking up your spoon and taking that first bite. Then a second. Then a third. Then your next visit.
Also read: New Restaurant Alert: The Bunny Baker Cafe and Cake Studio at Hemady Square, Quezon City
Recommended Videos
Load More Stories