People want their homes to smell like a Double Down
Would you go for a fried chicken-scented candle?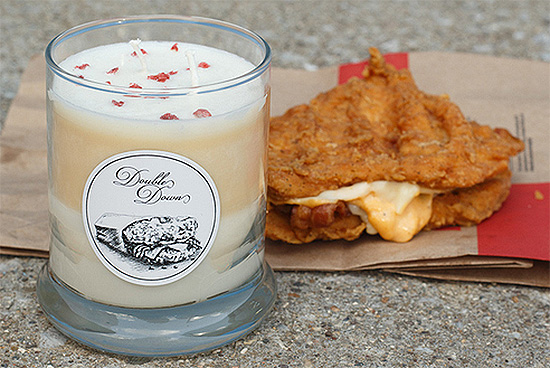 (SPOT.ph) U.S.-based company Kentucky for Kentucky released in early May a line of scented candles called Scents of the Commonwealth. It's a four-piece collection featuring the aromas of a Hot Brown Sandwich (made with turkey, bacon, and Mornay sauce), Mint Julep, Fried Chicken, and Double Down.
Yes, Double Down. Kentucky for Kentucky doesn't explicitly connect it to KFC, but it's pretty difficult to dissociate the abominable sandwich that rendered bread buns useless for the fast-food chain. With the help of candle-maker Kathy Werking, the wonders of deep-fried chicken fillets hugging ham and cheese are converted into a freckled white candle. According to Kentucky for Kentucky's website, chicken is fried in natural soy wax with an "infusion of family secrets." Nope, it's not Colonel Sanders' 11 secret herbs and spices.
ADVERTISEMENT - CONTINUE READING BELOW
The description further notes: "We can provide you and your family with a belly-rumbling, finger-licking, Kentucky-scented candle experience that'll leave you wondering if that floating object in your scented candle really is fried chicken."
The Double Down Candle, priced at $28, sold out in a flash (the Fried Chicken is sold out, too). Apparently, there's clamor for homes to smell like fast food.
Fortunately, the actual KFC Double Down sandwich is still available in Philippine stores, in case we need a buttery whiff.
Recommended Videos
Load More Stories