CHECK IT OUT: Eight Ounce Coffee + Kitchen at Pasig Boulevard, Pasig
We found a cafe...in a gas station?
Eight Ounce Coffee + Kitchen
1227 Pasig Boulevard (within the Filoil Gas Station compound), Pasig City
Open from 9 a.m. to 12 a.m. (Monday to Friday); 9 a.m. to 10 p.m. (Saturday); 3 p.m. to 10 p.m. (Sunday)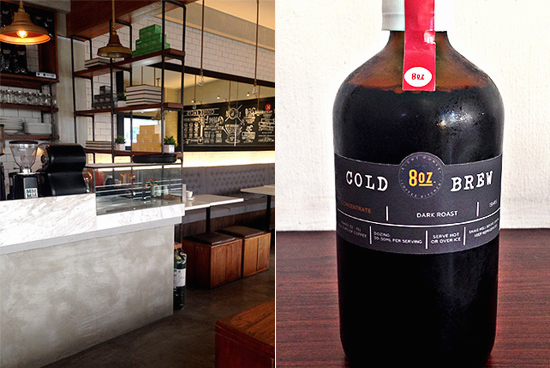 (SPOT.ph) Strangely enough, the story of finding a restaurant in a gas station isn't that novel, but there's still that little spark of excitement from discovering new places in the most unexpected locations. Gas stations offer convenience and comfort, sure, but those may come in many forms. One of which is Eight Ounce Café + Kitchen.
ADVERTISEMENT - CONTINUE READING BELOW
Dressed in black and white and adorned with wood, Eight Ounce is one cozy little sanctuary. Its location demands customers to sniff them out, and foot traffic—which it doesn't have a lot of at this point—or the lack thereof is part of the appeal. Scoring a table is easy and there are enough treats to lure you in, whether you're stopping by for coffee or looking for a quiet stop for meetings or appointments. Eight Ounce is really a place for when you want to hide out.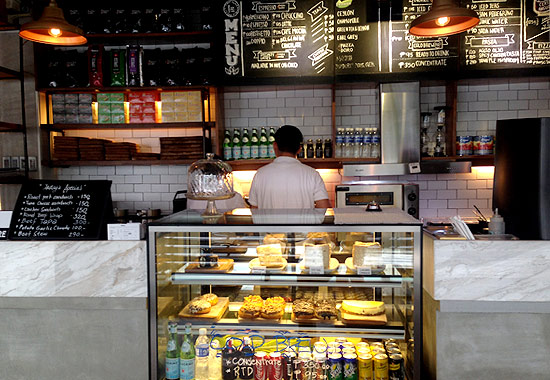 ADVERTISEMENT - CONTINUE READING BELOW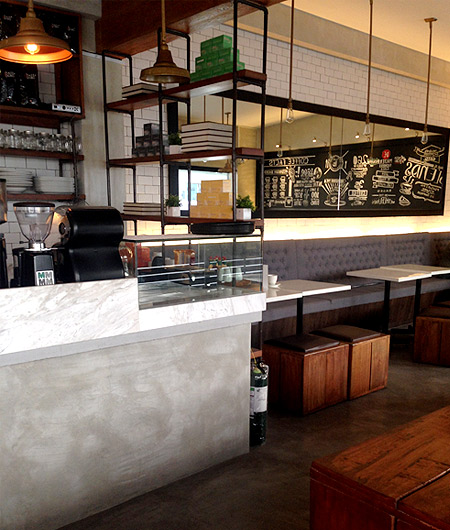 Bet you didn't expect this at a gas station
Eight Ounce serves Douwe Egberts coffee from the Netherlands and they come in various preparations: espressos, lattes, even a drink dubbed Café Mocha Fantasy, and specialty beverages—served in the ubiquitous mason jar or in cups perched atop wooden boards.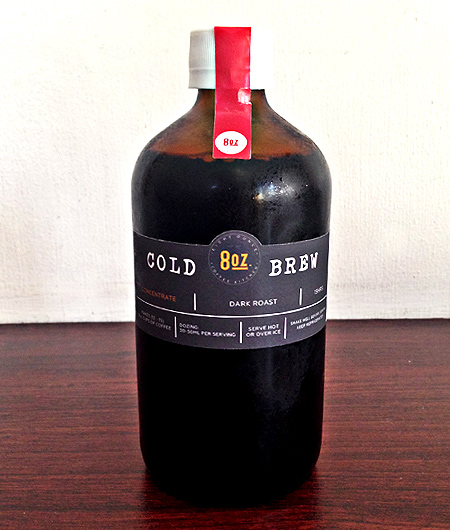 ADVERTISEMENT - CONTINUE READING BELOW
Cold Brew for your grab-and-go coffee needs
They have the usual spread of café eats: donuts, cookies, sandwiches, and even pasta dishes. If you're a caffeine hound, make sure to try their 15-hour cold-press concentrate (ready to drink servings are at P95 while the eight-ounce bottled concentrate is priced at P350). Available in medium and dark roast variants, Eight Ounce's cold press coffee is smooth, has zero bitter flavors, and has a light caramel and creamy finish—just the kind of drink coffee fans would love.
Whether you're popping in for a pit stop or staying for a cup of coffee, Eight Ounce is where you'd never expect to say, "I'm so glad I'm at a gas station."
Photos by Trixie Zabal-Mendoza and from Eight Ounce Café's Instagram
Recommended Videos
Load More Stories