Well, this dessert surprised us
We love it when fast-food restaurants can come up with something unexpectedly good.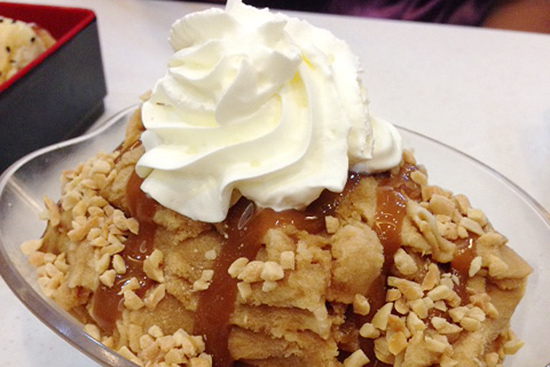 (SPOT.ph) We don't know about you, but we admit that we go to Tokyo Tokyo for the convenience of satisfying a Japanese food craving, fast. The bento boxes, the dons, the tempura, the iced tea, sometimes the occasional ramen.
But the lure of salted caramel led us to the dessert. The trendy flavor is one of the newer options from their line of Snow Ice, otherwise known as their version of snow cones. This, however, isn't your run-of-the-mill syrup-topped ice. The ice is actually infused with that deep, sweet flavor, with a subtle saltiness that keeps it from being cloying. It's a play on Japan's kakigori, but the ice is shaved so finely that the textures are akin to Taiwanese ice cream.
ADVERTISEMENT - CONTINUE READING BELOW
On top, because that yumminess obviously isn't enough, are zigzags of chocolate sauce and cornflakes (pictured above is the caramel-and-nuts option) and whipped cream. For P109, it's delicious, bright yet decadent, and impressively executed.
Keep surprising us, Tokyo Tokyo.
Recommended Videos
Load More Stories