Food Crawl: Lilac Street, Marikina is the latest eating destination
Could Lilac be the new Maginhawa? Gasp!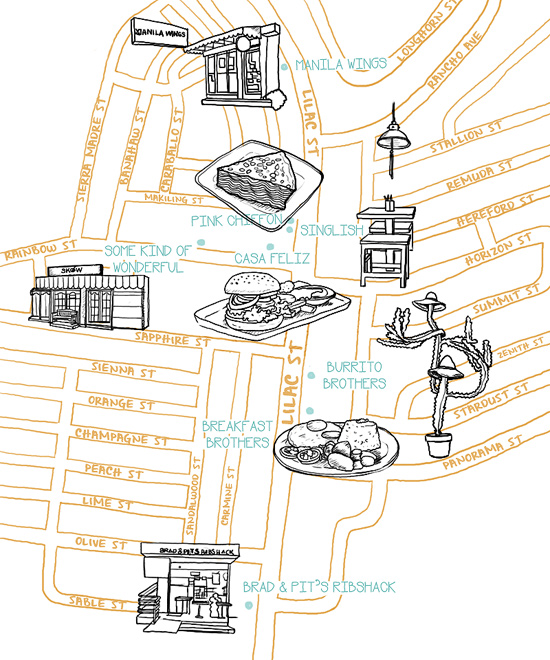 (SPOT.ph) Marikina is famous for its shoe industry, but what may be unknown to many is that these days, the city is becoming famous for its thriving food scene. Don't expect strict dress codes and maître d's in these eateries though. Most of the places are independent operations that are more apt for the city's small-town vibe.
ADVERTISEMENT - CONTINUE READING BELOW
This time, we're crawling through one of the veins of this entire network: Lilac Street (and its surrounding areas) in Concepcion Dos. It's in the second district of Marikina—a bit off center that it actually crosses over to Antipolo—but it's the perfect setup for that charming neighborhood dining destination. No need to worry. Along this road, food isn't second best.
Also read:
Neighborhood Guide: Marikina 
One Day in Manila for P800: Marikina City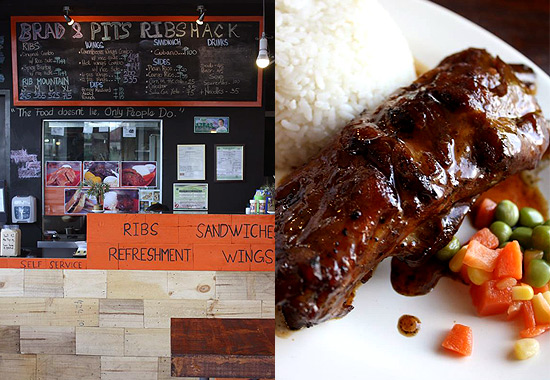 ADVERTISEMENT - CONTINUE READING BELOW
Brad and Pit's Ribshack
116 Lilac Street (right beside the border between Marikina and Antipolo)
Contact: 503-1656
If you like meat, this is a good place to start. Like any place that targets carnivores, Brad and Pit's Ribshack is pretty generous with their portions considering the prices on the menu. The atmosphere is interesting: Latin music piping out of the speakers and vintage electronics on display. It's no frills and fun, but what else did you expect from a restaurant with a pun for a name?
Must-tries: Ribs! Original Combo with ribs, rice, and sides (P149); Caribbean Wings combo with wings, rice, and sides (P149); Ribs Mountain (P245 to P715); Cargo Rice (P35)
Lilac Hack: It's the last lot within the limits of Marikina. If you're coming from General Ordoñez, just go straight. It will be on your right exactly next to the border to Antipolo.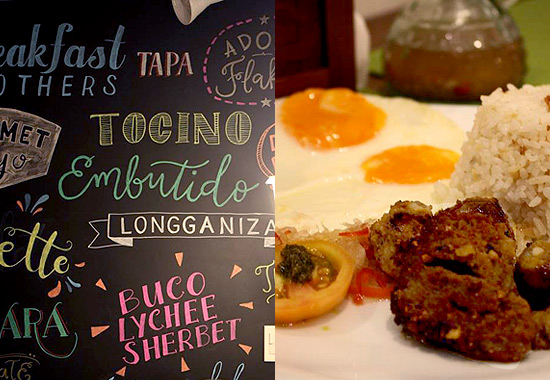 ADVERTISEMENT - CONTINUE READING BELOW
Breakfast Brothers
73 Lilac Street
Contact: 500-9627
The latest offering from the brotherhood—they're the same folks behind Burrito Brothers and Kebab Brothers, other Marikina staples—Breakfast Brothers is banking on our love for all-day traditional Filipino breakfast. Favorite -silog combinations are highlighted on the menu, but they also have items like pancakes and omelettes.
Must-tries: -Silogs like Vigan Longanisa (P140) and Brothers Tapa (P160), and Crispy Adobo Flakes (P145)
Lilac Hack: The place is relatively new so patience is a must.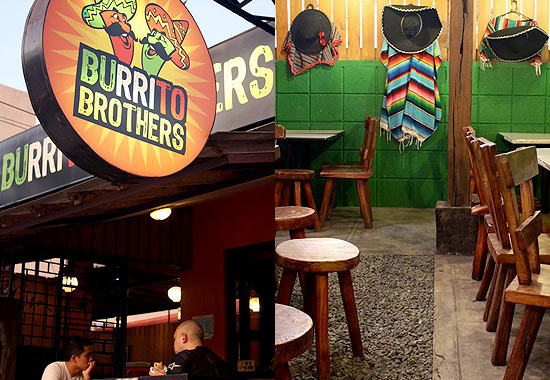 ADVERTISEMENT - CONTINUE READING BELOW
Burrito Brothers
69 Lilac Street
Contact: 500-9637
For takeaway or for sit-down, they have a burrito ready for you. There's a counter right up front that offers easy access for those who would like their burritos to go. The al fresco dining area, though, is stereotypical of Hollywood's Mexico with its wooden furniture, colorful ponchos, and sombreros for décor.
Must-tries: Beef Burrito (P149), Chicken Burrito (P139), Cheesedog Wrap (P85), Chili Con Carne with Nacho Chips (P95)
Lilac Hack: Since the place is al fresco, late afternoons are the best time to eat. Make sure you're in your "air-con" clothes if you're bent on having burrito for lunch.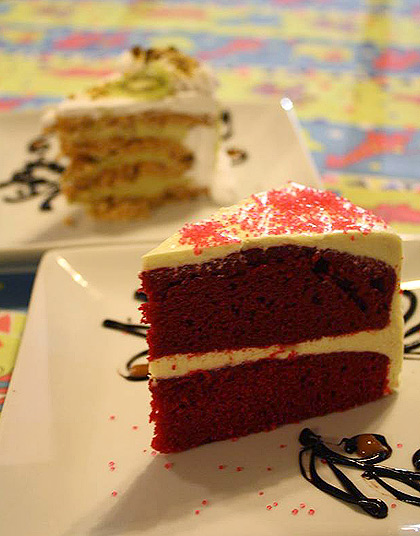 ADVERTISEMENT - CONTINUE READING BELOW
Casa Feliz
95 Rainbow Street
Contact: 933-6653
Casa Feliz isn't technically on Lilac Street. It's located along Rainbow, which is perpendicular to Lilac. Casa Feliz has seen better days. The décor is a bit tired, but once you've sampled their famous pastries, desserts, and mains, you'll know why people continue to stay loyal to this place. They definitely know their way around the kitchen! With a tagline "home of sweet memories," you know you'll only end up happy here. A lot of things can happen over dessert.
Must-tries: Pistachio Sansrival (P120/slice), Red Velvet Cake (P110/slice) 
Lilac Hack: Casa Feliz is open until 11 p.m. Late-night craving? You know where to go.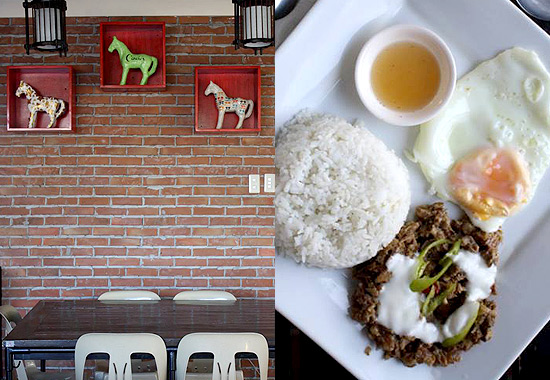 ADVERTISEMENT - CONTINUE READING BELOW
Concho's
2/F RAL Building, 48 Lilac Street
Contact: 788-3668
From its position on the second floor, Concho's boasts one of the best al fresco areas in the neighborhood. Diners are treated to a bird's-eye view of Lilac, as well as an occasional breeze. The sensible interiors are punched with taka and carabao papier-mâché heads that can throw you off a bit. This is, after all, a place that specializes in pork. Confused decor aside, Concho's does live up to their claim that they are home of sisig goodness.
Must-tries: Concho's Sisig (P149), Concho's Sisig Wrap (P115), Dynamite (P130)
Lilac Hack: Early evenings work best for enjoying a meal at Concho's. Catch the sunset and delight at your hot sisig with relatively cool weather.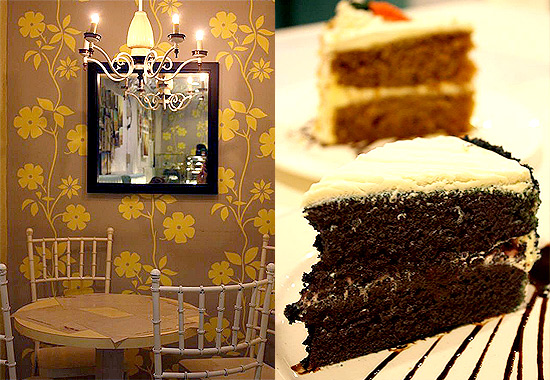 ADVERTISEMENT - CONTINUE READING BELOW
Forget Me Not
41 Lilac Street
Contact: 942-0087
This local favorite leaves quite an unforgettable (pun intended) impression on the locals. It's always full, thanks to their flair for lutong-bahay-style comfort food (Salisbury steak, roast beef, chicken tenders) and cozy vibe. Honestly, it looks like someone's made-up house—sofas, coffee tables, pictures on the walls. Back when they were new, they even had computer chairs!
Must-tries: Blue Velvet Cake (P125), Salisbury Steak (P145/rice, P165/mashed potatoes), Carbonara (P135)
Lilac Hack: The place is a bit claustrophobic. If you're into sunnier spaces, go for the al fresco area.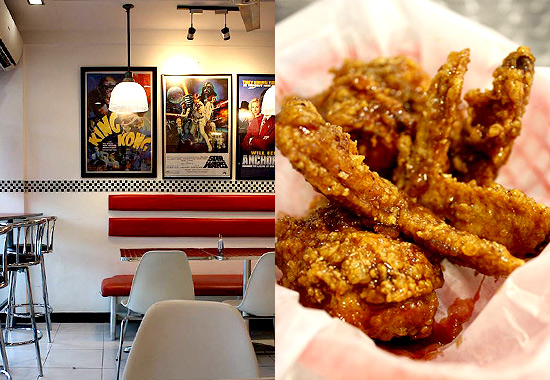 ADVERTISEMENT - CONTINUE READING BELOW
Manila Wings
40 Lilac Street
Contact: 0922-866-4327
This is a throwback to an American diner: black, white, and red palette, stainless steel accents, framed movie posters. The menu is peppered with classic diner food, like burgers, sandwiches, and milkshakes, but Filipino staples, like rice toppings and combos, sneak their way in. It's best known for their chicken wings, which are totally ace. 
Must-tries: Manila Wings (P179/six pieces), Calamansi Pepper Wings, (P179/six pieces), Salpilog or Sisig-inspired Tapa with two fried eggs (P185)
Lilac Hack: Get their wings to go. You can eat them like popcorn as you marathon House of Cards at home.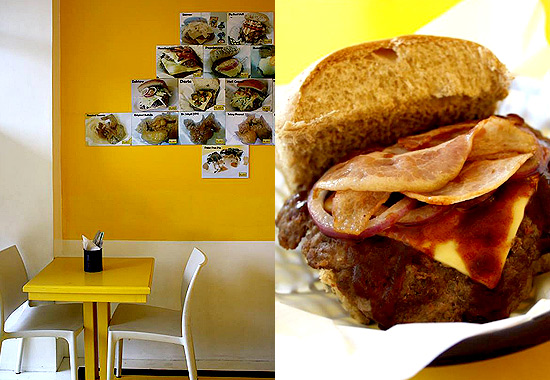 ADVERTISEMENT - CONTINUE READING BELOW
Peter's Wingers & Burger Shack
48 Lilac Street
It's hard to miss this bright structure while driving down the street because of its cheerful sunny yellow walls! Their menu is straightforward and short but their burgers are big and their wings tasty.
Must-tries: Mr. Hyde (P150), Red Riding Hood (P170), Batman (P200)
Lilac Street: This place is compact and only about 10 people can sit down at a time. So better to go during off-peak hours.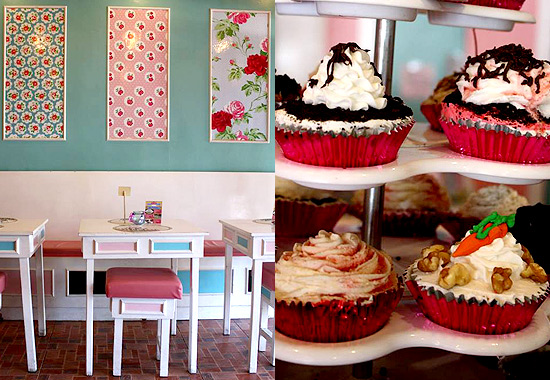 ADVERTISEMENT - CONTINUE READING BELOW
Pink Chiffon
Lilac Street (near Makiling)
Contact: 0917-823-1027, 0916-683-7485
From the famous desserts brand Gateau de Manille (which used to be on Katipunan), this pretty confection of a café make up a pretty afternoon.  Desserts are the strong point, but mains are also on the menu. They sell cakes whole and not by the slice, but you can taste them individually as adorable cupcakes. 
Must-tries: Roast Beef with Mushroom Gravy (P150), Chicken Galantina (P135), Strawberry Mousse Cupcake (P50), Sansrival (P85/slice)
Lilac Hack: If you're up for some pampering, the nail salon on the second floor is a good place to start.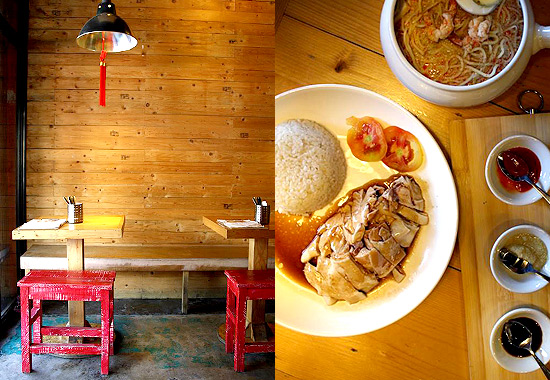 ADVERTISEMENT - CONTINUE READING BELOW
Singlish
60-C Lilac Street
Contact: 0939-923-6158
The distinct look of Singlish will lure you in. The wooden panels going almost up to the ceiling are quite arresting while the soft lights will easily charm you to sit and relax. But the Singapore-Malaysian food will keep you coming back. 
Must-tries: Hainanese Chicken (P168), Laksa (P193)
Lilac Hack: Their food is filling so come for lunch.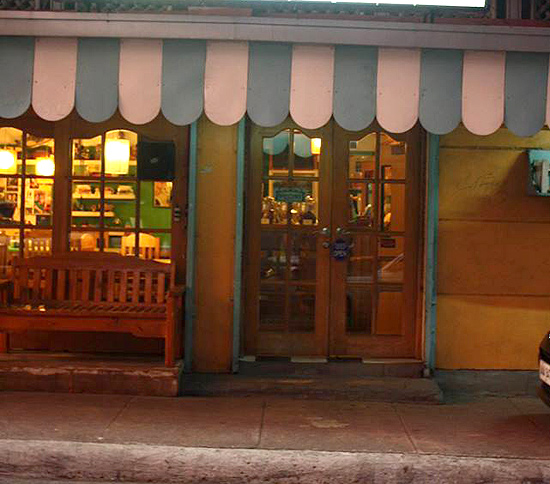 ADVERTISEMENT - CONTINUE READING BELOW
Some Kind of Wonderful
Birchroad corner Rainbow Street
Contact: 0917-511-9535 
If strolling down memory lane is your kind of thing, then this is a good place to get some grub. Some Kind of Wonderful is a few steps away from Lilac. It's decked out in movie posters and album covers from the past century. Families can bond over pastas, sandwiches, and burgers, and blast-from-the-past graphics on the walls that will have everyone feeling nostalgic.
Must-tries: Barbecued Spareribs (P140), Carbonara (P120), Cheeseburger (P130)
Lilac Hack: It's right across a church, so it could be a good Sunday brunch place. Just get there either early or during non-peak hours. 
Recommended Videos
Load More Stories