New on the Menu: Early Bird Breakfast Club's Fried Chicken and Breakfast Waffle, Brownie A La Mode + more
They've whipped up even more addicting breakfast dishes!
Early Bird Breakfast Club
Click here for a list of branches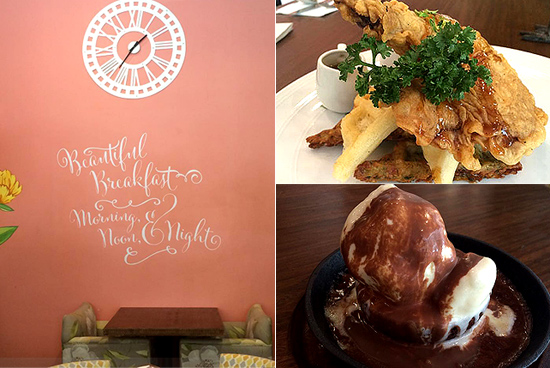 (SPOT.ph) Wouldn't it be so nice to have a restart button in your life? Imagine waking up in the morning hoping for a good day ahead. You dress up extra nicely, head to work, buy coffee, and face the day with a smile—until you trip and fall down the stairs causing you to spill your drink all over your clothes, in front of everyone in the building. That button may never exist, but we already have something that's essentially like it: Early Bird Breakfast Club, a place that promises beautiful breakfast in the morning, noon, and night—a promise that's never broken.
ADVERTISEMENT - CONTINUE READING BELOW
The all-day breakfast place opened their first branch in 2013 and their breakfast magic has allowed them to expand to two more branches (Century City Mall and Eastwood). Owner Kendrick Co shares that to keep their customers on their toes, they revamp their menu (styled as a newspaper) every three months, retaining their bestsellers and adding new dishes that only intense breakfast lovers could ever come up with. The new dishes graced their menu on May 12 and we suggest they stay there forever.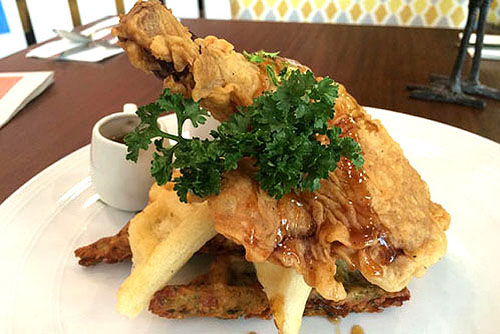 ADVERTISEMENT - CONTINUE READING BELOW
The Fried Chicken and Breakfast Waffle (P345) is a peculiar but surprisingly addicting dish—a generous chicken portion fried to a golden, crisp perfection on top of a duo of potato and pancake waffles, served artfully on a plate with gravy and syrup on the side. Trust us when we say that this might be the greatest breakfast creation—ever. The glorious sound of cutting through the crunchy chicken skin, like wedding bells. Partner it with their lip-smacking potato waffles (they're like giant hash browns with herbs!) and pancake waffles for the ultimate breakfast experience. But let's be honest here—the standout in this dish is the homemade gravy that goes unbelieveably well with the sweet maple syrup. We could shamelessly douse the entire dish with the sauce—even Kendrick recommends it!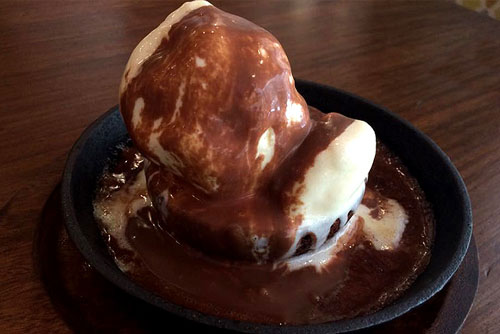 ADVERTISEMENT - CONTINUE READING BELOW
The Brownie A La Mode (P225) is their new heavenly work of art that's already becoming a crowd favorite. Kendrick shares it almost didn't make the menu, but after one spoonful of the dessert, they knew they had to put it. A hefty scoop of vanilla ice cream atop a rich Belgian brownie on a sizzling plate is served. As if our hearts weren't already skipping a beat, the chef pours a generous amount of even more Belgian chocolate and while watching it all sizzle, that's when we decided—we are so having dessert first.
Another addition to their menu is Build Your Own Omelette! (P150), a classic seasoned three-egg omelette with your choice of fillings: onion (P10), tomato (P10), potato (P25), kesong puti (P40), cheddar cheese (P40), bacon (P60), chicken (P60), breakfast sausage (P60), mushroom (P85), and chorizo (P135). The customizable dish is perfect for kids and your vegetarian friends!
ADVERTISEMENT - CONTINUE READING BELOW
Can a restart button whip up a delightful, mouthwatering meal? Sure seems possible at Early Bird Breakfast Club.
Also read:
CHECK IT OUT: Early Bird Breakfast Club at Bonifacio Global City, Taguig
New Branch Alert: Early Bird Breakfast Club at Century City Mall, Makati City
Recommended Videos
Load More Stories