New Restaurant Alert: Mr. Pizza at Greenbelt 3, Makati
Korean pizza, coming right up!
Mr. Pizza
G/F Greenbelt 3, Ayala Center, Makati City
Open from 11 a.m. to 12 a.m. (Sunday to Thursday) and 11 a.m. to 2 a.m. (Friday to Saturday)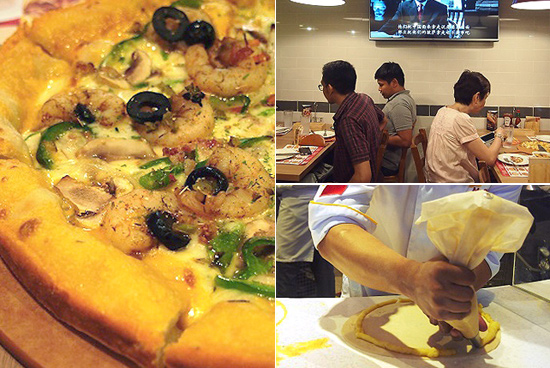 (SPOT.ph) You think of Korean cuisine and you automatically think glazed chicken, bulgogi, bibimbap, chapchae. Pizza's probably the furthest thing on your mind, but apparently not if you're Korean. Amid the sizzle and smoke of Korean barbecue and the heat of kimchi, an unexpected favorite emerges: Mr. Pizza, which recently opened its 505th store (the first in the Philippines) in Greenbelt.
ADVERTISEMENT - CONTINUE READING BELOW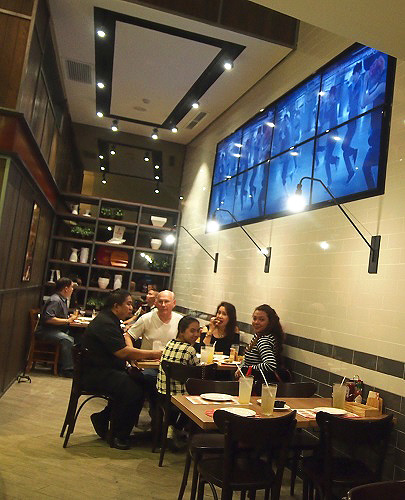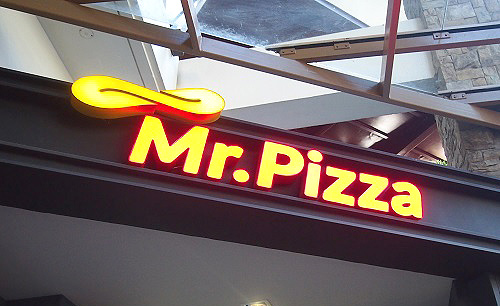 ADVERTISEMENT - CONTINUE READING BELOW
Hypnotic signage
It's hard to miss Mr. Pizza as you run through Greenbelt's dining options. The glowing sign feels like a celebrity spectacle, eagerly announcing its arrival with well-lit nooks, polished and minimalist interiors, LED screens featuring Korean pop culture, and an intriguing culinary show right at the center. Here, the chefs treat you to a performance as they toss, flip, and knead the dough with much fanfare.
Upon entering the restaurant, the staff suddenly—and rather enthusiastically—greets you. They call it an "On Air" welcome, a culture the franchise has built where they mimic radio DJs. "[It means] we're live and a good show must be put on," explains a server.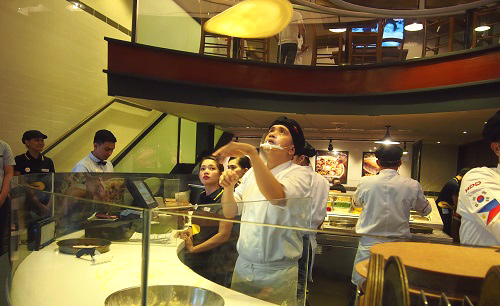 ADVERTISEMENT - CONTINUE READING BELOW
Throwing the dough creates a better crust for your pizza.
All this showmanship, however, is supported by a firm backbone. Throwing out or leaving the bare ends of the crust uneaten are nearly impossible at Mr. Pizza, which fills their dough with everything from cheese to mocha. Stuff like Cheddarella (P100) and Cream Cheese (P200) seem easy to mix and match with pizza toppings, but also available are more avante garde options like Egg Tart (P100); Gold (P100), which is stuffed with sweet potato; and Mocha Bun (P100), which is infused with chocolate and coffee. Don't worry, you can get plain, un-filled ones, and, if all else fails, Mr. Pizza has ready-to-eat combinations for fuss-free dining.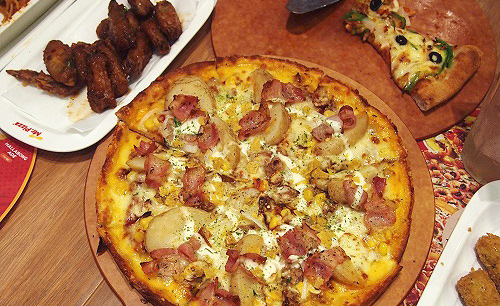 ADVERTISEMENT - CONTINUE READING BELOW
The Potato Gold (P630/regular and P830/large)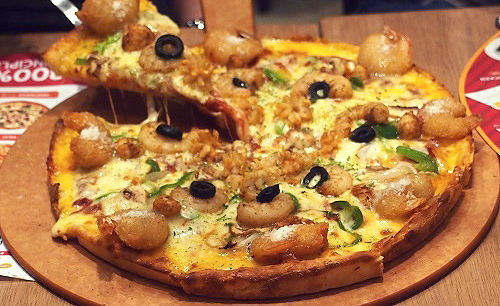 The Seafood Island 2 (P800/regular and P980/large)
Mr. Pizza's au naturel creations are made as soon as you place your order. This is a restaurant for leisure: the pies take at least 15 minutes, but understand that only as their commitment against shortcuts (they have a 300% principle: 100% hand-kneaded, 100% full toppings, 100% grill-baked). They have familiar offerings like Hawaiian Delight (P380/regular, P580/large) and Cheese Pizza (P280/regular, P480/large), but the pride comes from the more unique, Asian-inspired creations.
ADVERTISEMENT - CONTINUE READING BELOW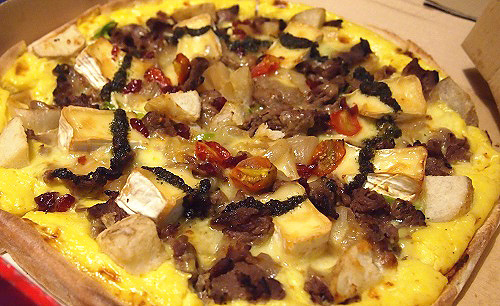 The Eggta (P900/regular, P1,080/large)
Take, for instance, the Eggta. It's pretty much your classic egg tart but stretched out to become a regular-sized pizza. Toppings like tofu, sun-dried tomatoes, and beef steak slices with Camembert cheese pile on this complexity of tangy, salty, and rich flavors in every bite. Finally, as you make it to the crusty egg, that soft, moist custard hits you with a yummy sweetness.
ADVERTISEMENT - CONTINUE READING BELOW
The pizzas aren't as outlandish as they sound. Mr. Pizza manages to strike a good enough balance that it can be enjoyed by anyone craving a good pie, with a bit of extra sophistication. That's how Koreans like their pizzas.
Recommended Videos
Load More Stories