Ming Kee
7852 Makati Avenue, Makati City
Contact: 893-4533
Open daily from 11 a.m. to 2 p.m. and 6 p.m. to 10 p.m.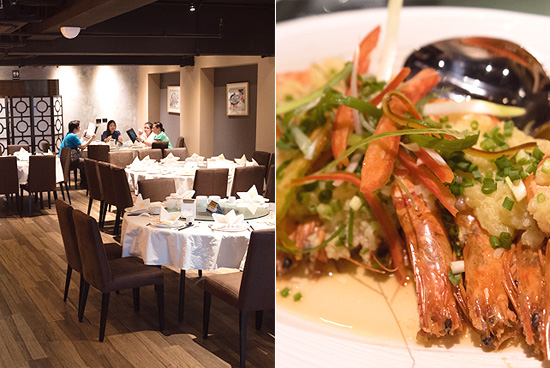 (SPOT.ph) From Kalayaan, take a right at Makati Avenue, and slow down. Ming Kee should be right around the corner, rather inconspicuous and hardly what you'd expect from a Chinese restaurant.
ADVERTISEMENT - CONTINUE READING BELOW
Ming Kee is the entire building, more office than restaurant, more blue and black than the characteristic red and gold. There are no glaring signs and there's no parking. Instead, the façade is made up of seemingly empty aquariums, which, in turn, front the busy kitchen. Live seafood—crabs and shrimps, particularly—is Ming Kee's specialty, so it's only logical that you get to meet your meal before you eat them.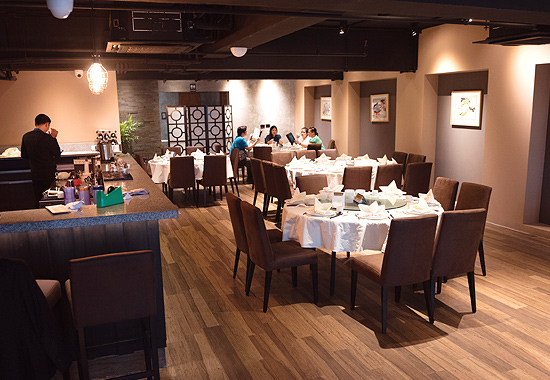 ADVERTISEMENT - CONTINUE READING BELOW
Recommended Videos
The third floor
The top floors make up the rest of the restaurant, which is stark and subdued, the exposed detailing opting for a more modern tone compared to the original Singapore branch's traditional format.
Twenty minutes before our reservation (and the restaurant's dinner service), the maître d' allows us to come in and seats us at a round table. A waiter hands out menus, and advises us to order. He admits that the kitchen might take longer to bust out dishes once the restaurant starts work in full swing. Now, this is the kind of honesty customers appreciate.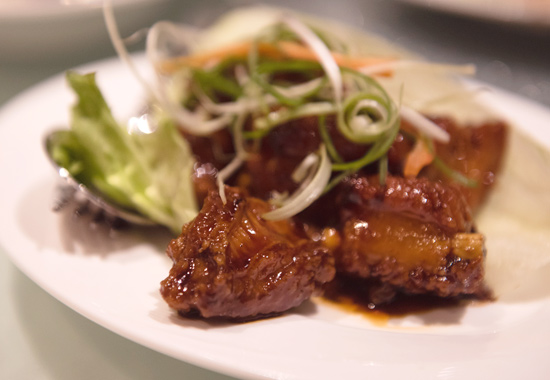 ADVERTISEMENT - CONTINUE READING BELOW
Guinness Beer Pork Spare Ribs (P380/small, P570/medium)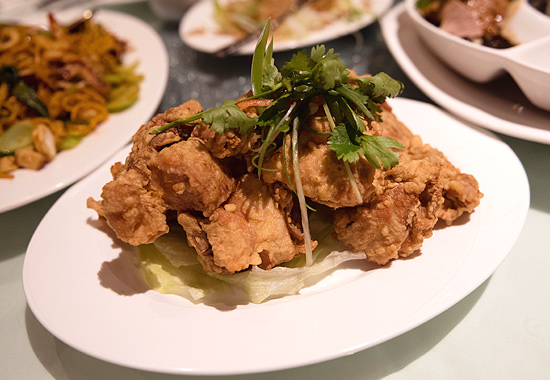 Crispy Fried Chicken (P480/medium, P960/large)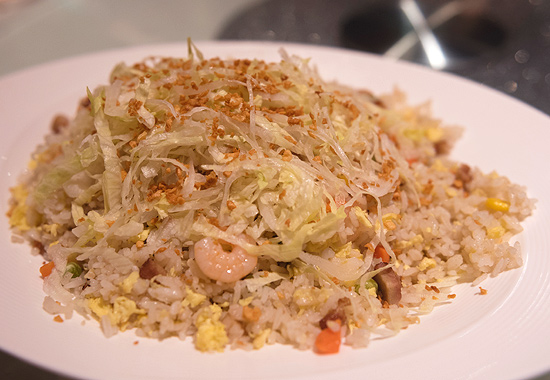 ADVERTISEMENT - CONTINUE READING BELOW
Yang Chow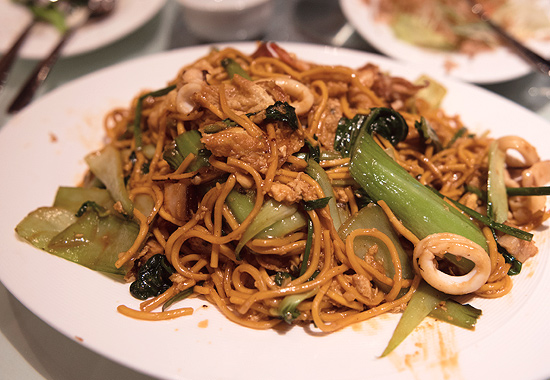 Stir-fried Hokkien Misua (P300/small, P450/medium, P600/large)
But it still takes a while to order. The menu is fortified with Chinese favorites brushed with some of that diverse Singaporean flair and everything looks pretty darn delicious. The spare ribs, for example, are troweled with a sauce spiked with Guinness beer. The meaty chunks of pork are cooked until the sauce caramelizes, resulting in this pleasantly sweetish coat that's very reminiscent of humba. The fried chicken stays faithful to the classics. A modest buttery batter covers large pieces of mostly white chicken.
ADVERTISEMENT - CONTINUE READING BELOW
Chinese cuisine is so well-integrated into Filipino culture that Yang Chow rice (P300/small, P450/medium, P600/large) has become nearly as indistinct as white rice, but not Ming Kee's. Their version of this favorite fried rice—perfect with the chicken, by the way—slings flavors like a champ. The barbecued pork, spring onions, and cooked shrimp all contributes new dimension deep into the rice. Heck, we can eat it on its own if the rest of the menu weren't so tempting.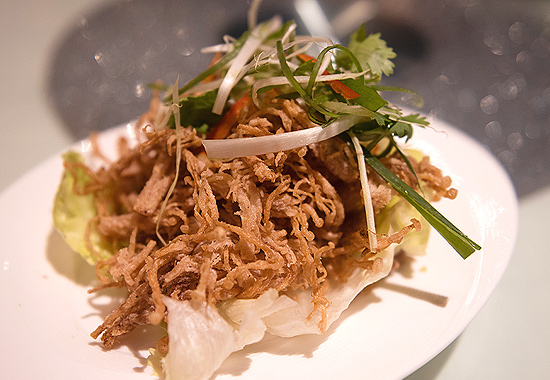 ADVERTISEMENT - CONTINUE READING BELOW
Fried Golden Mushrooms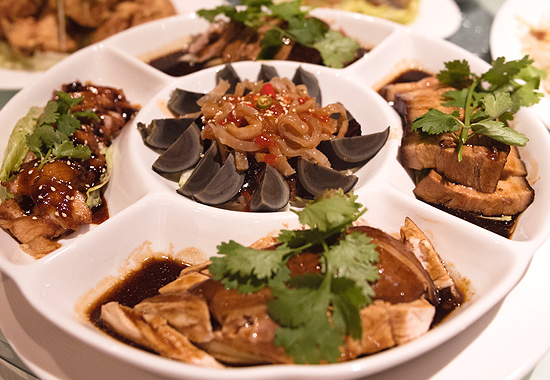 Assorted Cold Cuts (P480/medium, P960/large)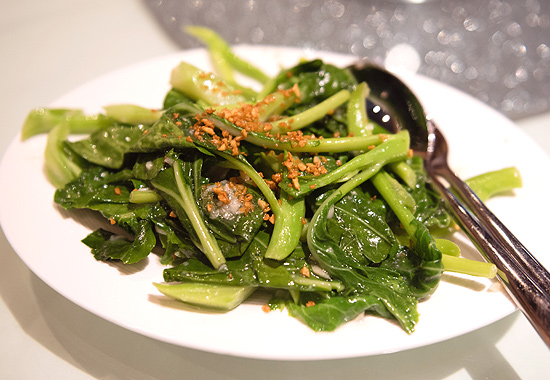 ADVERTISEMENT - CONTINUE READING BELOW
Stir-Fried Vegetables
Ming Kee ran out of their bestselling fish skin chicharon during the lunch service, but there are so many other options that there's no reason to be bummed over this seeming misfortune. Even the Stir-fried Assorted Vegetables (P420/small, P630/medium), which turned out to be stalks of Chinese broccoli, will make you eat your greens without much argument. In case you're still wondering how something bitter could taste good, this is the answer.
The Fried Golden Mushrooms with Salt and Pepper (P300/small, P450/medium) may be the suggested viable alternative, but those crispy curls of mushroom don't play second fiddle. They're addictive in their simplicity, similar to chicharon but healthier.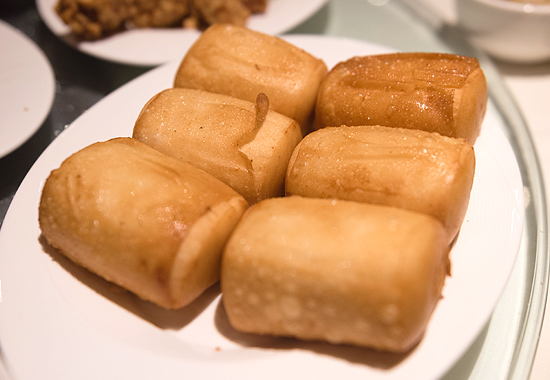 ADVERTISEMENT - CONTINUE READING BELOW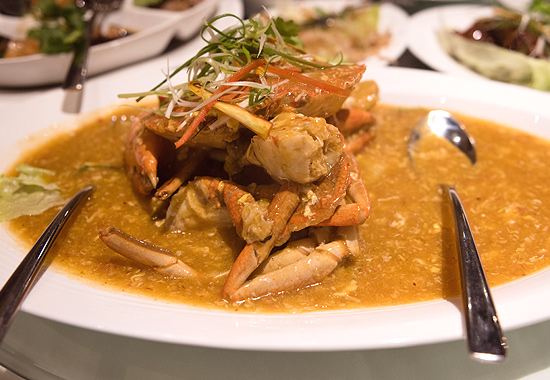 Singaporean Chili Crab and Mantou Buns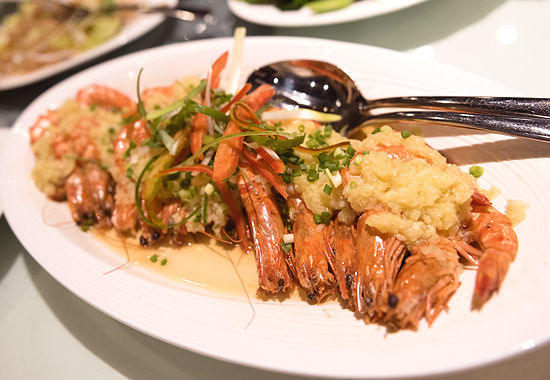 ADVERTISEMENT - CONTINUE READING BELOW
Prawns with Garlic (P525/small, P1,050/medium)
The beauty of having ingredients this gorgeous and fresh is that the kitchen doesn't really have to do much to make them shine. They already have a great canvas to create worlds of flavor. Example? Fat prawns with a toss of garlic on top. It's juicy, a jolt of spice, like little bombs of flavor.
Ming Kee's piece de resistance is the Crab Beehon, which has its own one-page dedication on the menu, but the rest of the crustaceans are dressed in equally impressive fashion. The Singaporean Chili Crab (price by weight) lusciously sits in a pool of fiery red sauce. The crab is wonderfully buttery and sweet (a mark of freshness!), taking in so well to that rich sauce. The dish comes with some mantou buns that are begging to be fired up with that chili sauce. Before deep-frying, the buns are wrapped in wanton for a nice contrasting crunch.
ADVERTISEMENT - CONTINUE READING BELOW
Singaporean by origin, Ming Kee sure knows how to shake up Chinese cuisine. The kitchen better get prepped for the inevitable crowds. Or, you can just make early-dinner reservations. We actually feel bad for the one-man valet service.
Photos by Jason Mariposa
Share this story with your friends!
---
Help us make Spot.ph better!
Take the short survey
Load More Stories