10 Under-The-Radar Ramen Places You Shouldn't Miss
Ramen is forever, even in this weather.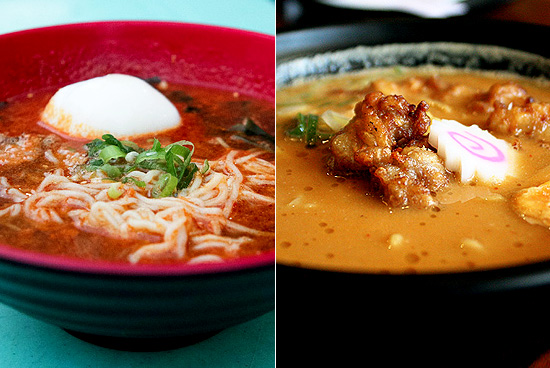 (SPOT.ph) Ramen in the summer probably makes no sense to a lot of people, but is there really any reason not to enjoy a bowl of this Japanese favorite? It's like not wanting a hug just because it's a warm day. Like the ubiquitous comfort bulalo gives to Pinoys, ramen produces the same kind of embrace to hearts that need mending, as well as hungry palates and taste buds that just can't seem to get enough of this savory fix!
ADVERTISEMENT - CONTINUE READING BELOW
Who cares if we're in the midst of ramen weather (read: temperatures as hot as our tonkotsus and misos!). Ramen never ends (nope, it's not "Soooo 2012!"), and it's time to brave the heat and get slurping—stat! Ippudo and Ramen Yushoken lines too long for you? Check out these 10 ramen joints you may have missed and are worthy of a visit soon.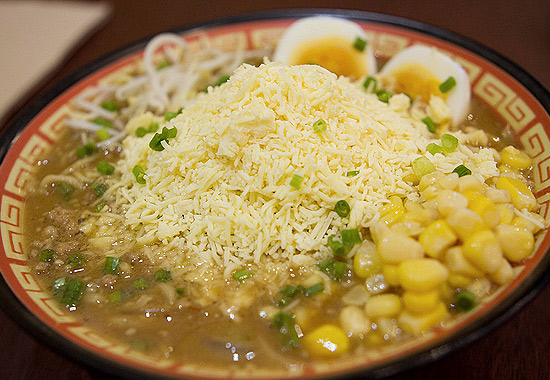 ADVERTISEMENT - CONTINUE READING BELOW
Go-En: The Japanese Ramen Shoppe
Jardin de Zenaida, Unit B1 34 Sergeant Esguerra Avenue, Barangay South Triangle, Quezon City
Contact: 441-4636
Open from 12 p.m. to 12 a.m. daily
Go-En's ramen is richer than usual, but not so much that you'll want to quit midway through the bowl. The effect is the opposite, in fact. It makes you crave more with every bite—so much so that you might want a second serving. Go-En boasts dishes that adhere to strict Japanese standards, giving the customers a taste of Japan with every bite. Their Shoyu (P350) and Karamiso (P380) are winners, but if you're feeling a bit adventurous, go for their Cheese Ramen (P350), a miso-based ramen topped with Gouda cheese...lots and lots of Gouda cheese! While waiting for your orders to come in, pick up a Kendama, a Japanese version of a cup-and-ball. Like their sumptuous bowls of ramen, it's hard not to get addicted to the game, too!
ADVERTISEMENT - CONTINUE READING BELOW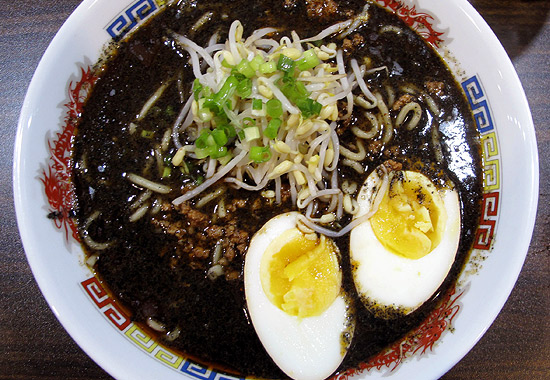 Mensakaba Geishu
345 Aguirre Avenue, Southland Apartments, BF Homes, Parañaque City
Contact: 546-9302
Open from 11 a.m. to 2 p.m. and 5 p.m. to 10 p.m. (Tuesday to Sunday)
Japanese-Filipino couple and owners, the Hottas, have a simple three-fold philosophy: serve authentic Japanese ramen, offer the best service, and have customers walk out happy. True enough, this 10-seater ramen bar has attracted a cult following in the neighborhood and has been gaining more and more attention from "outsiders." For P250 per bowl, savor the flavors of Hiroshima-style ramen and satisfy that craving with bowls that don't scrimp on the meat and vegetables. Try Mensakaba's "Black Tantan," an off-the-menu secret known only to their loyal patrons. 
ADVERTISEMENT - CONTINUE READING BELOW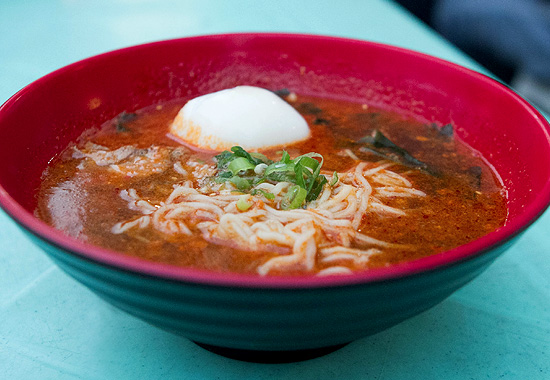 Vest Ramen in Town by Erra's Grill
1755 Adriatico Street, Malate, Manila
Contact: 354 9505
Open 24 hours
Ramen along the streets of Manila, complete with cars, jeeps and pedicabs breezing through plus the occasional peddler of manga't bagoong and tusok-tusok, a generous amount of smoke inhaled and then some...why the hell not? Vest Ramen in Town by Erra's Grill is a no-frills ramen house which offers bowls which start at—you won't believe it—P60! Add ons are around P10 per ingredient (egg, vegetables, additional pork), so a filling bowl wouldn't cost more than a P100. Their tantanmen is an interesting pick: The kick is just right and the broth, albeit not as creamy as its original version, is something worth coming back for again and again. And in true Malate fashion, enjoy your bowl with a nice bottle of below zero beer. Perfecto!
ADVERTISEMENT - CONTINUE READING BELOW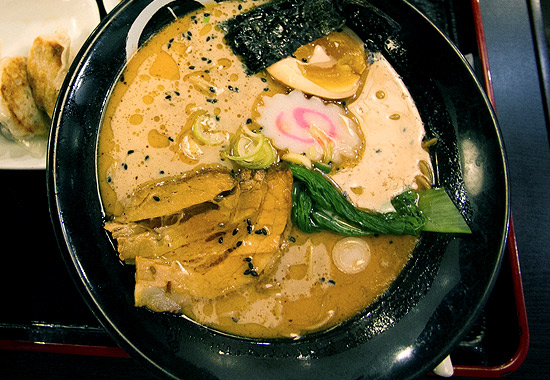 Ramen Kuroda
96 Aguirre Avenue, BF Homes, Parañaque City
Contact: 553-6824
Open from 11 a.m. to 2:30 p.m. and 5 p.m. to 10:30 p.m. daily
Ramen Kuroda is the Philippine counterpart of Tokyo's Nerima Isshi restaurant. Abiding by the values of perfection, the establishment's Japanese chefs are sure to serve excellent bowls of ramen order after order. Ramen Kuroda's sets, which start at P400, are a must-try if you find yourself driving down South. Pick your favorite ramen flavor and complete your meal with either a choice of gyoza, karaage, or beef chahan, Japanese salad, pickled vegetables and hot tea. We highly recommend their Kuro Ramen: It flaunts a tonkotsu-based broth infused with a unique garlic flavor that's both rich and smoky. Since Ramen Kuroda's noodles are handmade in-house, you are guaranteed to have firm, flavorful noodles with every bite. A complimentary noodle refill also awaits a la carte orders.
ADVERTISEMENT - CONTINUE READING BELOW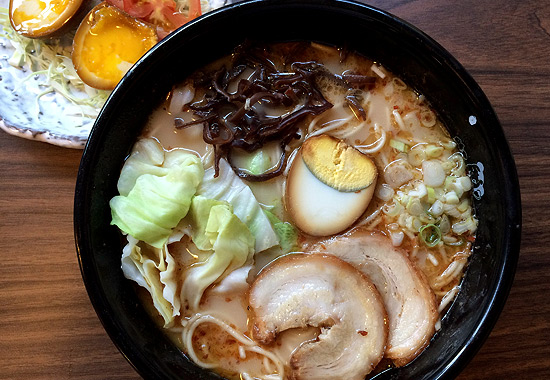 Ajisen Ramen
Unit 106 Plaza 100 Building, V.A. Rufino Street, Makati City
Contact: 550-9651
Open from 11 a.m. to 10:30 p.m. (Monday to Saturday)
This one is borderline mainstream, but with the arrival of other major ramen players from Japan, Ajisen has been pushed under the radar. A fitting alternative to your mall-based ramen houses, this place maintains the quality that they've set pre-ramen trend. Their Ajisen Special (P265) is a savory blend of BBQ pork, Ajisen oil, Okinawa salt and a secret "thousand-herb" powder. But the best part hasn't come yet...
ADVERTISEMENT - CONTINUE READING BELOW
Don't forget to get an extra order of their Ajitsuke Tamago (P50), one of best seasoned soft-boiled eggs we've ever tried in Manila. Tamago nirvana!
Ajisen Ramen also has branches in Robinsons Manila and Greenhills Shopping Center.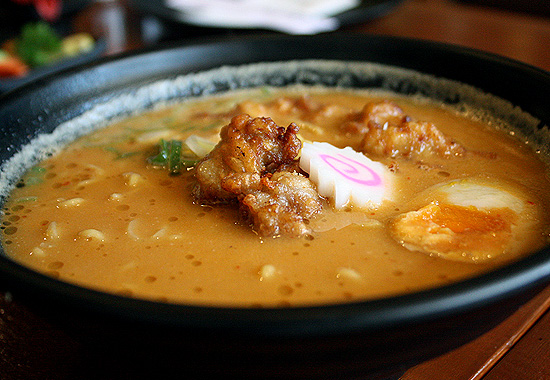 Takashi
Pioneer Center, Pioneer Street, Brixton Street, Pasig City
Contact: 0905-510-9554
Open daily from 11 a.m. to 10:30 p.m. 
ADVERTISEMENT - CONTINUE READING BELOW
This hidden nook makes a well-rounded statement at answering every Japanese fix—from the ubiquity of salmon sashimi to the trendy Spam Curry Rice to the juicy complexities of uni tempura. This fuss-free restaurant doesn't just produce dishes. It produces habits, and the ramen menu—with nothing over P280—is no exception. Young chef Takashi Kawasaki makes his noodles fresh and by hand, an effort that results to thinner-than-usual springy, al dente strings swimming in stock that's been boiled for over nine hours. The Hokkaido Miso Ramen (P250) is the crown jewel of the ramen kingdom, but there's just something about the Spicy Chicken Karaage Ramen (P280) that has us hooked. The fried chicken manages to maintain its crispiness even in the just-right fiery soup and the flavors take to each other so well.
Read more about Takashi.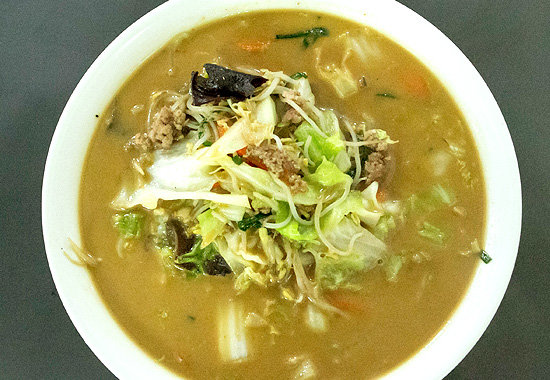 ADVERTISEMENT - CONTINUE READING BELOW
Yamazaki: Ramen House and Grocery
2288 Fernando Street, Pio Del Pilar, Makati City (Little Tokyo)
Contact: 893-2162
Open from 7:30 a.m. (grocery) to 9 p.m. (Monday to Saturday)
On the outskirts of Little Tokyo stands a nondescript grocery store where parking's always full. It looks every bit the place for Japanese expats to do their weekly grocery run, but it's not just a shop. Enter the small door and marvel at a bustling restaurant that serves probably one of the biggest bowls of ramen in Manila. A bowl of their ramen, we'd recommend their Miso (P260), is good enough for two—Yamazaki doesn't look down on sharing—and the service is great. It is the perfect place for hungry bellies on a tight budget. Spend no more than P500 for a meal good for three. Unless, of course, you swing by five steps across and help yourself to Japanese goodies to take home! Matcha KitKat and Kewpie Mayonnaise, anyone?
ADVERTISEMENT - CONTINUE READING BELOW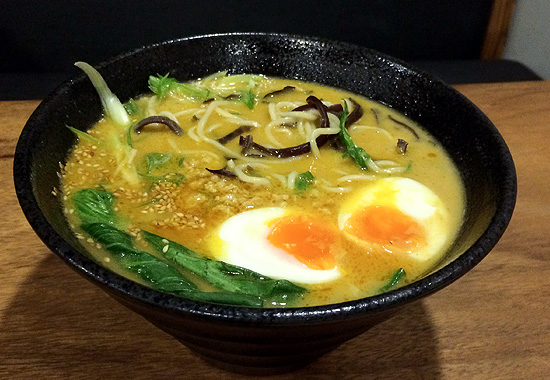 Butamaru
405 Westgate Center, Filinvest Corporate City, Alabang, Muntinlupa City
Contact: 887-4255
Open from 11:30 a.m. to 10 p.m. daily
Tucked within the Westgate complex is Butamaru, the newest ramen joint in the Alabang area. The secret to their indulgent Hakata-style ramen is in their 16-hour tonkotsu broth. The flavor is impeccable, making you taste every minute the broth spent preparing for this moment—you eating it. Their Shoyu Ramen (P320) is a hit, but their Chashu (P150), one of the best in Manila, makes it all the more better. Roasted Butamaru pork goodness with perfectly laced fat in between bites? Yes, please! The restaurant is perfect for your next barkada reunion as it has ample seating and large tables fit for generous group orders. When heading south for a ramen run, think about Butamaru, too.
ADVERTISEMENT - CONTINUE READING BELOW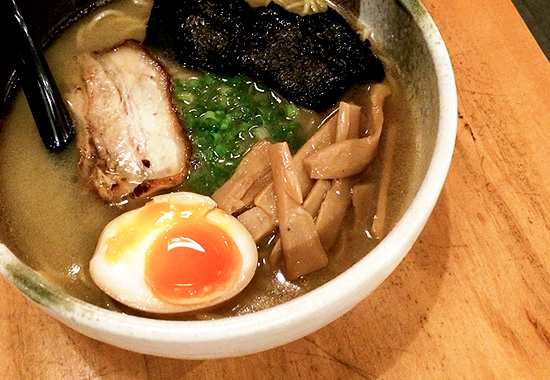 Yoshida Seimen Yokohama Ramen
RG 4 Makati Creekside Amorsolo corner Herrera Street, Makati City
Contact: 887-2352
Open from 11 a.m. to 2 p.m., 5 p.m. to 11 p.m. (Monday to Thursday, Sunday), 5 p.m. to 2 a.m. (Friday and Saturday)
Yokohama-style ramen is 90% chicken broth-based, a style that's relatively uncommon in the local scene's pork-dominated soups. Still, that doesn't mean it shirks on flavor. Yoshida Seimen's ramen is a pleasant surprise. Definitely unlike your usual tonkotsu broth, the taste is very complex yet simple at the same time—housing layers of flavor that blend beautifully with every slurp. It's creamy without being heavy, and rich without being too much. Their Noukou Ramen (P350, P175/half order) is heaven sent by the ramen gods; pair it with their tamago (P40) to complete the blissful treat!
ADVERTISEMENT - CONTINUE READING BELOW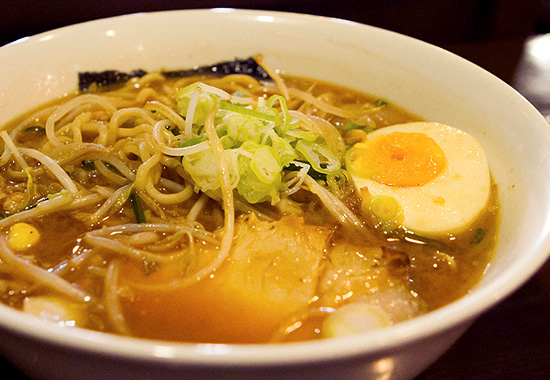 Tamagoya Food House
2 VV Soliven Avenue, Greenheights Subdivision, Mayamot (at the border of Antipolo and Marikina)
Contact: 861-8631
Open from 11 a.m. to 2 p.m. and 5 p.m. to 9 p.m. (Tuesday to Sunday)
In one of your visits to the Marikina and Antipolo area, make a quick stop to Tamagoya Food House and indulge (and we do not say this lightly due to their affordable pricing) in their Japanese fare. For bowls starting at P158, you can enjoy generous servings of ramen and pair them with gyoza (P118) or tori zangi (Hokkaido fried chicken, P158).  They also serve Katsu sets (P148) and great Onigiri (Japanese rice balls) which only cost P50 a pop. The ingredients that go into the ramen are fresh and vegetables are crisp, so you know you're chowing down the good stuff. You'll have Tamagoya's hello and goodbye greeting ringing in your head for days after your visit, but because of the cheap, really good tasting bowls of ramen, we might just let that little quirk pass. 
ADVERTISEMENT - CONTINUE READING BELOW
Photos by Mario T. Dagdag; Sasha Lim Uy (Takashi)
Load More Stories