10 Restaurants That Will Make You Eat Like Crazy
In some eateries, the word "diet" doesn't exist.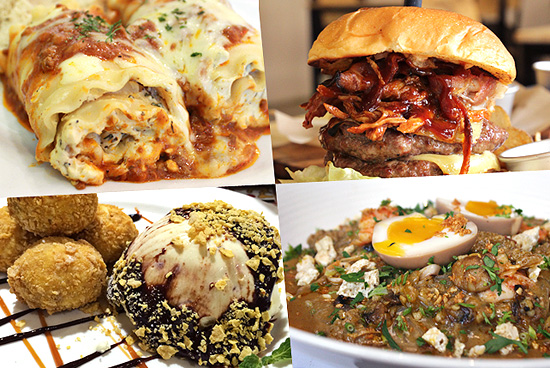 (SPOT.ph) We're always waxing poetic over restaurants that brand themselves as healthy eating destinations, and why shouldn't we? They value life by prolonging it, taking care of it. But who really gets to decide how to value life? Is it living on tiptoes or living on the edge? We hate to use the overused #YOLO, but what about that? What about the other side of the coin? Don't forget, we're talking about eating here.
The restaurants below aren't always over-the-top, they're not necessarily the best (but damn are they good), and they don't exactly promote overeating or excess (although some do). However, they have gastronomic je ne sais quoi that makes it really hard not to eat. Like every other eatery, they're concerned about diet—but in the indulgent kind. In these places, you're going to binge like crazy. And not really care.
Also read:
10 Must-Try Over-the-Top Burgers in Manila
10 Great Places to Eat Your Feelings in Manila
SPOT.ph Round-Up: Where to Get Giant Pizzas in Manila
10 New Healthy Eating Places in Manila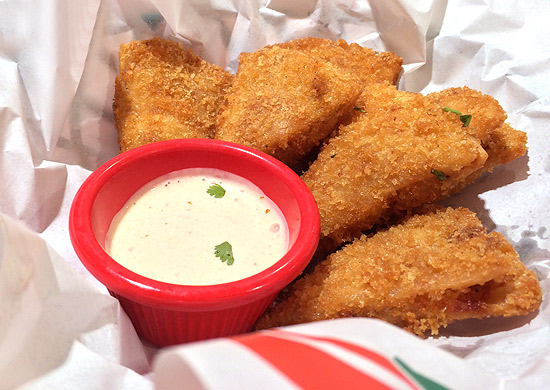 ADVERTISEMENT - CONTINUE READING BELOW
Chili's Bar and Grill
This high-school favorite has integrated itself so deep into the city's dining scene that they've become an old reliable for some gustatory satisfaction. Chili's is still top of mind for everyday American comfort food, but when they bust out the deep fryer, you'll know things are just about to get serious. The kitchen goes well beyond french fries and calamari. Just some of the things that enjoy a bit of Jacuzzi time in hot oil: spicy cheese poppers and cheesecake. Once, they even deep-fried some quesadillas. We miss them.
Click here for a list of Chili's branches.
CONTINUE READING BELOW
Recommended Videos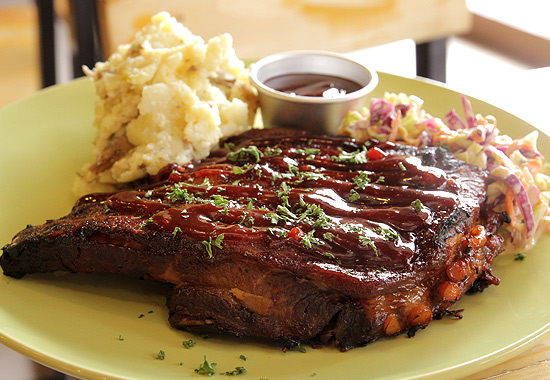 Fat Daddy's Smokehouse
With a name like that, how do you seriously question its anti-diet stance? By the way, they have a burger called Triple Death. If you're rewarding yourself with a cheat day, Fat Daddy's is the place for some worth-it calories. The menu is a meat-heavy composition—smoked, mostly, but there are some fried masterpieces that slip in every now and then. Flavor is the focal point, and that means not holding back on the good stuff. Especially fat. Everything is homemade, too, from the corned beef to the chitlins to the ribs, you can be sure of delicious juices with every bite.
ADVERTISEMENT - CONTINUE READING BELOW
Fat Daddy's Smokehouse is at 171 Dao Street corner East Drive, Marikina Heights, Marikina City. Read more about Fat Daddy's Smokehouse.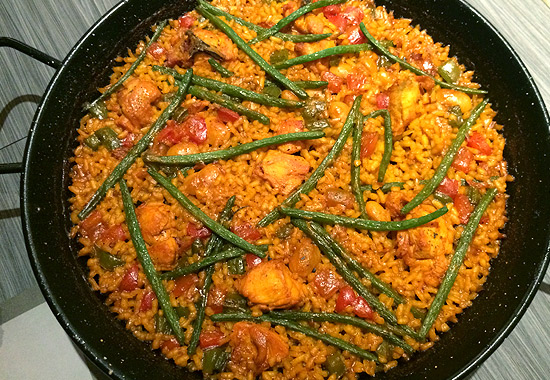 ArroZeria
First and foremost, ArroZeria is carb central. The star is rice, which Chef Chele Gonzalez turns into paella, risotto, and meloso. Even the alternatives are carbohydrates, like fideua, which are really thin noodles styled like a paella. This, however, isn't the reason you'll be loosening your belt. See, the prices on ArroZeria's arroces menu are for individual servings, which is half a pan. A minimum order of two servings or one whole pan is required per flavor. That doesn't seem so bad now, but when confronted with the menu, you're getting to be hard-pressed choosing just one dish. You're going to want to get the classic Valenciana. No, maybe the Negra. Oh wait, how about the one with duck and mushrooms? Heck, get them all and think about the consequences later. You're not going to leave this restaurant without eating a whole lot of rice.
ADVERTISEMENT - CONTINUE READING BELOW
ArroZeria is at 5/F Century City Mall, Kalayaan Avenue, Makati City. Read more about ArroZeria.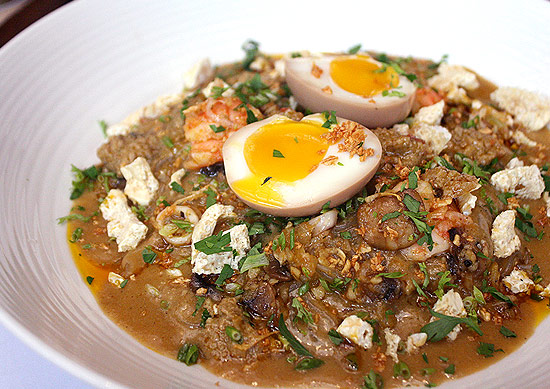 Locavore
Chef Mikel Zaguirre is busy with a new project, Fat, which emphasizes just the most sinful ingredients and techniques (imagine french fries with a bone marrow gravy). But this isn't to say that Locavore is a slouch when it comes to decadence. His modern Filipino fare is packed with all things that make Filipino food good. Fat. It's his main tool for pushing flavor. The secret behind his Pancit Luglog, for instance? An aligue bisque flourished with chicharon! He puts aligue in his sugpo dish, too! Totes insane.
Locavore is at 10 Brixton Street, Pasig City. Read more about Locavore.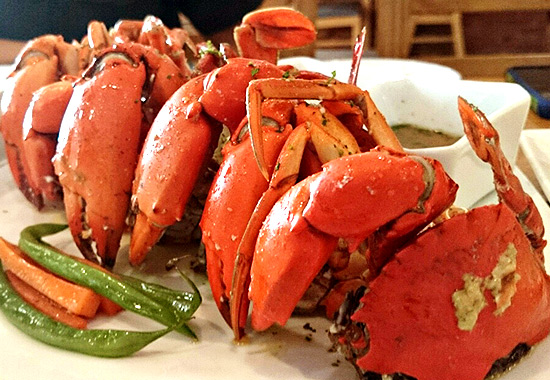 ADVERTISEMENT - CONTINUE READING BELOW
El Cangrejo
Two things make up the premise of this hidden cabin in Quezon City: crabs and steak. That doesn't sound too intimidating, we admit, but drop by for dinner on Tuesdays and Thursdays, pay P799, and you can get those two unlimited. Crab especially has a quality that's especially insatiable. You'll never notice just how much you've had until you see the damage in the pile of shells. Beef and seafood may seem easy on the stomach, but that's the dangerous part. El Cangrejo's kitchen doesn't shy away from using butter. That's why everything is so good here.
El Cangrejo is at 34 Sergeant Esguerra Street, Quezon City. Read more about El Cangrejo.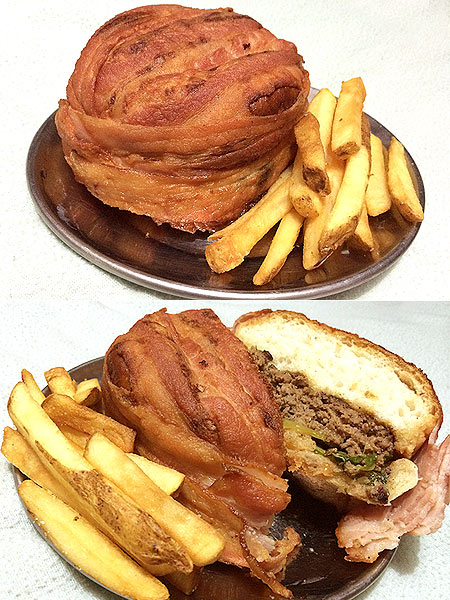 Zark's Burgers
Here's a restaurant that doesn't shy away from the fatal stuff. Not that that isn't expected. Zark's mantra is "It's fresh. It's huge. It's great." Here, nothing comes in petite, nothing comes without grease. The menu is divided according to wildness: from Minor League to Major League to Pound for Pound. The latter is where you can see outrageous sandwiches like the Jackhammer (a half-pound patty stuffed with cheeses), the bacon-wrapped Deep-Fried Burger, and the Jawbreaker (a dramatic triple-patty craziness with Spam, cheese, and bacon). The Tombstone consists of a two-pound patty and a warning: "This might kill you on the spot."
ADVERTISEMENT - CONTINUE READING BELOW
Prices are student-friendly because really, only the young ones can afford this much sin.
Click here for a list of Zark's Burgers branches.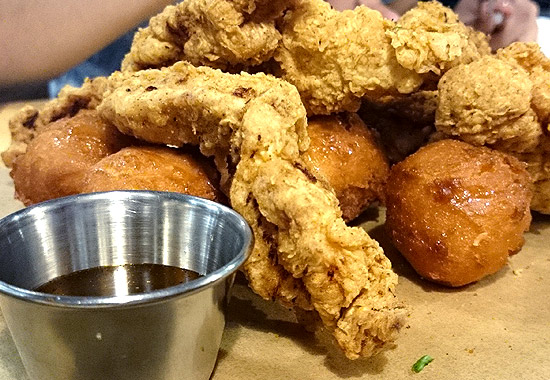 Kettle and Fireside by Kettle
Chef Chiloy Santos is a whiz on Southern-style comfort food. Take it from Paula Deen, this cuisine is all about deep flavors, deep-frying, and butter. Everything from the kitchen is so painstakingly seasoned that every dish feels like a personal statement from the chef himself. Kettle is notorious for its fried chicken that's just bursting with great-tasting juices and bolstered by the zingiest, moistest corn cakes. The Shangri-La favorite also pairs steak with bone marrow as proof that nothing is ever too much. Ever heard of the marshmallow test? Replace the sweet pillow with their tangle of pork and potato strips, and see how long you can last without taking a bite.
Kettle's sister restaurant, Fireside, isn't too shabby either. It has its version of the Kettle signature made up of fried tenders and hush puppies.
ADVERTISEMENT - CONTINUE READING BELOW
Kettle is at 5/F Shangri-La Plaza East Wing, Mandaluyong City; Fireside is at 3/F SM Mega Fashion Hall, Mandaluyong City. Read more about Kettle and Fireside.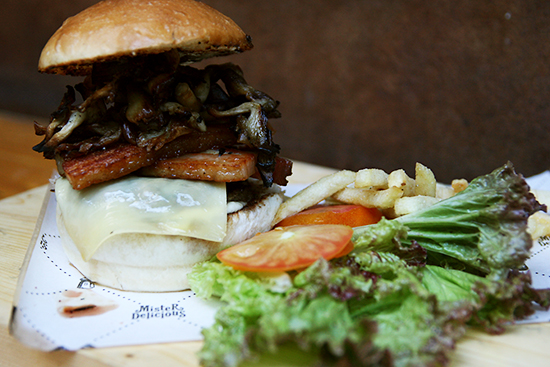 Mr. Delicious
Jeremy Slagle, a.k.a. Mr. Delicious, is a master of meats. He's an artisan when it comes to curing and smoking, and he showcases this skill in his own nook in Century City's Hole-in-the-Wall. Mr. Delicious the food stall is a carnivore's sanctuary. His sandwiches boast thick fillings of the most amazing corned beef (cut with the brightness of sauerkraut), his bacon strips are chunky with fat running in between the laces of ruddy pork, and his grilled cheeses spill over the sides. That's what we love about Mr. Delicious. Everything is over the top. And everything is over-the-top good.
Mr. Delicious is at Hole in The Wall, 5/F Century City Mall, Kalayaan Avenue, Makati City.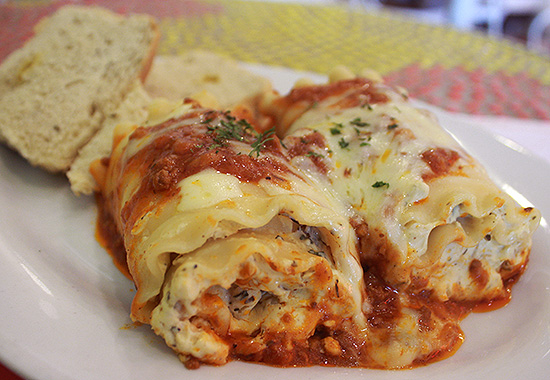 ADVERTISEMENT - CONTINUE READING BELOW
Banapple
Banapple's menu not only sounds so good and tempting, their low prices will make you actually want to buy everything, may it be pastas, rice, or desserts. This place is the answer to your rustic cravings. The servings are enormous—just like the kind you get at home—and the kitchen doesn't back away from hearty things like extra cheese and frying. Their famous Chicken Parmigiano is a heavyweight and so are the equally notorious Lasagna Roll-ups. Banapple started in confectionery, and their sweets are glorious. There's Banoffee Pie, FudgyMudgyMud Pie, Jeepers Creepers Pie, and more.
Their offerings may be simple, but Banapple tugs at your heart and appetite, making them so hard to resist.
Click here for a list of Banapple branches.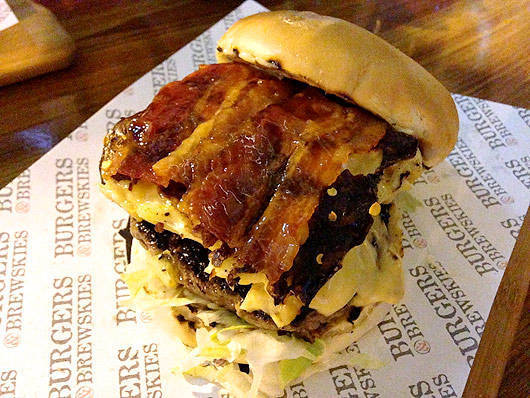 BB Burgers & Brewskies
You can't really tell if this restaurant wants to make you happy or kill you. A bit of both, we guess. A couple of years since BB Burgers & Brewskies has opened, and we have to say a nurse isn't enough to counter the effects of the Call The Nurse (that's a burger with a block of macaroni and cheese inside). We need an entire hospital staff to help us. You need courage to go through the menu, which is peppered with mad burger equations in colossal sizes. BB Burgers & Brewskies challenge what you could put between two slabs of bread, but the crazy part is that every combination is so good. There's the Walk of Shame, which is their version of a breakfast burger; the Kandi, which has gorgeous ribbons of bacon; the Cloud, which is topped with mushrooms, and more.
ADVERTISEMENT - CONTINUE READING BELOW
BB Burgers & Brewskies has branches at Burgos Circle, Forbes Town Center, Bonifacio Global City; and Estancia Mall, Capitol Commons, Pasig City. Read more about BB Burgers & Brewskies.
Also read:
10 Must-Try Over-the-Top Burgers in Manila
10 Great Places to Eat Your Feelings in Manila
SPOT.ph Round-Up: Where to Get Giant Pizzas in Manila
10 New Healthy Eating Places in Manila
---
Help us make Spot.ph better!
Take the short survey
Load More Stories