New Restaurant Alert: Lazy Bastard at Jupiter Street, Makati City
This hidden burger joint is proud to be ridiculous.
Lazy Bastard
Basement Floor, 22 Jupiter Street, Makati City
Contact: 832-5330
Open daily from 11 a.m. to 3 a.m.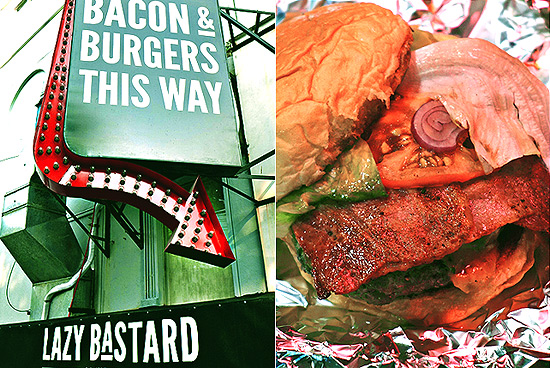 (SPOT.ph) You'll have to look for it: eyes peeled, scanning every corner and every block on Jupiter Street. Lazy Bastard operates under the radar. Literally. It's in a basement, a silent force amid the bustling Makati thoroughfare. But your eye will automatically catch a sign that says, "bacon & burgers, this way," and you'll know only good things await, deep-fried and bacon-wrapped good things.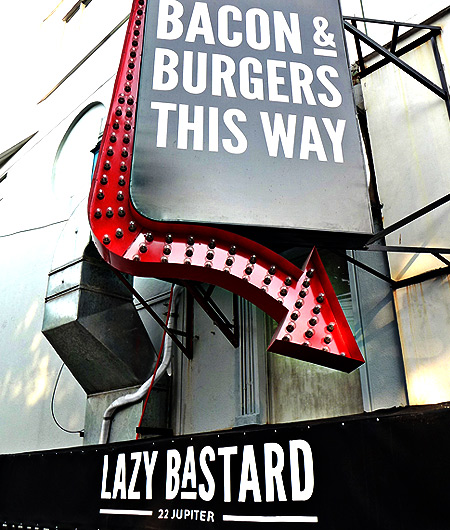 ADVERTISEMENT - CONTINUE READING BELOW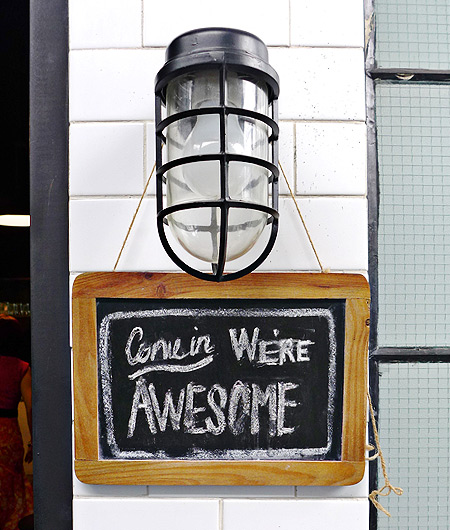 CONTINUE READING BELOW
Recommended Videos
Yup, this is the place.
"The name is what you become after eating our food," says Lazy Bastard managing owner Patrick Cuartero, who runs the business together with mixologist Lee Watson. They were on Google for some inspiration when they stumbled upon one of Patrick's favorite New York City-based restaurateurs, Keith McNally of Balthazar, Schiller's, Pastis, Minetta Tavern, et cetera. Mr. McNally was apparently talking about how he acquired his furniture for Schiller's when he suddenly blurted out that they were all "lazy bastards." According to Patrick, that was the "eureka moment."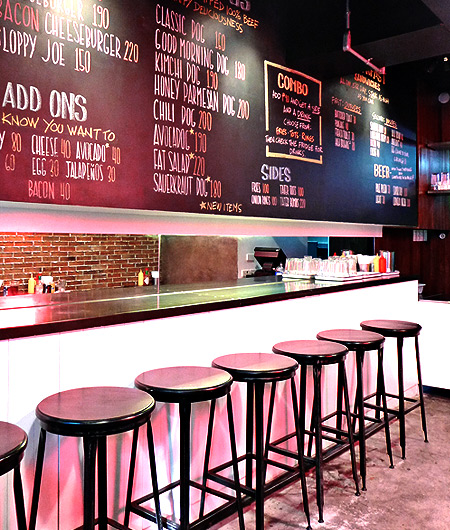 ADVERTISEMENT - CONTINUE READING BELOW
Snazzy pub style
Lazy Bastard's ambience is inspired by a typical New York pub—mood lighting, modern fixtures, cool music, and all. Open since March 2015, Patrick says their burger and hotdog joint has opened its doors to the "hungry, inebriated, hung-over, or curious," or to those who are up for some no fuss but uncompromised grub after a long workday or night of partying.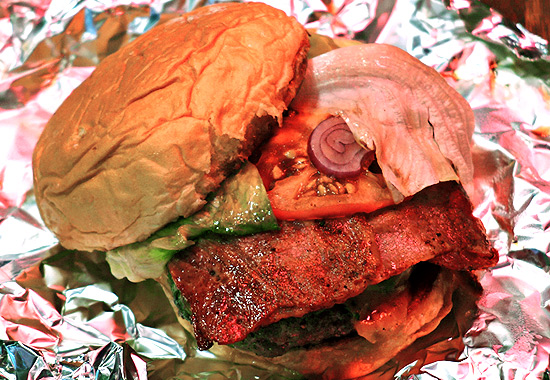 Bacon Cheeseburger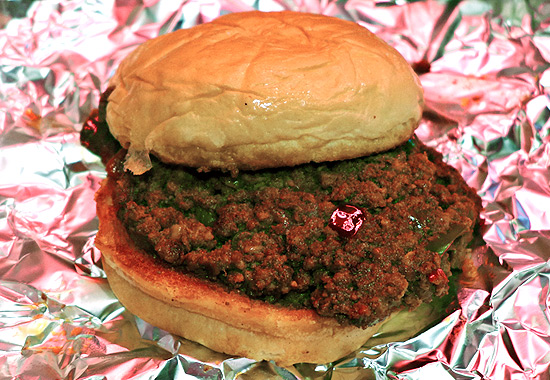 ADVERTISEMENT - CONTINUE READING BELOW
Sloppy Joe
Their strong suit is their Bacon Cheeseburger (P220), a potato bun that holds a 100% ground chuck beef patty, a crunchy strip of bacon, and a generous helping of premium lettuce, tomato, and onions. Another bestseller is their Sloppy Joe (P150), a messy but oh-so-good sandwich consisting of ground beef, onions, and Lazy Bastard's own specialty sauce.
Other burger varieties on the menu include the classic Hamburger (P160) and Cheeseburger (P190), which may be served with add-ons, upon request: Patty (P80), Chili (P60), Cheese (P40), Egg (P30), Jalapeños (P30), and Avocado (P40).  
Their burgers, along with everything else on the menu, are served in aluminum foil or brown paper bags. Presentation at a minimum. Patrick says: "We hate pretense in food so we wanted to eliminate all of it and just focus on simple but amazing goodness. We let the food do all the talking."
And because this is a place that promises bacon, Lazy Bastard has them hugging hotdogs and flourishing stack-as-high-as-you-can breakfast sandwiches to suit every fancy.
Give their Honey Parmesan Hotdog (P200) a go if you appreciate sweet and salty flavors in each bite. Other varieties to try are their Kimchi Dog (P190), Chili Dog (P200), and Fat Salad Dog (220).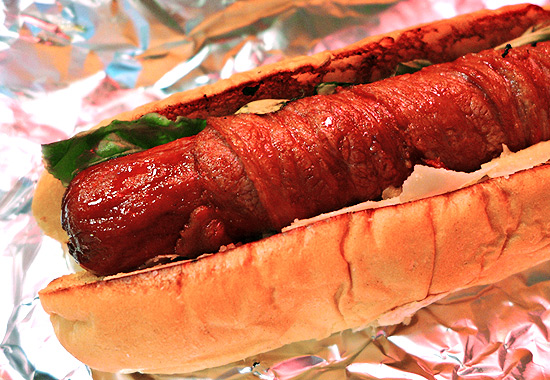 ADVERTISEMENT - CONTINUE READING BELOW
Bacon hug!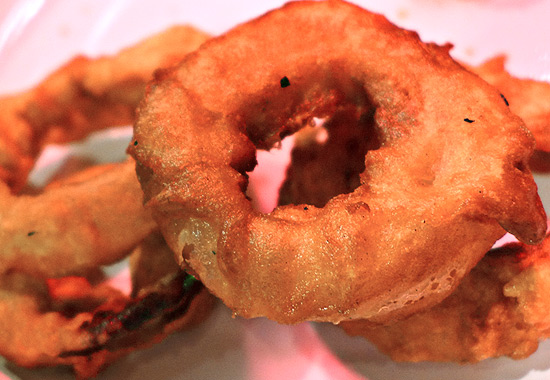 Onion Rings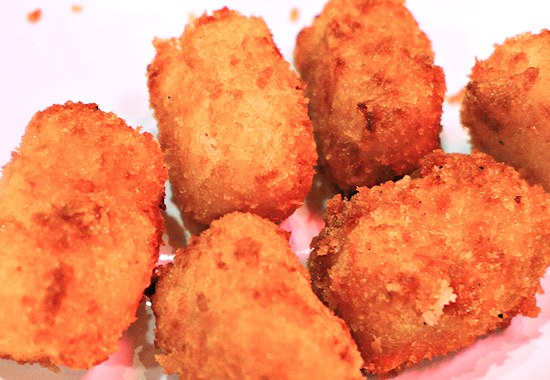 Tots
For their all-day breakfast sandwiches, have your pick of buns from Buttered Toast (P30), Pancake (P40), French Toast (P70), and Hash browns (P80) and fillings like Sausage Patty (P60), Longganisa Patty (P60), Bacon (P40), Cheese (P40), Hash brown (P40), Avocado (P40), and Egg (P30). You can make your own creation, but the Pancake or French Toast with a Bacon or Sausage Patty are most recommended.
ADVERTISEMENT - CONTINUE READING BELOW
Upgrade your burger, hotdog, or sandwich to a Combo (P90) by adding sides (fries, tater tots, or onion rings) and a drink (excluding beers). You may also get Tater Bombs (P220), tots wrapped in bacon, to go with your meal for an extra dose of fun and grease.
Lazy Bastard has a few more tricks up its sleeve. In the coming months, expect additions like fried chicken sandwiches (an, er, lighter alternative for those who do not eat beef or pork), classic milkshakes, and more creative outputs on the existing menu.
"These [creations] will keep people either disgusted (because of the ridiculousness) or in awe (by the awesomeness)," Patrick says. Whichever camp you're in, trust us, you'll still be sniffing out the promised land of bacon and burgers. At Lazy Bastard, every day is a cheat day.
---
Help us make Spot.ph better!
Take the short survey
Load More Stories