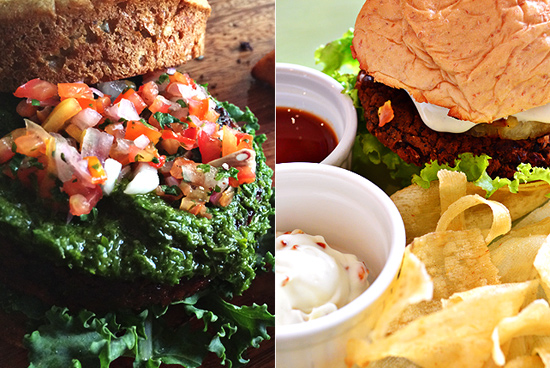 (SPOT.ph) We can't emphasize this enough: Healthy stopped being boring a year ago. Now, things like gluten-free, vegan, and soy-free are all the rage. Thinking about your body is the trend, and restaurants are responding with health-centered selections that offer an alternative to the usual calorific affair. This list is about that—meat-free burgers that don't shirk from flavor. Could they be even better than beef?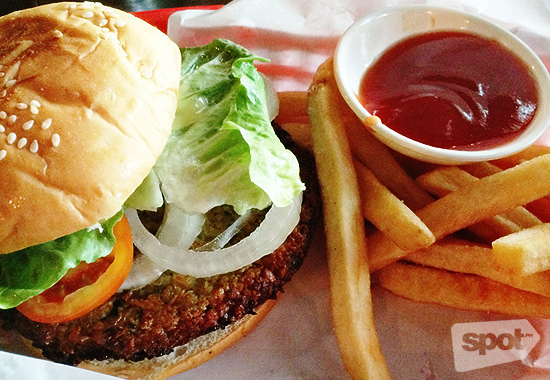 Señor Pollo's Veggie Burger (P274)
Curiosity draws you towards the few meat-free options in this chicken-dedicated space. The veggie burger in Señor Pollo has the same flair as the other South American dishes they serve—spicy, as in spice-filled. It comes with a side of fries that helps even out the flavors of the garbanzos patty. Added tip: Use the white sauce on the table to give it a little more edge.
Señor Pollo has branches at F7 Building, Scout Rallos Street, Quezon City; and 5767 Ebro Street, Makati City. Read more about Señor Pollo.
ADVERTISEMENT - CONTINUE READING BELOW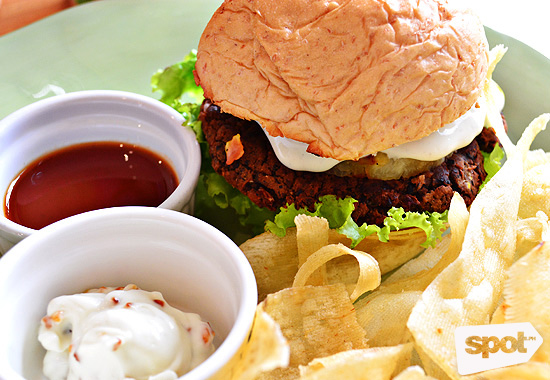 Pipino's Blackbean Burger (P225)
Known for its vegan treats, Pipino has a few burgers on their roster, but the Blackbean Burger is a solid choice. They amp this baby up so well: Apart from the already flavorful mango salsa, it comes with smoky-sweet barbecue sauce, kale malunggay pesto, vegan ranch dressing, and a final topping of grilled pineapple. Choose your own sides and you know you have a great meal.
Pipino is at 39 Malingap Street, Teachers Village, Quezon City. Read more about Pipino.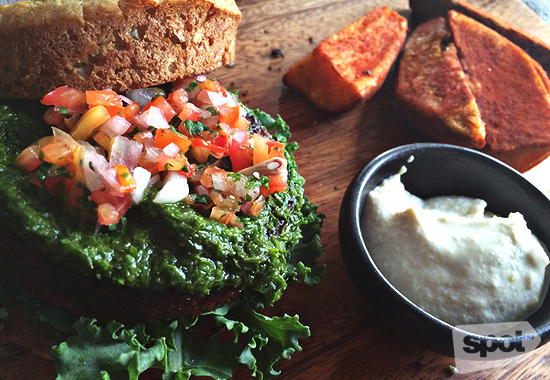 ADVERTISEMENT - CONTINUE READING BELOW
Recommended Videos

SUSI's El Chimichurri (P475)
Beets aren't usually the core of your veggie burger, but this one is pleasantly surprising. SUSI is straight-up vegan, and their meat-free burger is composed of beets, chimichurri, "cream cheese" (which is actually made from carrots), and pico de gallo. Something else worth noting in their burger is the bun. Instead of the usual soft bread bun like a Kaiser or a brioche, this one is a little tougher—similar to a scone or biscotti. SUSI's burger (or all of them, actually) is a brawny thing and the intense taste and size are meant to be shared.
SUSI is at Bellagio II, Forbes Town Center, Burgos Circle, Bonifacio Global City. Read more about SUSI.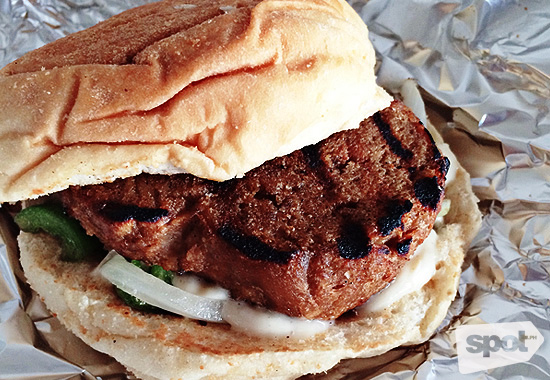 GoodBurgers' Persian Burger with Veggie Patty (P100)
If you're talking about bang for your buck, GoodBurgers definitely has it in the veggie-burger category. Healthier options are usually pricier, but this simple sandwich, with a generous slice of veggie patty and grilled onions and peppers, proves that money is not a hindrance to making better snacking choices. Everything is held together and boosted by their creamy garlic aioli sauce and the pan de sal consistency of the bun gives the burger a touch of comfort.
ADVERTISEMENT - CONTINUE READING BELOW
Click here for a list of GoodBurgers branches.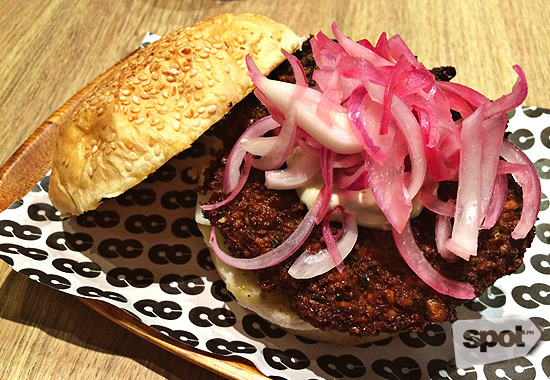 8 Cuts' The Falafel (P195)
This beautiful thing arrives exactly the way the menu makes it out to be. A big falafel (chick-pea patty) places itself between two toasty buns and hugged by a medley of red onion, white sauce, tomatoes, lettuce, and cucumber. This one's quite tasty. It's slightly on the salty side, but it's balanced out by the dollop of citrusy lime basil tartar.
Click here for a list of 8 Cuts branches. Read more about 8 Cuts.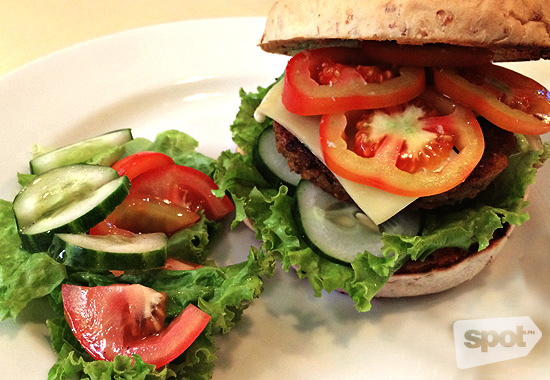 ADVERTISEMENT - CONTINUE READING BELOW
Greens' Mushroom Tofu Burger (P120)
This stack is a simple sandwich that doesn't prettify itself with crazy ingredients. You get what you expect: mushroom and tofu in a sandwich that's no-frills. The patty is served with a generous helping of tomatoes, cucumber, and a slice of cheese in between whole-wheat buns.
Greens Vegetarian Restaurant and Cafe is at 92 Scout Castor Street, Quezon City.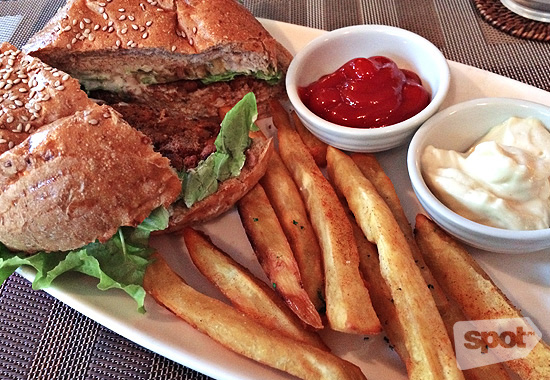 Corner Tree Café's Baked Tofu Walnut Burger (P335)
This meat-free candidate has an interesting tangy aftertaste. The combination of the walnut and tofu with the mint yogurt sauce is so unique that we're still finding the words to describe it. The texture of the patty is crunchy on the outside, but moist and crumbly on the inside (kind of like a well-done hamburger). And because you can't be healthy enough, this burger is also baked. Enjoy it with a cup of their tomato soup and you're golden.
ADVERTISEMENT - CONTINUE READING BELOW
Corner Tree Cafe is at 150 Jupiter Street, Makati City.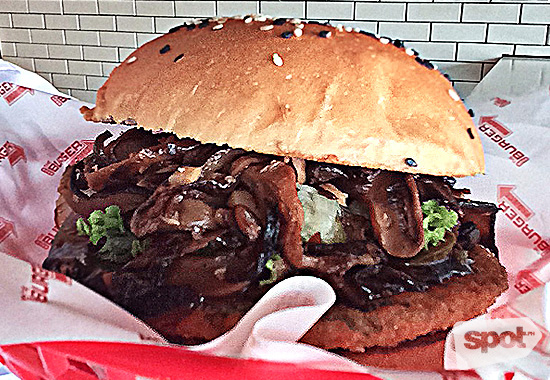 The Burger Project's Tofu Burger (P215)
This build-your-own tofu burger patty offers a more familiar texture to meat eaters, so if you're missing the crumbly feel of your everyday hamburger, this is your gateway treat. The advantage here is that it's fully customizable so you have the freedom to shape it to your liking. If you're hesitant about the lightness of a beef-free burger, go crazy with the toppings.
The Burger Project is at 122 Maginhawa Street, Quezon City. Read more about The Burger Project.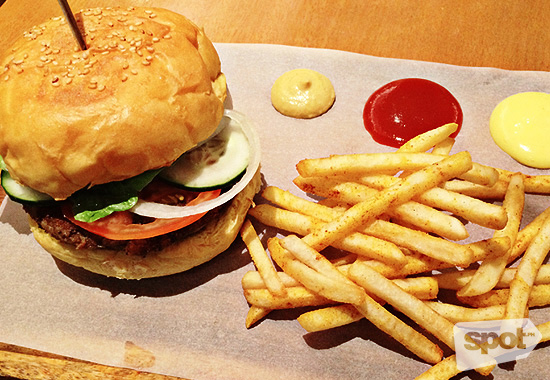 ADVERTISEMENT - CONTINUE READING BELOW
Love Shack's Veggie Burger (P265)
This burger looks pretty ordinary, even by the usual burger standards, but quit judging! Once you bite into it, you'll be able to detect the difference. The patty is made from a combination of fresh mushrooms and lentils and the result is wonderfully soft yet punchy from the earthy flavor of mushrooms. The profile has this smoky hint that goes well with the horseradish siding. This veggie burger doesn't leave you wanting for a meatier counterpart, that's for sure.
Love Shack is at SM Aura Premier, Bonifacio Global City.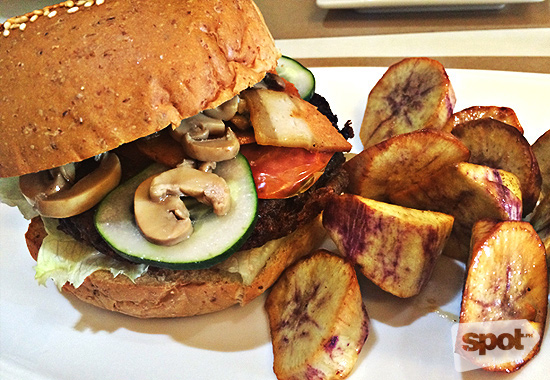 Agico's Bacon Mushroom Burger (P288)
Yes, that's right, bacon. Obviously, it's not a greasy strip of pork (we're talking about vegetarian burgers here), but rather a soy-based version of it. The "bacon" crowns a perfectly charred mushroom patty that has an extra dose of yummy mushrooms on top. It's the perfect setup for the tangy vegan mayo. You'll want to order more of the sauce because the burger comes with a hefty serving of sweet potato fries on the side.
ADVERTISEMENT - CONTINUE READING BELOW
Agico Vegetarian Cafe is at 83 Araullo Street, San Juan City.
Share this story with your friends!
---
Help us make Spot.ph better!
Take the short survey
Load More Stories