Top 10 Hotdogs in Manila
The hotdogs we relish the most!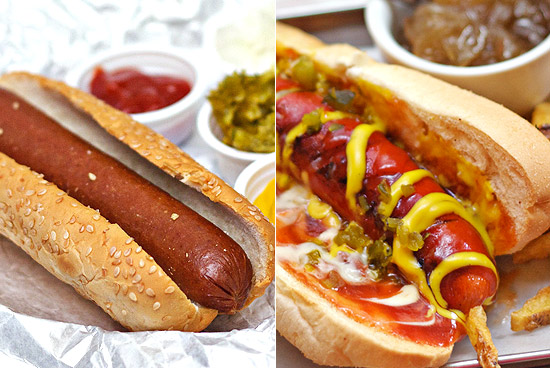 (SPOT.ph) Hotdogs. Since you're in the Philippines, they were probably a childhood breakfast staple, your school baon (alternating with chicken nuggets), or are still classic snacks when catching a movie or watching a basketball game. It's no wonder that there are so many places to find great hotdogs in the Metro (hindi mahirap maghanap ng hotdog sa Manila!) and in true Filipino fashion, we've creatively changed up the hotdog game to accommodate everyone's sandwich dreams, a full myriad of toppings included.
With the exciting opening of New York cult-followed hotdog stand Pinks later this year, we wanted to look at existing local hotdog stands and remember the local dog scene isn't too bad.
But before we begin, here's a little hotdog lesson for you (we never thought we'd ever say that sentence). Technically speaking, the hotdog is a type of sausage. A sausage refers to any processed meat with fat, spices, and preservatives, encased in animal intestines or commercial wrapping. Hotdog contents are usually a smooth churned or pureed paste while the components of a sausage are more identifiable, with visible little pieces of meat or spices. The hotdogs we know today are American adaptations of German sausages, frankfurters, and wieners, and are usually eaten for leisure. For this article, we sought out and stuck solely to the best hotdogs in Metro Manila.
ADVERTISEMENT - CONTINUE READING BELOW
All SPOT.ph Top 10 lists are researched, paid for, tested, and selected by the writers and editors. They are discreetly conducted without any notice made to the restaurants or their owners.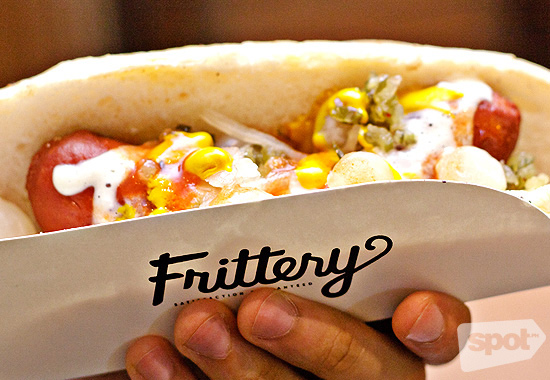 CONTINUE READING BELOW
Recommended Videos
10. Frittery's Beef Brat (P135)
The Belgian Fried franchise recently rebranded to The Frittery—and they don't just have great french fries, they have great hotdogs too! The Beef Brat is slathered with a great garlic sauce that changes the hotdog game. The Frittery allows you to be as liberal as you want with their pickled relish, cocktail onions, sauerkraut, mustard, and hot sauce, which all go great with their deep-fried beef brat(wurst, by the way). It's the perfect dog to pick up next time you're headed to the movies.
Frittery is at the Food Court, G/F Promenade, Greenhills Shopping Center, San Juan City.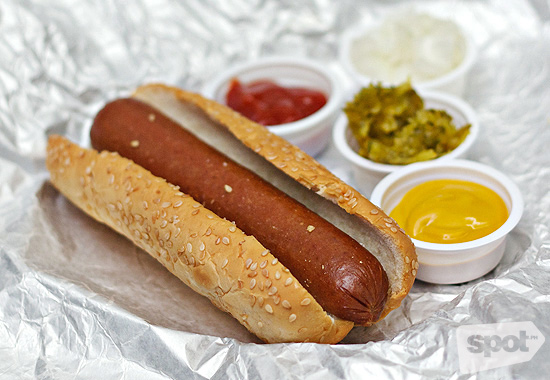 ADVERTISEMENT - CONTINUE READING BELOW
9. S&R's Classic American Dog (P109)
S&R's hotdog has the perfect meat-to-bun ratio. Approximately half of your sandwich is made up of their thick and meaty hotdog. The condiments are also your standard ketchup, mayo, mustard, relish, and onions, but unlike most places, it's in your hands to decide how much or how little of everything you want. It's another classic all-American hotdog that is a reliable default snack when you get hungry from perusing the grocery store aisles (if you haven't already gotten full from the samples).
Click here for complete list of S&R branches.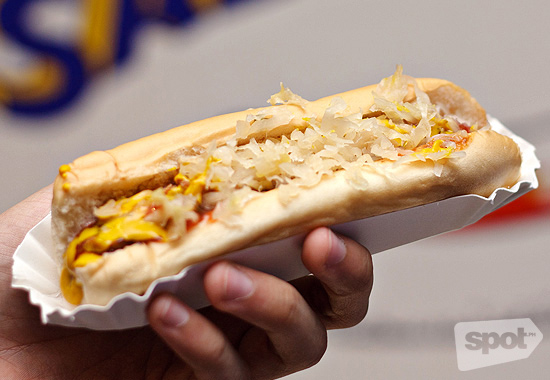 8. Sabrett Hotdogs' Classic Six-Inch (P110)
Growing up and watching films on American baseball, we wondered what the hotdogs they ordered in the stands tasted like. The closest to that vision is Sabrett's. The stand is still a favorite go-to for anyone craving the classic American hotdog, complete with ketchup, mustard, mayo, pickles, chili con carne, onion sauce, and sauerkraut. Served to you on a freshly steamed bun, just a whiff of this sandwich makes one think they're at a baseball game or even pretending to be a cop on the streets of New York.
ADVERTISEMENT - CONTINUE READING BELOW
Sabrett Hotdogs (cart) is at 4/F Shangri-La Plaza, Mandaluyong City.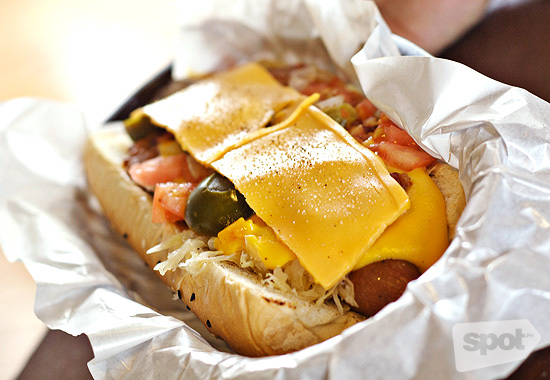 7. Charlie's Grind and Grill's Kitchen Sink Snapdawg (P250)
They aren't kidding when they say they'll serve your hotdog with everything but the kitchen sink. This snapdawg has a crazy heap of toppings, including cheddar cheese slices, jalapeño peppers, bacon, white onions, tomatoes, relish, sauerkraut, mustard, and some salsa with an extra kick. You'll barely see the hotdog! This dog makes it to the list for the sheer volume of its toppings.
Charlie's Grind and Grill has branches at 16 East Drive, Kapitolyo, Pasig City; Ronac Art Center, Ortigas Avenue, Greenhills, San Juan City; and Greenbelt Radissons Condominiums, Aguirre Street, Legazpi Village, Makati City.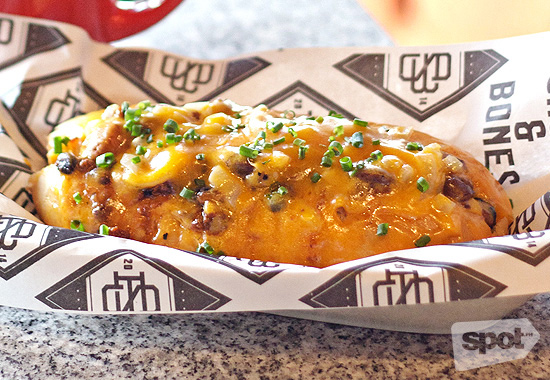 ADVERTISEMENT - CONTINUE READING BELOW
6. Skull and Bones' Chuck Norris Hotdog (P250)
Skull and Bones promises to deliver quality college comfort food, and of course a hotdog sandwich falls under that category. The Chuck Norris is a beef-and-pork frankfurter (it's a hotdog specially made under Skull and Bones specifications) with chipotle chili, chopped onions, and cheddar cheese on a brioche bun. With gooey stringy cheese, great chili with beans and ground beef, and a soft warm bun, it's one of the best chili cheese dogs in town.
Skull and Bones is at 2/F UP Town Center, Katipunan Avenue, Quezon City. Read more about Skull and Bones.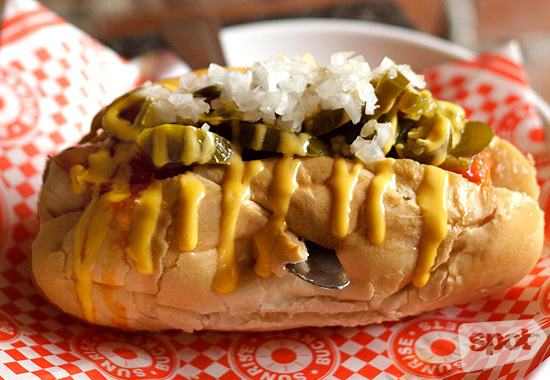 5. Sunrise Buckets' Brooklyn's Finest (P180)
It arrives on your table as a huge dog-in-bun with a dinner knife stuck through it. The Brooklyn's Finest comes in a full and doughy bun, the homemade frankfurter slathered with jalapeño cheese, jalapeño slices, and fresh white onions. Each bite is a happy harmony of a juicy dog, rich and creamy cheese, a strong kick from the jalapeño flavors and a sharp crunch from the onions.
ADVERTISEMENT - CONTINUE READING BELOW
Sunrise Buckets is at The Grove by Rockwell, C5, Ugong, Pasig City; and Madison Square, Madison Street corner Ortigas Avenue, San Juan City.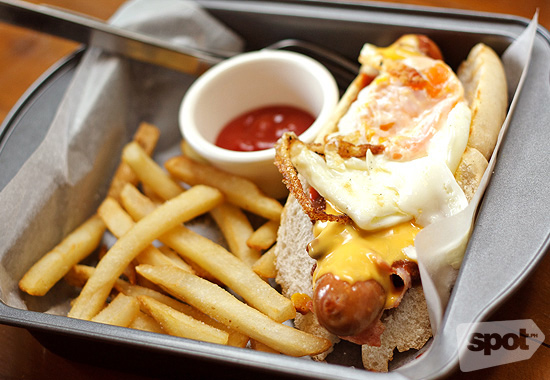 4. Wicked Dogs' Tijuana Dog (P250)
The Tijuana Dog is like a mature, hipster version of the Smokey's hotdog you grew up eating. This makes sense, of course, since Wicked Dogs is the fresh reinvention of the Smokey's brand. It's a bacon-wrapped frankfurter smothered in cheese sauce, chili con carne, sriracha, and topped with a fried egg. It's the sort of sandwich that will make you imagine you're on spring break, the Tijuana dog in one hand, and an icy root beer (or beer?) in the other. Conveniently enough, this hip hotdog stand can make that fantasy come true with their great range of drinks and their playground-for-big-kids interiors.
Wicked Dogs is at 40 Aguirre Street, Barangay BF Homes, Parañaque City.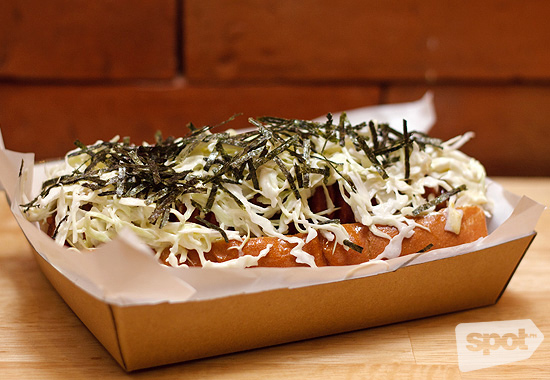 ADVERTISEMENT - CONTINUE READING BELOW
3. Schmidt's International Gourmet Hotdogs' Wagamama (P180)
For those in the mood to try unconventional, slightly weird-but-works hotdogs, look no further than Schmidt's International Gourmet Dogs. The bestseller—Wagamama—has Japanese curry, shredded nori, coleslaw, and a choice of wasabi or Japanese mayo. Holding it together is a thick bun that sops up the rich curry sauce without being too flaky or soggy. The dog, which is dense and meaty, is grilled and has a crunch. The best part of this hotdog however, is the toppings and condiments—flavorful and refreshingly different.
Schmidt's is at 5/F The Podium, ADB Avenue, Ortigas Center, Mandaluyong City.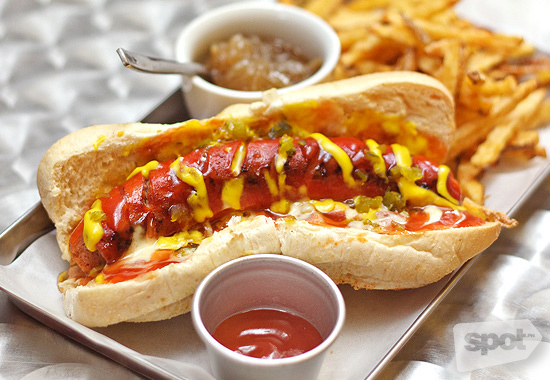 2. Mad Mustard's All Meat Sausage (P98)
The morning we sought out Mad Mustard's sausages, we asked ourselves "Is this really worth driving out to Marikina for?" One bite of their dog (which you can heap with bestselling toppings chili con carne, caramelized onions, and Swiss cheese), and every mile from the drive is totally erased. In fact, it's worth coming back for! All dogs at Mad Mustard are homemade and you can really taste the difference in the quality and freshness. The many topping choices are also diverse (P20 for additional toppings, P50 for fries and a drink), allowing you to be as creative as you'd like and giving you the chance to make the dog of your dreams.
ADVERTISEMENT - CONTINUE READING BELOW
Mad Mustard is at 60 Sapphire Street, SSS Village, Concepcion II, Marikina City.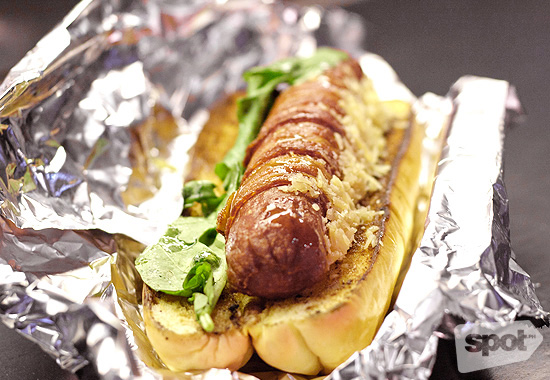 1. Lazy Bastard's Honey Parmesan Dog (P200)
The Lazy Bastard hotdogs are clearly not made by lazy bastards. Their Honey Parmesan dog is one of Jupiter's best-kept secrets (and well-hidden, as it's in the basement of a building behind a ramen joint) and a true gourmet dog gem. It's bacon-wrapped 100% beef deliciousness in a crunchy toasted bun, enveloped by rich sweet honey, sharp Parmesan cheese, and tart arugula. Each bite is an unexpected perfect harmony of juicy, crunchy, bitter, and sweet!
Lazy Bastard is at the basement of 22 Jupiter Street corner Galaxy Street, Bel-Air, Makati City. Read more about Lazy Bastard.
Share this story with your friends!
---
Help us make Spot.ph better!
Take the short survey
Load More Stories