New on the Menu: Vask's Philippine-inspired Degustacion
Chef Chele Gonzalez is taking your taste buds on a country-wide trip.
Vask Modern Tapas & Gastronomic Cuisine
5/F Clipps Center, 11th Avenue corner 39th Street, Bonifacio Global City
Contact: 217-6563, 0917-806-5292
Open from 11:30 a.m. to 2:30 p.m. and 6 p.m. to 2 a.m. (Monday to Saturday)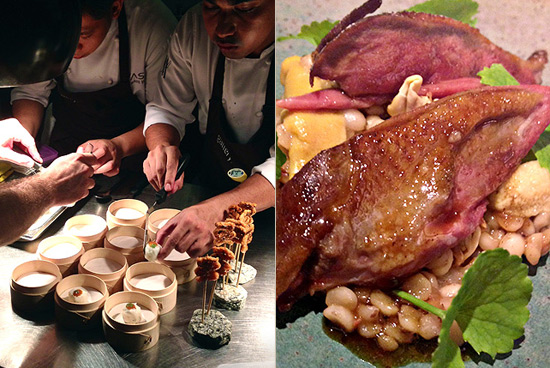 (SPOT.ph) You don't need to put a GPS tracker on Vask's Chef Chele Gonzalez to know what he has been up to. Just visit his restaurant and order his seasonal tasting menu. It pretty much documents his whereabouts from the last few months.
ADVERTISEMENT - CONTINUE READING BELOW
CONTINUE READING BELOW
Recommended Videos
We spied during a recent dinner that Chef Chele has been all over Luzon—from the hills of Antipolo to the cobbled streets of Vigan. We also know that he has developed a taste for Binondo's dim sum and finds comfort in tinola when he's down with a cold. His menu reads like a gastronomic travel journal, and it was fun to guess the place that each dish represented.
Dinner at Gallery Vask is quite the epic spectacle, and you must prepare yourself for a meal which could easily stretch up to three hours or more. Surround yourself with good company to ensure a good time. But lacking that, the food itself is entertaining enough.
This new menu presents 14 courses, but like any show, there were some scene-stealers.
The "complimentary bread" sets the tone—a miniscule pan de sal served in a paper bag. An homage to the Pinoy's bread of choice, the whipped butter could be seasoned with niyog-laced salt. "Instead of coco jam," Chef Chele informs.
ADVERTISEMENT - CONTINUE READING BELOW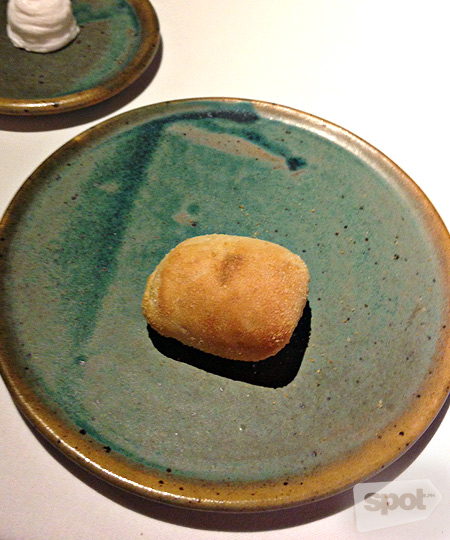 Pan de sal Amuse Bouche
The amuse bouche of adobo mousse allows the chef to tap into his molecular gastronomy background, and you'll be glad he did. The smooth texture of the mousse is a shocking contrast to the sudden jolt of vinegar and garlic. Exciting stuff.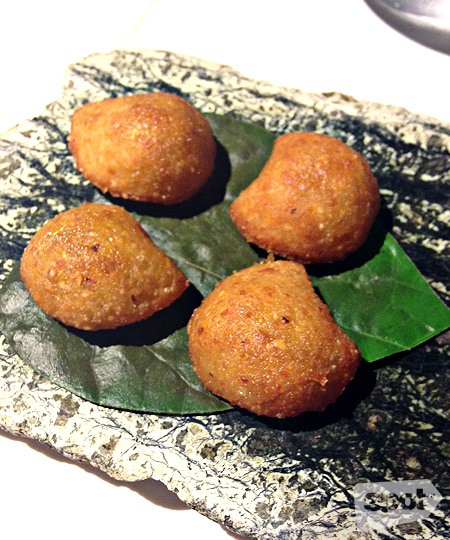 ADVERTISEMENT - CONTINUE READING BELOW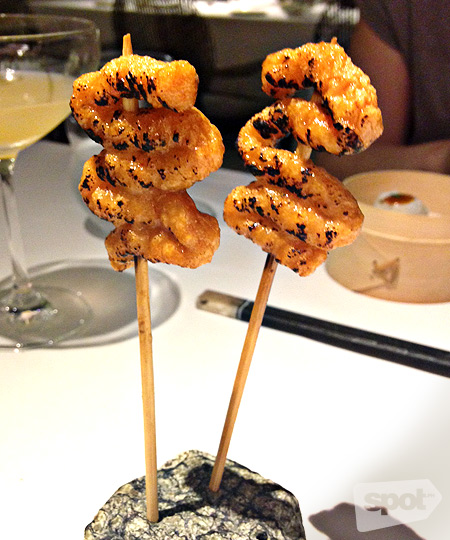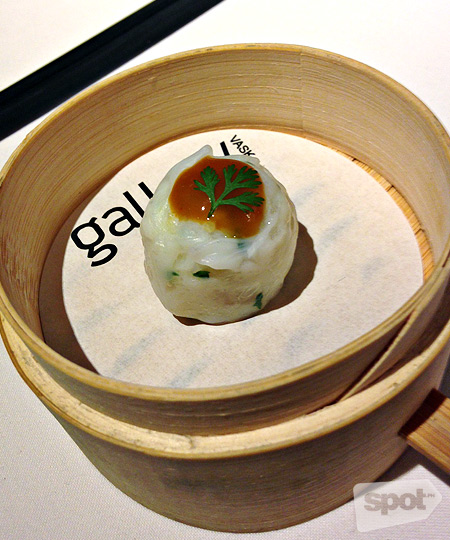 ADVERTISEMENT - CONTINUE READING BELOW
Binondo
Dinner officially begins with "Binondo," a trio of little bites inspired by popular Filipino street food. Sticks of what look like isaw do have the smokiness of the grilled chicken intestines, but have the flavor and texture of kikiam. Biting into the "steamed dumpling," you get the mouthfeel of a dense siomai but with the taste of cuttlefish. The tiny Vigan empanadas are exactly that—mini versions of the real stuff.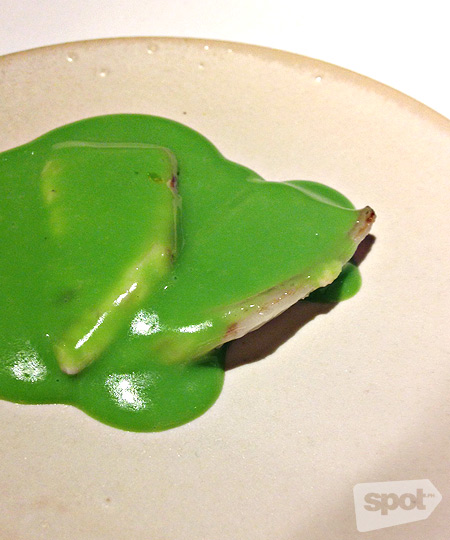 ADVERTISEMENT - CONTINUE READING BELOW
Kokotxa
"Kokotxa" is Bangus belly covered in a pil-pil-style sauce of green beans and bone marrow. The result is a gloriously fatty fish flavored by a silken, buttery sauce, something totally unexpected from such humble ingredients.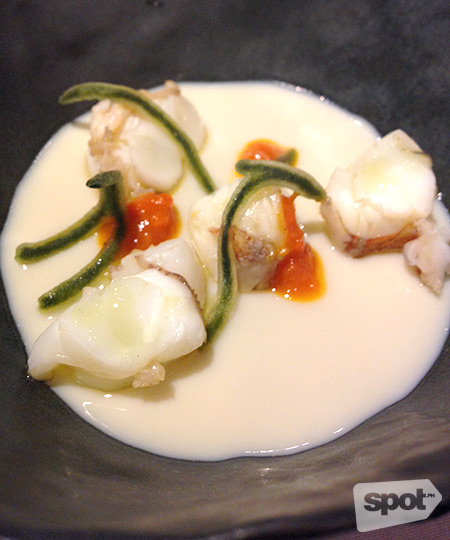 Algae
Soup comes in the form of the deceptively named "Algae," which is Chef Chele's ode to tinola. The chicken soup is more of a runny custard, topped with lobster and Ilocos seaweed. The seemingly strange coupling of components is probably what actually makes it work—the ginger from the tinola tempers the fishiness of the seaweed, which allows the tender morsels of lobsters to be the rockstars that they are.
ADVERTISEMENT - CONTINUE READING BELOW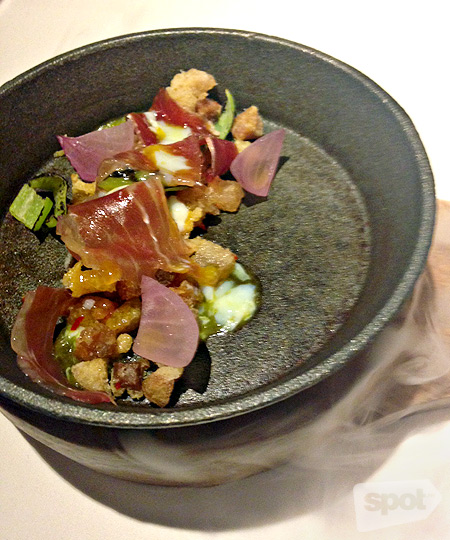 Sizzling
The chef's self-professed love for sisig inspires "Sizzling." Instead of the usual components, he uses Wagyu cheek cubes and fries them until crisp like chicharon. Versions of chili, onion, and calamansi season and enhance, while jamon Iberico gives it the upgraded porky flavor.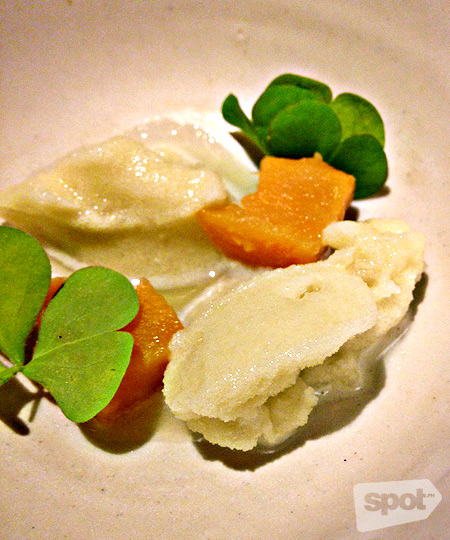 ADVERTISEMENT - CONTINUE READING BELOW
Balabad
The "Balabad" or kamias sorbet frozen via liquid nitrogen and topped over kamote and local cucumber cleanses the palate for the next stage of eating. When we say it's refreshing, we mean both cooling and texturally innovative.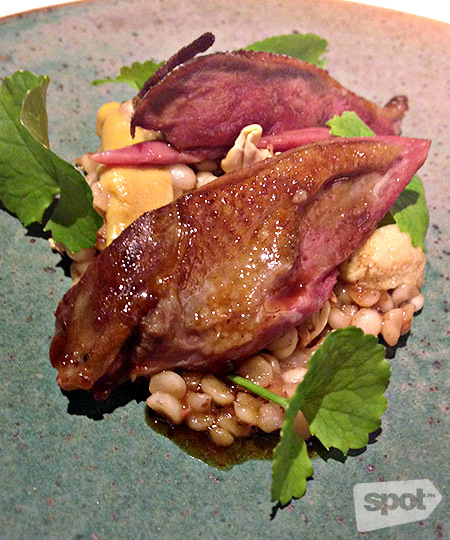 Adlai
It's a good stepping stone for the "Adlai" or pigeon done rare, with uni, bagoong, and Guyana chestnuts. The game bird lives up to its reputation in terms of richness and complexity, while the uni adds a briny flavor dimension. The chestnuts soaks up the surprisingly delicate sauce, acting as starch.
ADVERTISEMENT - CONTINUE READING BELOW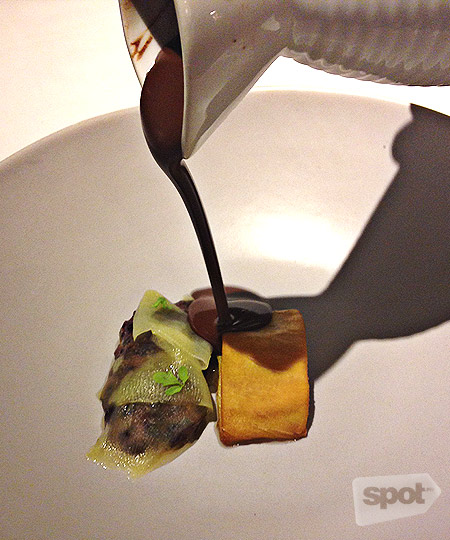 Buen Viaje
Of the three desserts, "Buen Viaje" stands out the most. Well, because chocolate. But beyond that, it just captures weekends in Antipolo so accurately—with the suman, ripe slivers of mango, and thick tablea. It is nostalgia on a plate.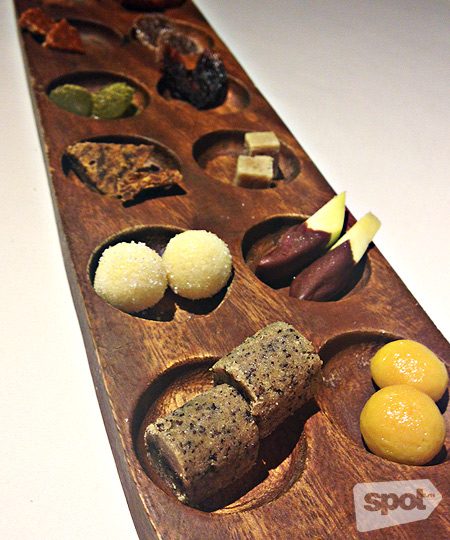 ADVERTISEMENT - CONTINUE READING BELOW
Sungka
An assortment of local sweets are served on a sungka board with coffee or tea. One of the guests says that it is an injustice to call it petit fours, since it is a completely different animal. It really is, but what a fun and delightful way to cap off a Filipino-inspired meal. Want to try something cool? Quiz your server on the different candy varieties that compose the "Sungka." Ours knew every single one!
Chef Chele's new menu is innovative yet nostalgic, fresh yet familiar, haute cuisine yet oddly rustic. It allows him to be creative and adventurous without alienating or confusing the diner. As much as we are so tempted to share every detail that went into the preparation of these intricate dishes, we believe it is something that is best experienced on your own. Can't commit to a 16-course meal for P4,900++? Vask also has a 12-course menu for P3,500++, or try their introductory menu with five courses for P2,500++.
ADVERTISEMENT - CONTINUE READING BELOW
Also read:
New on the Menu: Vask's Weekend Brunch Buffet
New on the Menu: Alamat at Vask Gallery
Load More Stories