New Restaurant Alert: El Hijo de Cabra at Greenfield District, Mandaluyong City
El Chupacabra's black sheep son has a style all its own.
El Hijo de Cabra
The Hub, Greenfield District, Highway Hills, Mandaluyong City
Contact: 696-2495
Open daily from 11 a.m. to 1 a.m.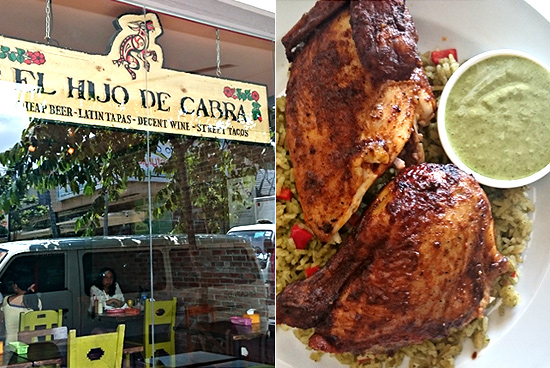 (SPOT.ph) El Hijo de Cabra, the supposed "black sheep son," is a lot more like El Chupacabra than its nickname lets on. For one, the menu is essentially a rehash of the Makati joint's, but with the added altruism of making it available on this side of Metro Manila. And air-conditioning.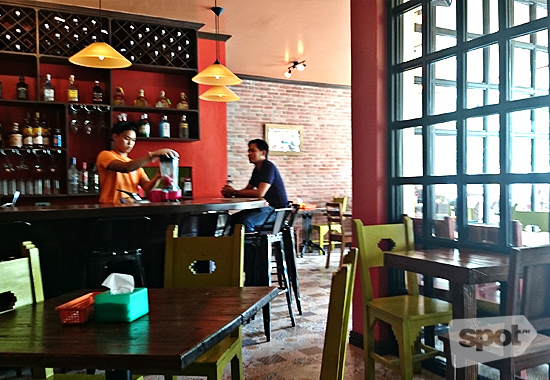 ADVERTISEMENT - CONTINUE READING BELOW
Same sunny colors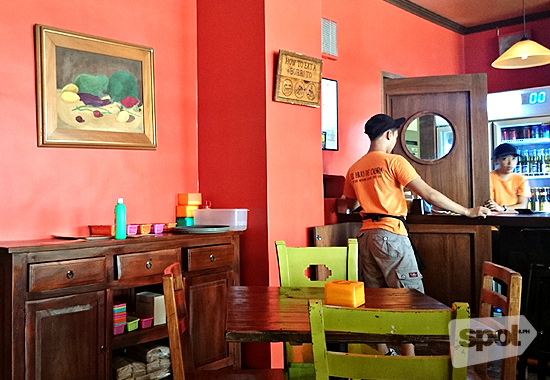 CONTINUE READING BELOW
Recommended Videos
But air-conditioning...
You'll wonder, though, as you gloss over the page (laminated, back to back). The Calamares a la Parilla (P188) and the Onion-grilled Latin Burger (P281) and Orejas or pig ears (P20)—they all look so delectable but all so unfamiliar. The server confirms that everything is available at El Chupacabra, except for the chicken. He whips out a small, separate sheet that features Peruvian roast chicken in varying portion sizes. Apparently, the black sheep son deviates as far as it highlights the dishes that you fail to notice at El Chupacabra. Probably because you were too busy going gaga over the tacos.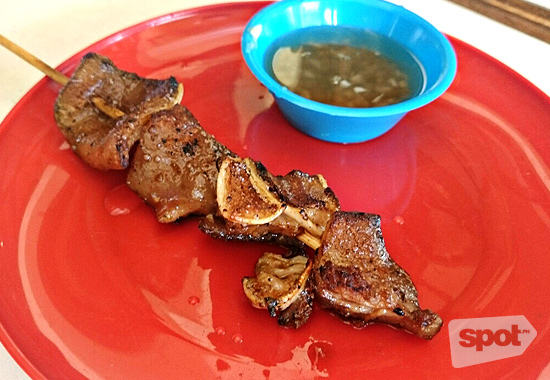 ADVERTISEMENT - CONTINUE READING BELOW
Orejas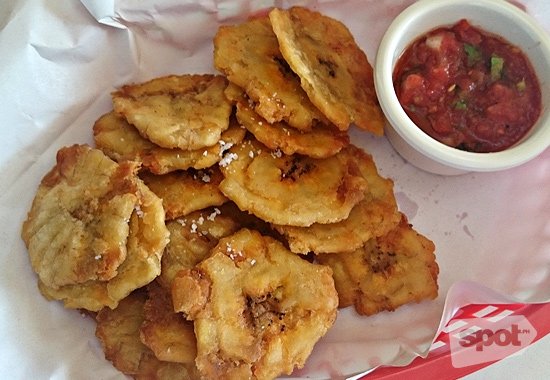 Patacones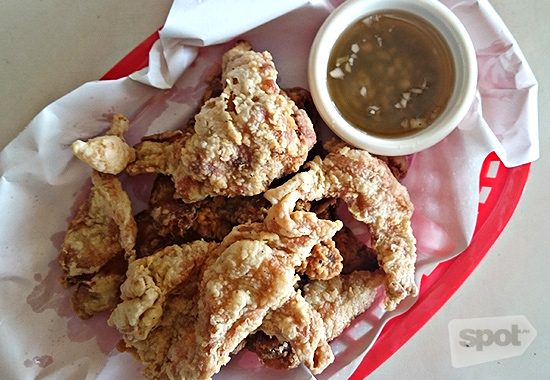 Chicken Skin Chicharrones
How we missed out on the Chicken Skin Chicharrones (P107) is a crime nearly as sinful as the wide fabrics of chicken skin that arrive freshly fried from the kitchen. El Hijo de Cabra—and apparently El Chupacabra—rips the skin off the pieces whole, breads and seasons them, then dunks them in piping hot oil. They're large, crispy things—almost the size of your palm—with a tiny tub of spiced vinegar that you actually have to carefully pour over the chicharrones just to be able to get that little tart perk. The Patacones (P88) reverse the possible adverse effects of those chicken skins. Tostones or green plantains are sliced thickly, flattened, and then fried to develop these positively addictive starchy chips. The side of salsa, not even required.
ADVERTISEMENT - CONTINUE READING BELOW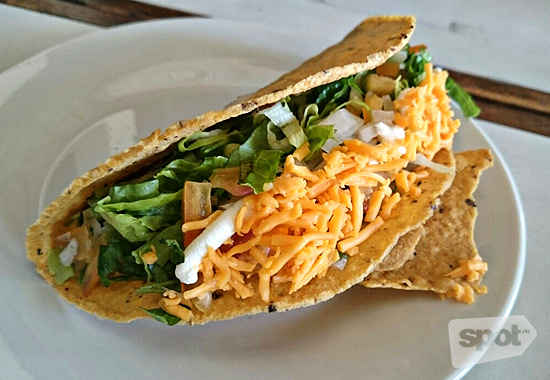 Tex-Mex Carne Guisada Tacos (P101)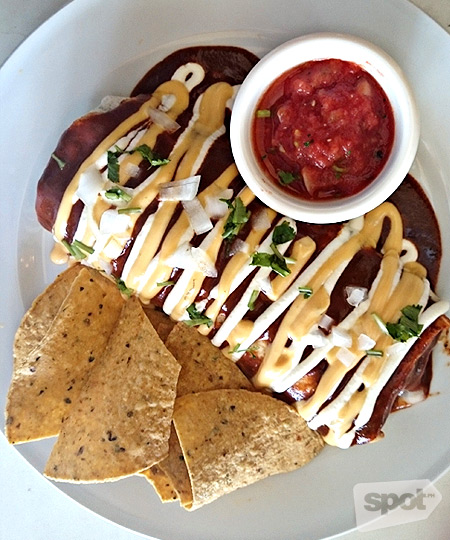 Carne Asada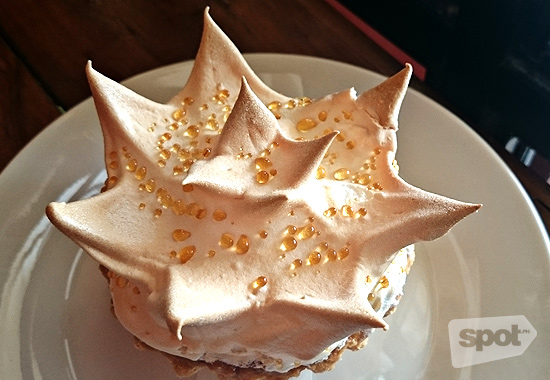 ADVERTISEMENT - CONTINUE READING BELOW
Butterscotch
Because we're doing our best to to stay away from the tacos, the burritos seem like the most reasonable alternative. El Hijo de Cabra has a sign similar to Mexicali (another sister restaurant)—a three-step guide on how to eat this rice-stuffed roll. We say just scarf it down, which is really the only way to enjoy Carne Asada (P227 to P448), served wet and wild sans foil and covered instead with spicy-smoky glaze as well as zigzags of garlic and cheese sauces. There's enough punch in there to make each bite thrilling, but ask for the house-made salsa atomica to really take your taste buds on a ride.
A few weeks ago, El Chupacabra posted on social media about their tapsilog, a secret recipe that's admittedly "not the most Mexican," but supposedly "the best in town." Here, at El Hijo de Cabra, the Traditional Beef Tapa (P153) is offered as an appetizer embellished with rings of raw onion, instead of a hearty meal with a fried egg over rice. The curls of cured beef are seasoned only enough to be enjoyable as is, but we crave that complementary rice. Old habits die hard.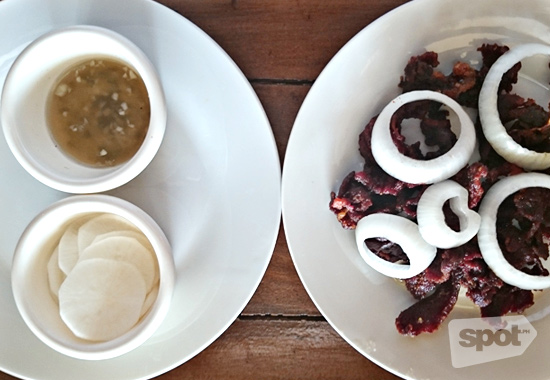 ADVERTISEMENT - CONTINUE READING BELOW
Traditional Beef Tapa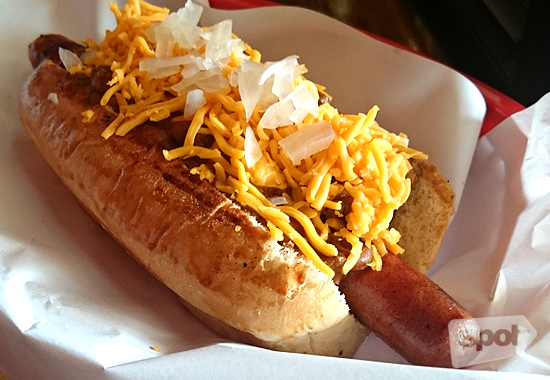 Chupacabra Chili Dog
The Chupacabra Chili Dog (P247) isn't top of mind in a South American restaurant, but this stuffed bun swings flavors like a pitcher in the World Series, which is a much more fitting setting to enjoy this kind of snack.
These underdogs (pun intended) are all well and good, but El Hijo de Cabra's prized roast chicken (P259 to P580) might snatch away that little bit of spotlight. The chicken, which is served in quarter, half, and whole cuts, are made fresh in an al fresco rotisserie. It's Peruvian-style, which is turning out to be the latest fashion in prepping poultry: heavily spiced with smoke and tang covering the glistening brown skin. It's a hard-hitting piece, with the juiciness embedded well into the meat, even and especially the breast. The aji verde sauce daubs a hot yet surprisingly refreshing zing into the mix. Do yourself a favor and get it with rice: cilantro-spiked and supple, adding another dimension to an already well-rounded assembly. We have to wonder what Señor Pollo (yet another sister restaurant) is thinking.
ADVERTISEMENT - CONTINUE READING BELOW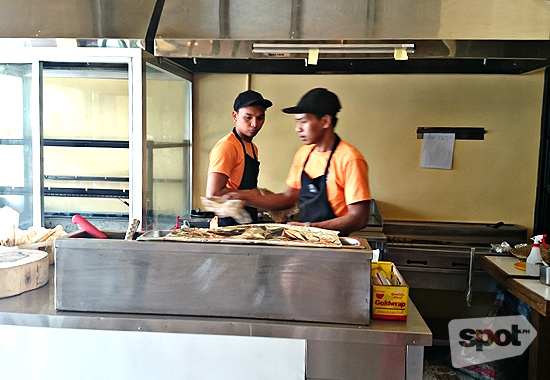 Roasting and grilling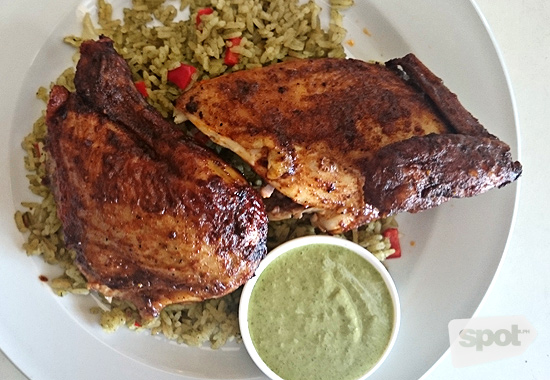 Roast Chicken
El Hijo de Cabra may appear to be a catch-all for its predecessors, but that roast chicken alone is enough to give it its own distinct identity. Right now, we're wishing we could have the chicken to grab and go.
Share this story with your friends!
---
Help us make Spot.ph better!
Take the short survey
Load More Stories