The 10 Best Things We Ate in June
Noteworthy dishes in this food-filled month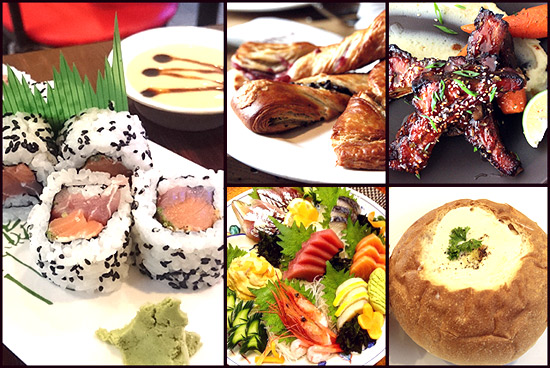 (SPOT.ph) If you didn't already know, here at SPOT.ph, we love food. You need it to live, but we find that there are some dishes that go well past the virtue of necessity. While others content themselves with a deep fryer and the usual salt and pepper, there are some who make—or at least try to make—an art out of it, with delicious displays and even yummier flavors. We believe those that go above and beyond their duty deserve necessary recognition. So here are our top picks among the dishes we ate throughout June.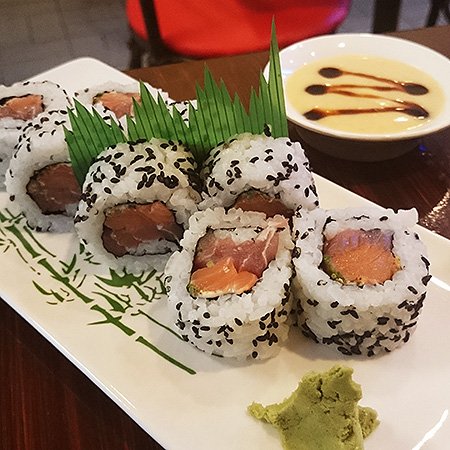 Black Mamba Maki from Agezuki
This maki (P190) is the solution to the paralyzing choice between salmon and tuna. It packs them together—raw with a bit of heat, like a tartare—a coat of sticky rice, and a sprinkle of sesame seeds. It's a little two-bite rice roll with worlds of flavor, and really all the confirmation you need to remind yourself that this isn't your everyday hole-in-the-wall. The sashimi's good, too. Get the salmon for that one.
ADVERTISEMENT - CONTINUE READING BELOW
Agezuki is at 83 Katipunan Avenue, White Plains, Quezon City. Read more about Agezuki.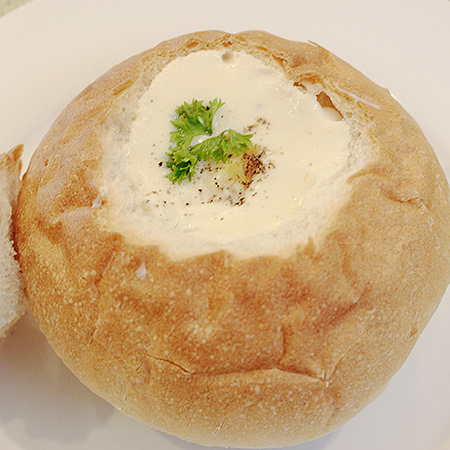 CONTINUE READING BELOW
Recommended Videos
Clam Chowder from Manna Bakery + Cafe
This Southern gem has recently undergone a face-lift in their menu, but we're glad that the owners chose to keep this classic (P150). Manna is excellent when it comes to bread and their sourdough is beautifully highlighted as a vessel for their impeccable clam chowder. The crust crackles in the way only perfectly baked sourdough does, but it's not at all coarse. The soft interior sponges up so much of that briny cream that you'll want to slurp up the soup just so you can eat the chowder-stained bread.
Manna is at SM BF, Parañaque City. Read more about Manna Bakery + Cafe.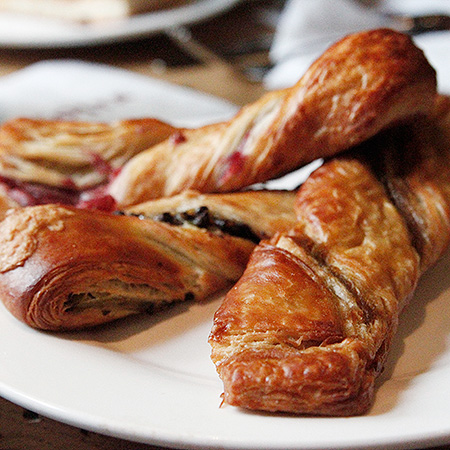 ADVERTISEMENT - CONTINUE READING BELOW
Twists from Costa Coffee
The U.K.'s No. 1 coffee chain is special for many reasons. The coffee is obvious, but if you're willing to spare some more stomach space for their savory options, these filled Twists give the best bang for your calorie budget. The flavors we've tried so far are Raspberry, Chocolate, and Caramel, with each (P95) stamping its own distinct character—from tangy sweet, to deeply sinful, to warm and friendly. Costa imports their viennoiserie from France, but finishes the baking process in-store to assure quality freshness and to deliver crispy flakiness that we love.
Costa Coffee is at Eastwood Citywalk 1, Quezon City. Read more about Costa Coffee.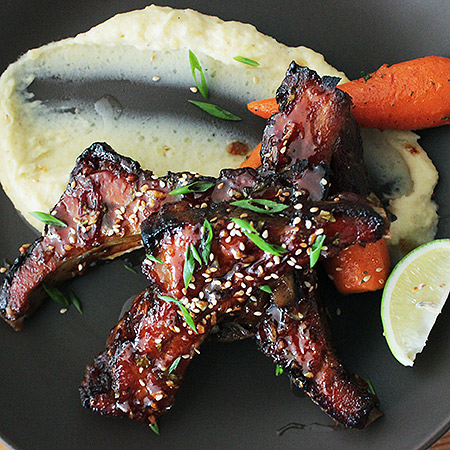 Main Street's Hoisin Ribs
You have to hand it to this place. It's underrated and overlooked, but those flavors keep coming out swinging. You can forget about the whole Canadian theme for a moment because these babies are just universally good. They're not smoked, but the kitchen cooks them so carefully that they come out fall-off-the-bone and fork-tender, anyway. You won't meet resistance when you use a fork and knife, but you'll want to eat these with your hands. A bit of honey tempers the strong flavors of the hoisin so you get something so beautifully balanced.
ADVERTISEMENT - CONTINUE READING BELOW
Main Street is at The Tuscany, McKinley Hill, Taguig City. Read more about Main Street.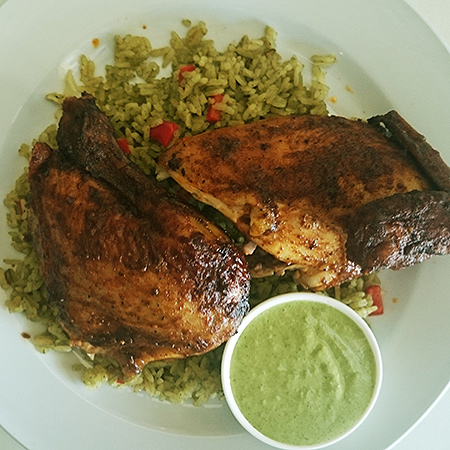 El Hijo de Cabra's Peruvian Roast Chicken
You know we're loyal to Señor Pollo's roast and fried chicken dishes, but the chicken (P295 to P580) from El Hijo is something else. Could it be herbier? Crispier? Juicier? It's hard to pinpoint, but credit must be given to that aji verde sauce. It's hot and spicy, but still interestingly refreshing. That on the chicken, with the spoonful of herbed rice, and we're happy.
El Hijo de Cabra is at Greenfield District, Mandaluyong City. Read more about El Hijo de Cabra.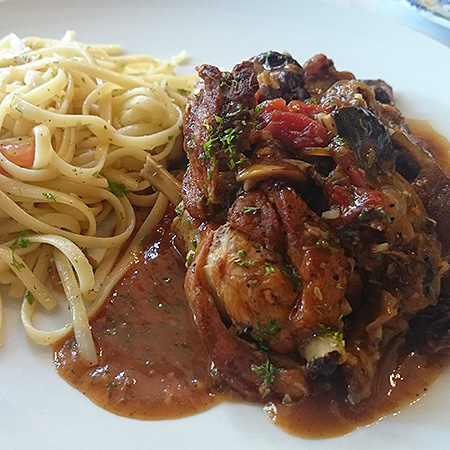 ADVERTISEMENT - CONTINUE READING BELOW
Champetre's French-Farmed Rabbit Stew "A la Pauline"
Try not think of the cute bunnies you see on TV. Either way, Chef Marc Aubry cooks this rabbit so wonderfully that the result is too delicious for you to worry about anything else. The rabbit is very soft and light—there's more meat in there than you would think—and reinforced by a bit of bacon, tomato, and mushroom. The pasta on the side is equally easy on the palate, but we love brushing it against the leftover sauce from the stew. Totally yum.
Champetre is at G/F Net One Building, 26th Street corner Third Avenue, Bonifacio Global City.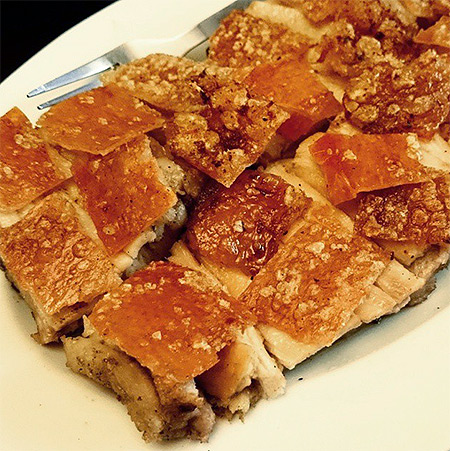 Kuya Tom's Lechon
There's a very special trick to how Qubiertos (Kuya Tom is their grab-and-go pick-up spot just outside the restaurant) cooks their lechon. It's Cebu-style, which by now we all know is a gift to cooking pork. The belly is rolled around many, many herbs, before it's roasted. It's then served laid out like a yummy golden sheet. You'll want to get dibs on the bottom layers, which have benefitted from the seasoning the most. This lechon undergoes a fried treatment, too, resulting in a crispier skin very similar to bagnet. Don't insult it with sauce.
ADVERTISEMENT - CONTINUE READING BELOW
Click here for a list of Qubiertos branches. Read more about Qubiertos.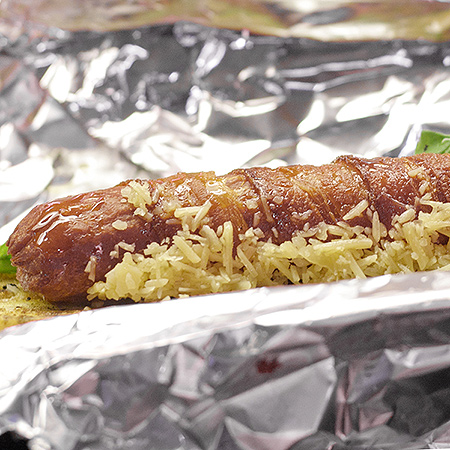 Lazy Bastard's Hotdogs
Our No. 1 hotdog is at the top for a reason. It's just so darn good. You can turn your nose up at the ones you find in grocery stores, but the bangers you get from Lazy Bastard will redefine everything you thought you knew about this Filipino breakfast favorite. Designed especially for Lazy Bastard, the dogs are all-beef—meaty and soulful. Get the ones wrapped in bacon, and you're in heaven.
Lazy Bastard is at Basement Floor, 22 Jupiter Street, Makati City. Read more about Lazy Bastard.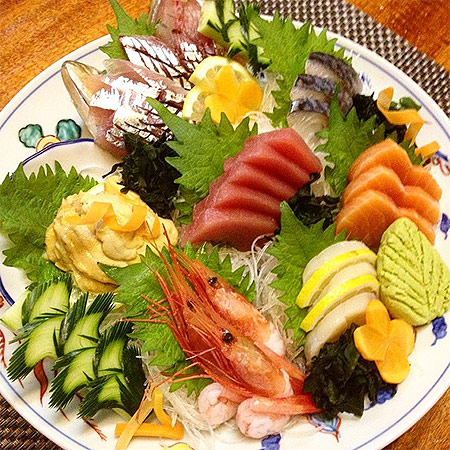 ADVERTISEMENT - CONTINUE READING BELOW
Izakaya Kenta's Sashimi
You might wonder how anyone could go wrong with sashimi. You get the fish, clean and fillet, then serve. It sounds simple but this revered Japanese staple doesn't have anything to hide behind—no rice or extra ingredients to mask any flaws. It's served as is, with quality freshness. Izakaya Kenta is one of the few who doesn't disappoint. Get the platter because it's that hard to make a decision.
Izakaya Kenta is at Malate Bayview Mansion, 1781 Adriatico Street, Malate, Manila. Read more about Izakaya Kenta.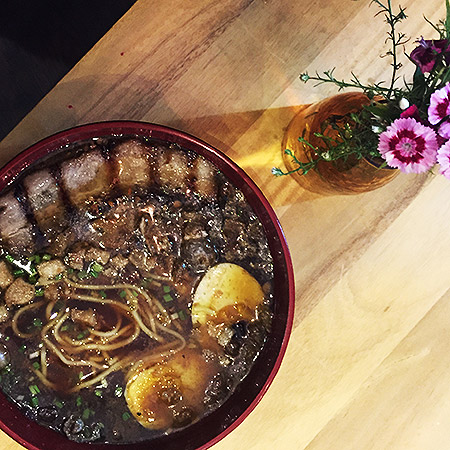 Kafe Batwan's Batchoy
When you ask celebrity chef JP Anglo to make batchoy, you know you're in for a treat. The chef is making good on his Negrense expertise with an innovative rendition at his modern Filipino cafe, Kafe Batwan. (You can find the classic in his other endeavor, Sarsa.) The stock is patiently made for 12 hours, with crispy tuna skin, an egg, and kurobuta pork reinforcing those deep flavors.
ADVERTISEMENT - CONTINUE READING BELOW
Kafe Batwan is at 122 Joya Lofts and Towers, Amorsolo Drive, Rockwell, Makati City. Read more about Kafe Batwan.
---
Help us make Spot.ph better!
Take the short survey
Load More Stories