New Restaurant Alert: Kafe Batwan by Sarsa at Rockwell, Makati
Chef JP Anglo impresses with loud and proud Filipino flavors.
Kafe Batwan by Sarsa
122 Joya Lofts and Towers, Amorsolo Drive, Rockwell, Makati City
Open daily from 7 a.m. to 10:30 p.m.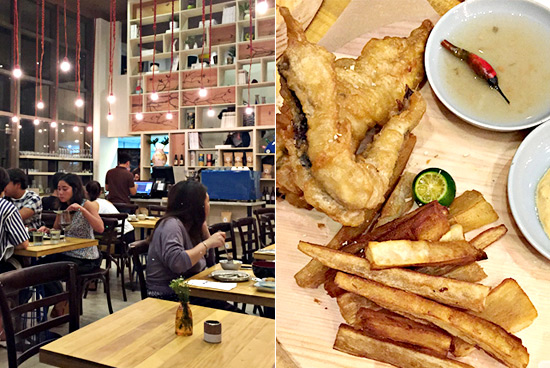 (SPOT.ph) A lot of people wonder why it's taken so long for Filipino food to make it big beyond our 7,107 islands (low tide). Some argue that it's because of the taste or the color of our food—too salty, too brown. But it can also be because of us—so resigned to the idea that good Filipino food can only be had at home or too timid to loudly declare how wonderful the cuisine actually is.
ADVERTISEMENT - CONTINUE READING BELOW
CONTINUE READING BELOW
Recommended Videos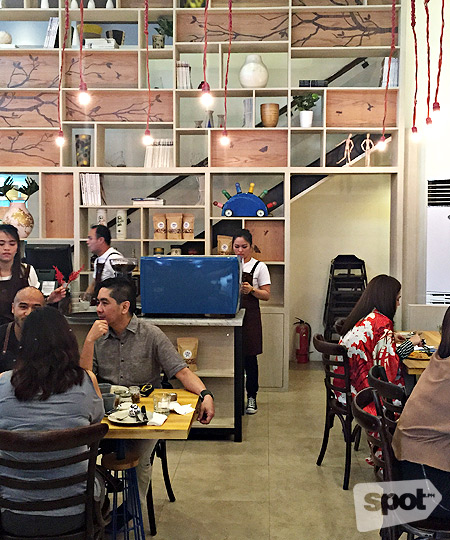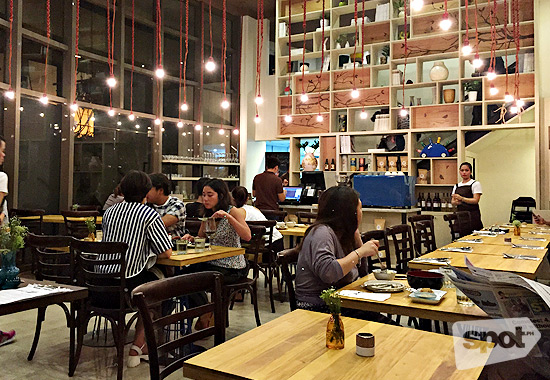 ADVERTISEMENT - CONTINUE READING BELOW
Very interesting interiors
But times are changing. We are evolving and our food is following suit. Who knew the day would come when people would get excited over a new version of arroz caldo (wrap steamed rice in banana leaves; serve with dilis, salted eggs, and chicken strips on the side; and have a bowl of warm soup on the ready for dipping or slurping)? It's essentially the same arroz caldo you grew up with, but slightly pushed beyond the norm. That's exactly why Kafe Batwan is a game-changer in the local food scene. It opened just in time to help further the efforts of making Filipino cuisine stand out, and to help turn around accustomed convictions toward our food.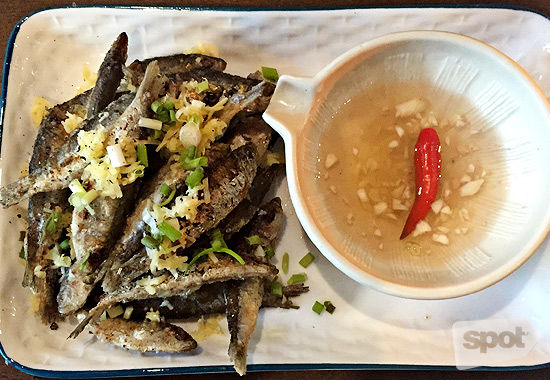 ADVERTISEMENT - CONTINUE READING BELOW
Tawilis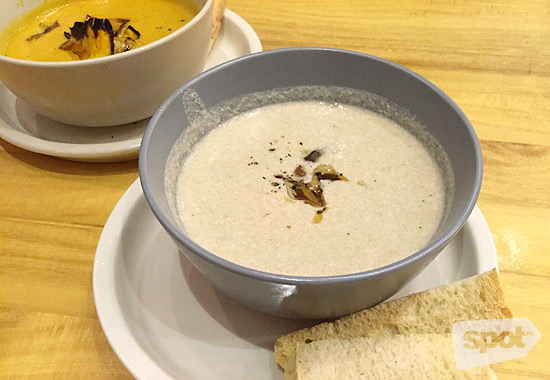 Kalabasa Bisque (background) and Mushroom and Clam Tinola Soup (P220)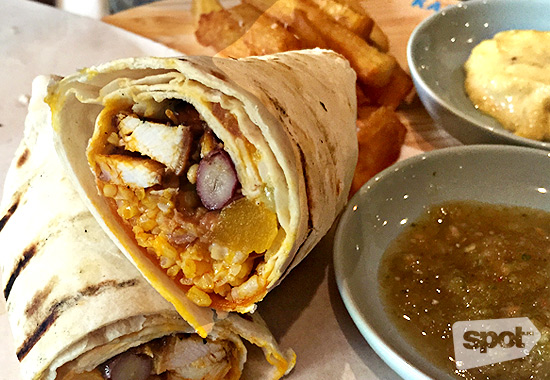 ADVERTISEMENT - CONTINUE READING BELOW
Inasal Burrito (P250)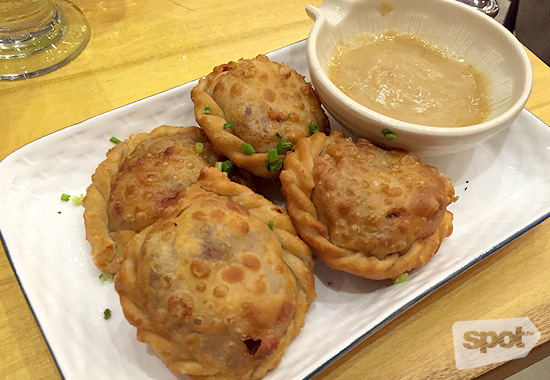 Kansi Panada
Sure, good Filipino food can only be found at home; but one can argue that home could now also mean any place that serves good Filipino food. A serving of Crispy Tawilis (P220) with shaved queso de bola, Kalabasa Bisque (P220) with crabmeat, and Grilled Sugarcane Porkchop (P350) with an outstanding garlic coconut rice—home, apparently, is where your stomach is. It becomes easier to believe once you start digging into Kafe Batwan's Tsokolate Tsamporado (P220)!
ADVERTISEMENT - CONTINUE READING BELOW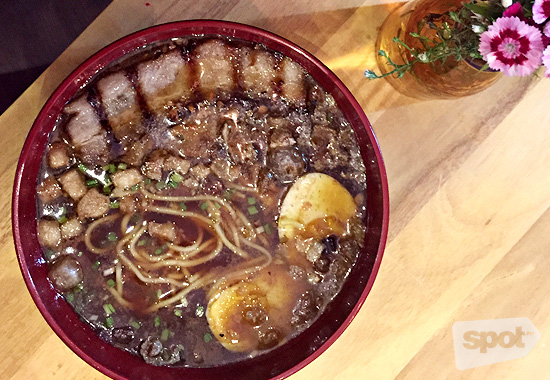 Batchoy
There's reason (a lot, actually!) to take pride in our food and ingredients, all of which you can see in the results of Chef JP Anglo's cooking. The menu highlights native produce that provide distinct Pinoy flavors: tablea in the Sauteed Prawns (P495), ginamos in the Baked Lapu-Lapu Curry (P395), and ube in the Sizzling Budbod with coffee cream (P250). Of course, there's the batwan that takes a multitude of forms—atchara, aioli, gravy. And as an ode to his Negrense roots, his version of Batchoy (P450) makes an appearance. Made with a 12-hour soup stock, kurobota charsiu, soft-boiled egg, and crisp tuna skin, it is the same hearty dish he presented at this year's Madrid Fusion Manila.
ADVERTISEMENT - CONTINUE READING BELOW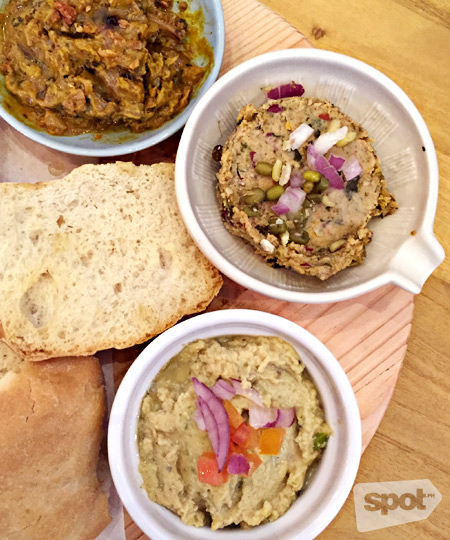 Pinoy-themed spreads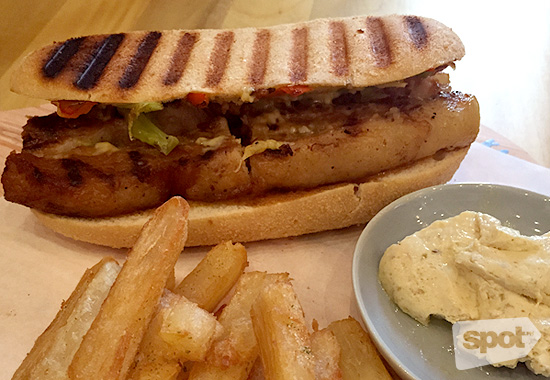 ADVERTISEMENT - CONTINUE READING BELOW
Twice-Cooked Liempo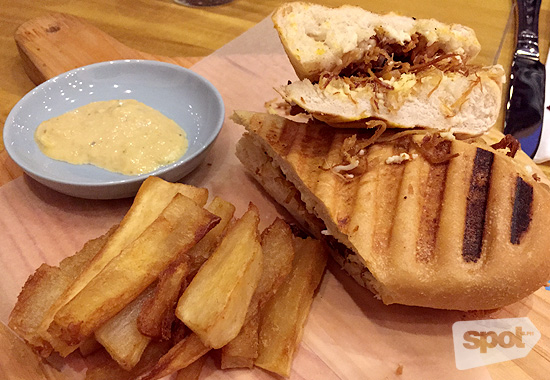 Shredded Adobo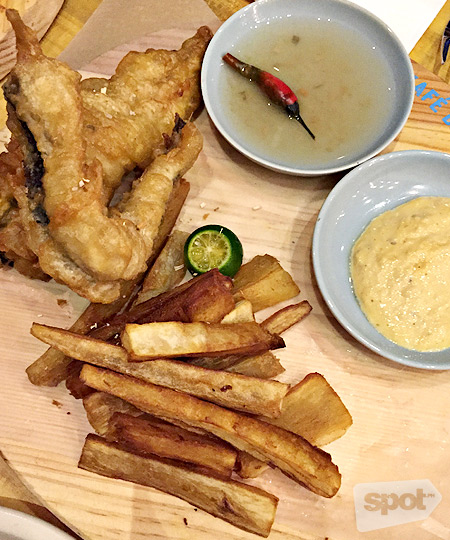 ADVERTISEMENT - CONTINUE READING BELOW
San Miguel beer-battered Fish and Chips (P350)
It is also here that the genius of Chef JP demonstrates that there is much room for creativity in the Filipino kitchen. Find yourself surprised by the wondrous flavors of the Batchoy Beef Ribs (P550), Sinigang Fried Chicken (P295), or Kansi Panada (P250). The latter is a crisp, golden treat stuffed with tender shreds of kansi, an Ilonggo version of sour bulalo. The same ingenuity is visible in the interiors, a collaboration between the chef's sister, artist Tracie Anglo-Dizon and designer Gabby Lichauco. You don't see the usual rattan or capiz elements. With Tracie's artwork posted on the corkboard wall, it feels cosmopolitan, very now. This is, of course, a café; and not just another restaurant. You can sip on a latte with a bowl of granola (P330) in the morning; or have a sandwich with cassava fries as a light snack—the Twice-cooked Liempo (P295) or Crispy Shredded Adobo (P250) are sure hits. But aside from the food options and the relaxed vibe, what really differentiates the two? It's how a café allows for the room to be filled with conversation.
ADVERTISEMENT - CONTINUE READING BELOW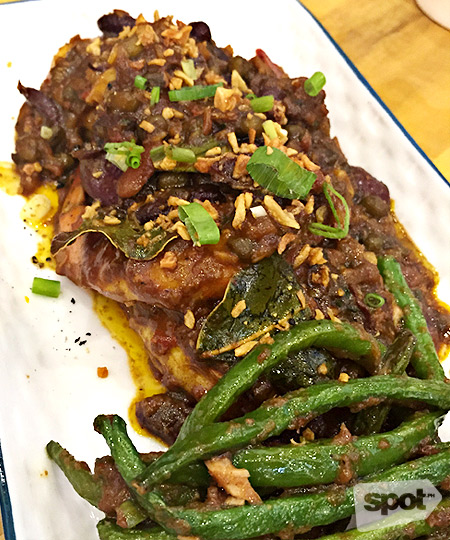 Sauteed Prawns (P495)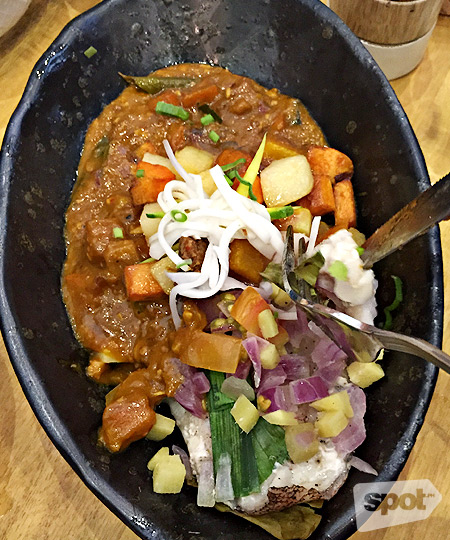 ADVERTISEMENT - CONTINUE READING BELOW
Baked Lapu-Lapu (P395)
At Kafe Batwan, there's a lot to talk about. And we're quite sure that the topic will always be about food—how the dishes you're eating will take part in the journey of Filipino flavors around the world.
Load More Stories