CHECK IT OUT: Jumpstart Cafe and Restaurant at Capitol Hills, Quezon City
Breakfast, great coffee, and more.
Jumpstart Café and Restaurant
7 Capitol Hills Drive, Quezon City
Contact: 932-8127
Open daily from 8 a.m. to 8 p.m. 
(SPOT.ph) This house is full of secrets. A sort-of-hidden restaurant at the end of an alley behind Celebrity Sports Complex, Jumpstart Café and Restaurant is making itself known to us in a big way. Via mind-blowing sinigang (P280/shrimp). Owner Krissie Pacia and her mother-in-law (also co-owner), Dr. Perlita Pacia, warns us before the initial impatient sip. Their version is different, they say. Sinigang is sinigang, we thought, up until that fateful first spoonful.
ADVERTISEMENT - CONTINUE READING BELOW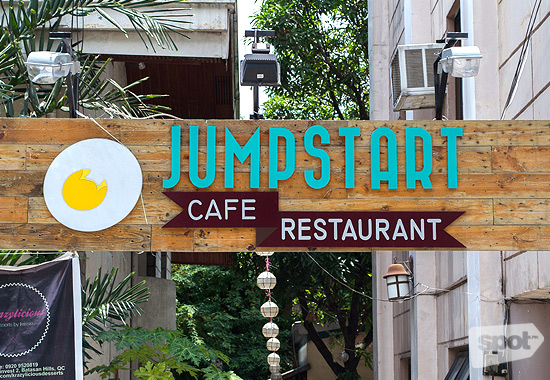 CONTINUE READING BELOW
Recommended Videos
Spot this sign.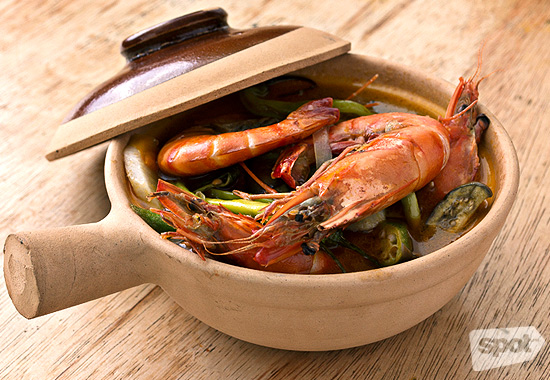 ADVERTISEMENT - CONTINUE READING BELOW
You can also get the sinigang with pork.
That difference is, of course, a secret. It's characteristically tart, but not so much to make room for novelty sweetness. The soup is thicker, too, sticky in the mouth, all ingredients fully highlighted and not watered down. It's Dr. Perlita's recipe, and the source of that unusual touch of flavor is kept under wraps. "A mixture of different fruits," is all she's willing to tell us.
Jumpstart started as a breakfast food-centered café before regulars clamored for items beyond sausages and –silogs. Now, still in the business of perking up your taste buds but giving customers more choices for how to do it, Jumpstart Café and Restaurant pushes for easy-to-love lutong-bahay favorites executed in plates that definitely capture careful yet carefree home cuisine.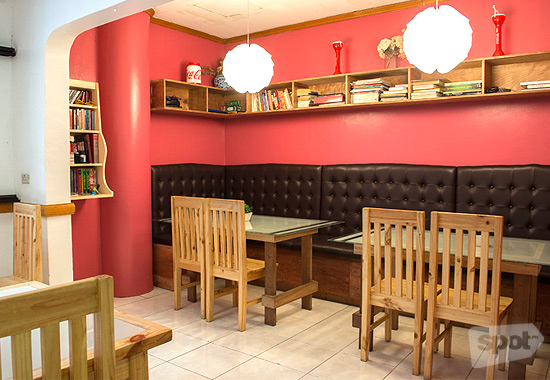 ADVERTISEMENT - CONTINUE READING BELOW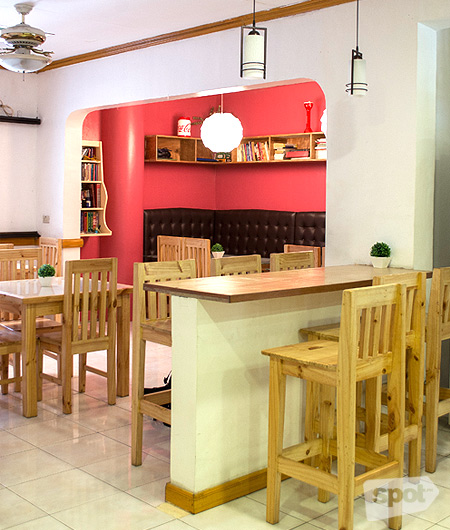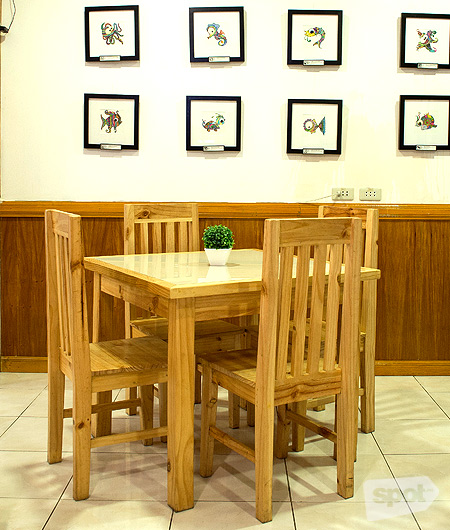 ADVERTISEMENT - CONTINUE READING BELOW
The restaurant could also be reserved for parties.
The Pacias aren't the first to open their home to guests, but just like family inviting friends for dinner, there's something about Jumpstart that makes you immediately comfortable. Tables are everywhere (including a counter that doubles as a deck, perfect for breakfast), but the space maintains a few random tidbits that make a house a home, like a mini-library and a figurine of Jesus (very Filipino). There's also a large TV because what home doesn't? If they had a sofa, we'd probably kick back and put our feet (shamelessly) on the coffee table.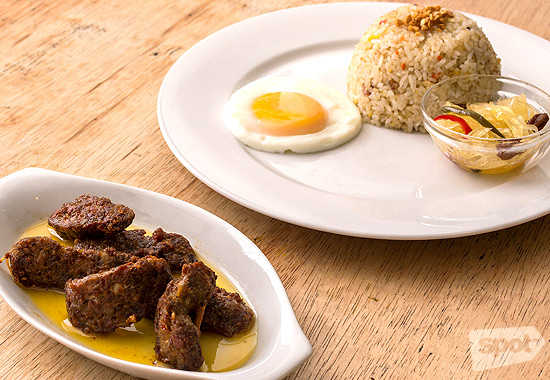 ADVERTISEMENT - CONTINUE READING BELOW
Tungganisa
They don't though, but the Tungganisa (P185) offers even better solace. It's from Tuguegarao, one of the few things they don't make from scratch, and a wonderful gift to garlic rice and eggs. The sausages aren't fatty—though you can tell that there's enough in there to keep the sausage moist—tender but coarse, with a strong garlic-infused flavor. "It's also the way we cook it," says Krissie. Less grease, the skin sort of detonating into thin crispy curls around the slices. The vinegar on the side is homemade, too.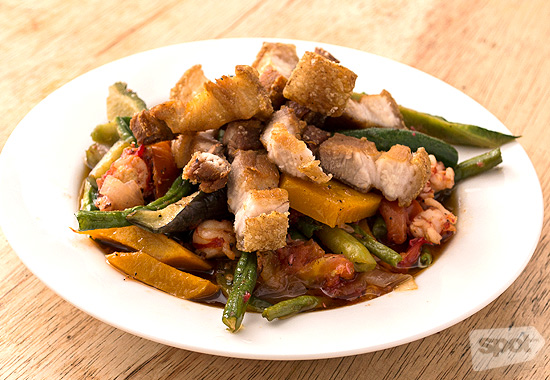 ADVERTISEMENT - CONTINUE READING BELOW
Pakbet
Making things from scratch gives Jumpstart that extra rustic quality. They also make the bagoong in the Pakbet (P180), a miniature smorgasboard of chopped shrimp and bitter gourd tossed in olive oil—light elements that offset any weight brought on when you get an additional topping of lechon kawali (P250) and you will. The fried pork is sliced in small squares with a thin layer of blistering crunchy skin. Don't be fazed by the ampalaya. They're just a reminder that you are at home. Eat your vegetables.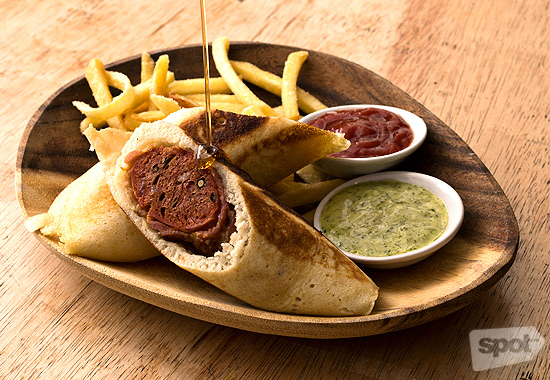 ADVERTISEMENT - CONTINUE READING BELOW
Hungry Hungarian
Jumpstart operates on tradition, but they like to play, too. The Hungry Hungarian (P175) is an entire breakfast that could fit in one hand. The other hand you'll dedicate to the side of fries. A thinner-than-usual pancake hugs a not-too-spicy sausage to create something of a corndog. Splash on some maple syrup because you need a little sweetness to start your day. The french fries come with standard ketchup, but there's a nice brightness when you dab them in the homemade aji verde.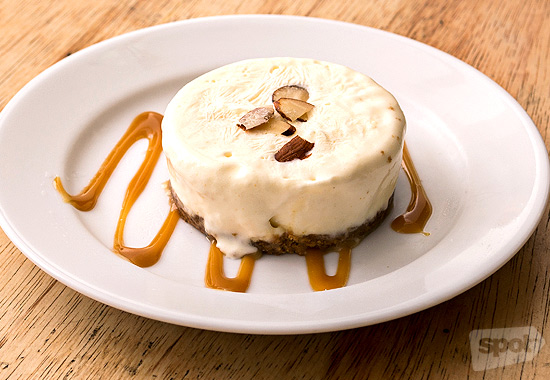 ADVERTISEMENT - CONTINUE READING BELOW
Krazie Ice Cream Cheesecake
Krissie's specialty is dessert. She has her own brand, Krazylicious, which specializes in the sweeter stuff. Her Krazie Ice Cream Cheesecake (P130) is a delicious blessing: cream cheese ice cream replaces the cake without taking away the flavor and she rewards the frozen disc with heavenly dulce de leche, almonds, and a thin graham-cracker platform. 
In the rare isntance that you're looking for something to make this "ice cream cake" better, you must be looking for coffee. Jumpstart has a good selection, with Nick Ng as their very own coffee custodian.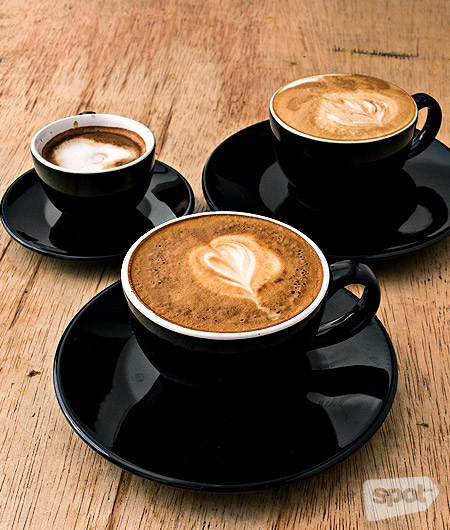 ADVERTISEMENT - CONTINUE READING BELOW
Brightest Day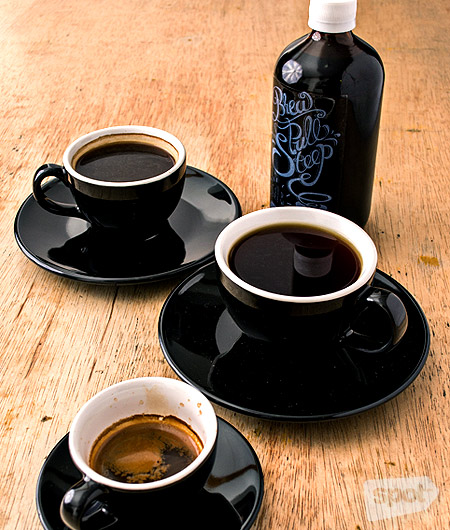 Darkest Night

Their recipes may be hush-hush, but Nick is not. He's the coffee guy and Jumpstart is home base of his business, Brew. Pull. Steep., his personal playground where he presents everything from pour-overs to cold brews. Nick talks about each and every one of his offerings in full detail, a fun buzzed-up conversation about the differences of cortado ("for those who want the full taste of the beans but with a creamy texture") and macchiato (nope, it's a tough little shot with a drop of milk; not a full-sized drink as many now associate it with). 
ADVERTISEMENT - CONTINUE READING BELOW
The beans are sourced from Metro Manila's third-wave coffee shops, like Craft, Yardstick, EDSA BDG, and Coffee Empire. Nick changes his supplies every so often so there's reason to come back for a newer coffee adventure. For a thesis on caffeine, he offers coffee flights: Darkest Night (P350), a triad of black coffee as Americano, brewed, and cold-brewed; and Brightest Day (P400), milky blends like cortado, cappuccino, and latte. We can go into a full Nick-level discussion, but we'll leave it up to him. His Cold Brew, however, is the bottle that will hit you right up on the spot. 
Jumpstart may not be the only restaurant in the Metro that attempts that feel-at-home schtick, but it's one of the few that successfully delivers that feeling. You're welcome.
Photos by Hans Fausto
Share this story with your friends!
---
Help us make Spot.ph better!
Take the short survey
Load More Stories