Top 10 Hakaw in Manila (2015 Edition)
The best places that set the standard for this dim sum favorite
(SPOT.ph) In a city where there are more than a handful of Chinese restaurants serving dim sum (there are even more when you count hotels, which we're not including in this list), it's difficult to stick with just one that answers all your cravings. Whether hand-picked from a roving cart or served direct from the kitchen, there's often a colorful selection in those bamboo baskets, one of which is hakaw (Chinese shrimp dumplings)—spelled in a number of ways, probably as many as there are dim sum variations.
The dish looks simple, but it takes precision to get right: the wrapper, typically made with flour, cornstarch, and water, wraps around a ball of crunchy shrimp cooked with bits of fat, bamboo shoots, as well as other seasonings.
But not all hakaw are created equal. The best ones we found were the most consistent in terms of flavor, the wrapper not watered down by the steam, the shrimp cooked just right—buttery and al dente, with traces of light pink and white hues. The best don't often require an extra dipping of soy sauce, calamansi, and chili oil because each bite packs much flavor all on their own.
Are your chopsticks ready? Here are the 10 best hakaw in Metro Manila.
All SPOT.ph Top 10 lists are researched, paid for, tested, and selected by the writers and editors. They are discreetly conducted without any notice made to the restaurants or their owners.
Also read:
Top 10 Hakao in Manila
Top 10 Siomai Under P100 (2013 Edition)
Top 10 Xiao Long Bao in Manila
10 Dim Sum Places to Try in Metro Manila
ADVERTISEMENT - CONTINUE READING BELOW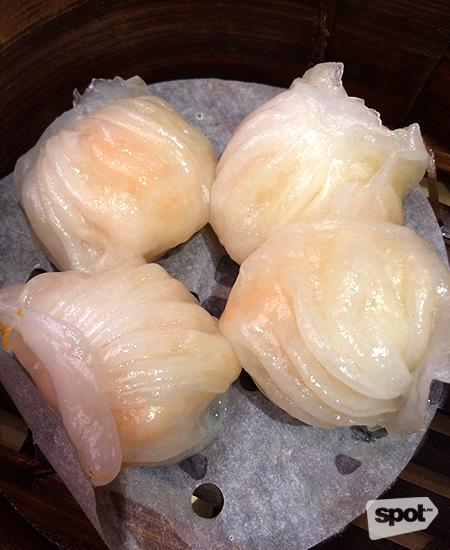 CONTINUE READING BELOW
Recommended Videos
10. Wang Fu's Hakaw (P158)
Prepare yourself for some delayed gratification at Wang Fu, because this hakaw arrived a bit belatedly at our table—but when it comes to flavor, this dish deserves a spot on our list. Pick up the perfectly plump shrimp and silky smooth wrapper off the dim sum paper and it comes off easily and flavorful with each bite. Perhaps actor Richard Yap has his showbiz roots to thank for the restaurant's popularity, but it's not a long shot to say the tasty and affordable dim sum can speak for themselves.
Wang Fu Chinese Bistro has branches at 2/L UP Town Center, Katipunan Avenue, Quezon City; Il Terrazzo, Unit 201 Tomas Morato Plaza, Tomas Morato Avenue corner Don A. Roces Avenue, Barangay Sacred Heart, Quezon City; and Serendra, Bonifacio Global City.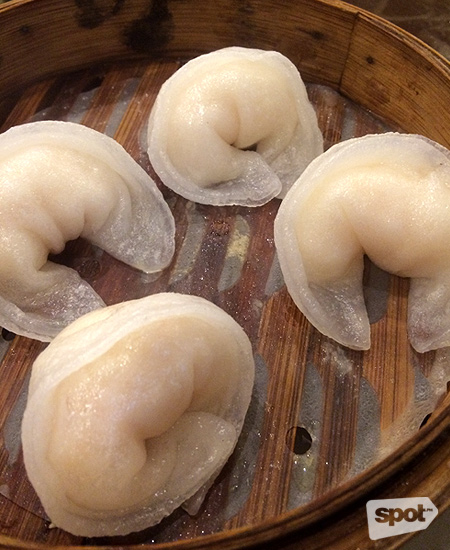 ADVERTISEMENT - CONTINUE READING BELOW
9. Modern Shanghai's Steamed "Hakaw" Shrimp Dumplings (P198)
If this were a contest for the prettiest hakaw, then these four delicate pillows of curved dumplings should win for looking so fine. They're easy on the eyes, but are perfectly cooked too, the wrapper not too thick to overpower the flavors. Upon closer inspection, what's inside is all the more tasty for the bits of fat that surround the shrimp, but set that aside and the hakaw shows top form with every bite.
Modern Shanghai has branches at 3/F Glorietta 2, Makati City; and 2/L North Veranda, SM Mall of Asia, Pasay City. Read more about Modern Shanghai.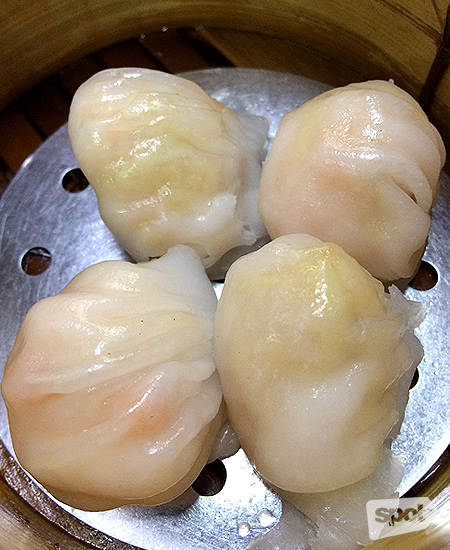 8. Wai Ying's Hakaw (P80)
This Binondo favorite arrives glistening, with the shrimp peeking through translucent wrapper that's a bit grainy on the taste buds. Bamboo shoots are interlaced between each piece of fresh shrimp, giving that extra oomph of flavor. And just for a pocket-friendly P80, you're bound to order several bamboo baskets of this delicious treat.
ADVERTISEMENT - CONTINUE READING BELOW
Wai Ying is at 810 Benavidez Street, Binondo, Manila.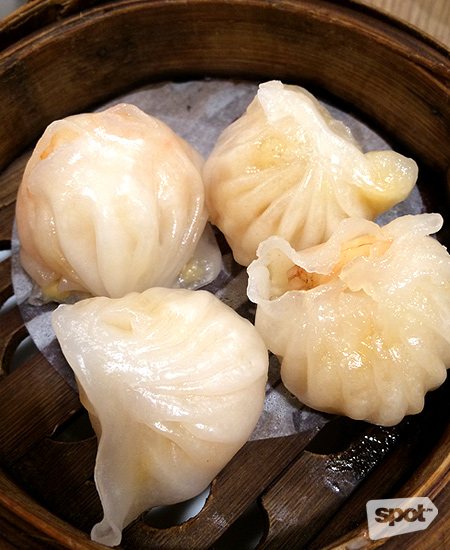 7. President Tea House's Fresh Shrimp Hakaw (P95)
Yet another Binondo staple, President's hakaw is just what it claims on the menu—fresh and bursting with flavor. Looks-wise it might not find many fans (we had to "style" four pieces to make them look more put together), but a bite tells a different story. Glossy on the outside, then crisp and succulent on the inside (with a helping of bamboo shoots), this hakaw is a reliable choice for dim sum fans on a budget.
President Tea House is at 809 Salazar Street, Binondo, Manila.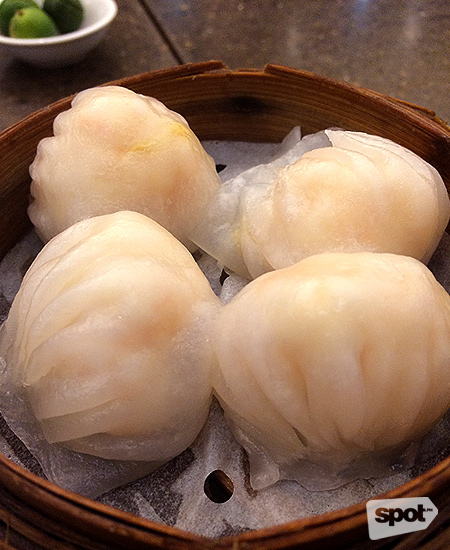 ADVERTISEMENT - CONTINUE READING BELOW
6. King Chef's Hakaw (P110)
The hakaw at King Chef is plump yet airy, almost reaching up to the brim of the bamboo steamer. Each one is light to the touch, complemented with bold flavors and a convincing air of steam—take that as a sign of even better things to come. The shrimp is packed with peppery flavors and just a few bits of bamboo shoots, urging you to relish every mouthful.
King Chef Dimsum Kitchen is at 2/F 238 Banawe Center, Banawe corner Panalturan Streets, Quezon City.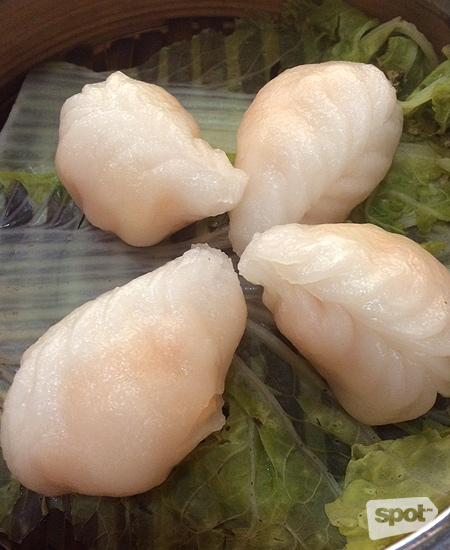 5. Peking Garden's Shrimp Dumplings (P180)
Our former number one makes another appearance on this list, but we won't take away much from its glory. Perhaps in the last few years, there are just more places to get scrumptious dim sum (and that's not a bad thing at all!). Peking Garden's version is masterfully done in an oblong shape that sets it apart from other traditional hakaw, although the wrapper tends to feel a bit thicker than others on the list. Resting on a leaf of cabbage with hues of light coral peeking through, the shrimp is juicy and the flavors well-balanced down to the last bite.
ADVERTISEMENT - CONTINUE READING BELOW
Peking Garden is at 4/L Greenbelt 5, Ayala Center, Makati City.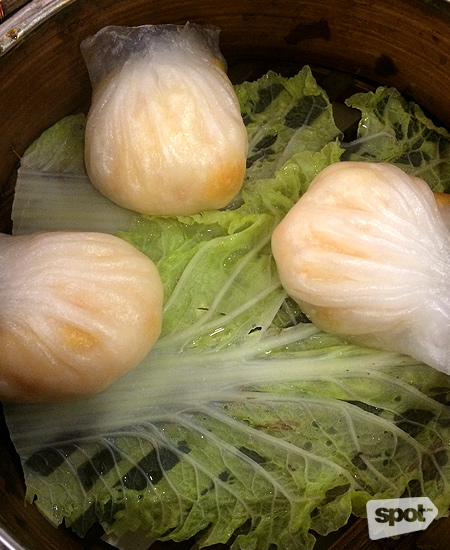 4. Jade Garden's Jade Shrimp Dumplings King (P240)
For three pieces of hakaw at P240, this is a far cry from other more affordable dumplings on the list. Nonetheless, it's fine dining for a reason: Encased in light wrapper that's silky smooth, there were at least four hefty lumps of shrimp inside our hakaw, and each one did not disappoint. Each crisp and tender bite gives a generous yet balanced portion of shrimp, bamboo shoots, and seasoning, which lives up to its royal title.
Jade Garden is at 2/L Glorietta 2, Ayala Center, Makati City.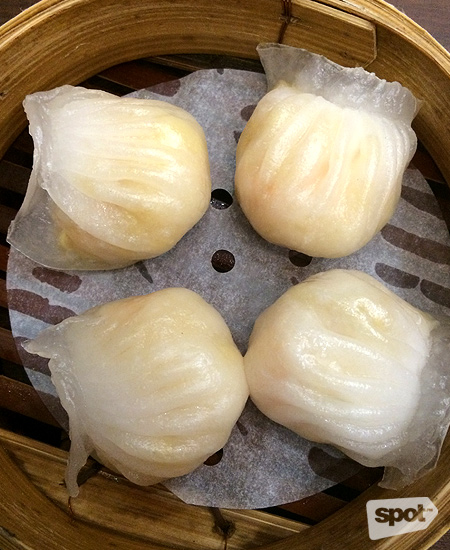 ADVERTISEMENT - CONTINUE READING BELOW
3. Gloria Maris' Hakaw (P175)
For a place that's already synonymous with big celebrations, Gloria Maris has been the dependable choice for Chinese cuisine for many years. Their hakaw is no exception—each sphere of luscious shrimp enveloped in silky dough, perfectly seasoned all around. The filling opens up to reveal how all dumplings should be—simple yet rich in flavor and utterly satisfying.
Gloria Maris Dim Sum is at Greenhills Shopping Center, San Juan City.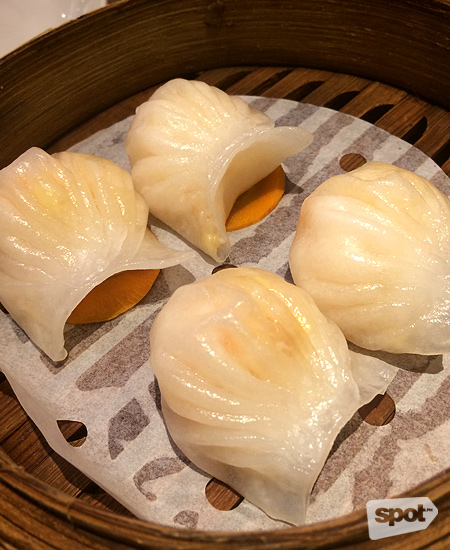 2. Crystal Jade's Steamed Shrimp Dumpling "Hakau" (P180)
Perhaps it's the chewy, thick wrapper that makes it so good, or even the chunky shrimps that are perfectly cooked with just the right hint of pepper that seals the deal. Crystal Jade's hakaw stands above the rest for keeping the flavors clean yet satisfying, from the outside in. Resting on tiny plates of carrot slices, you avoid that sticky situation with your chopsticks and dim sum paper, making it easier to head straight to the target: those peach-tinged bundles of dumpling goodness.
ADVERTISEMENT - CONTINUE READING BELOW
Crystal Jade Shanghai Delight is at Unit 117 V-Mall, Greenhills Shopping Center, San Juan City. Crystal Jade Dining IN is at U/G Bonifacio High Street Central, Bonifacio Global City.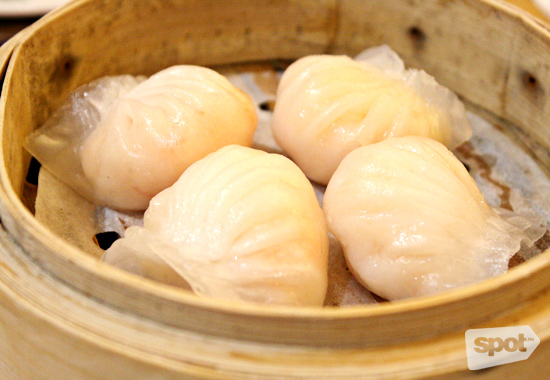 1. Tim Ho Wan's Prawn Dumplings (P160)
While their pork buns are already a staple on your order list, Tim Ho Wan's hakaw cannot be ignored. Their version is deliciously packed with lots of crunchy shrimp, each round ball as if almost ready to pop out and peek through the precise folds. With a light wrapper to go with every generous serving of prawn, it's easy to get right down to the flavors: unmistakably fresh and worth lining up for again and again. You might just find yourself longing for some chili oil with your soy sauce (they only serve sweet chili sauce on the side), but that's not a big deal when you have it this good.
ADVERTISEMENT - CONTINUE READING BELOW
Tim Ho Wan has branches at G/F SM Mega Fashion Hall, Mandaluyong City; G/F Glorietta 3, Makati City; and Upper G/F Main Building, SM City North EDSA, North Avenue, Quezon City. Read more about Tim Ho Wan.
Also read:
Top 10 Hakao in Manila
Top 10 Siomai Under P100 (2013 Edition)
Top 10 Xiao Long Bao in Manila
10 Dim Sum Places to Try in Metro Manila

Share this story with your friends!
---
Help us make Spot.ph better!
Take the short survey
Load More Stories