New on the Menu: Champetre's Rabbit Stew, Poached Dried Figs with Grand Marnier Ice Cream + more
The French restaurant also flaunts snazzy new interiors.
Champêtre Boutique & Restaurant
G/F Net One Plaza, 26th Street corner 3rd Avenue, Bonifacio Global City
Contact: 815-8801
Open from 11 a.m. to 10 p.m. (Monday to Saturday)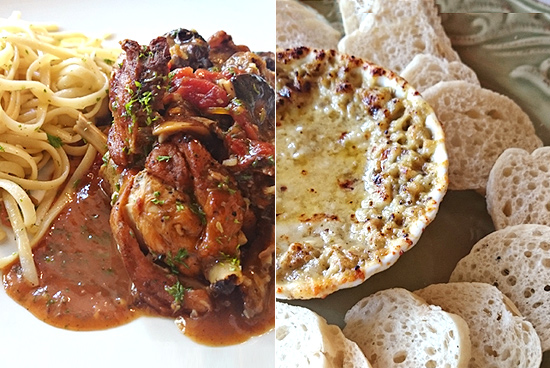 (SPOT.ph) When people ask us to describe the food at French bistro Champêtre, the words "countryside" and "homey" are often used. This, of course, coming from full-blooded Pinoys who did not grow up with a French grandma at home.
However, Chef Marc Aubry did, and since the first day he fired up his kitchen at the same spot as Je Suis Gourmand back in 2003, he has been giving urbanites a reason to fall in love with French country-style cooking. The seasoned and highly respected chef and restaurateur re-fashioned Je Suis Gourmand into Champetre in 2011, after he and his wife took sole ownership of the business.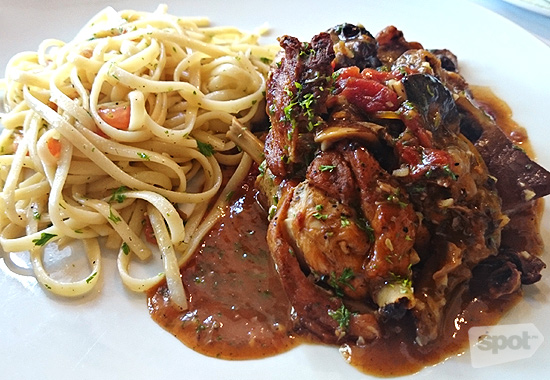 ADVERTISEMENT - CONTINUE READING BELOW
French Farmed Rabbit Stew "ala Pauline"
Champêtre underwent some minor renovations recently but the food, of course, continues to be authentic, the recipes often plucked from Aubry's childhood. Like the French Farmed Rabbit Stew "ala Pauline" (P920+), braised with bacon, tomato, mushrooms, and herbs. Marc shares that as a little boy, he looked forward to coming home from school and eating this dish in his Grandma Pauline's kitchen. Back then, he mopped up the buttery, aromatic sauce with some crusty bread. His version has a side of pasta instead, but that sauce still gives us visions of a dusky country kitchen near Reims.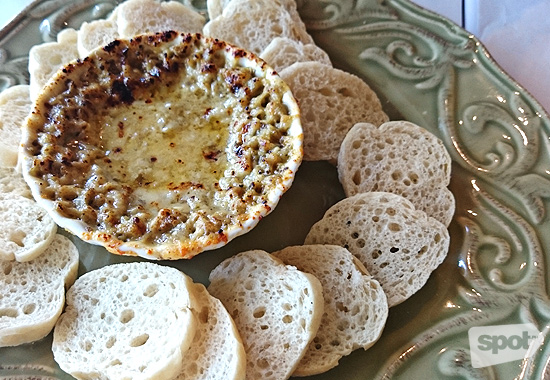 Baked Garlicky Eggplant and Cheese Gratin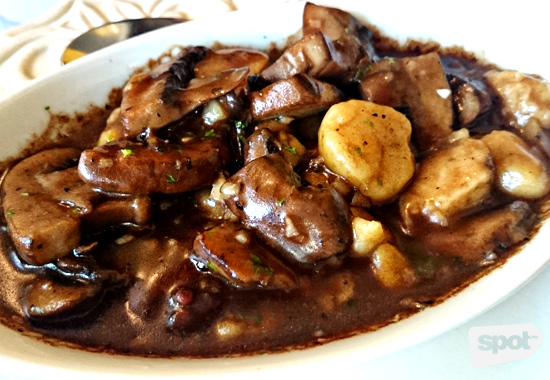 ADVERTISEMENT - CONTINUE READING BELOW
Bone Marrow and Mushrooms
You can still order Champêtre favorites to start—such as Chef Marc's famous Homemade Duck Foie Gras Terrine with Salad and Toasts or Simmered Beef Bone Marrow (P780+) and Portobello Mushroom Bordelaise (P560+). But, we also suggest you take the Baked Garlicky Eggplant and Cheese Gratin with Toasts (P320+) for a spin. This is a certified crowd-pleaser with its smooth texture and mild cheesiness; even the pickiest little eater will approve.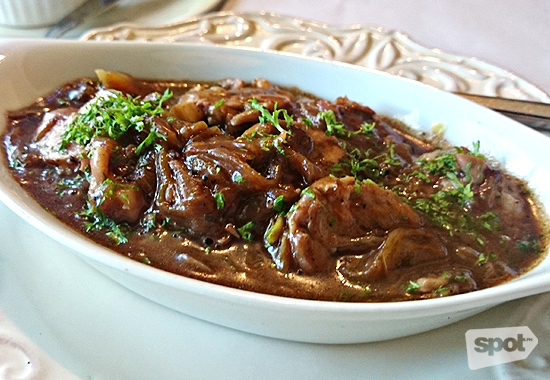 Grain of Andouillette of Troyes in Onion Sauce
A more adult option would be the Gratin of Andouillette of Troyes in Onion Sauce (P520+). Chef Marc admits that preparing the sausage of veal and pork innards is "tedious" to say the least, so he brings in artisan andouillette from France. Fans of offal would appreciate the gamey meat and its textural elements, tempered expertly by another masterful Aubry sauce.
ADVERTISEMENT - CONTINUE READING BELOW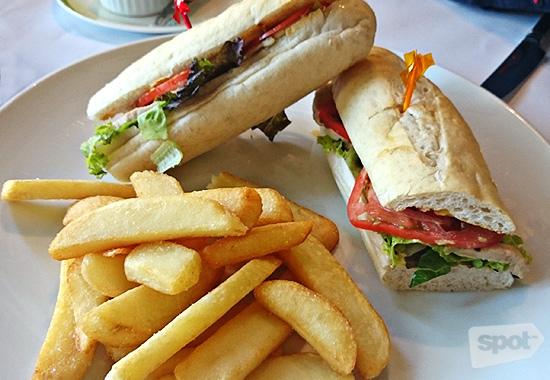 Grilled Spicy Lamb Sandwich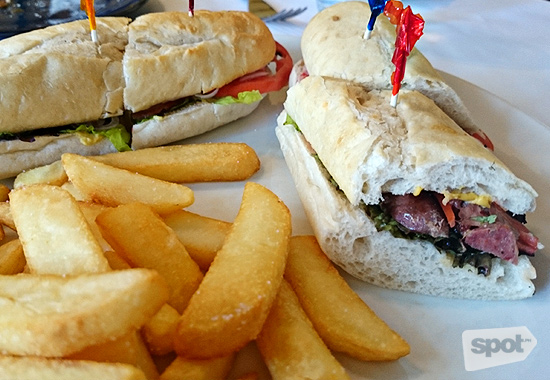 Pork Rillettes Sandwich
Champêtre offers a lunch menu composed of salads, sandwiches, and pasta for diners on the go. The Grilled Spicy Lamb Sandwich (P490+) and Pork Rillettes Sandwich (P420+) stand out, properly made with gerkins, tomatoes, onions, and mustard, plus a side of fries.
ADVERTISEMENT - CONTINUE READING BELOW
What many do not know (or perhaps did not expect) is that Chef Marc makes a mean pasta. People have asked why he serves pasta in his bistro and, he simply replies, "Why not? I love pasta." He does serve a great Linguini Carbonara (P460+), something you will be thinking of for days after.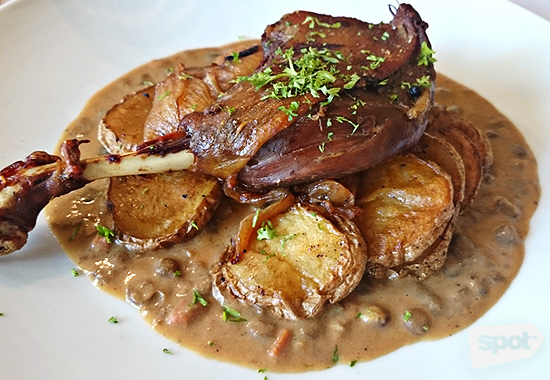 Classic Duck Confit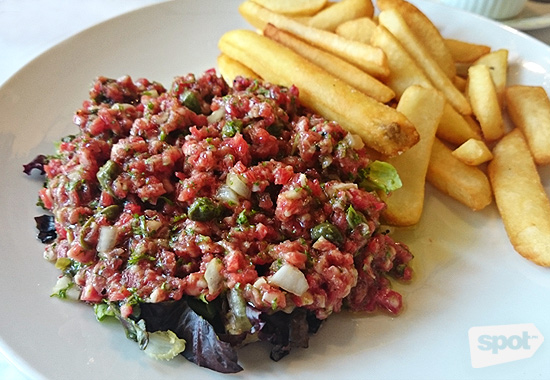 ADVERTISEMENT - CONTINUE READING BELOW
Steak Tartare with Fries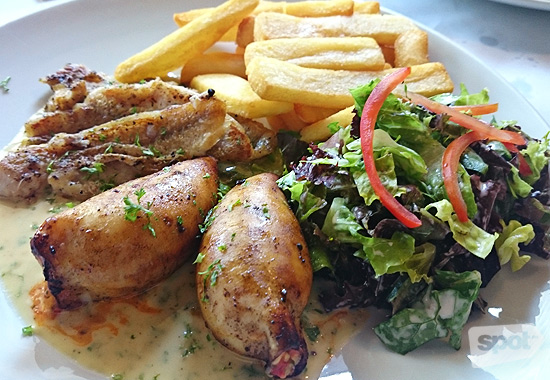 Roasted Red Mullet and Squid Stuffed with Tomato and Feta
Aside from his grandma's rabbit stew, Chef Marc retains most of his beloved best sellers, such as the Steak Tartare with Fries (P690+) and the Duck Confit with Lyonnaise potatoes with lentil foie gras sauce (P890+). Your best bet for seafood would be the Grilled Atlantic Scallops with Mushroom Duxelle, Puff Pastry, and Beure Blanc Sauce (P990+). That unique marriage between scallop and mushroom is expertly complemented by a rich, perfectly executed beurre blanc.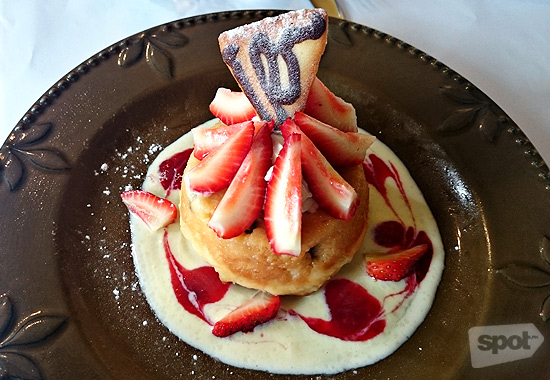 ADVERTISEMENT - CONTINUE READING BELOW
Rum Cake with Strawberries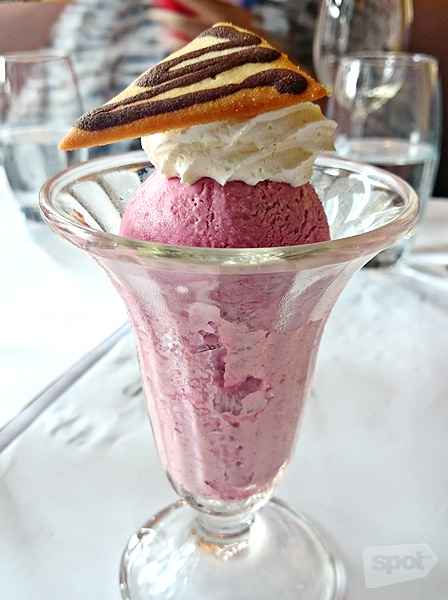 Sour Cherry Ice Cream
Save some room for dessert because Chef Marc makes outstanding ice creams and sorbets using natural flavorings and fruit purees from Canada. The passionfruit sorbet (P130+) is pleasingly tart and smells of tropical summers. A surprisingly pleasant sour cherry ice cream (P240+) is not the face-puckering experience you'd expect.
"We do call it sour cherries in France because, well, they are a bit sour," says Chef Marc in his signature deadpan-yet-cheeky manner. "We call them cerises sauvages or wild cherries and, in our region in Champagne, you find them growing near vineyards so the birds will be attracted to them rather than the grapes." For the ultimate ice cream experience, go for the Poached Dried Figs with Grand Marnier Ice Cream (P270+)—the thick poaching liquid is rendered until syrupy, tying all the refined flavors together.
ADVERTISEMENT - CONTINUE READING BELOW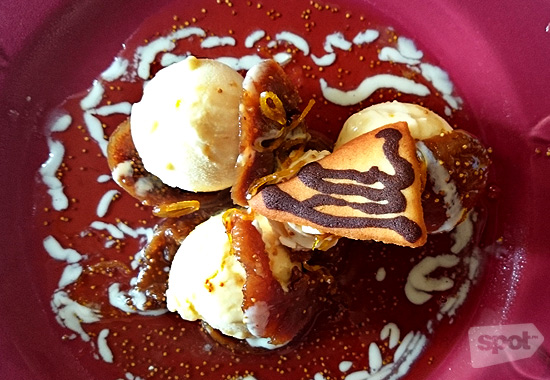 Poached Dried Figs with Grand Marnier Ice Cream
Now that restaurants seem to open on impulse and have a two-year lifespan, long-running establishments like Champêtre are easily overlooked. However, with flavors that remain honest and consistent, it truly deserves to be given the attention it deserves over its newer counterparts. With a new coat of paint, a fresh menu (literally, the menu is new, with a painting by Aubry's wife, Mianne gracing the cover), and a hard-working, veteran chef in the kitchen—our love affair with Champêtre proves to be enduring.
Photos by Sasha Lim Uy
Load More Stories