New Restaurant Alert: Frangos at Kamagong, Makati
This Portuguese-style chicken place serves as measure for other chickens.
Frangos
Buma Building, 9595 Kamagong Street, Makati City
Contact: 0917-800-7777
Open daily from 11:30 a.m. to 2:30 p.m. and 6 p.m. to 10:30 p.m.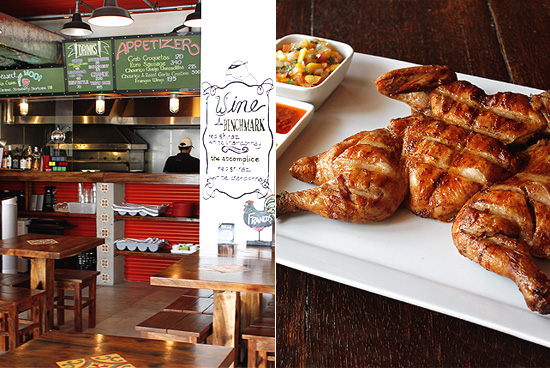 (SPOT.ph) You stare at the chicken, the chicken you waited 25 minutes for, whole and butterflied on the wooden platform—a gilded showpiece plainly spread out, sans sprigs of garnish you know you're going to set aside anyway. Look at it: the stripes running through that shiny gold, the dark patches favored by the grill, the tubs of festive sauces supposedly for painting flavor into the meat. You know this is one of those moments that will stay with you.
ADVERTISEMENT - CONTINUE READING BELOW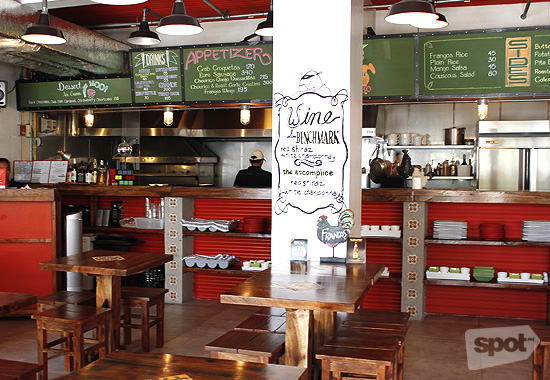 CONTINUE READING BELOW
Recommended Videos
The custom grill at the back is the first one Jonathan had made.
Frangos didn't start out this way, this easygoing chill-out spot on Kamagong, but their initially simple idea snowballed, quickly and without pause. The story begins in their garage: owner Jonathan Renato turning over a whole chicken, basting it, turning it, basting it some more fervently, patiently, and painstakingly to reach a flavor deep enough to penetrate your taste buds with one tiny bite.
ADVERTISEMENT - CONTINUE READING BELOW
It's Portuguese-style, but not Portuguese, he clarifies. "Portuguese chicken uses six or seven spices because you'll want to put on the sauces. We use 14. The chicken is flavorful enough on its own," he says. The sauces at Frangos—a hard-hitting chili garlic, refreshing green harissa, and buttery tomato piri-piri—are just a fun little bonus round.
"Actually, the Portuguese got the piri-piri from Africa," Jonathan tells us. "They took the chicken back to Africa where a more spice-filled version was created. That's what we're trying to do."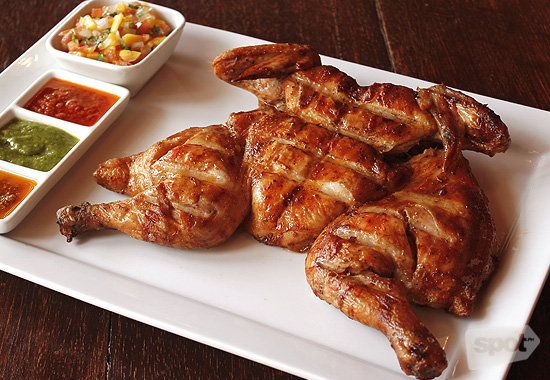 ADVERTISEMENT - CONTINUE READING BELOW
Call ahead and have this to go.
Six months after those garage sessions, Jonathan, his wife Pia, and her brother Aldrin opened in Legazpi Sunday Market. They prepared 20 chickens (35, according to Pia) and Jonathan had a grill designed especially for their style of cooking: flat, cage-like boxes that swiftly rotate over flame. The faster speed, compared to a rotisserie, works to catch the juices that threaten to fall into the fire. It's a wise, self-basting machine that also finishes the butterflied chicken quicker. On that first day, whatever the actual number was, the frazzled trio ran out of chicken after two hours.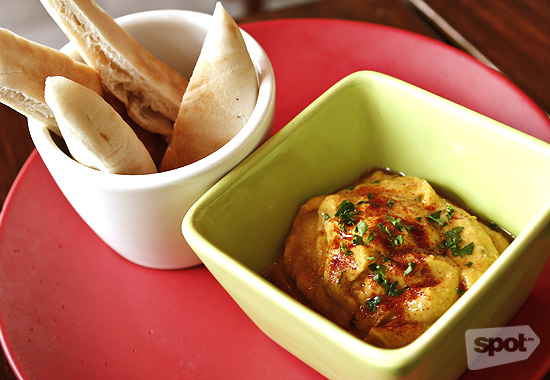 ADVERTISEMENT - CONTINUE READING BELOW
Roasted Pumpkin Hummus (P80)
Fifteen months later, in April, Frangos the restaurant opened, drawing in their loyal Legazpi Market followers and anyone else who appreciates a good, nay, delicious chicken meal (P145/quarter, P260/half, P480/whole). Frangos, which is chicken in Portuguese, by the way, is salty, spiced, with just a dab of smoke. Get the breast to really get a measure of that compelling formula.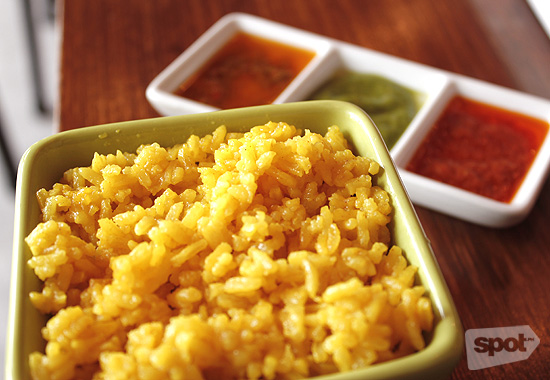 ADVERTISEMENT - CONTINUE READING BELOW
Frangos Rice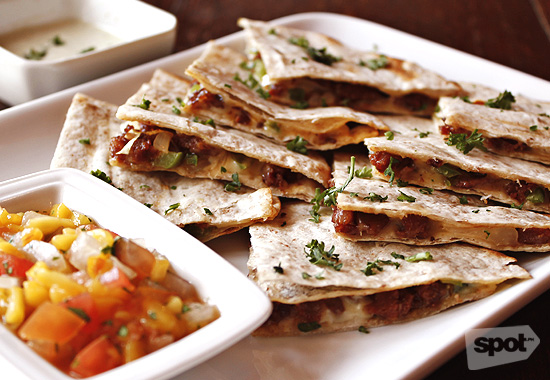 Chourico Queijo Quesadillas
Jonathan and Pia refuse to be swayed by the culinary freedom that a restaurant brings. The chicken is still their star, and everything else on the menu works to complement rather than compete. The advice we can give is to get the chicken, (whole, because you'll be surprised at how far your appetite can stretch when you're eating it), the fragrant Frangos Rice (P45), and the quesadilla (P215), faultless little triangles that hide an exciting blend of chourico (Portuguese chorizo, in a blend specifically for Frangos) and queijo or cheese. The chourico reappears on the menu with crostinis (P300), tapas to accompany a bottle of Australian wine (P700 to P900), but for lunch, it's the pairing with cheese you will crave. Maybe with Nipa's Tropic Haze Craft Wheat Beer (P165).
ADVERTISEMENT - CONTINUE READING BELOW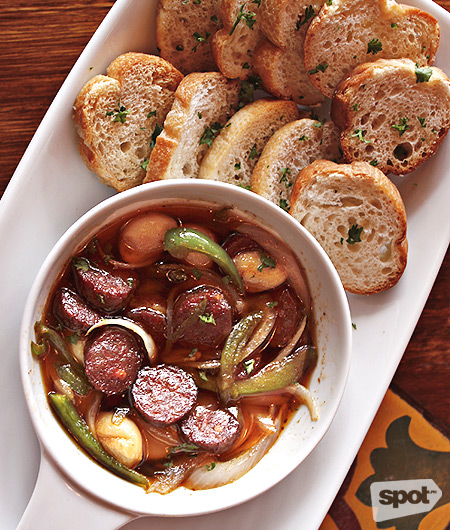 Chourico and Roast Garlic Crostinis (P300)
But no matter how well the other dishes impress—like the bright tomato-ey tang of the Seafood Rice (P450) for those averse to chicken but find themselves in a restaurant named "chicken" or how the soft cloves of garlic flatter the melting cubes of meat in the Beef Trinchado (P250)—you will come back to the chicken, intrigued, at least, to see what else Frangos can do with it. Consider their eponymous wings (P195) the reward for that sense of curiosity.
ADVERTISEMENT - CONTINUE READING BELOW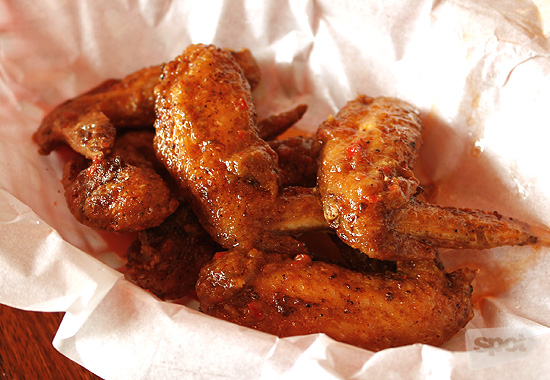 Frangos Wings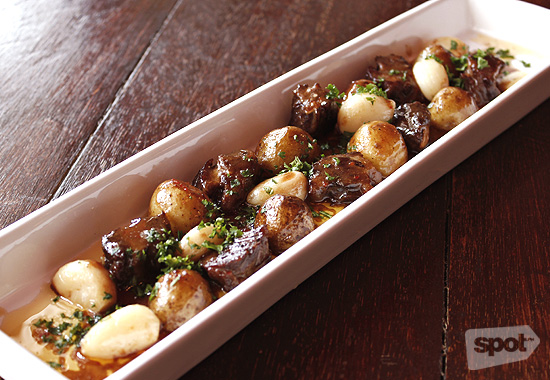 ADVERTISEMENT - CONTINUE READING BELOW
Beef Trinchado
These wings, perhaps viable competition if Frangos served it in bigger portions and allotted a more renowed space on the two-page menu, demonstrate the magic of those three sauces. The combination of the green harissa, garlic chili, and tomato piri-piri smother a one-of-a-kind coat over those crisp, fried pieces—an assault that's strategically subtle and meaningful more than challenging; blatant but never brazen. Frangos chicken is serious business.
You leave Frangos knowing that something has changed. That your life has been split into BF and AF. Before Frangos and After Frangos. Future chickens, you will be judged.
Share this story with your friends!
---
Help us make Spot.ph better!
Take the short survey
Load More Stories