Top 10 Almond Croissants in Manila
The best croissants are the "nutty" ones.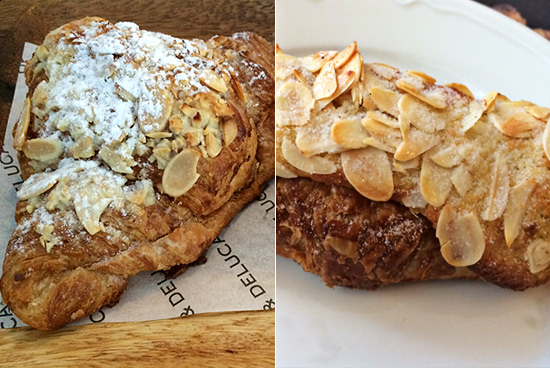 (SPOT.ph) Before launching into this calorific taste-testing testimonial that had us traversing Metro Manila for a savvy Top 10 round-up of the rather elusive, albeit sinful almond croissant, allow this imparting of a very important morsel of wisdom:
Did you know almonds aren't nuts?
Like the celebrated almond, which is actually the seed of the almond tree fruit indigenous to the Middle East, other "nuts" that aren't technically nuts include peanuts, walnuts, hazelnuts, Brazil nuts, coconuts, and Senator Miriam Defensor Santiago. The latter definitely not. But that said, these fun tidbits certainly brighten up the table conversation over those tawdry work dinners with clients that no one cares to attend.
Now that the ice has been broken, let us escort you through the world of croissants, tackling, in particular, the most pressing criteria when it comes down to this "seed" encrusted kind:
First, there's presentation (does it immediately make you want to pull it apart and stuff it in your face?), then taste (does it lean toward the sickeningly sugary sweet side or stick to the undeviating nutty buttery side?). Back this up with the all-important croissant criterion: the texture test (flaky, chewy, crusty? ). There's also the value for your sweets-for-breakfast-friendly peso. But then again, these pastry treats are never a bad thing, whatever the time of day.
ADVERTISEMENT - CONTINUE READING BELOW
All SPOT.ph Top 10 lists are researched, paid for, tested, and selected by the writers and editors. They are discreetly conducted without any notice made to the restaurants or their owners.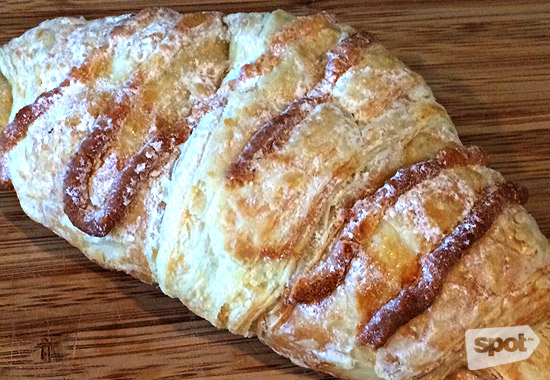 10. Yamato Bakery Café (P95)
Perhaps appealing to Japanese sensibilities is this sweet, yeasty, bright yellow treat that's a little more "bread-y" than croissant. The bun definitely has a very subtle almond hit, which would've stood out more if they didn't put on a blizzard of powdered sugar. The croissant and the zigzag of almond cream would do. If you catch them fresh from the oven, ask the server to skip that sugary step.
Yamato Bakery Café is at 22 Jupiter Street, Bel-Air, Makati City (511-1390).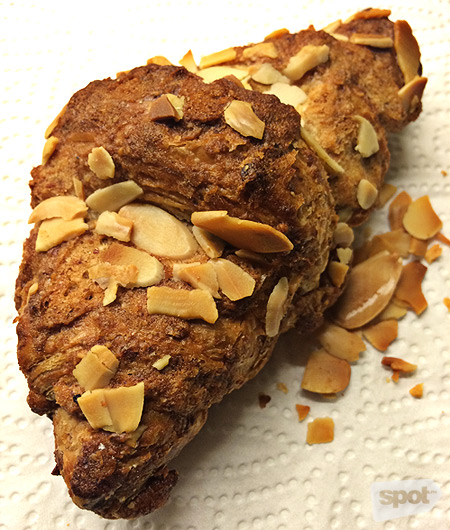 CONTINUE READING BELOW
Recommended Videos
9. French Baker (P43)
Cheap and cheerful, this contender is evidence that great things come in small packages. It flaunts that picture-perfect shell-shape, but it's not as flaky as croissants should be. The texture is more on the chewy side, and a crumbly, milky-brown cream inside gives it that nutty flavor we're looking for.
Click here for a list of French Baker branches.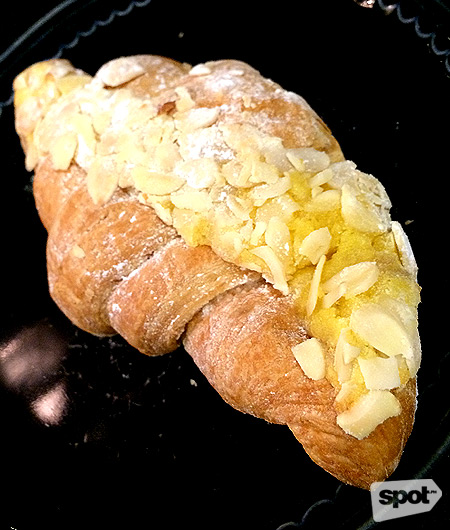 8. Café France (P94)
Soft, cushy with a nice spring to it (squeeze it and you'll understand) is this rather hefty and yellow-hued entry. It gets the shape right, with its tell-tale dough segments and lashings of toasted almond flakes, but the interior feels more like a cake. The overall flavor is given a boost, thanks to the moist, gooey almond cream-flavored custard center within. Serving note: Reheating is a must.
Click here for a list of Café France branches.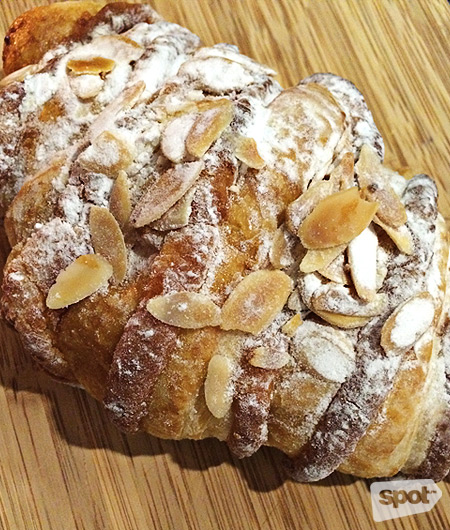 ADVERTISEMENT - CONTINUE READING BELOW
7. Jipan (P95)
This croissant is colossal and doesn't look like a croissant at all. Jipan isn't shy about loading up their version with powdered sugar. Texture-wise, this is more a sweet-tasting bread than anything else and it caresses the mouth with each spongy bite. Though good by all accounts, just like Yamato, the powdered sugar definitely speaks louder than the almond.
Click here for a list of Jipan branches.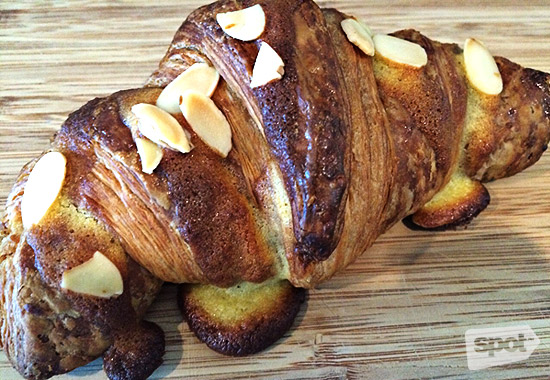 6. Tous Les Jours (P68)
The best part about this is the bubbles of love wedged between the multiple doughy layers, belying the very toasted and dark (almost burnt-brown) exterior. This adds a dimension to the taste, providing a nice foil to the sweetness of the almond custard pocket in the center. The bright yellow custard isn't your standard croissant filling, but we like it all the same.
Click here for a list of Tous Les Jours branches.
ADVERTISEMENT - CONTINUE READING BELOW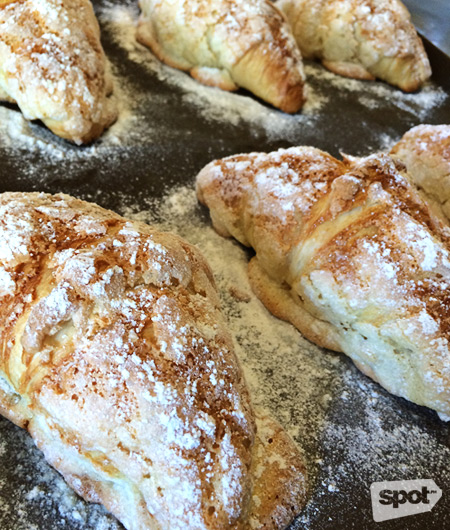 5. The Breadery (P95)
A brave attempt on the non-traditional approach to the use of ingredients and preparation, The Breadery's viennoiserie is cocooned in a thick layer of almond cream, resulting in a crusty, cookie-like armor. Beyond that tough-yet-sweet exterior, however, is a very airy (and rather bubbly) layered fluffiness. Taste-wise, it leans toward the marzipan-y side and the distinct sweetness of the overly generous coating of smattering of powdered sugar on top. Definitely give this unique pastry a try.
The Breadery has branches at G/F Emerald Mansion, Emerald Avenue, Ortigas, Pasig City; and UP Town Center, Quezon City. Read more about The Breadery.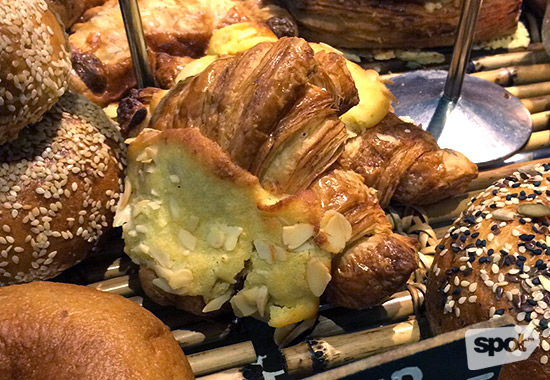 ADVERTISEMENT - CONTINUE READING BELOW
4. Wildflour Café + Boulangerie (P115)
If you're a stickler for texture, this baby will make you proud. Some croissant purists believe that it's the texture, not the taste, that defines a croissant (we're trying to find the balance in between for this list), and if that were the case, Wildflour pretty much nails it. The glazed, browned, crisp surface speaks of a divine buttery sense of tradition, as it beautifully "cracks" under the pressure of your overzealous knife; a dissection of the Wildflour almond croissant will tell you that within all those cracks and crevices, lie pillow-soft layer upon pillow-soft layer of bubbly dough.There is, however, but a hint of marzipan inside and sadly amiss is the slightly burnt crunch of the almonds; instead these flakes are chewy and kind of sticky.
Wildflour has branches at V. Corporate Center, 125 L.P. Leviste Street, Salcedo Village, Makati City; The Podium, ADB Avenue, Ortigas, Mandaluyong City; Net Lima Building, 4th Avenue corner 26th Street, Bonifacio Global City; and Rada Street, Legazpi Village, Makati City. Read more about Wildflour.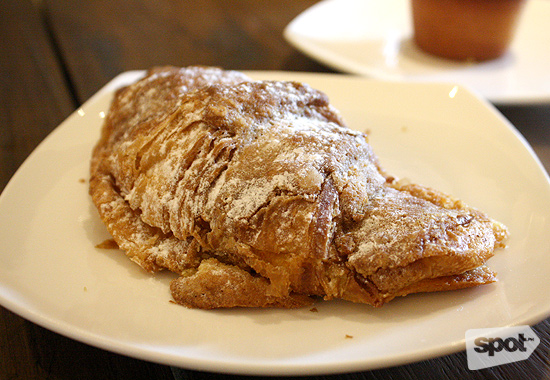 ADVERTISEMENT - CONTINUE READING BELOW
3. Eric Kayser (P100)
Size definitely matters sometimes. Twice the size of your dainty Parisian street café offering, Eric Kayser's is definitely the big man of the list. You don't see a glazed coating; instead, your teeth sink into a deliciously thick golden-brown blanket of almond cream with slices of almonds baked into it (great to chew!). So why go for this croissant? Whether you have them freshly baked or you wait until later to enjoy it, it finds its way right up there with the best of them due to its rather memorable taste. Eric Kayser will always make you want to come back.
Eric Kayser has branches at Promenade Mall, Greenhills Shopping Center, San Juan City; Power Plant Mall, Rockwell, Makati City; Rustan's, Ayala Center, Makati City; Market Place, SSI Northwest Building, 5th Avenue, Bonifacio Global City. Read more about Eric Kayser.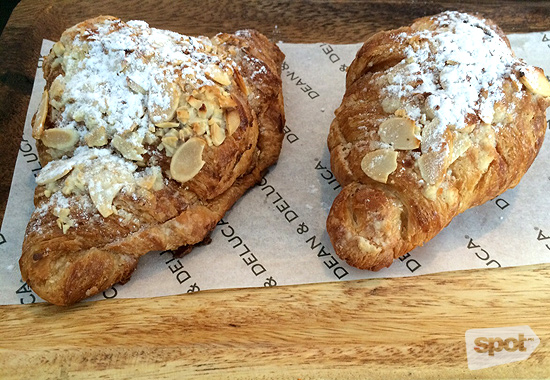 2. Dean & Deluca (P140)
ADVERTISEMENT - CONTINUE READING BELOW
Get to D&D early (doors open at 8 a.m.) because these babies sell like hotcakes. This almond croissant comes in at a very close second based on texture alone. Taste-wise, this handmade hundred-layer entry, whose center is filled with a gorgeous almond cream mixed in with a homemade marzipan, is topnotch. A unique twist (and perhaps the standout element here) is the hint of orange as the whole croissant is dipped in an orange syrup followed by another generous smothering of almond cream on top which is then baked to a gorgeous golden brown. Topped with toasted-to-perfection almond flakes (there's truly a great crunch to them) and powdered sugar, this stellar D&D treat is the stuff dreams are made of.
Dean & Deluca is at G/F Edades Tower, Rockwell Center, 18 Amorsolo Drive, Makati City. Read more about Dean & Deluca.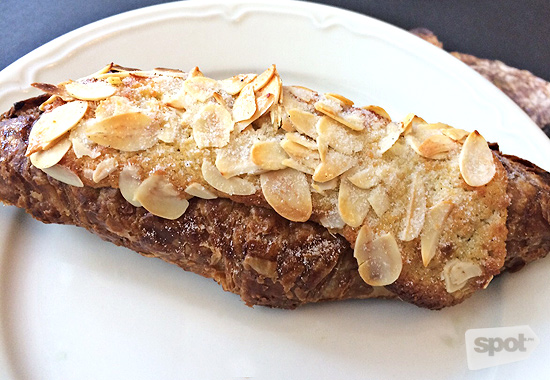 1. Paul (P95)
On all counts, this astoundingly fluffy albeit flaky stunning beaut of a confection (yup, superlatives!) wins hands down—from its inviting aesthetics to its flavors, to its texture, to bang for your buck. Perfectly golden, crisp brown on the outside with just the right smattering of toasted almond flakes and powdered sugar sprinkled on top, the bite starts with that delightful crack followed by that "elastic" chewiness within. Lest you think the thrill is over, don't hold your breath: A few chews in and you're still lost in that dreamy buttery marzipan-y softness of the filling (which, from crisp croissant corner to crisp croissant corner, Paul does not scrimp on). You'll probably walk out with take-away, it's that good. This croissant never even had a chance. You'll just gobble it up.
ADVERTISEMENT - CONTINUE READING BELOW
Paul Boulangerie has branches at G/F SM Aura Premier, Bonifacio Global City; and G/F Bench Tower, Rizal Drive corner 30th Street, Bonifacio Global City.
Share this story with your friends!
---
Help us make Spot.ph better!
Take the short survey
Load More Stories