New Restaurant Alert: Ooma at SM Mega Fashion Hall, Mandaluyong City
SPOT.ph gives you your first look at the new Japanese rice bar by The Moment Group and Chef Bruce Ricketts.
Ooma
3/F SM Mega Fashion Hall, Mandaluyong City
Open daily from 10 a.m. to 10 p.m.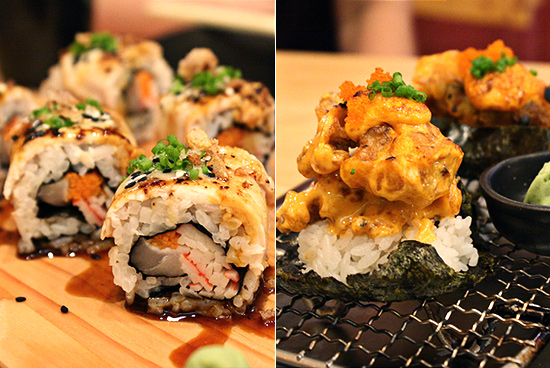 (SPOT.ph) If you're familiar with Mecha Uma, then the thought of eating at Chef Bruce Ricketts' new playground might sound intimidating. But Ooma, no matter the similarity in the name, is a different undertaking. It's modern Japanese, bold and hip, with friendlier prices, a more easygoing charm, and a floor with a manhole and rain boots (hint: it's going for a cooler, indoor version of the Tsukiji Fish Market).
ADVERTISEMENT - CONTINUE READING BELOW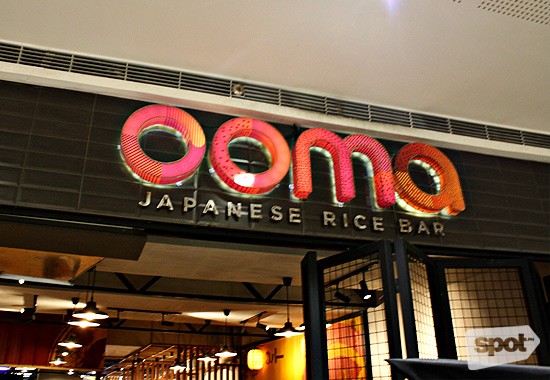 CONTINUE READING BELOW
Recommended Videos
Patterns of rice on the logo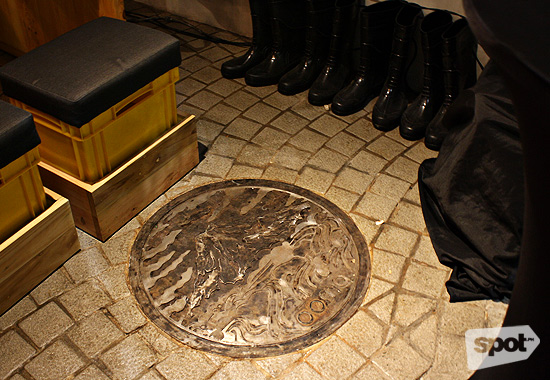 ADVERTISEMENT - CONTINUE READING BELOW
The manhole and boots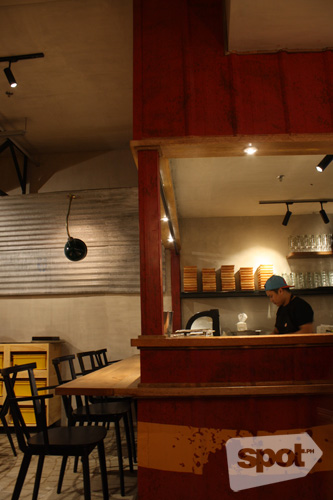 The bar where the sushi is made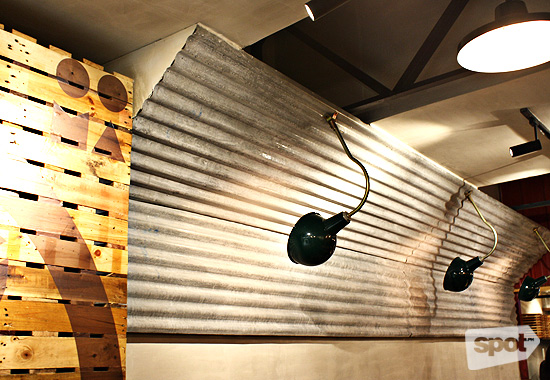 ADVERTISEMENT - CONTINUE READING BELOW
Driving home that "market" effect
Chef Bruce Ricketts is the golden boy of Metro Manila's dining scene right now. The title is a double-edged sword: either he can throw anything on a plate, make his name work, and do no wrong or there's a certain high standard that's getting higher and higher to fall from. But the 20-something wunderkind ignores the labels and does what he does best: cook. His is a kind of innate, unflappable creativity that's been there since his beginnings in Robot to the quiet cult hit that is Sensei Sushi and most recently, to the wait-listed seats at Mecha Uma's chef table.
Now he's at Ooma Japanese Rice Bar, his latest partnership with The Moment Group, firing up worlds of flavor in bowls and mouthfuls of rice. "I made (the menu) how I would want to eat on my day-off," he says. "You don't need to see the chef making your food," he adds, referring to Mecha Uma's famous live tasting menus. At Ooma, everything is all about flavors, textures, value-for-money—big dynamite flavors that give bang for your buck.
ADVERTISEMENT - CONTINUE READING BELOW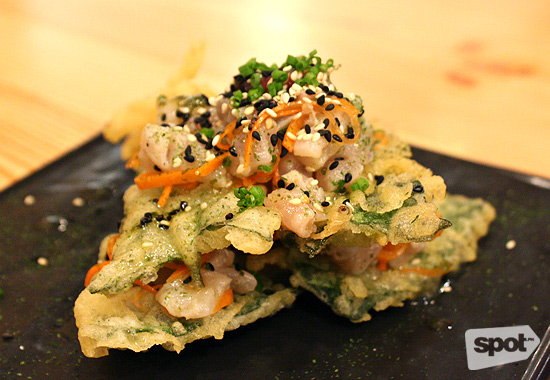 Uma Ceviche
The Uma Ceviche (P195) perfectly demonstrates his point. Kang kong leaves wearing a crispy tempura coat hold together layers of raw lapu-lapu, picked red onion and carrots, and scallions—every little element distinguishable to the palate, even the sesame seeds on top, and coming together in spurts of nuttiness, tartness, freshness.
ADVERTISEMENT - CONTINUE READING BELOW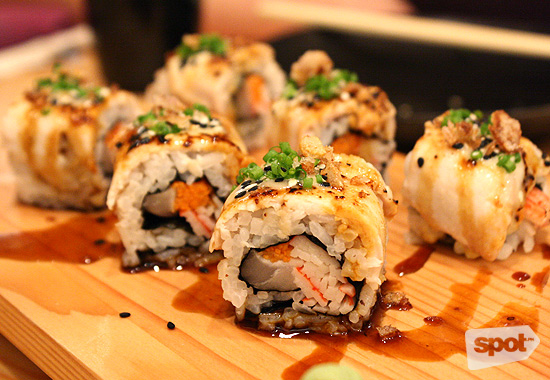 Hamachi and Kani Aburi Maki
Chef Bruce makes both Mecha Uma and Japanese food much more accessible to the local sensibility. He creates bigger-than-usual sushi to enhance customers' experience, his flavors are vivid and independent, and raw seafood doesn't appear "as raw"—which may seem like a turn off to some. You could say that the dishes are people-pleasing, the way Ooma only has tataki (thin slices of fish seared on the outside) instead of full-on sashimi, or how the kitchen has managed to stuff every sushi favorite into the Hamachi and Kani Aburi Maki (P345), a torched blanket of yellowtail covering a roll of crabsticks, pickled carrots, fried shallots over a streak of teriyaki sauce.
ADVERTISEMENT - CONTINUE READING BELOW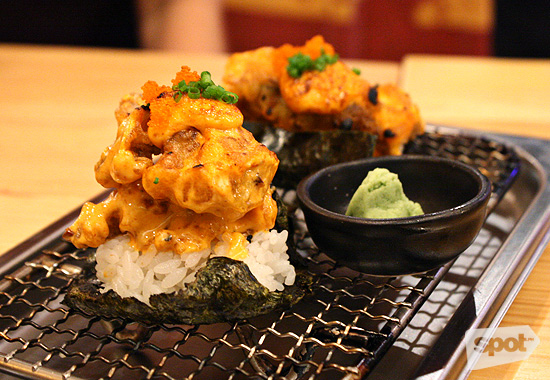 Soft Shell Crab Taco-Maki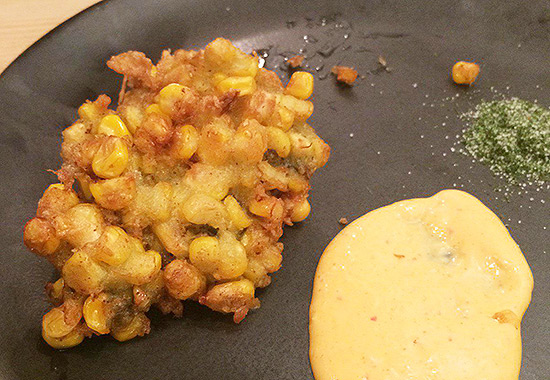 ADVERTISEMENT - CONTINUE READING BELOW
Corn and Oyster Kaki-Age (P155)
Those who are familiar which Chef Bruce's work know that he's one who likes to play, and nothing could be more fun than his Soft Shell Crab Taco-Maki (P199). Described as an open-faced temaki wrap, this two-bite sushi takes the usual conical shape and turns it into essentially a tiny taco where crisp nori replaces the tortilla. Inside, a punchy arrangement of roe, aligue mayo, and sweet and crunchy soft-shell crab make up tidbits of rice that leave you fulfilled yet wanting (for more) at the same time. Paintbrushes on the table allow you to brush more sauce over the maki without destroying the shape.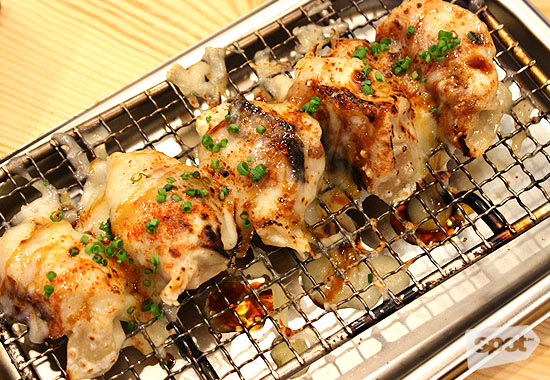 ADVERTISEMENT - CONTINUE READING BELOW
O-Gyoza
"This isn't about employing the proper techniques...It looks very vibrant, not the traditional black-and-white preparation," he says, adding that this makes it more appealing to a wider market. Sure enough, smattering mozzarella and cheddar in the gyoza—the five-piece O-Gyoza (P235)—just makes it much more crave-worthy.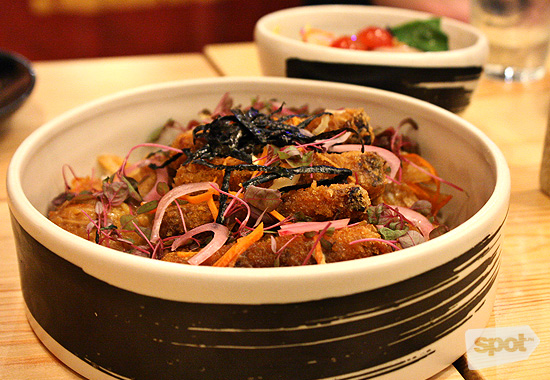 Buta Kakuni Katsudon
ADVERTISEMENT - CONTINUE READING BELOW
At Ooma, rice is the highlight, but what sets it up is a good repertoire of pairings that give it that profound meaning. We're partial to the Buta Kakuni, which appears on the menu in several ways. The Buta Kakuni Katsudon (P289) is a hearty bowl where pork belly is braised till tender and breaded and carefully topped over sticky rice with egg, onions, and carrots. It's big enough for sharing, but varied enough to finish without trouble. If you run out of rice, tell the nearest server. He/She might be able to help out with those uncurbed cravings.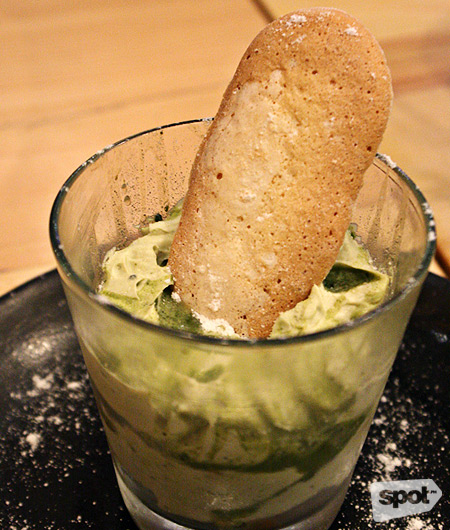 ADVERTISEMENT - CONTINUE READING BELOW
Matcha Green Tea-ramisu
The Matcha Green Tea-ramisu (P195) tastes better than its name lets on. A dessert that demands only the highest of expectations, it's creamy but impressively light, the layer of soft biscuits giving way to the earthy hit of matcha. It comes with a long slab of ladyfinger that you might want to use as a spoon instead.
Rice is a Filipino staple. We see it all the time, but at Ooma, with Chef Bruce at the helm, it suddenly got more interesting.
*Ooma will open on July 8, 6 p.m.
Share this story with your friends!
---
Help us make Spot.ph better!
Take the short survey
Load More Stories