The 10 Best Things We Ate in July
Noteworthy dishes in this food-filled month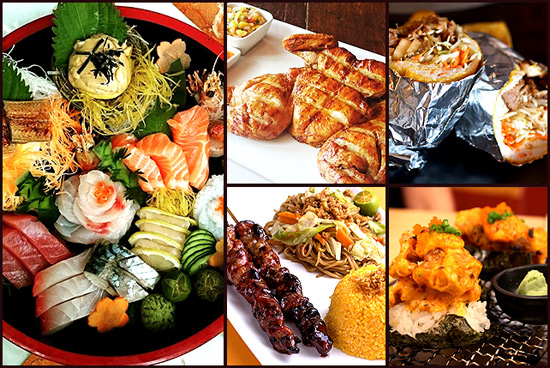 (SPOT.ph) If you didn't already know, here at SPOT.ph, we love food. You need it to live, but we find that there are some dishes that go well past the virtue of necessity. While others content themselves with a deep fryer and the usual salt and pepper, there are some who make—or at least try to make—an art out of it, with delicious displays and even yummier flavors. We believe those that go above and beyond their duty deserve necessary recognition. So here are our top picks among the dishes we ate throughout July.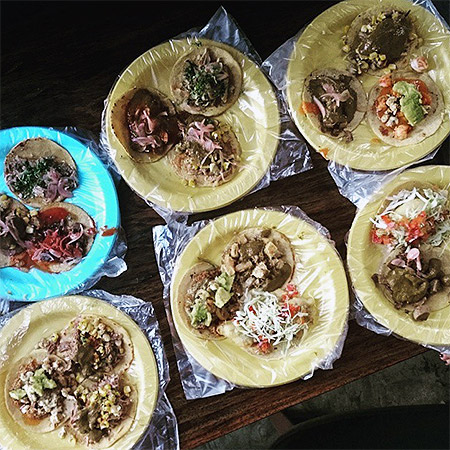 ADVERTISEMENT - CONTINUE READING BELOW
La Chinesca's tacos (yup, all of them)
We love it when Chef Bruce Ricketts does freestyle. For one day last month, he turned Mecha Uma into his personal Latin playground where he wowed unending lines with his version of tacos, ceviches, and more. Everything was excellent, with the young chef showing the potential of homemade masa tortillas. The lengua was topnotch, the lamb barbacoa bold and unforgettable, the camaron a perfect match with cheese. We will always remember that day.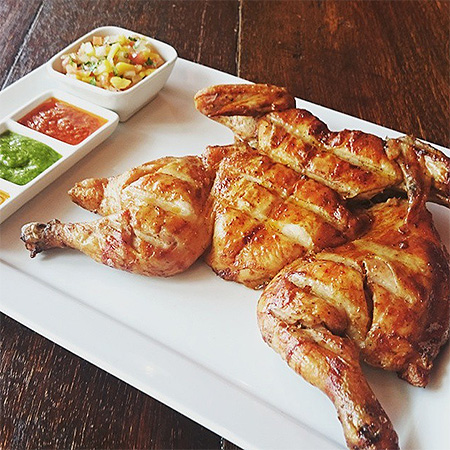 CONTINUE READING BELOW
Recommended Videos
ADVERTISEMENT - CONTINUE READING BELOW
Frangos' Portuguese-style Grilled Chicken
Frangos is Portuguese for chicken, so when it comes down to it, this little joint on Kamagong is actually named "Chicken Chicken." Perhaps this redundancy is to emphasize the level of flavor the kitchen manages to pull off. Frangos is Portuguese style, but not Portuguese. They use double amounts of spices to exact this peppery, smoky profile that's great on its own, but even better with the sauces. Have just a quarter for P145 or share the goodness with a whole one for P480.
Frangos is at Buma Building, 9595 Kamagong Street, Makati City. Read more about Frangos.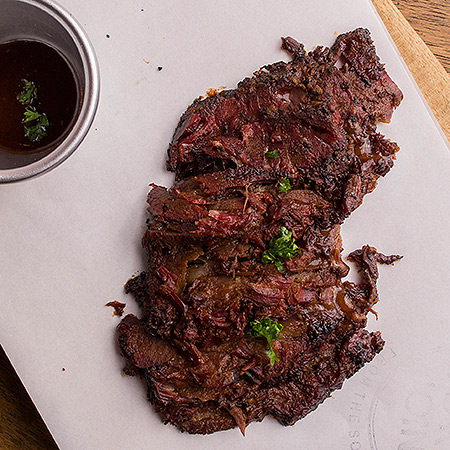 ADVERTISEMENT - CONTINUE READING BELOW
The Smoking Joint's Smoked Beef Brisket
This beef brisket...How do we even explain this beef brisket? We have to applaud The Smoking Joint for bravely offering brisket in the first place. It's a tough cut of meat, lean and full of tissue that's a perfect canvas for barbecuing. Patient cooking breaks it down to develop a softer, meatier result. In the case of The Smoking Joint, they smoke theirs for 12 hours. The assortment of wood chips and a special dry rub seeps into the beef, and it's just so amazingly tender that you can touch it and it falls apart without effort. Now you know what that term really means.
The Smoking Joint is at 308 Aguirre Avenue, BF Homes, Parañaque City. Read more about The Smoking Joint.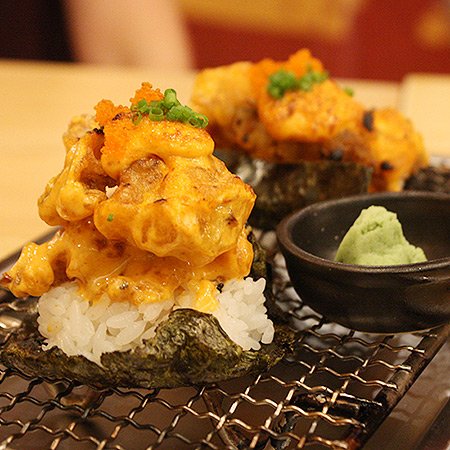 ADVERTISEMENT - CONTINUE READING BELOW
Ooma's Soft Shell Crab Taco Maki
Didn't we just talk about Chef Bruce Ricketts' talent for tacos? At Ooma, his latest partnership with The Moment Group, Japanese food is more sincere than authentic, but the flavors are kept bold and real. Ooma is really all about enjoying the food. For instance, the kitchen reshapes the hard-to-eat cone of a traditional temaki into something of a taco, with crispy nori replacing the tortilla. From there, it's a big bite of brine, sweet, crunch, and just a dab of richness from the aligue mayo.
Ooma is at 3/F SM Mega Fashion Hall, Mandaluyong City. Read more about Ooma.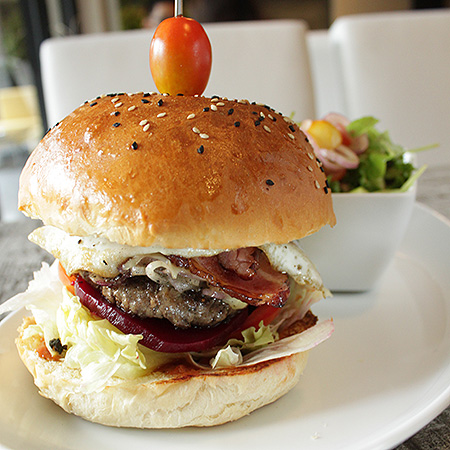 ADVERTISEMENT - CONTINUE READING BELOW
Bondi and Bourke's Beef Burger
When you think of Australian food, you think of two things: kangaroo and Vegemite, but apparently this cool cuisine is all about meat. Bondi and Bourke exemplifies that tradition perfectly. Their burgers are macho things: thick all-beef patties with fried egg and bacon. But just because you need something slightly dainty, Chef Wade Watson adds a layer of pickled beets—a gleam of sunshine in this major number.
Bondi and Bourke is at G/F Cattleya Building, Salcedo Street, Legazpi Village, Makati City. Read more about Bondi and Bourke.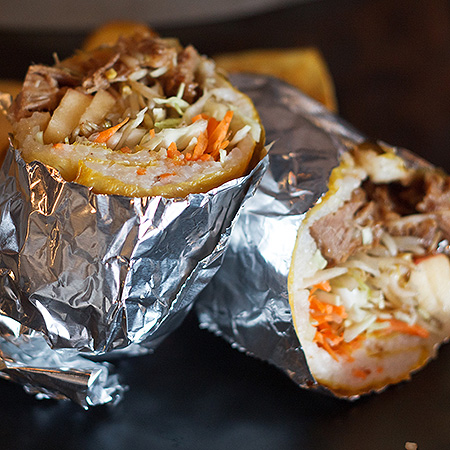 ADVERTISEMENT - CONTINUE READING BELOW
Nori's Beef Bulgogi Burrito
Two worlds collide in this corner of Kapits. Think of all the elements of a sushi then imagine that stuffed in a burrito. In this jam-packed offering, however, three worlds collide—a Korean favorite joining in on the mix. The saucy Korean beef is embellished with roasted sesame rice, beans sprouts, carrots, cabbage, and just for extra excitement—apples! If we didn't know any better, we'd say this is bibimbap in burrito form.
Nori is at 1 Unit A, 1st Street, Kapitolyo, Pasig City. Read more about Nori.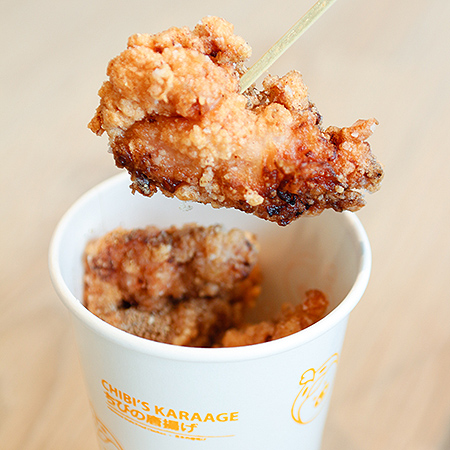 ADVERTISEMENT - CONTINUE READING BELOW
Fried chicken at Chibi's Karaage
The whole restaurant is mere proof that owner Dempsey Uy's fried chicken is tops. It used to be just another thing on the menu, but it became such a bestseller that it spawned its own spin-off (like Frasier and not like Joey). These pieces of boneless, golden-fried chicken in a hand-sized bucket are crispy things—delicate seasoning, delicate batter, bold crunch, insane amount of juiciness. The secret is in fact a secret. Dempsey refuses to let anything slide. Just that it's a fermented...something.
Chibi's Karaage is at SM Light, Boni Avenue, Mandaluyong City. Read more about Chibi's Karaage.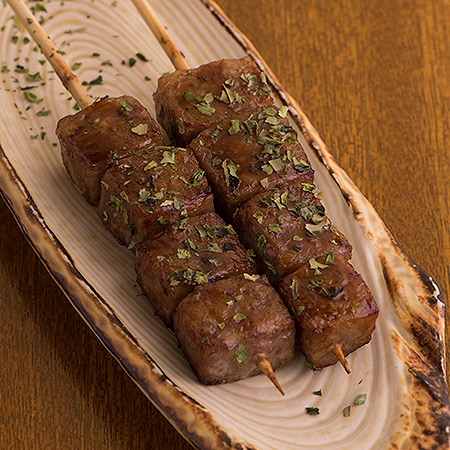 ADVERTISEMENT - CONTINUE READING BELOW
Tori Tori's Japanese Wagyu
It may look unreasonable to shell out P125 for a skewer, but these may just be the best things on a stick you'll ever taste (well two, once you reach the last item). They're Japanese Wagyu, shiny cubes that just dissolve into yummy, meaty savor. You'll want to order a second one right away because they have a tendency to magically disappear.
Tori Tori Kushiyaki Snackbar is at 197 Wilson Street, San Juan City. Read more about Tori Tori.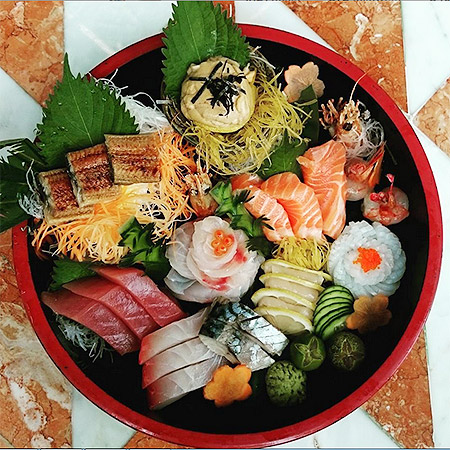 ADVERTISEMENT - CONTINUE READING BELOW
Yurakuen's Sushi Moriawase
This ocean sampler is the answer to your every sushi craving. Inside the gorgeous red box: fat pieces of salmon, fatter pieces of tuna, a crown of uni, twirls of shrimp, cuts of unagi, pieces of yellowtail, ribbons of cuttlefish, slices of mackerel, and more. The freshness jumps out from every bite. Honestly, they might as well have been served alive.
Yuakuen is at G/F Diamond Hotel, Roxas Boulevard, Manila.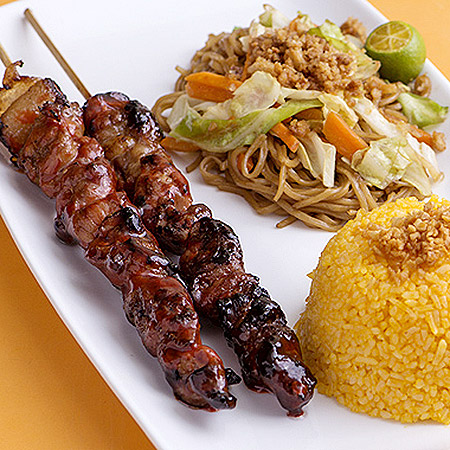 ADVERTISEMENT - CONTINUE READING BELOW
Three Sisters' Pork Barbecue
No matter how weird or avante garde other dishes get, you can't beat a true classic. Three Sisters' pork barbecue stands the test of time. It's that delicious sweet-smoky sauce painted on generous chunks of meat that does the trick. The pork is cooked so perfectly—not a second more than it needs to be on the grill—keeping it tender and juicy through the stretch of the stick.
Three Sisters' Restaurant of Pasig is at 136 West Capitol Drive, Kapitolyo, Pasig City. Read more about Three Sisters.
Share this story with your friends!
---
Help us make Spot.ph better!
Take the short survey
Load More Stories