New Restaurant Alert: Cafe Sanso at V. Cruz Street, San Juan
This restaurant is a space for food, art, and quiet time.
Café Sansó
32 V. Cruz Street, San Juan City
Open daily from 11 a.m. to 10 p.m.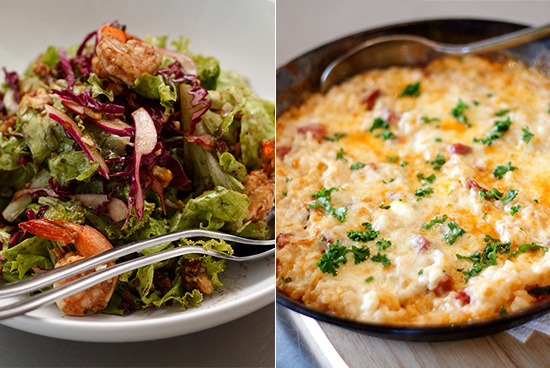 (SPOT.ph) Nestled in the quiet district of Little Baguio is a new home for great art and great food. With colorful, clean, and modern interiors, walls covered in gorgeous art, and comfortable indoor or al fresco dining options, Café Sansó's sure to become a neighborhood favorite in no time.
ADVERTISEMENT - CONTINUE READING BELOW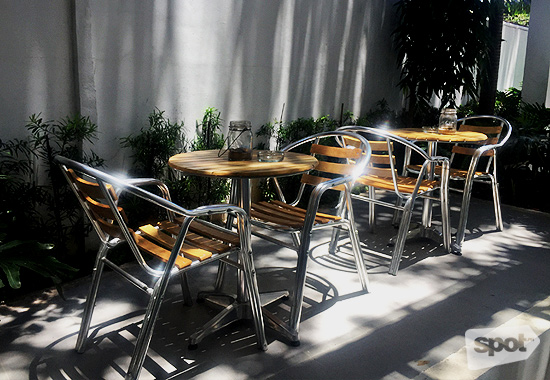 CONTINUE READING BELOW
Recommended Videos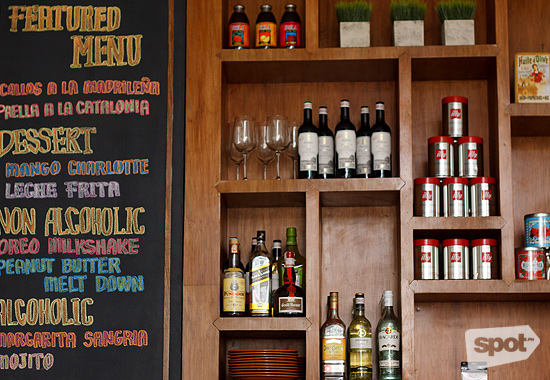 ADVERTISEMENT - CONTINUE READING BELOW
Cozy in San Juan
Café Sansó is named after one of the greatest modernists in Philippine art, Juvenal Sansó. It is one of the latest additions to the blossoming food district in old San Juan. Taking a cue from Sansó's Catalan roots, the café and deli serves Spanish cuisine. Just as the artist portrays the subjects in his art—everyday, familiar things made in diverse mediums, with much more depth, color, and refreshing perspective—the café provides a new take on your favorite, go-to Spanish dishes with colorful plating, richer flavor profiles, and textures that are pleasant surprises.
A meal at Café Sansó begins with complimentary pesto bread with raisin butter. The bread is served freshly baked and warm, the savory notes from the pesto mixing well with the sweetness of the butter.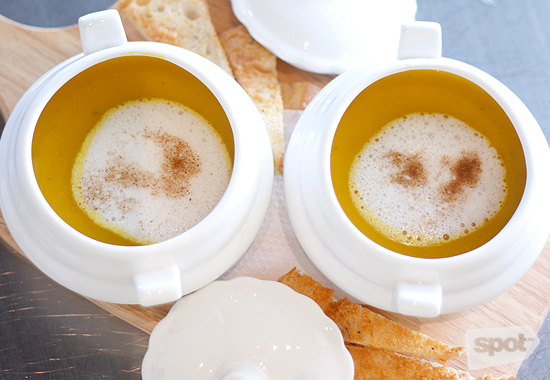 ADVERTISEMENT - CONTINUE READING BELOW
Roasted Pumpkin Cappuccino
Another great start comes from their Roasted Pumpkin Cappuccino (P130), which is incredibly impressive as far as pumpkin soups go. On gloomy, rainy afternoons, it perks and warms you up inside. The rich and creamy pumpkin soup is served with cinnamon froth and Parmesan croutons that provide a milky and crunchy contrast. You'll want to finish it down to the last drop, slurped down like a cappuccino, if only a cinnamon froth mustache weren't so improper.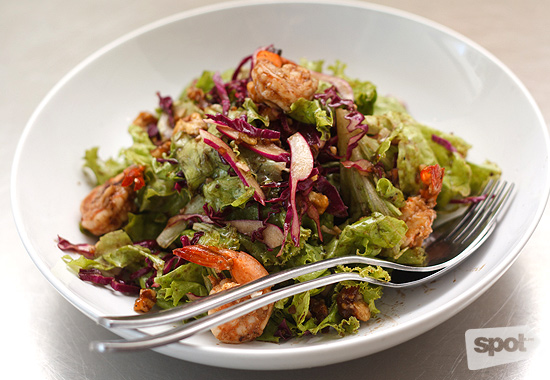 ADVERTISEMENT - CONTINUE READING BELOW
Ensalada Mixta y Gambas
For those craving a healthier option (still with some good protein), the Ensalada Mixta y Gambas (P340) is a mixed arugula salad dressed in balsamic vinaigrette served with flambéed prawns and candied walnuts. Each forkful is a mix of crisp, fresh salad greens, tart dressing, garlicky prawns, and sweet walnuts. It's light and leaves you enough room for the richer main courses you shouldn't miss.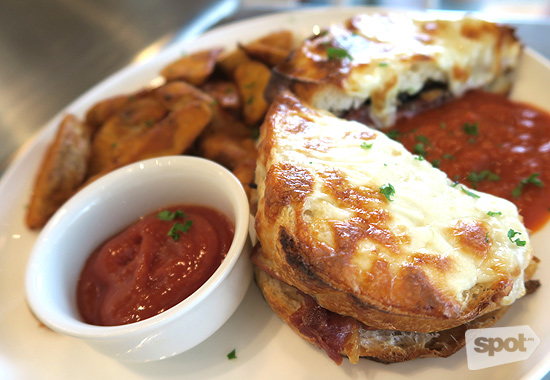 ADVERTISEMENT - CONTINUE READING BELOW
Francesinha
For one who happens to be at the café for merienda, the sandwiches are a must-have. The Francesinha (P350) is rye bread with jamón Serrano slices, chipolata sausage, sautéed wild mushrooms, and chive cream cheese. The whole sandwich is covered with melted mozzarella and Asiago cheese, and grilled until the cheeses are melted. Alternate your bites with the side of dense potato wedges dipped in the spiced beer tomato sauce. It is such a wonderfully rich treat to have no matter what time of day.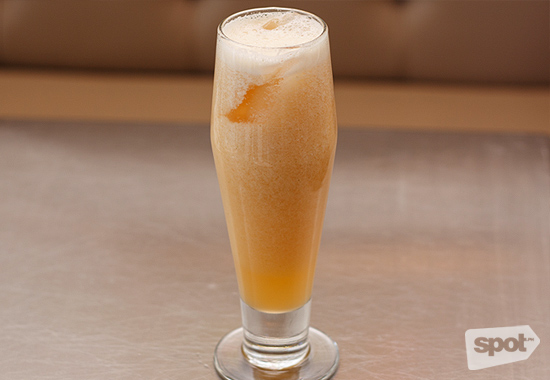 ADVERTISEMENT - CONTINUE READING BELOW
Agua Fresca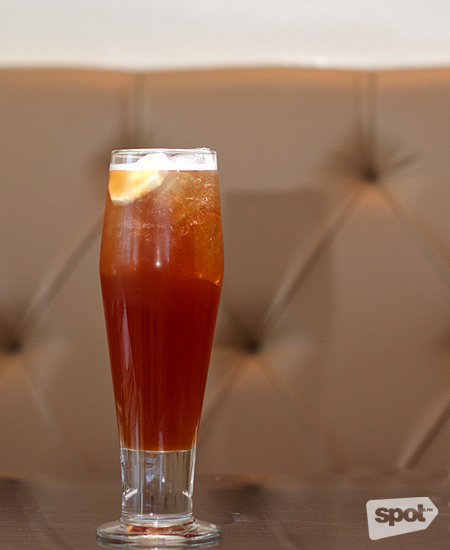 Iced Tea
Pair your perfect sandwich with a tall glass of Agua Fresca (P130) a refreshing combination of melon, honey, and mint. It provides just the right fresh balance to the richness of the sandwich—or the other dishes on the menu—that cleanses the palate without being too cloyingly sweet. Another great drink option is the Mint Citrusade (P140), which is a trio of lemon, lime, and calamansi.
ADVERTISEMENT - CONTINUE READING BELOW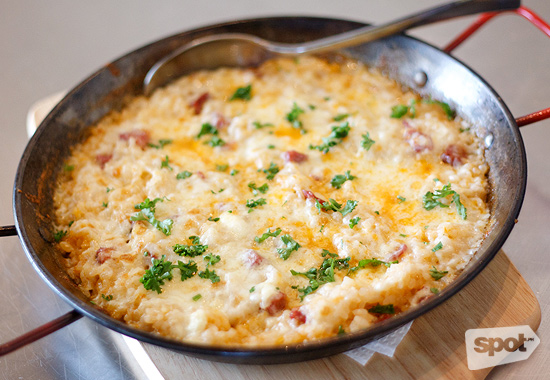 Chorizo y Quezo Paella
A featured entrada or entrée on the menu is the Chorizo y Quezo Paella (P450). This modern twist on paella has Chorizo Pamplona, Chorizo de Bilbao, and Spanish Chorizo in paella rice, smothered in Manchego and mozzarella cheese. It's a classic example of what a staple dish at Café Sansó is like—a twist on a classic Spanish favorite, with the generous use of great jamones y quesos. Dig deep to the bottom of the paella and it has just the right amount of socarrat or tutong, your spoonful accompanied by a long, stringy tail of gooey cheese. It's a sight to make any mouth water.
ADVERTISEMENT - CONTINUE READING BELOW
If you have enough room after all that rich food, the café also boasts a great selection of postres or desserts. Crowd favorites are the Churros (P165) served with a delectable dark chocolate dip, and Leche Frita (P240), a firm, sweet, and cold milk pudding enveloped by warm and crunchy breading.
After dining at the café, we recommend that you visit the museum next door. Fundacion Sansó is open to the public on weekdays, 10 a.m. to 5 p.m., for P100 (20% discount for students and senior citizens). It's a great way to stretch your legs and get that full belly moving after a delicious meal—all while learning to appreciate great art.
Photos by Pia Guballa
Share this story with your friends!
---
Help us make Spot.ph better!
Take the short survey
Load More Stories