New Restaurant Alert: Cafe Naya at The Palace, Bonifacio Global City
Coastal cuisine in the heart of the city.
Café Naya at The Palace
9th Avenue corner 38th Street, Uptown Bonifacio, Bonifacio Global City
Contact: 0917-550-9999
Open daily from 11 a.m. onwards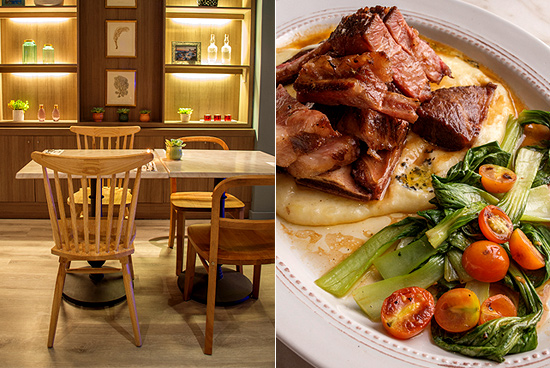 (SPOT.ph) Café Naya at The Palace is a Mediterranean-inspired restaurant that draws on Spanish, French, Italian, Greek, Middle Eastern, and Northern African influences, presenting a resort-themed menu that's different from what's already out there.
ADVERTISEMENT - CONTINUE READING BELOW
"We always saw [Café Naya] as the feminine touch in the whole Palace, because everything here is aimed at partying," Café Naya partner Erwan Heussaff says. "If you're in a situation where there's a lot of drinking happening, you'll want something fresh and vibrant, with lots of acid, lots of flavor."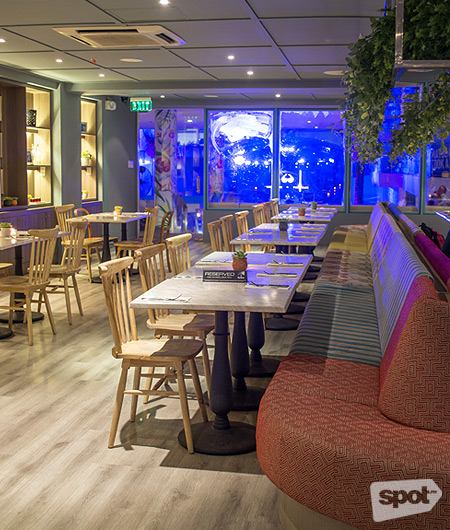 CONTINUE READING BELOW
Recommended Videos
ADVERTISEMENT - CONTINUE READING BELOW
A resort in the city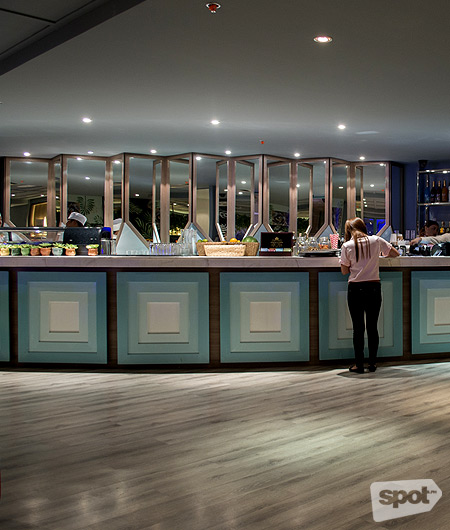 You can definitely feel that coastal vibe in the color palette.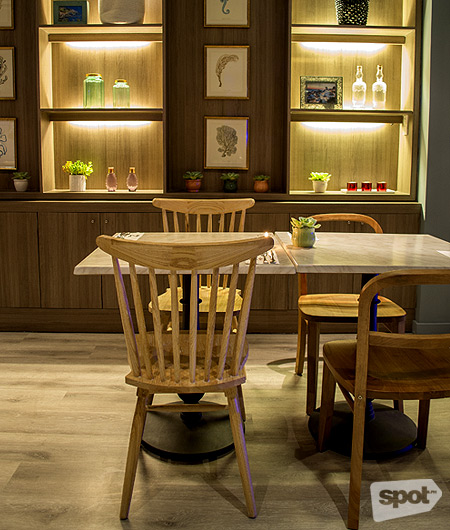 ADVERTISEMENT - CONTINUE READING BELOW
Mismatched features make it a touch more relaxed.
Helmed by Chef Mikko Reyes, whose partnership with Heussaff goes back to Niner Ichi Nana and The Hungry Hound, Café Naya's menu can be described as coastal cuisine: fresh, classic Mediterranean seafood dishes tinged with Mikko' creative spark. "I wanted to do the dishes that you would want to eat when you're at the beach," Chef Mikko says.
"We thought that coastal is better because no one really does a wide spectrum of Mediterranean," Erwan adds. "The general idea was focusing on the main ingredients used in those countries we cited. If you go to Greece, they have a lot of uni and octopus. Turkey is very big on swordfish and blue marlin. It's taking that very protein-forward approach and having Mikko construct an idea around it using things like harissa and romanesco."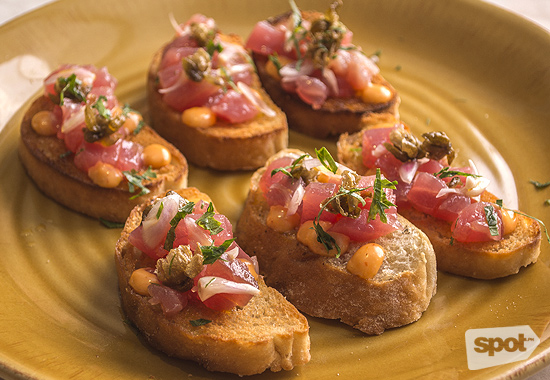 ADVERTISEMENT - CONTINUE READING BELOW
Tuna Crudo
The Tuna Crudo (P385) is a cross between bruschetta and crudo, or Italian ceviche. Raw tuna is cubed and tossed with extra virgin olive oil. Reyes' touch comes by way of the capers, parsley, and harissa aioli that adds pockets of flavor to the dish.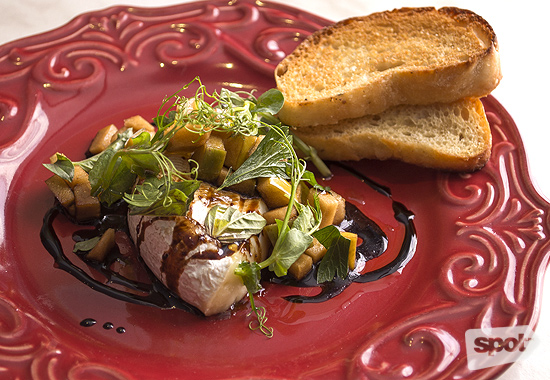 Warm Camembert
ADVERTISEMENT - CONTINUE READING BELOW
Who doesn't love warm cheese? The Warm Camembert (P395) is a small wheel of camembert topped with crispy bacon and apple chutney, the whole thing drizzled with habanero balsamic and served with toast. The recipe was a last-minute addition; the result of an experiment Chef Mikko threw together for his mom. There's something delicious at play with the warm cheese and the savory-sweet toppings. The cheese is silky on the tongue, a great contrast to the crisp savory-sweet treats that top it.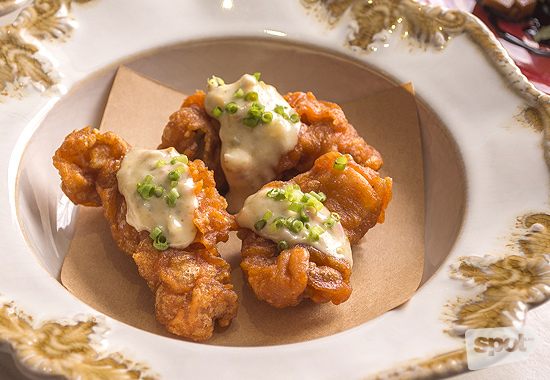 ADVERTISEMENT - CONTINUE READING BELOW
Fried Oysters
Café Naya offers fresh oysters, but there are Fried Oysters (P324) for those who want something more savory, served with salted egg tartare sauce. "I like using a lot of local ingredients and I really like salted egg and I figured, for tartare, just replacing the regular boiled egg with salted egg would work, and it did," Chef Mikko says.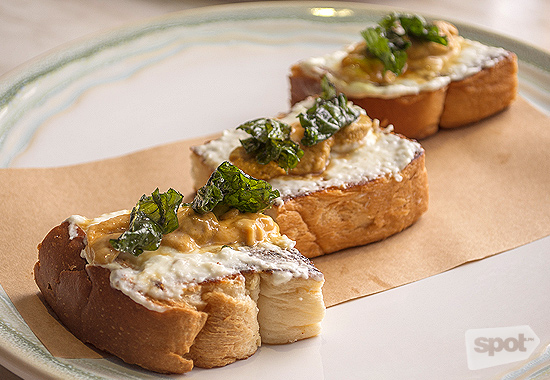 ADVERTISEMENT - CONTINUE READING BELOW
Uni & Ricotta
The Uni & Ricotta (P295) is his personal favorite. "I really like uni and I wanted to present it in a different manner," he says. "With all the dishes, I try to come up with something unique and experimental."
"The biggest challenge was to go through the menu and say, 'If someone doesn't like uni, would they eat that dish, and would it make sense for them?'" Erwan adds. "And so instead of presenting uni like how we would like to eat it—on a shell with salt and olive oil—we put it on brioche, make it seem like a bruschetta. It's trying to merge those two things—artistic creativity with the commercial appearance and attractiveness."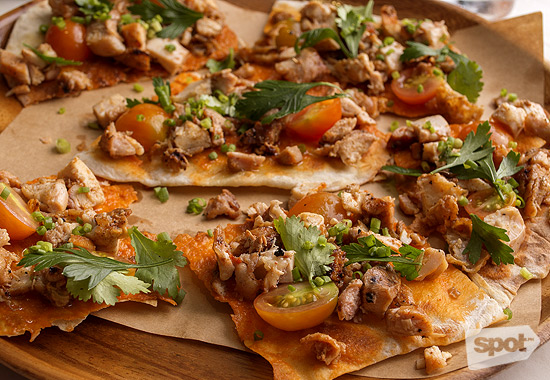 ADVERTISEMENT - CONTINUE READING BELOW
Grilled Chicken Flatbread
The Grilled Chicken Flatbread (P297) makes a great appetizer. "We didn't want to just stick with pizza, we wanted to do something different. Grilled chicken with romesco sauce, and that's more of a crunchy, lighter (starter)," Chef Mikko says. "We will never be able to do a really nice, traditional Italian pizza, so might as well do it in a way that we can really execute it properly and make it approachable to everyone," Erwan adds.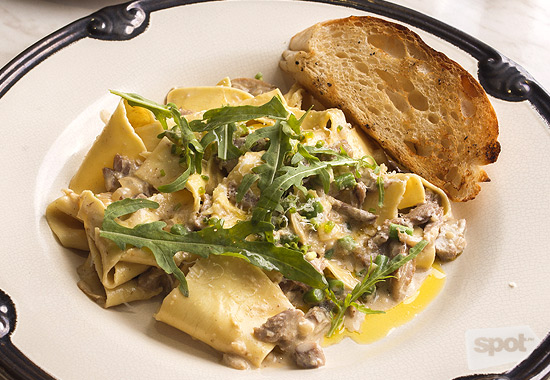 ADVERTISEMENT - CONTINUE READING BELOW
Pulled Duck Confit
The Pulled Duck Confit (P498) is a pasta dish so simple (if you could call duck confit and foie gras mousse simple) yet so good, one wonders why no one has served this before. The inspiration for this dish, like many of the chef's star ideas, are bright, instant flashes. "I think I had extra duck confit and I wanted to try something, so I put some foie gras mousse and pulled pasta sheets on the pan. Foie gras and duck confit, right? It worked. And we went on from there."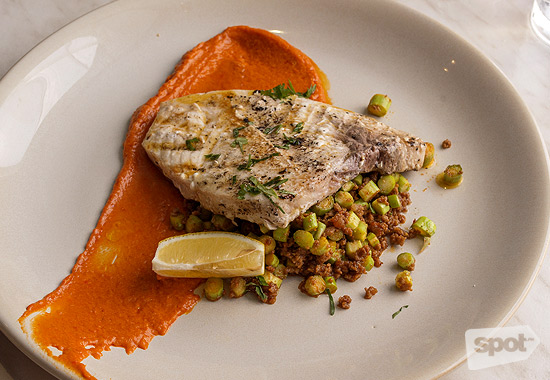 ADVERTISEMENT - CONTINUE READING BELOW
Blue Marlin
One of the most delightful and surprising things about Café Naya's take on coastal cuisine is its emphasis on protein—slabs of fish and meat, beautifully cooked, presented with an imaginative medley of veg, sometimes mixed with more meat. The Blue Marlin (P476) is served grilled, straight up, with a Spanish-inspired side of sauteed asparagus with house-made chorizo with romesco sauce.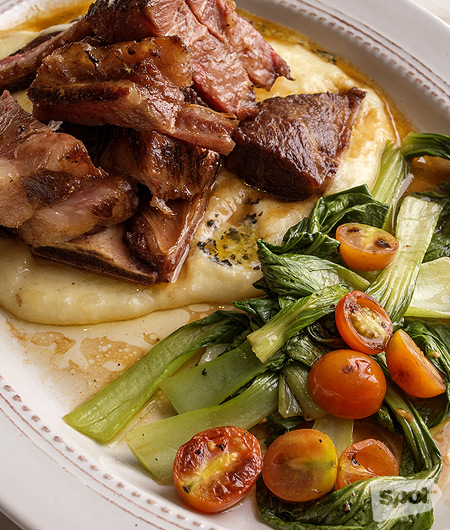 ADVERTISEMENT - CONTINUE READING BELOW
Shortribs
Hardcore carnivores should consider the 24 Hour Shortribs (P1,198). "I love sous vide short ribs, cooking it until it's tender like a steak," Chef Mikko says. "We cook it at 57 degrees so that it stays medium rare. We use USDA choice. For burgers, I use Blackmore Wagyu from Australia, which we grind in-house."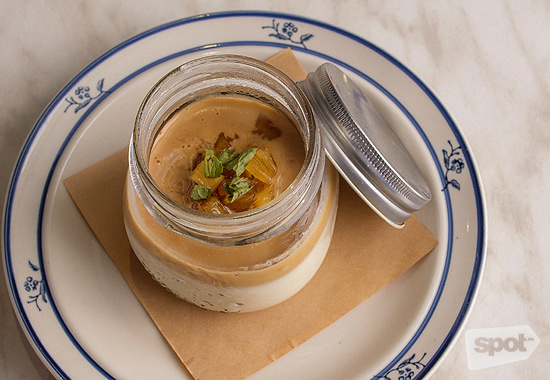 ADVERTISEMENT - CONTINUE READING BELOW
Yoghurt Panna Cotta
Even the desserts have Chef Mikko's touch: the Yoghurt Panna Cotta (P249) is a natural marrying of Greek, Italian, and Spanish, a Mediterranean dessert that's sweet and tart and light and creamy, hitting all the right textures and flavors.
Café Naya is very big on fresh flavors. "'Naya' is Arabic for 'new', so we went that way and we played around with botanicals and colors," Heussaff says. "I like to say that it's sunset-friendly; it's something that you want to relax in, have nice food and not necessarily be distracted with all the loud stuff that's happening outside."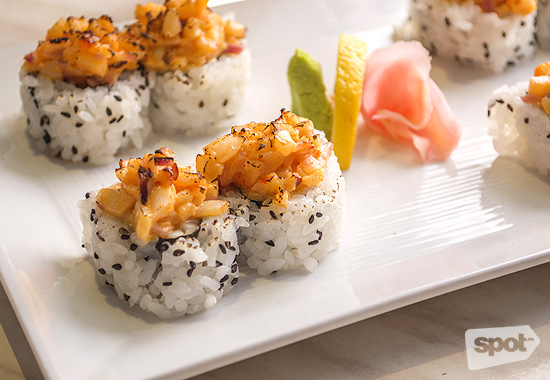 ADVERTISEMENT - CONTINUE READING BELOW
More munchies
The restaurant is set to go even more all-out when it launches its midnight menu. "We realized that there's a market here for after-10 eating, so instead of people driving to other places, might as well keep them here, so Mikko came up with a late-night munchies type of (menu)," Erwan says. Look forward to midnight delights such as five different kinds of arroz caldo, with combinations like pork cheek lechon with kechap manis, seared foie gras and caramelized chorizo, and the restaurant's very own version of pares.
At Café Naya, you don't have to go very far to taste the bounty of the sea.
Photos by Hans Fausto
Share this story with your friends!
---
Help us make Spot.ph better!
Take the short survey
Load More Stories