10 Surprisingly Great Dishes You Never Order at Your Favorite Restaurant
Dishes that take a backseat need their time front and center.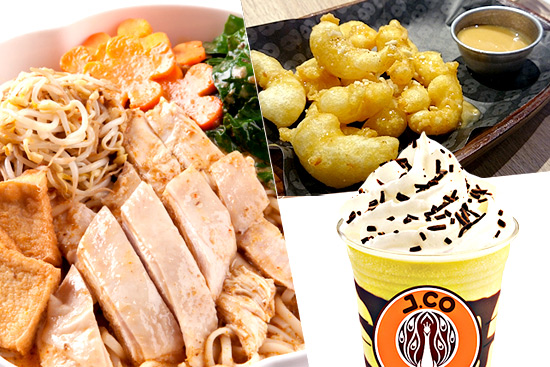 (SPOT.ph) No matter how many new restaurants mushroom in the metro, we're still creatures of habit. We'll give the newbie a shot, test the waters, post it on Instagram, be in the know. But somehow, we always find ourselves naturally crawling back to established favorites and staples. It's not just with restaurants, either. Specifically, there are always dishes we slide back to—the spaghetti from this place, the chicken from that joint, the sisig from way over there. It's a safety net, and we don't blame you. At least with something you're already familiar with, you don't waste resources and you won't get hurt...
Okay, back to food. Because we're proponents of the underrated, we've listed some of your favorite restaurants plus a twist—a great overlooked item from their menu that you've probably never had before. Trust us, trying something new is a healthy habit and you might just find a new dish to love.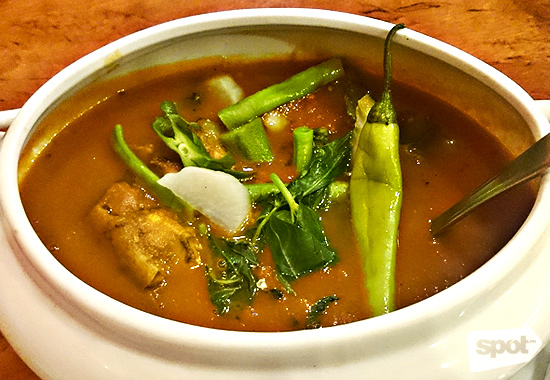 ADVERTISEMENT - CONTINUE READING BELOW
Kurobuta Sinigang (P475) at Mamou
Mamou is like a precision shotgun, if there was ever such a thing—a square-in-the-chest, perfect-aim, right-in-the-gut ballistic where everything on the menu targets just the right spot. Still, most people come here for one thing: the steak. Maybe the pancakes if it's a weekend. Mamou actually dishes out excellent Filipino fare, especially their version of sinigang. To Mamou-fy this humble home dish, the kitchen uses top-quality Kurobuta pork (Japanese black pig) as protein for their perky tamarind soup. Missing that fish element? It comes with Bicol fish paste rice.
Mamou has branches at Serendra, Bonifacio Global City; and Power Plant Mall, Rockwell, Makati City. Read more about Mamou.
CONTINUE READING BELOW
Recommended Videos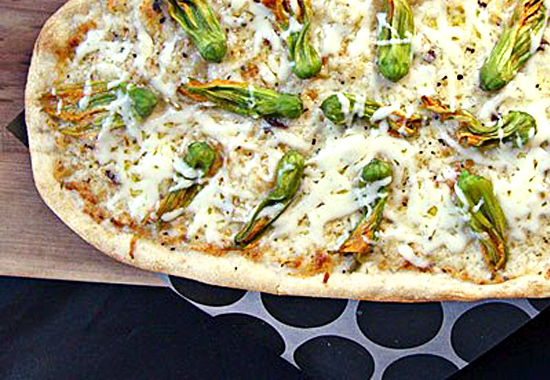 Fiori di Zucca (P330) from Cibo
This Italian chain tends to develop habits. Loyal customers would sit and order "the usual" without so much as glancing at the menu (you know we're talking about the Penne Al Telefono), but when you do crave something new, sneak a peek at this dish. Vegetarian or not, you'll appreciate the light yet rich medley of only three main ingredients. It's amazing how big an impact mozzarella, anchovies, and squash flowers can create. It's sweet, nutty, creamy, and salty all in one bite.
ADVERTISEMENT - CONTINUE READING BELOW
Click here for a list of Cibo branches. Read more about Cibo.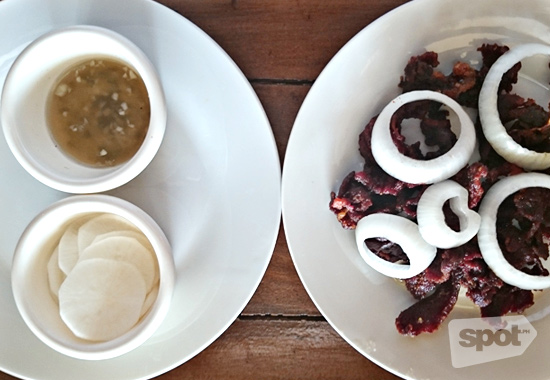 Traditional Beef Tapa (P153) from El Chupacabra
What do you mean there are others things on the El Chupacabra menu that aren't tacos?! We're not even talking about the hard-shell ones, which take a backseat amid the glory of the yummy soft tortillas. These ribbons of cured meat are unsweetened, which lets all the beef flavor do the work. Don't you just love that simple, unadulterated profile? It works so well with rice, too! This same dish is also available at El Chupacabra's recently opened offspring, El Hijo de Cabra.
El Chupacabra is at 5782 Felipe Street corner Polaris Street, Makati City; El Hijo de Cabra is at Greenfield District, Mandaluyong City. Read more about El Chupacabra and El Hijo de Cabra.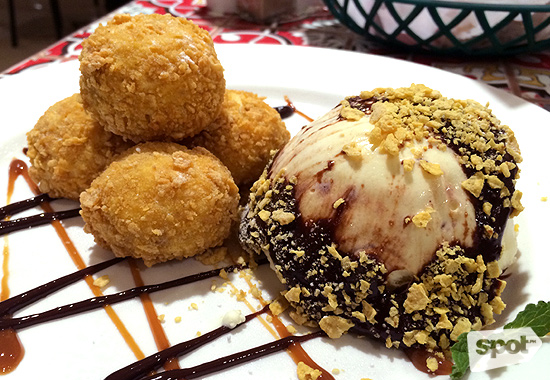 ADVERTISEMENT - CONTINUE READING BELOW
Fried Cheesecake (P360) at Chili's
Chili's makes their cheesecake California-style, heavy on the cream cheese, light on the palate, and with just a shade of sour cream. They have the traditional cake, but they also have fried ones. The latter is rolled into five frozen balls, coated with crushed cornflakes (super fine that they're almost powder, with just a few rough pieces to create that crunchy crust-like texture), and then fried. For a final flourish, a large scoop of ice cream and some chocolate syrup. Chili's has a talent for deep-frying, but we never expected this. Forget unlimited nachos. Forget all those heavy meals. Go straight to dessert.
Click here for a list of Chili's branches.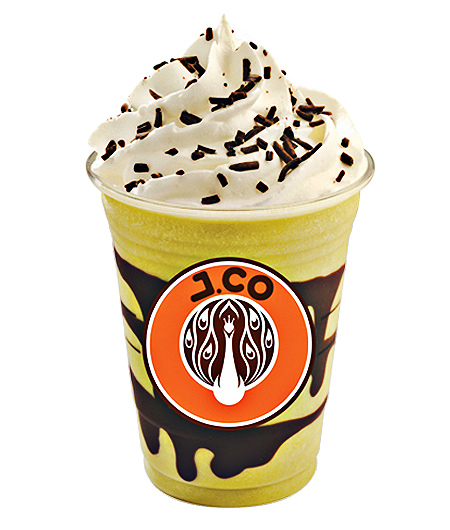 Cafe Avocado (P120/Uno, P135/Due, P150/Tre) from J.Co Coffee and Donuts
Coffee may be in the sign, but in the Philippines, J.Co fans go straight for the Al Capone, among other cherished and established donuts. J.Co actually has excellent coffee—from simple brewed to lattes to their version of an ice-blend, the JCoccino Frappe—but we could say the entire drinks menu is underrated. Let's take it to the next level: They have a version of the JCoccino that's flavored with avocado, and it is absolutely TDF. The avocado doubles as a creamer that really enriches the icy blend with a light sweetness. We don't even want to know how many calories a glass packs, but it's too rewarding to worry about.
ADVERTISEMENT - CONTINUE READING BELOW
Click here for a list of J.Co Coffee and Donuts branches.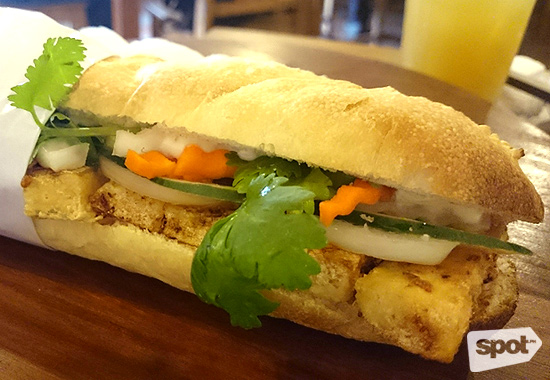 Dau Hu Xa Ot (P140) from Ba Noi's CaPhe
This question needs to be asked: What on earth would force you to order a tofu sandwich (that's what dau hu xa ot means) when you have a plethora of noodle soups, fresh spring rolls, stir-fried beef, and meat-filled banh mis to choose from? But Ba Noi's makes a compelling argument for bean curd. This sandwich is reinforced with lemongrass and peanut sauce, along with the usual banh mi filling of pickled carrots and cucumber to give it that bright crunchiness. We swear, this one doesn't back down in terms of flavor. In fact, it'll punch you square in the taste buds!
Ba Noi's banh mi are available only at Ba Noi's CaPhe, 8 East Capitol Drive, Kapitolyo, Pasig City. Read more about Ba Noi's CaPhe.
ADVERTISEMENT - CONTINUE READING BELOW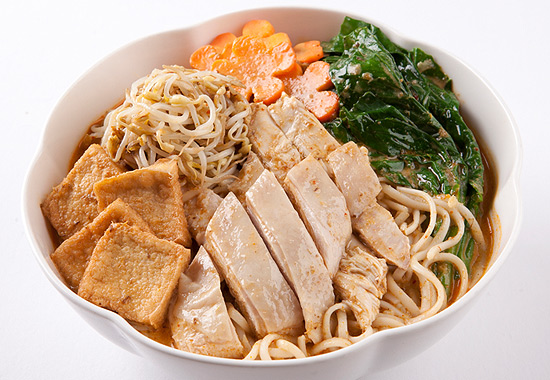 Hainanese Chicken Curry Noodles (P225) from Wee Nam Kee
You're probably satisfied with your traditional Hainanese chicken and your trio of chili, ginger, and soy sauces. Maybe you've even dabbled in the roasted version. But if you want a louder take on that famous Singaporean flavor, try it with curry. And noodles. There is absolutely no reason why you shouldn't try this dish because all the elements target the best parts of Southeast Asian cooking. We guess the pull of the chicken rice is just that strong.
Click here for a list of Wee Nam Kee branches.
ADVERTISEMENT - CONTINUE READING BELOW
Chinatown Shrimp Poppers (P260) from 8 Cuts
People go to 8 Cuts for two things: burgers—of which they have a wealth of variety—and onions rings (thick, fat ones that let the sweet-spicy onions stand out). You can make an argument for the milkshakes, but someone has to stick up for the Chinatown Shrimp Poppers, too. These babies are coated in a crunchy blonde batter and drizzled with a nice, sweet kung pao sauce and a sprinkle of sesame seeds for a touch of Asian flair. They're served steaming hot—maybe to stop you from gulping them all down at once.
Click here for a list of 8 Cuts branches. Read more about 8 Cuts.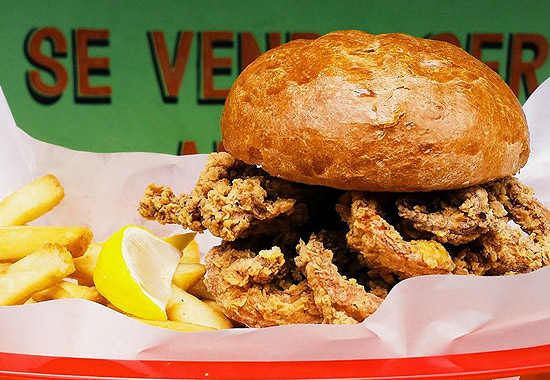 Madrid-style Calamares Sandwich (P290) from Señor Pollo
This isn't an unlikely occurence. There will be a time when a non-chicken-eater will wander into the poultry-filled premises of Señor Pollo and look for something non-chicken-y. Don't ask us. These things just happen. Fortunately, this hole-in-the-wall has an answer. They've crammed Madrid-style fried squid rings into one exceptional sammie. Part-crunchy, part-chewy, this sandwich is fully loaded with flavors of the sea. Just for that break in flavor is a lather of classic aioli. The dish comes with thick-cut fries, too.
ADVERTISEMENT - CONTINUE READING BELOW
Señor Pollo has branches at F7 Scout Rallos, Quezon City; and 5767 Ebro Street, Makati City. Read more about Señor Pollo.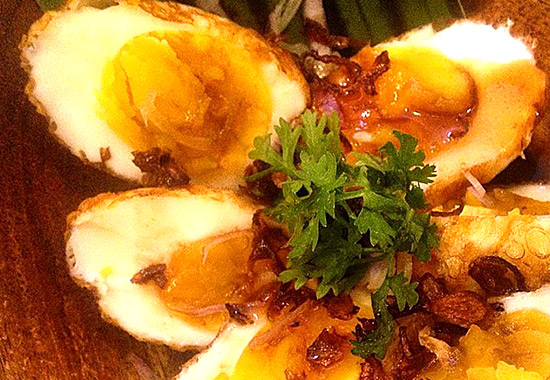 Son-in-Law Eggs (P180) from Nav
The natural scenario when ordering in a Thai restaurant is pad thai, mee goreng, laksa, curry, or satay, but like what we plead to any mother, give the son-in-law a chance. These soft-boiled eggs are fried till the top layer crisps up. On the plate, it's treated to a smother of tart-and-sweet tamarind sauce, cilantro, chili, and fried shallots. These appetizers may look simple, but beneath that thin, crisp interior is a depth in flavor. The yolks are left soft and creamy, which works well with the light crust.
Nav has branches at SM Mega Food Court, SM Mega Fashion Hall, Mandaluyong City; and United Street, Kapitolyo, Pasig City. Read more about Nav.
Share this story with your friends!
---
Help us make Spot.ph better!
Take the short survey
Load More Stories