10 Peri-Peri and Peruvian Chicken Places You Need to Try
We list new places and old-time favorites serving the latest tasty chicken trend to hit Manila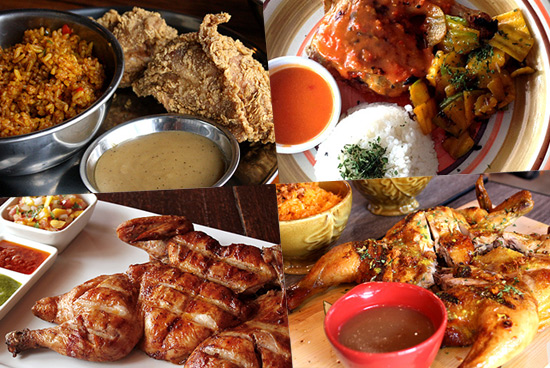 (SPOT.ph) Chicken never gets old, but it does get dressed up—often. You get the crunchy gold coat of Southern-fried, the blonde crackling of Pinoy-style, the succulent brown delight of a roast. Right now, in chicken du jour, two traditions are vying for your stomach space: piri-piri-spiked (alternatively spelled peri-peri) Portuguese and Peruvian—both amped up on the spices, both incredibly juicy, and both utterly tasty. The former is typically grilled, kept simple, and hyped up by a slew of festive sauces. The latter? Usually roasted with a sputter of flavor from a zesty dip on the side. We don't know what started the trend, but our taste buds are only shouting gratitude.
ADVERTISEMENT - CONTINUE READING BELOW
CONTINUE READING BELOW
Recommended Videos
Ready? Here are the 10 restaurants that are really bringing these types of chicken to life.
Also read:
Top 10 Southern-Style Fried Chicken
Top 10 Roast Chicken in Metro Manila
10 Chicken Skin Dishes Worth Breaking Your Diet For
10 Must-Try South American Restaurants in Metro Manila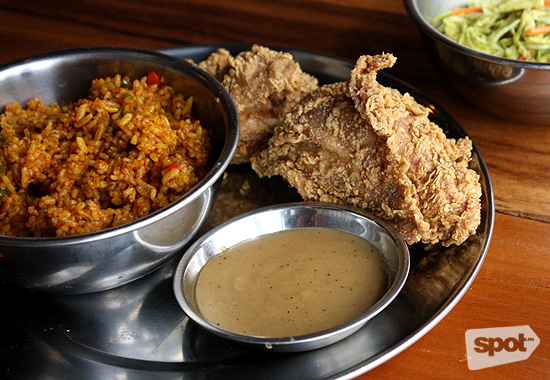 Señor Pollo
Mr. Chicken is all about poultry. Out of a whole set of must-tries are two super must-tries: roast (P99 to P255) and fried (P99 to P255), each flaunting its own character. The sauces are the winner here. Señor Pollo has top-notch chimichurri—a creamy solid lather that's bright and herby—which really brushes that great Latin flair in the juicy meat. They also have a burger featuring fried chicken breasts with cool avocado guac.
ADVERTISEMENT - CONTINUE READING BELOW
Señor Pollo has branches at F7 Building, Scout Rallos Street, Quezon City; and 5767 Ebro Street, Makati City. Read more about Señor Pollo.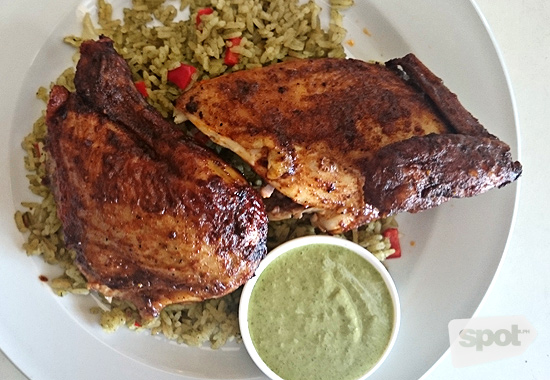 El Hijo de Cabra
Peruvian chicken (P259 to P580) is the name of the game. Make sure to ask for the separate chicken menu to find this gem. It's roasted and served chopped with a great level of spice. The gorgeous flavor they're able to get in their skin is superb. The aji sauce they serve the chicken with is impressively fresh yet hot. You have to get it with the herbed rice for that fresh zing of flavor.
ADVERTISEMENT - CONTINUE READING BELOW
El Hijo de Cabra is at Greenfield District, Mandaluyong City. Read more about El Hijo de Cabra.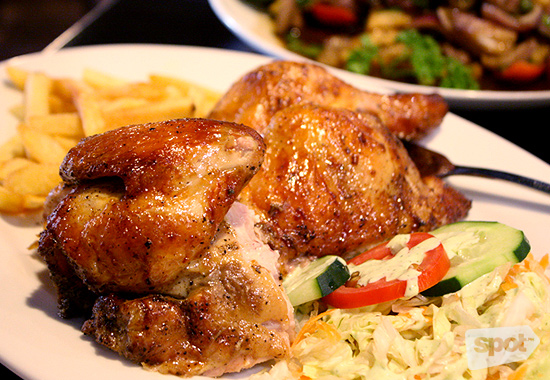 Don Andres
The Pollo a la Brasa (P150 to P165/quarter, P300 to P330/half, P590 to P650/whole) is the roast chicken that you could probably find in thousands of Instagram pages. The spices the kitchen puts are a trade secret, but you can bet there's lime and cumin in there. Don Andres operates in the Peruvian tradition, and this glossy beaut is seasoned to overload.
ADVERTISEMENT - CONTINUE READING BELOW
Don Andres is at Courtyard Building, 26 Sergeant Esguerra Street, Quezon City. Read more about Don Andres.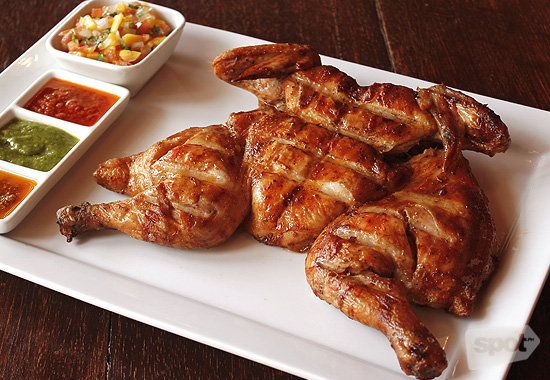 Frangos
The family behind this Legazpi Market favorite is so committed to their creation that they even had a grill custom-made to ensure that they get the most amazing cookery out of their chickens (it's an interesting piece of machinery—a rotating grill that looks like a rotisserie). One of the owners, Jonathan Renato, tells us that their chicken (P145/quarter, P260/half, P480/whole) is made in the Portuguese-style, but not necessarily Portuguese. A total of 14 spices (only seven are used in traditional Portuguese cooking) are used to exact that peppery flavor, a technique developed in Africa. Frangos serves their butterflied specimens with three sauces: chili garlic, green harissa, and tomato piri-piri, all made fresh in the morning. The fun is in the mixing and matching to discover the best sauce profile for your palate. You don't need it, though. Get a Frangos Rice with the chicken and you're just as satisfied.
ADVERTISEMENT - CONTINUE READING BELOW
Frangos is at Buma Building, 9595 Kamagong Street, Makati City. You can also find them every Sunday at the Legazpi Market. Read more about Frangos.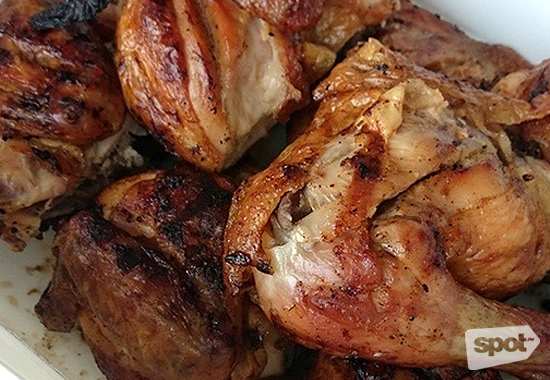 Gostoso
Gostoso plays a subtle grilled chicken game. Salt and smoke will detonate every bite, but their impact lies in the sauces, which slams flavor onto the meat like no one's business. A poster on the wall teaches you how to get started. Maybe with a soothing tickle of pepper? Graduate gradually to the heirloom sauce that's a full slap-across-the-face heat. Just load up on rice.
ADVERTISEMENT - CONTINUE READING BELOW
Gostoso Piri-Piri Chicken has branches at 51B East Capitol Drive, Pasig City; and UP Town Center, Katipunan Avenue, Quezon City.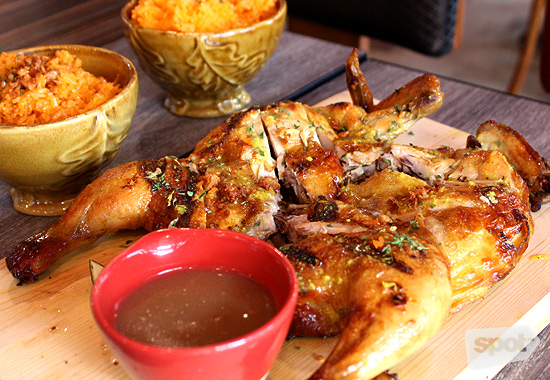 Peri-Peri Charcoal Chicken
This chain has been around for a while, even before piri-piri became everyday vocabulary for Filipinos. Here, the chicken—try the one called Todo (P525)—butterflied and beautiful is roasted in the oven to lock in the juices before a very quick treatment on the grill (we need those grill marks!). In true Portuguese tradition, the sauces speak for the dish and a roving cart carries bottles of saucy concoctions like Chicky-Tita's Mango Lime, Peckyaw's Thrilla O'da Gorilla, Ka Tuka's Honey Pinakurat, and more. Choose your own flavor.
ADVERTISEMENT - CONTINUE READING BELOW
Click here for a list of Peri-Peri Charcoal Chicken branches. Read more about Peri-Peri Charcoal Chicken.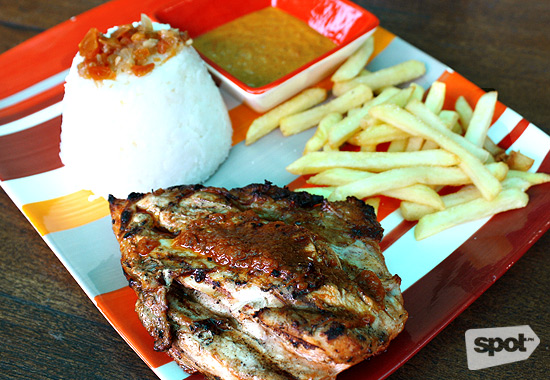 Fuego Amigo
If you're one for adventure and not much for frills, then you might want to sniff out this backyard-party-styled restaurant inside the HMR Compound. Under clear green roofs and open air (you could sit next to the giant Iwata fans), this is the ideal setup to enjoy the fuss-free stylings of Fuego Amigo. Orders are taken at the counter but delivered to your table. The piri-piri chicken (P139/one-piece, P219/two-piece) is a hefty breast, perfectly cooked and juicy, and grilled until it gets a well-rounded char. There's a smear of tomato sauce on top, but embellish it further with the spicy sauce on the side.
ADVERTISEMENT - CONTINUE READING BELOW
Fuego Amigo is at HMR Compound, Pioneer Street corner Reliance Street, Mandaluyong City. Read more about Fuego Amigo.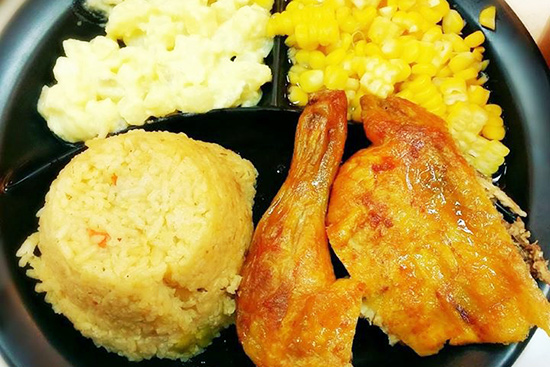 El Pollo Loco
Another old-timer is El Pollo Loco, which was in on the Latin chicken craze way before it became a craze. It's fitting enough. The name is Spanish for "crazy chicken." This worldwide chain is famous for fresh chicken (P170 to P1,095) marinated in a super-secret recipe of citrusy juices, herbs, and spices. Once that flavor seeps in, it's flame-grilled and hand-cut. The tomato-infused rice is a tangy complement to that distinct flavor. With this Latin chicken wave ongoing, it's worth a revisit.
ADVERTISEMENT - CONTINUE READING BELOW
El Pollo Loco has branches at SM Megamall Building A, Mandaluyong City; and SM Mall of Asia, Pasay City.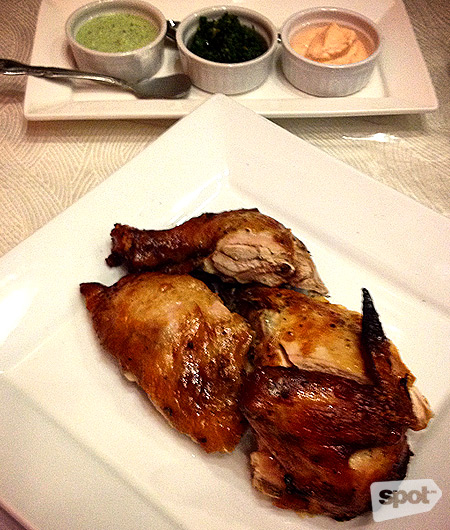 Mantaro
Another Peruvian destination is Mantaro, whose version of this chicken boasts an ultra-delicious, ultra fine-tuned spiced-up composition. Classically cooked, it doesn't hold back on the spices and the juices keep pretty much intact. The skin is a golden-brown spectacle, salted and succulent enough that you'll want to peel all of it to enjoy with some rice. Flavor manages to integrate itself well into the meat. This is chicken that will have you biting down to the bone. The aji sauce is just the little brightness you need. Have it with either rice or fries and with three sauces (P330).
ADVERTISEMENT - CONTINUE READING BELOW
Mantaro is at 57B Scout Tobias corner Scout Limbaga, Quezon City. Read more about Mantaro.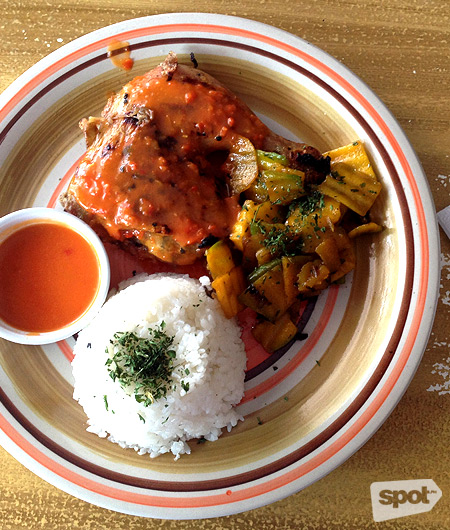 Tornado Peri-Peri Chicken
This hole-in-the-wall is a hurricane when it comes to lashing out flavors. Their chicken (P120 to P230) grilling is a thrill to watch. Get your taste buds excited as you observe the skin slowly crisp up, the meat turn to a light tan, and the delicious smoky smell invade your nostrils. Sauce makes the delicious pronouncements. At Tornado, they come in special custom blends like Original, Tiger's Fury, Dragon's Breath, Portuguese BBQ, and Spicy Caribbean.
ADVERTISEMENT - CONTINUE READING BELOW
Tornado Peri-Peri Chicken has branches at 104 Maginhawa Street, Teachers Village, Quezon City; and BF Homes, Parañaque City.
Also read:
Top 10 Southern-Style Fried Chicken
Top 10 Roast Chicken in Metro Manila
10 Chicken Skin Dishes Worth Breaking Your Diet For
10 Must-Try South American Restaurants in Metro Manila
Photos from the SPOT.ph archives and by Judianne Villano (El Pollo Loco)
Load More Stories