New Restaurant Alert: The Smoking Joint, Aguirre Avenue, Paranaque
These gorgeous smoked meats are totally addictive.
The Smoking Joint
308 Aguirre Avenue, BF Homes, Parañaque City
Contact: 834-2970
Open from 4:20 p.m. to 11 p.m. (Monday to Thursday), 4:20 p.m. to 12 a.m. (Friday), and 12 p.m. to 12 a.m. (Saturday to Sunday)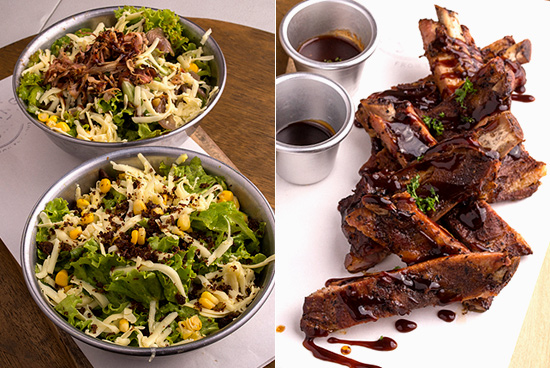 (SPOT.ph) The salads are great.
This may not sound particularly compelling, but The Smoking Joint is a pun-filled, fun-filled, meat-filled operation. That they have excellent greenery (nope, not the kind you're thinking) hints at the level of care the kitchen lavishes on their dishes—especially the ones that aren't particular highlights.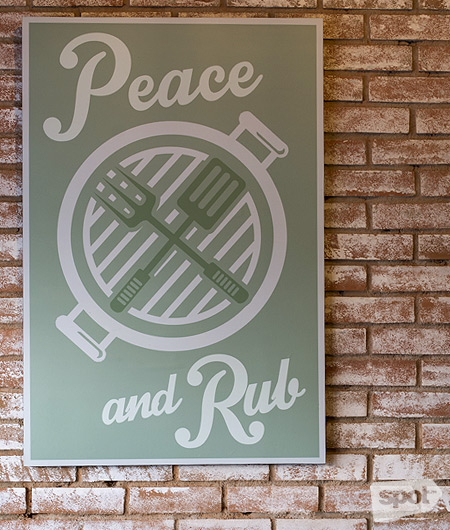 ADVERTISEMENT - CONTINUE READING BELOW
The puns aren't lost on us.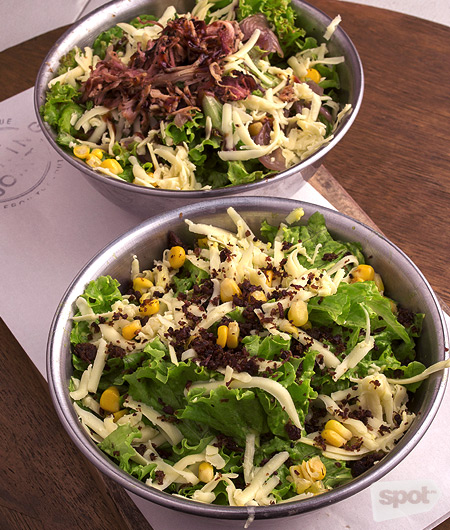 CONTINUE READING BELOW
Recommended Videos
BBQ Pulled Pork (P185) and Brisket (P185)
Two of the four are in front of us right now. One, a version of a classic Caesar, greens painted only in the slightest with sauce, and tossed with fresh kernels of corn and, instead of bacon, the extra-burned, extra-flavorful ends of the brisket. The second, a rather up-the-ante feast with smoky pulled pork that's more spiced than sweet. Simple rearrangements of what should have been the emphasis in a salad.
Reading through The Smoking Joint's menu is like being a kid in a candy store. Nearly everything is a variation of the same thing (in this case, meat, not sugar), but looks so good that each demands individualized attention.
It's a cleverly short selection: Smoked everything permutated from as-is slabs of meats, to toppings over a flattened pan de sal (a middle ground between pizza and tacos). For the latter, the Smoked Duck is a smash hit: a sort of ham embellished with homemade hoisin—Peking Duck a la TSJ.) Meat is king and the sidings—an impressively wide-ranging variety—the court.
ADVERTISEMENT - CONTINUE READING BELOW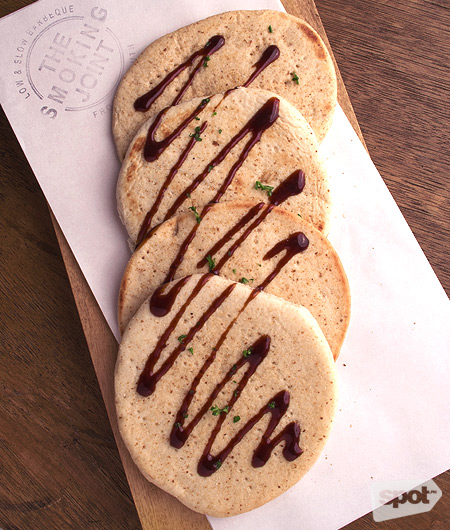 Flat Pan de Sal (P15)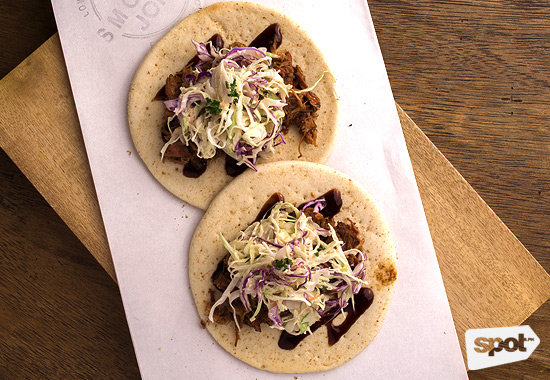 BBQ Pulled Pork (P150)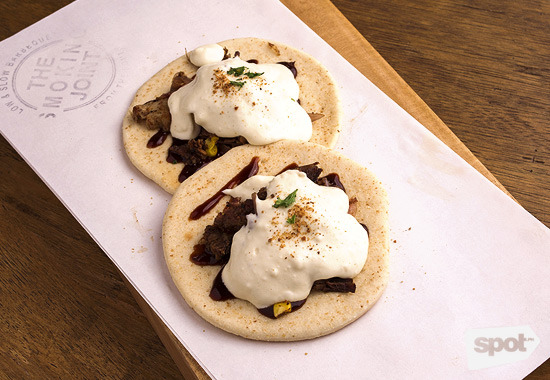 ADVERTISEMENT - CONTINUE READING BELOW
Smoked Cheese Steak (P180)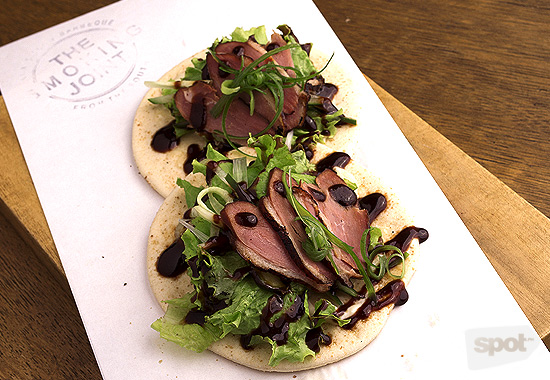 Duck (P200)
The Smoking Joint used to be boxing-themed sandwich stop, The Knuckle Sandwich Station. Smoking meats had been owner Tony Fernando's hobby, but when he met Chef Dino Dizon, one of his former regulars, things got serious. The Le Cordon Bleu-trained chef wanted to focus on burlier high points, with smoked meats specially developed for the Filipino palate.
Three types of barbecue are available, all different ways to trigger that primeval carnivorous instinct: pulled pork (P160/100 grams), brisket (P190/100 grams), and ribs (P250/single, P490/half, P950/full).
"They're in the smoker for 10 to 12 hours," says Chef Dino, dry-rubbed and cooking low and slow. "You have to watch them because it could get erratic. You have to adjust the temperature if it rains, among other issues to watch for," he adds. You can't help but stare at the cooks in front the tiny restaurant, precariously manning the large black smoker and patiently inspecting the prized gems wrapped carefully in foil. It's a very mouthwatering education.
ADVERTISEMENT - CONTINUE READING BELOW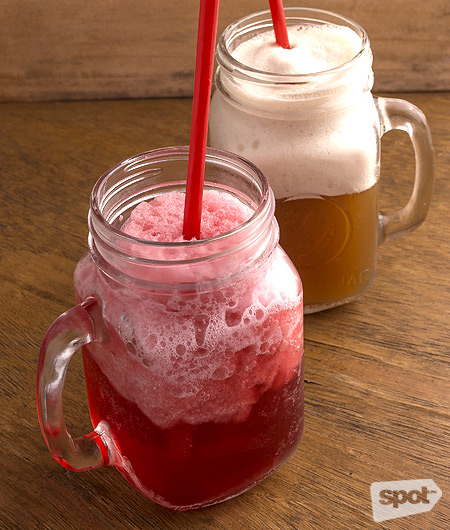 Crushed Drinks in Hibiscus and Dalandan Tea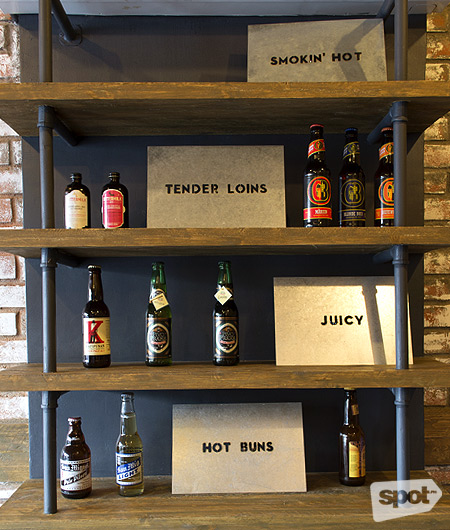 Try the latest Juan Brewery beers.
Chef Dino describes barbecue as "perfectly imperfect food," but there is absolutely nothing amiss in the results of all his effort. The ribs gracefully slide off the bone, the earthy rub stressing the meaty tones in spare ribs—a surprise choice over the more popular baby back, but one that works wonderfully with the setup. It's a fattier cut, but when the fat is rendered, it yields a bigger blast of flavor. The Smoking Joint supplies surgical gloves because you'd really want to be hands-on when you work through the rack(s).
ADVERTISEMENT - CONTINUE READING BELOW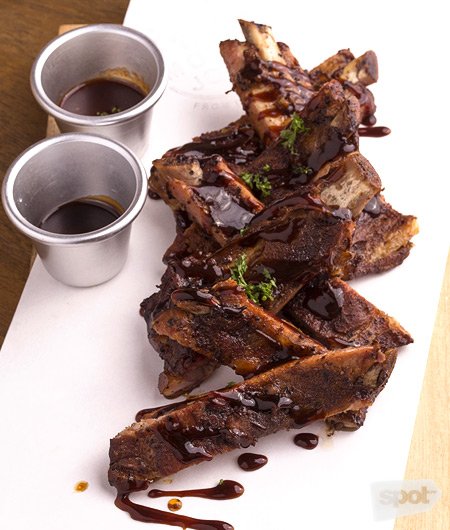 Ribs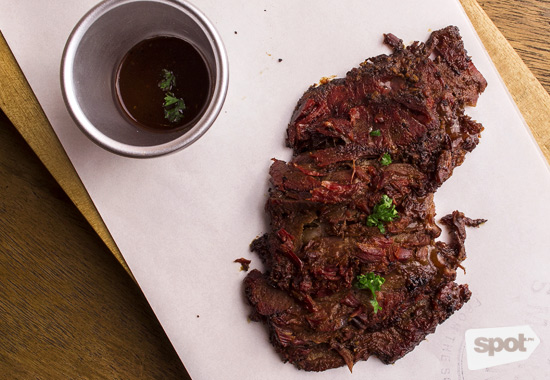 You can see the traces of the red ring in the brisket.
It's easy to get in too deep, filling bucket after bucket of gnawed-on bone, but the brisket is actually The Smoking Joint's lead-off dish. And if you want to be fair to yourself, to the chef, and to the cow, you have to order it. Whatever happened inside that smoker is a glorious event: the finale a gorgeous ruddy showpiece, fork-tender, unresisting, and, like a magic trick, magnificent then suddenly gone. Chef Dino serves the meats with sweet and spicy sauces, but this resto is a no-sauce-necessary situation.
ADVERTISEMENT - CONTINUE READING BELOW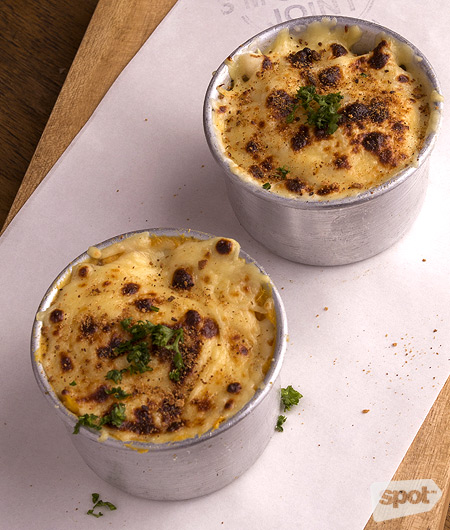 Mac n' Cheese and Sweet Potato Corn Melt (P100)
The kitchen doesn't sit back and watch the meats do all the work. The sides are no slackers, and the Mac n' Cheese (P90) is a star in its own right. The curls that fill the little pail are light and creamy, with a bechamel-like quality. Chef Dino doesn't cheat with add-ons to break this rich dish, and dabs on just the right amount of his homemade and super-secret (he will take this recipe to the grave!) cheese sauce to make the perfect ratio. Even the rice, which of course you have to get with the brisket, isn't exempted from these special treatments. It's fried in brisket fat and speckled with smoked salt and the same beautiful burned brisket ends.
Mingling with Sebastian's ice cream are spiced brownies that are spiked only with chili. Clearly, you don't need that sort of thing to get hooked on this joint.
ADVERTISEMENT - CONTINUE READING BELOW
Photos by Hans Fausto
Share this story with your friends!
---
Help us make Spot.ph better!
Take the short survey
Load More Stories