New Restaurant Alert: FAT at Forbes Town Center, Bonifacio Global City
JJ Yulo braves this deadly sounding restaurant and comes out alive and impressed.
FAT
Forbes Town Center, 29th Street corner Rizal Drive, Bonifacio Global City
Contact: 834-8600, 0917-579-1936
Open from 5 p.m. to 10:30 p.m. (Tuesday to Sunday)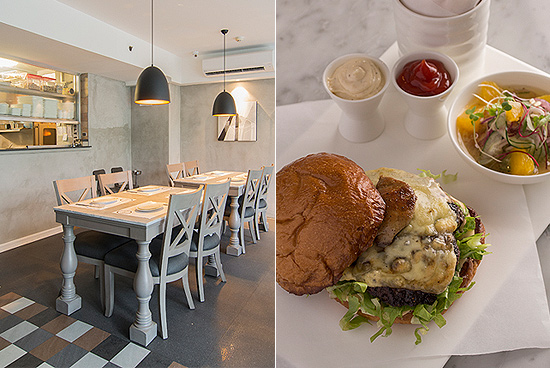 (SPOT.ph) It's pretty brilliant, really.
Everyone loves it. It makes food taste good. It's photogenic, very Instagrammable. And if it's natural, even better. It makes you happy.
I'm talking about fat.
Oh, c'mon. Don't tell me it doesn't bring tears to your eyes? I've seen you drool over all them social media bacon posts, and your ears perk up over the sound of teeth crushing freshly popped chicharon. Admit it to yourself that you need it.
Then head over to FAT—the restaurant.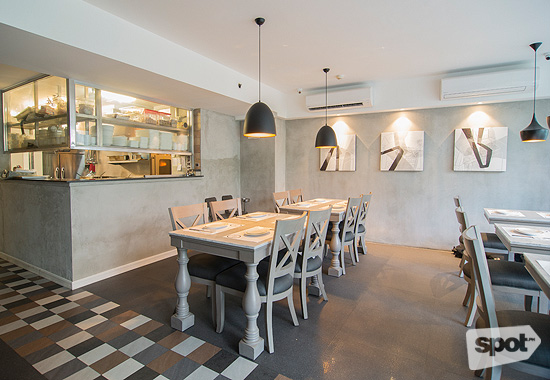 ADVERTISEMENT - CONTINUE READING BELOW
In very trendy marble and grey
Located in BGC, Fat is the brainchild of Chef Mikel Zaguirre. He's kind of a big thing (well, yeah he's tall too!). You may have heard of a little restaurant called Locavore? Yup, that's him. And he's brought his considerable talents to coming up with this menu featuring all things fat.
It's not as crazy as it seems, friend. It's not as if he was slicing off the white fat off steaks, dicing them and sautéing them and serving it to you (though I know quite a number of people who will fight you for that!). No, the good chef Kel is just using fat as his tool to give you balanced, flavorful dishes with just the right amount of it. It's all about technique here, and even if they've barely opened, it shows.
CONTINUE READING BELOW
Recommended Videos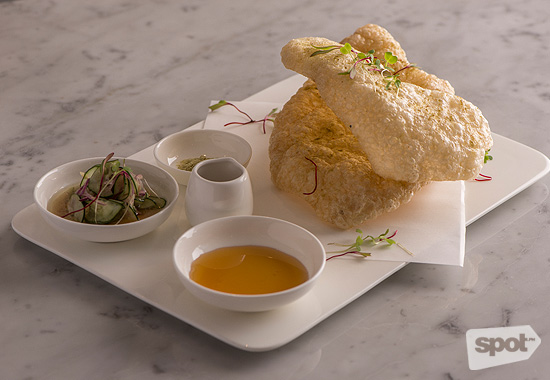 Green Tea Chicharon (P190)
One of the most surprising dishes on the menu is the humble aforementioned chicharon. A little basic kitchen magic brings this joint's version to one of the most crave worthy I've tried yet. It arrives in Big Mac-sized slabs, meant to be knifed to pieces. Then a suave touch—a dusting of matcha powder, right before dunking in spicy pinakurat vinegar. My dining companions eyes popped wide open once they started munching on this. Pure win.
ADVERTISEMENT - CONTINUE READING BELOW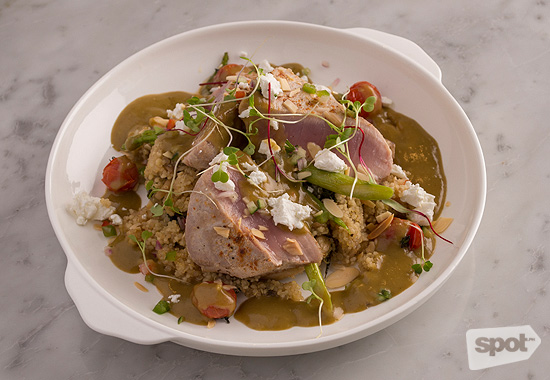 Butter Poached Tuna (P780)
Clearly he is not a culinary ogre, slamming you with fat until you start feeling ill. One of the coolest things they have on the menu is actually good for you: butter poached tuna with a mushroom ragout, asparagus, French beans, and a lovely wasabi beurre blanc on a bed of quinoa. This is one of our town's better fish dishes, I believe: it's filling, tastes great, and is a good way to get some fish into your diet. It screams French cooking—something I believe Chef Kel excels in.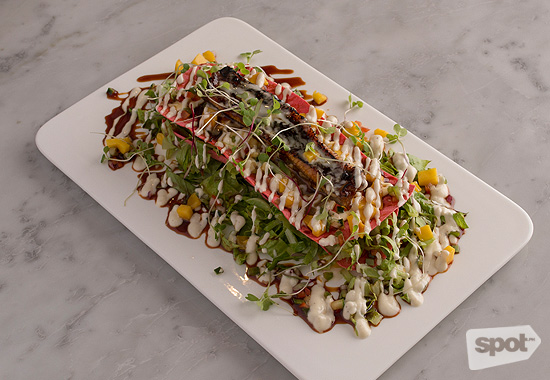 ADVERTISEMENT - CONTINUE READING BELOW
Grilled Unagi Salad (P750)
Fat's caesar salad is a joke. A delicious one, but a joke nonetheless—mainly because there's more bacon than lettuce. Hush child, I hear you all clapping and cheering. Yes, I understand. (As a "healthier" alternative, I highly recommend their unagi salad—featuring grilled eel on some beet lavash with greens and sesame dressing. Filling enough to be your meal!)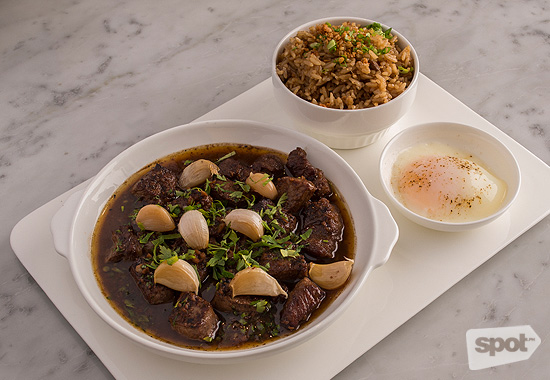 Salpicao (P940)
Salpicao is comfort food that anyone can hug. Not your typical version, mind you. Nope. Fat uses Angus ribeye, plops in a sous vide egg, roasted garlic and serves it with garlic steak rice. Meat on meat, garlic on garlic, and an egg. It's almost sexual.
I could go on and on. The duck burger (a beef and duck blend) is a leftfield choice but delicious nonetheless, as is the simplest dish on the menu—a Moroccan spiced chicken cutlet with spanakopita. All on point.
ADVERTISEMENT - CONTINUE READING BELOW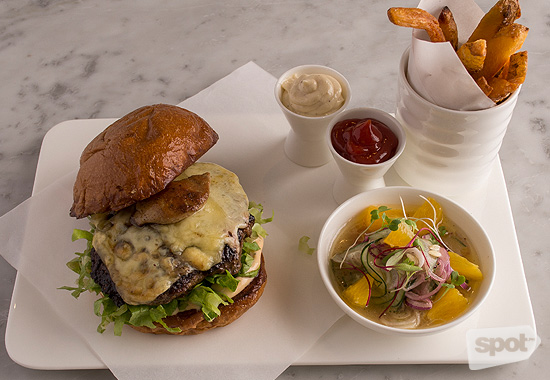 Duck Burger (P510)
Do give this place a go. I have yet to eat anything there that didn't agree with me—and I've tasted a bit of almost everything (it is a short menu, however—but that's not a problem). I'd rather a few really good items than a ton of mediocrity). The service is efficient, the setting all good for a memorable meal (them chairs are really comfy, by the way—it may not seem like a big deal, but when was the last time your butt was parked in a lush restaurant chair?). My only "complaint" is that the lighting doesn't make for good food pics—they're yellow. Yeah yeah, I know: just eat it!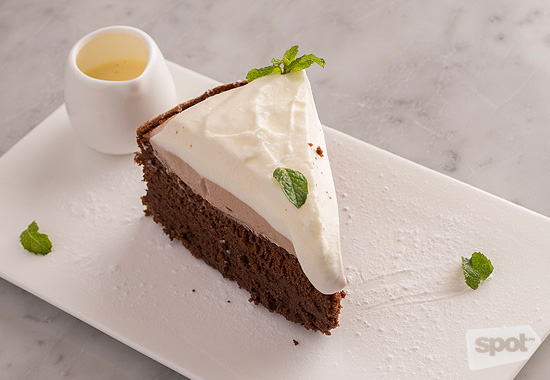 ADVERTISEMENT - CONTINUE READING BELOW
Flourless Dark Chocolate Cake (P360)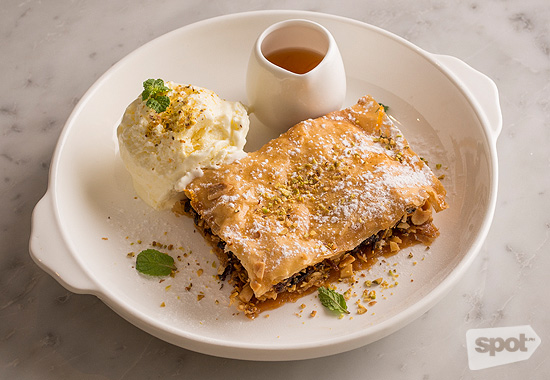 Bacon Baklava (P310)
An added incentive for you: Even if it's in a more hidden part of BGC, there is now more parking around the area—always a good thing in this city that's slowly filling up with establishments and buildings.
The FAT hashtag is the rather cheeky #MakeMeFat, and the way I see it, like in all things—if you're going to indulge, make sure that the stuff you're indulging is worthy.
Welcome to the neighborhood, FAT!
Photos by Hans Fausto
Share this story with your friends!
---
Help us make Spot.ph better!
Take the short survey
Load More Stories