This gorgeous Japanese garden is where your next date will be
Yurakuen is your secret sanctuary in the city.
Yurakuen
G/F Diamond Hotel, Roxas Boulevard, Manila
Contact: 528-3000
Open daily from 11 a.m. to 2:30 p.m. and 5:30 p.m. to 10 p.m.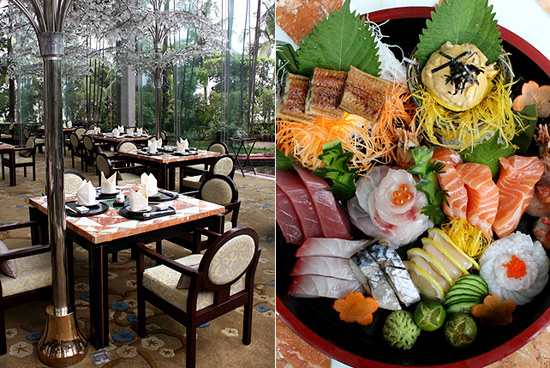 (SPOT.ph) You could spend your whole life dining at Diamond Hotel's Corniche and Cake Club without ever noticing Yurakuen. The Japanese restaurant is no secret, but it thrives on privacy, tact, and the ability to surprise.
An unassuming sign at the far end of the Lobby Café leads to this Japanese destination. There's a reason why you might not have noticed it before: You have to walk past the displays of cakes, cookies, and macarons, all well-lit, shiny, and mouthwatering. The cheesecake is enough to make you stop in your tracks and forget everything else. Yurakuen's entrance is nothing but narrow space that leads to an already impressive white marble chancel. It's a forked path: The right leads to a large exclusive room while the left is a tour through enclosed teppanyaki quarters. Take the left and walk on.
ADVERTISEMENT - CONTINUE READING BELOW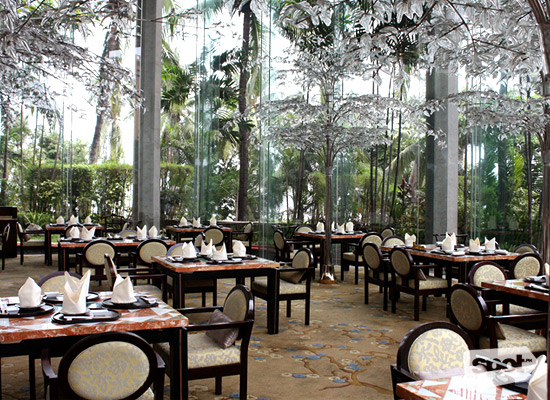 CONTINUE READING BELOW
Recommended Videos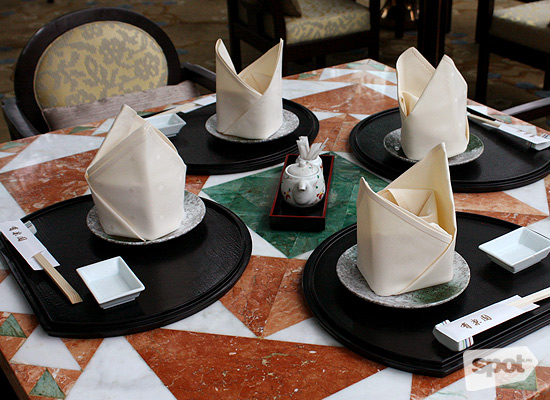 Details, details
The final point is an awe-inspiring atrium, the effect similar to when the kids enter Willy Wonka's Chocolate Room. Instead of a chocolate waterfall though, you have gold and green carpets; tall, sweeping crystal cherry blossom trees; and the therapeutic sounds of a "river" outside. By day, it looks like a beautiful secret garden in the middle of the city, but at night, the middle tree alit, and it is absolutely exquisite.
ADVERTISEMENT - CONTINUE READING BELOW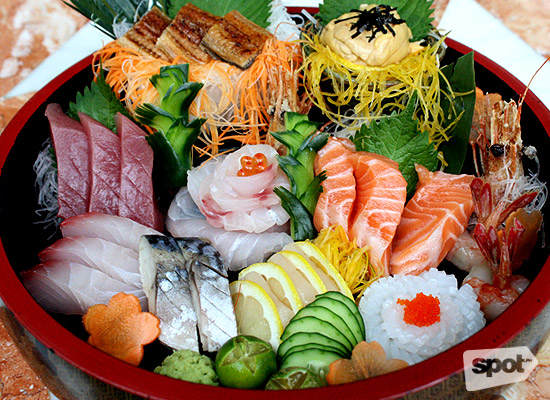 Assorted Sashimi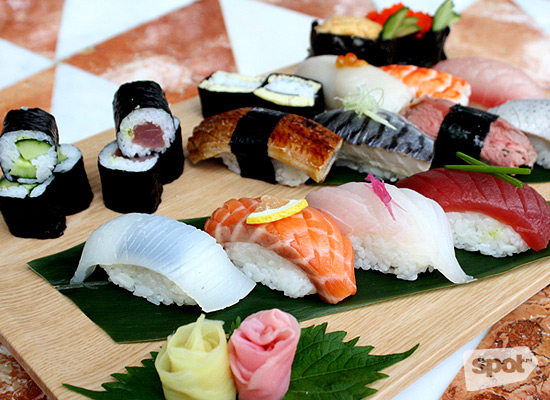 Assorted Sushi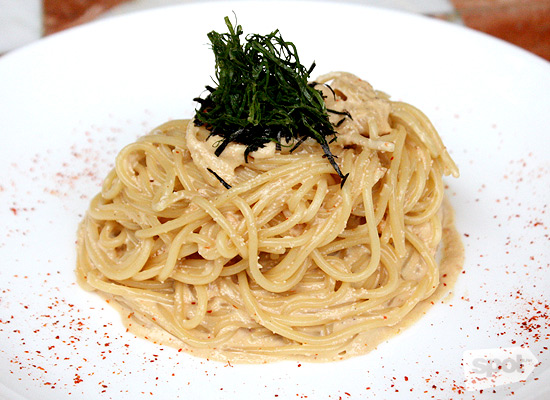 ADVERTISEMENT - CONTINUE READING BELOW
Mentaiko Spaghetti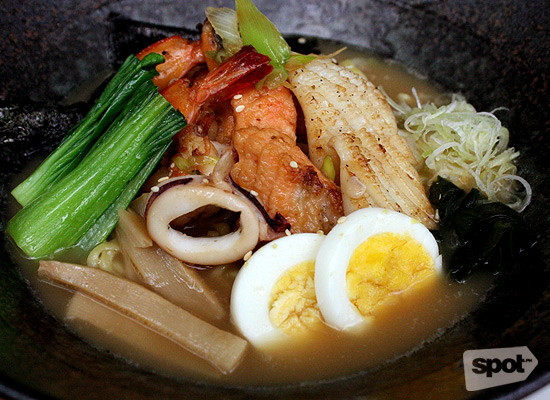 Kaisen Ramen
Yurakuen is a Japanese dream. The menu is pages upon pages of both classic and modern Japanese food, wherein sushi and sashimi reign supreme. The assorted (P1,800) is a sampler of the best the ocean has to offer: thick pieces of tuna, fatty squares of salmon, tender rolls of cuttlefish, slivers of lapu-lapu, nibbles of hotate, slices of unagi, a wonderful dollop of uni, curls of shrimp, some salty mackerel, big bites of yellowtail. There's probably more in there, but you will, at some point, stop admiring and start eating, each chopstick-full a reward on its own.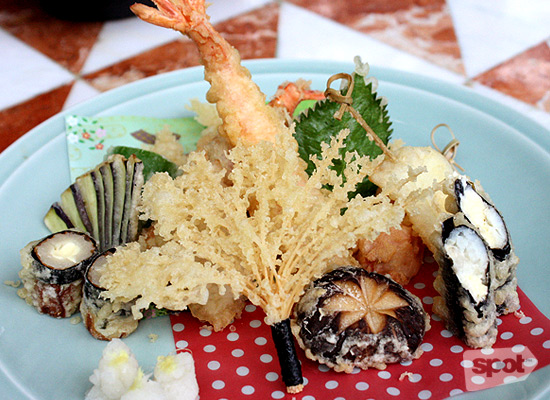 ADVERTISEMENT - CONTINUE READING BELOW
Tempura Moriawase (P780)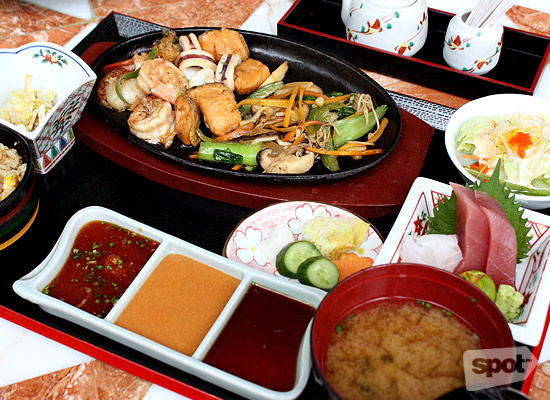 Lunch Set
There's ramen here, too. And bento. Items traditionally found in casual dining joints served in a hotel standard and rubbing elbows with fanciful lunch and dinner sets. The Kaisen Ramen (P595) is pure satisfaction. The broth is salty, but just enough to bring out the innate flavors of the squid, shrimp, and salmon. It's light, if you can call ramen that, and the noodles are springy and delightfully thick the way handmade ones usually are. It's the Mentaiko Spaghetti (P780) that's the subtle heavyweight. It's Japanese-style spaghetti, with the pasta treated to Asian elements. A coat of cream makes it remarkably similar to carbonara in terms of presentation and flavor, but the roe writes a completely new, very heavy story.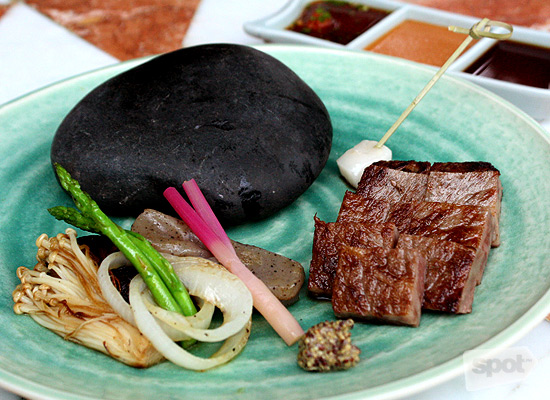 ADVERTISEMENT - CONTINUE READING BELOW
Wagyu
As with any place, Japanese or not, steak is always a special event. At Yurakuen, the cubes of melt-in-your-mouth Wagyu (P3,300/120 grams, P5,400/200 grams) are delivered rare and served with a hot stone to cook to your preference (we suggest giving it some extra sear and enjoy). Instead of butter, a skewer of beef fat is used to rub oil all over the smooth stone, deepening that meaty flavor. When the rich meat gets too intense, have a bite of Devil's Tongue, which is a jellified vegetable, or rather, a miracle drug to have you eating more.
The dishes are wonderful enough to complement the breathtaking venue. Yurakuen may have been around for a while, but it still remains its charm as a delicious little secret. Heres a tip: if you can't sniff out Yurakuen, sniff around for the smell of sizzling Wagyu.
Share this story with your friends!
---
Help us make Spot.ph better!
Take the short survey
Load More Stories