This Wagyu foie gras burger is everything...but it's not going to last
On the bright side, you can have Bistro Du Vin's affordable lunch specials forever.
Bistro du Vin
Edades Tower, Amorsolo Drive, Rockwell, Makati City
Contact: 958-6712
Open daily from 11:30 a.m. to 2:30 p.m. and 5:30 p.m. to 10:30 p.m.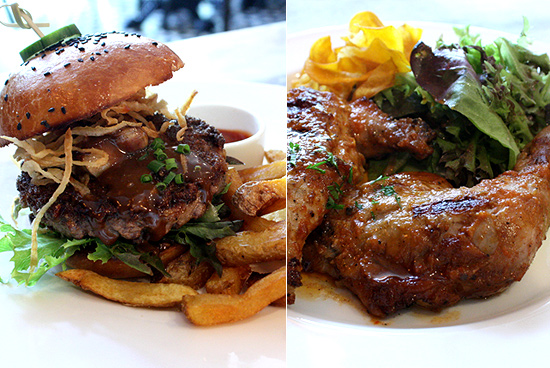 (SPOT.ph) The new burger at Bistro du Vin is how you'd expect a burger to look: manageable in terms of size, but tremendous in impact. The big, fat, shiny patty in the middle is made of Wagyu from Blackmore, an Australian-based award-winning beef producer, and further flourished with crispy onion tendrils. Because this is a French restaurant first and foremost, there is appropriately an entire slab of foie gras in the mix.
It's a pretty solid thing. The patty crumbling at the smallest touch—the kind of mess you appreciate when you're enjoying beef through and through—the homemade, black sesame-speckled bun light and fluffy; the buttery bliss only a good fattened liver can get away with; the balsamic aioli tying everything together. This is a burger that overwhelms in the best possible way. With everything the kitchen puts in this sensational piece, the P695 price tag isn't so bad.
ADVERTISEMENT - CONTINUE READING BELOW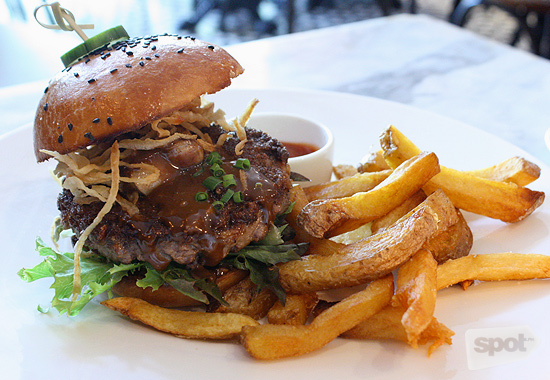 CONTINUE READING BELOW
Recommended Videos
Blackmore Wagyu Burger
But the Blackmore Wagyu Burger, like Ben and Jen, isn't meant to last. It's one of Bistro du Vin's blackboard specials, erasable, temporary, and with a life span of just a few weeks. There was, however, the case of the blackboard-destined Parmesan Soup which had become such a bestseller, the owners, The Moment Group, had to find a permanent spot for it on the menu. Consider this an appeal then—a prayer for this burger to have that same happy fate.
It's not that the Singapore-originated French restaurant doesn't have other stellar options. Just the opposite. In fact, if you make your way to Edades during lunch time, Bistro du Vin offers great lunch sets—a three-course meal for only P599+—with probably one of the most varied selections this side of the Metro. There are six starters, eight mains, and four desserts, all very different from one another and all sounding very much desirable.
ADVERTISEMENT - CONTINUE READING BELOW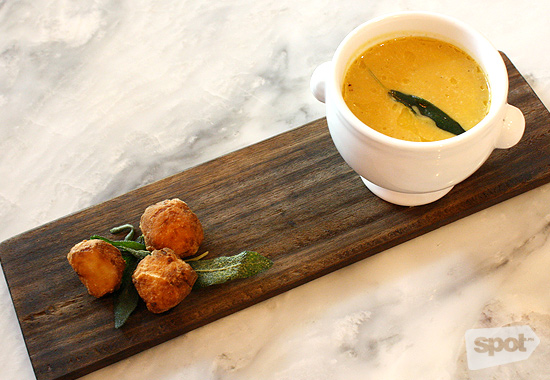 Roast Pumpkin Soup
The bestselling Parmesan Soup L'ami Jean is a surefire choice, but its roast pumpkin counterpart puts up a pretty tough fight. It comes in a deceptively small cup that's hollowed out deep for a surprisingly generous serving. The soup delivers a light creaminess, perfect as a starting off point, with a sweetish flavor that's pronounced well thanks to the brown butter and sage. On the side, yummy nibbles of pumpkin beignets add a good textural contrast.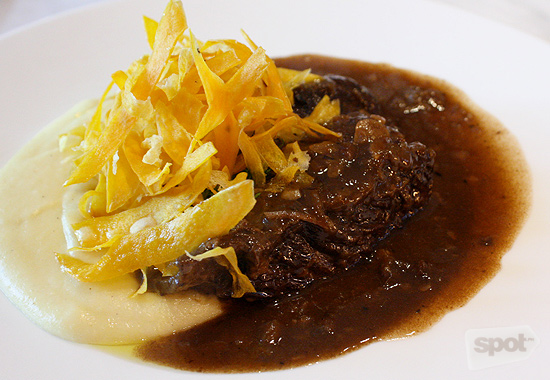 ADVERTISEMENT - CONTINUE READING BELOW
Braised Beef Short Ribs
It's the mains that will have you going back and forth—from the Tuna Nicoise Tartine to the Pan-fried Salmon, the Beef Stroganoff to the Veal Cheek Blanquette. The Braised Beef Short Ribs are pure magic though. Unless you're vegetarian or you have some other excuse for not enjoying cow, this Guinness beer-braised dish is pretty faultless. It comes with mashed potatoes and sweet potato crisps that complement the fork-tender beef doused in a savory gravy. Pick on the ribs with a fork, and the meat just tears off with the slightest effort.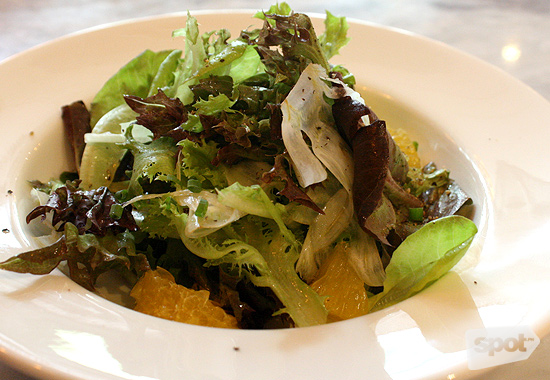 Summer Citrus Salad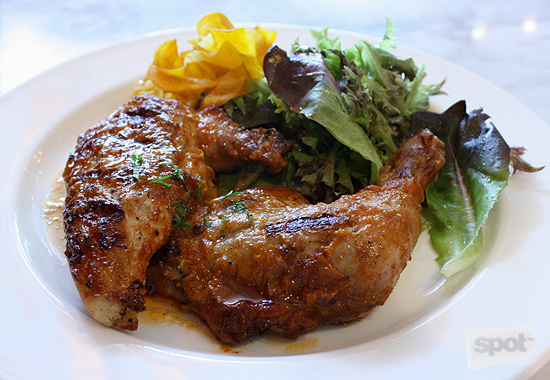 ADVERTISEMENT - CONTINUE READING BELOW
Grilled Basque Chicken
The Grilled Basque Chicken demonstrates just how good of a deal this French lunch is. On the plate, a juicy chicken breast and a large thigh, painted in its own paprika-infused juice that drips to the bottom for you to mop up with your fork. It comes with a summery salad (a similar salad with oranges is also offered separately as a starter) and sweet potato chips that do a good job of offering that change of pace in an otherwise meat-filled ensemble.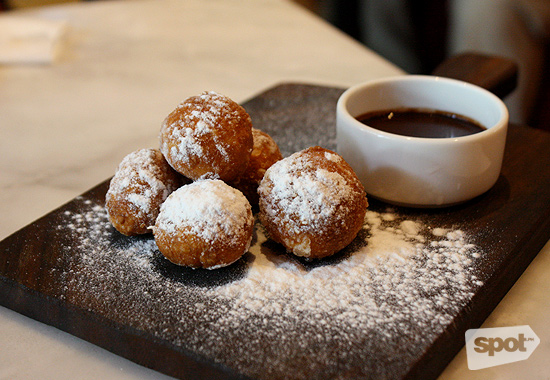 Beignets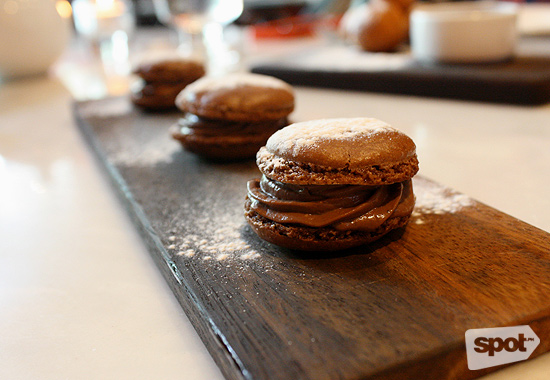 ADVERTISEMENT - CONTINUE READING BELOW
Dark Chocolate Tea Macarons
Desserts for the lunch set are lighter compared to the picture-perfect and imposing options in the a la carte menu. The chocolate macarons are three adorable pieces with a not-too-sweet chocolate cream sandwiched between deliciously chewy cookies. Ice cream is also available for a subtler finish.
You might have already settled into BDV favorites, but their lunch specials, which really stretch your budget, call for newfound loyalty—at least from 11:30 a.m. to 2:30 p.m., Monday to Friday. Right now, we're hesitant to commit to the Blackmore Wagyu Burger lest our heart be broken when it's finally wiped off, but the ribs and P600 are all we really need to put it back together.
Read more about Bistro du Vin.
---
Help us make Spot.ph better!
Take the short survey
Load More Stories