New Restaurant Alert: Maisen at Greenbelt 5, Makati
One of Japan's finest tonkatsu restaurants is finally in the Philippines.
Maisen
G/F Greenbelt 5 (the former Mango Tree Bistro), Makati City
Open daily from 11 a.m. to 11 p.m.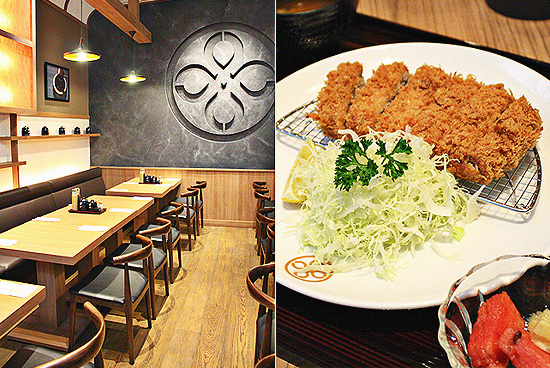 (SPOT.ph) Just when you think you're at the tail end or, at least the plateau of the obsession with breaded pork cutlets comes Maisen, one of Japan's leading katsu chains, which opens its first Philippine branch Saturday, August 8, at Greenbelt 5. Suddenly, this style of deep-frying lets you discover new reasons to delight in heavy sets of meat and unlimited soup and rice.
In the case of Maisen, if you haven't dropped by the stores in Japan, two standouts give it renewed feeling. First, the panko breading, which is made fresh from an original recipe in Maisen's commissary. Whether it's covering tenderloin, hugging shrimp, or in between bread, Maisen's panko is impressively fine, flaky, and almost impervious to the special sunflower oil where the cooking takes place. It's not at all greasy, light even. The Japanese chefs are strict with what they describe as kendachi. It literally translates to "blossomed flowers," but here, it's what they use when panko rises and doesn't fall flat.
ADVERTISEMENT - CONTINUE READING BELOW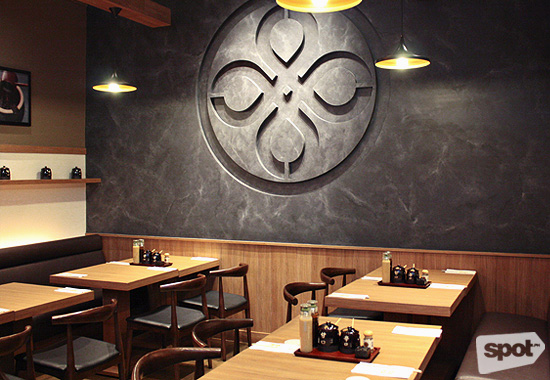 CONTINUE READING BELOW
Recommended Videos
Giant Maisen logo
Second are the tonkatsu sauces. Maisen has four, tailored for every kind of dish they offer. The one infused with apple anchors this sweet and tart undertone that really gives a snappy finish to the Berkshire or kurobuta pork. Another peppy sauce, specially made for Maisen, puts together ingredients like carrots, spices, celery, and onion.
Maisen started with a housewife's recipe. Back in the '60s, when Japan's economy started to improve, Chiyoko Koide was one of the first to popularize the then-celebratory tonkatsu (meat had been only a luxury and daily diets consisted of fish or vegetables). The style was home cooking, and the first restaurant in Hibiya quickly snowballed. Now, esteemed as one of the best tonkatsu houses in the world, the business is run by the Suntory Holdings and it has nine restaurants and 55 stores in Japan alone. Locally, it's handled by the Suyen Corporation, which has already brought in St. Marc Cafe, Paul, and before the year ends, Pablo Cheesecake.
ADVERTISEMENT - CONTINUE READING BELOW
The first branch in Greenbelt is cozy at best; the interiors clean and modern to flaunt the streamlined sensibility of the Japanese without being overly thematic. The store in SM Megamall, which is set to open in the next few weeks, will undoubtedly be bigger.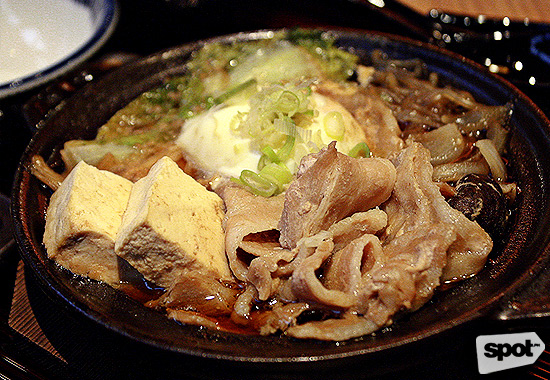 Sukiyaki
Options are wide-ranging sets that feature variations that exemplify kendachi. Even the Pork Sukiyaki Set (P520), which is something of a wildcard on the pork chop-dominated menu, includes a small slab of breaded tenderloin on the side. Break the egg in the middle while the broth is piping hot to coat the entire stew in creaminess. The sweetness is mellow but distinct, which would be appealing to the Pinoy crowd.
We won't fault you if your attention shifts to that golden disc of tenderloin on its tiny tray. It is, after all, a peek at Maisen's specialty. The pork, whether it's normal or kurobuta (the Wagyu of pigs), rosu or hire, is meticulously treated. Every slab is carefully cut and pounded using very specific pressure to ensure that it can be sliced with a light touch of chopsticks.
ADVERTISEMENT - CONTINUE READING BELOW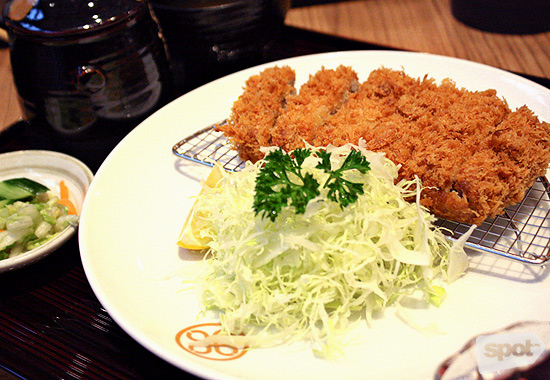 Kurobuta Hire Set. The sets come with a side of veggies, cabbage, rice, miso, and fruit.
The Kurobuta Tenderloin Set (P630)—it's a less fatty choice compared to the equally desirable loin—is a dream. You don't get to choose the number of grams you want, but you won't have any trouble going through the gilded hunk of pork. You won't have crisper panko than this and the meat itself is amazingly juicy. The apple-tinged Special Sauce lavishes sweet attention to the delicious meat. It's absolutely effortless—to eat, anyway.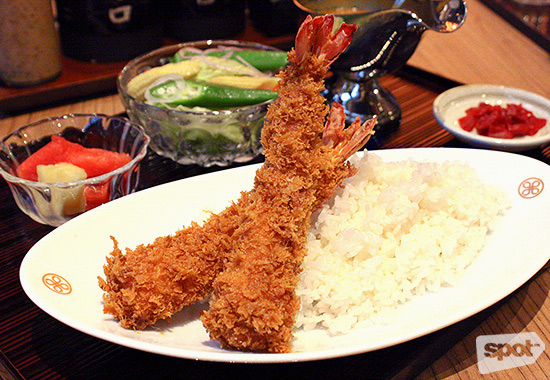 ADVERTISEMENT - CONTINUE READING BELOW
Prawn Katsu Curry (the curry's in the gravy boat for you to use as much as you want)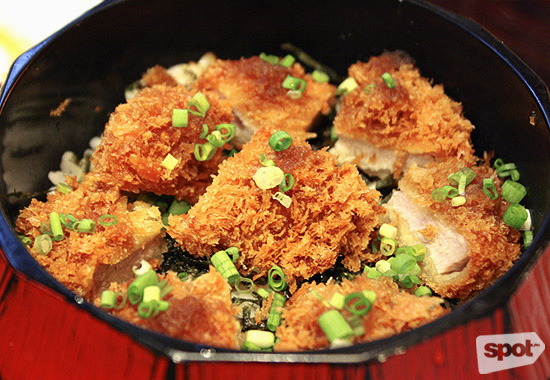 Katsumabushi
Curry is a great complement to katsu, so much that the pair of large shrimps in the Prawn Katsu Curry Set (P425) drinks up that spiced sauce incredibly well. No doubt there's fun in ordering the Katsumabushi Set. This rice bowl is topped with chopped pieces of tenderloin and garnish. You can eat it freestyle, but for added impact, toss in some extra benediction: green onion, sesame, and (just a whisper of) wasabi. It's a must to invite the Onsen Tamago to the party, too. Make it deliciously creamy, like katsudon (also available!), or go for soupy by pouring in the dashi.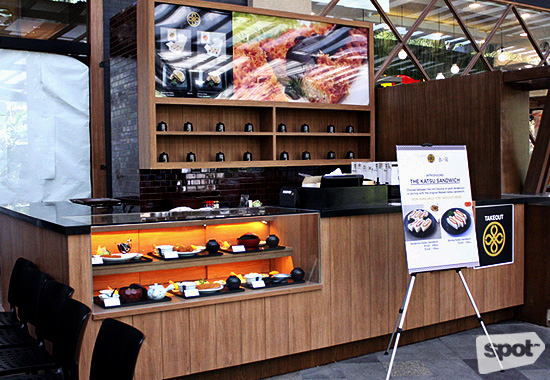 ADVERTISEMENT - CONTINUE READING BELOW
Takeout booth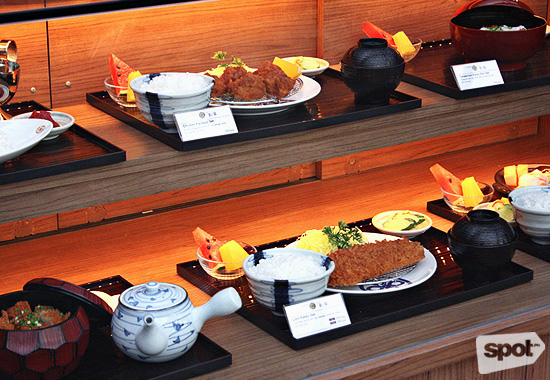 Fake food displays that are so famous in Japan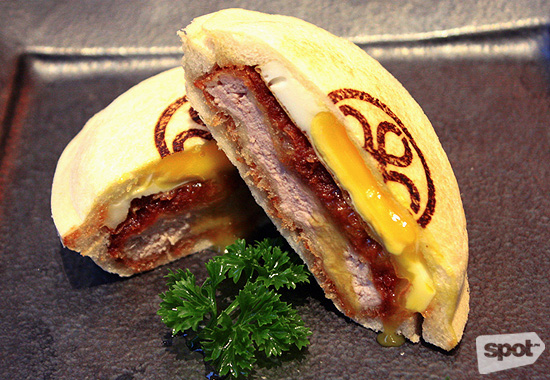 Maisen has regular katsu sandwiches but we love the katsu pockets.
It's the nuances that make the difference and another kind of sauce goes into the Tenderloin Katsu Pocket Sandwich (P275). It offers not just a sticky, sweet layer but pumps in succulence, too. The tenderloin is wrapped in a white bread that's flattened by a machine and stamped with the Maisen logo. It's a convenient little pocket if you're craving a quick bite of Maisen. You can also get the sandwiches from the takeaway booth outside.
ADVERTISEMENT - CONTINUE READING BELOW
Dessert is a small selection of ice cream and sorbet, but you're at Maisen. Get another katsu. With a beer or whisky this time.
Photos by War Espejo
This story has been revised to edit the opening date.
Share this story with your friends!
---
Help us make Spot.ph better!
Take the short survey
Load More Stories