The 10 Best Things We Ate in August
Noteworthy dishes in this food-filled month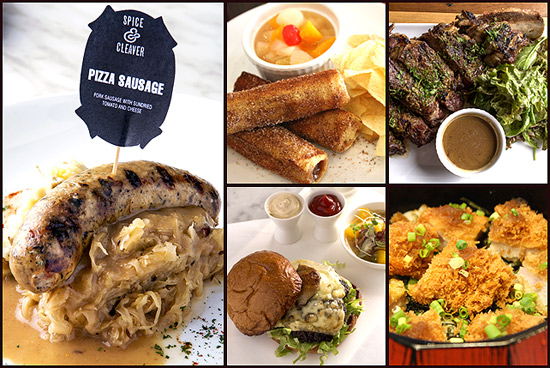 (SPOT.ph) If you didn't already know, here at SPOT.ph, we love food. You need it to live, but we find that there are some dishes that go well past the virtue of necessity. While others content themselves with a deep fryer and the usual salt and pepper, there are some who make—or at least try to make—an art out of it, with delicious displays and even yummier flavors. We believe those that go above and beyond their duty deserve necessary recognition. So here are our top picks among the dishes we ate throughout August.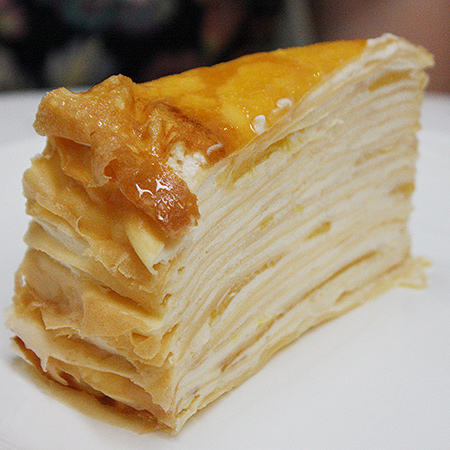 Mango Mille Crepe from Paper Moon
Each one of Madame Emy Wada's picture-perfect crepe cakes (P225/slice, P350/three-inch, P1,400/six-inch, P2,000/10-inch) is spectacular for both the eyes and taste buds, but there's something especially striking about the mango—the brightness of fresh fruit comfortably tucked between those 20 (or more!) layers. Known as the Grand Dame of Specialty Cakes, Madame Emy really knows how to lift that moist, melt-in-your-mouth cloud of a cake to something absolutely heavenly.
ADVERTISEMENT - CONTINUE READING BELOW
Paper Moon has branches at Glorietta 3, Makati City; and Trinoma Mall, Quezon City. Read more about Paper Moon.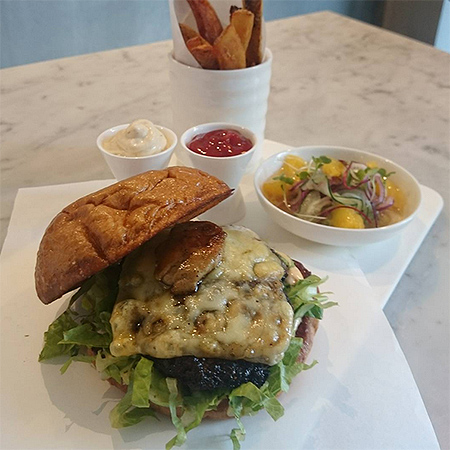 CONTINUE READING BELOW
Recommended Videos
FAT's Duck Burger
At P510, this is one of the cheaper options on Chef Mikel Zaguirre's well-curated and flavor-focused menu. The patty is a juicy dream of a marriage—50% beef , 50% duck, 100% glorious. Melted mozzarella hugs the top, but the focal point is the slice of foie gras that tries to hide itself underneath the top bun. This restaurant may seem like it's marketing sin, but everything is on point and on purpose: the fatty liver fortifying the deep flavors of the patty, the cheese offering that light gooeyness, and even the homemade atsara on the side to counteract the richness.
FAT is at Forbes Town Center, 29th Street corner Rizal Drive, Bonifacio Global City. Read more about FAT.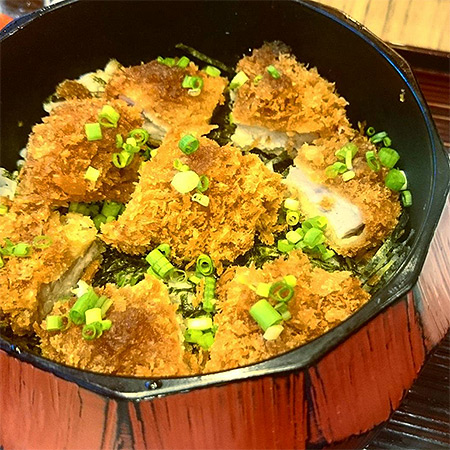 ADVERTISEMENT - CONTINUE READING BELOW
Katsumabushi from Maisen
A friend asked us to recommend something from this pioneering katsu house, and our thoughts immediately went to this ultra impressionable bowl of Japanese rice topped with nori and that prized fried breaded pork tenderloin. The katsu is definitely the star, but this dish gives you a little bit of everything. Green onion, sesame seeds, and wasabi are on the side for an extra jolt of flavor, but there's also a small plate of Onsen Tamago (make it like katsudon!) and a teapot of dashi (if you're into something soupy). The sad part is that the rice doesn't come unlimited.
Maisen is at Greenbelt 5, Makati City. Read more about Maisen.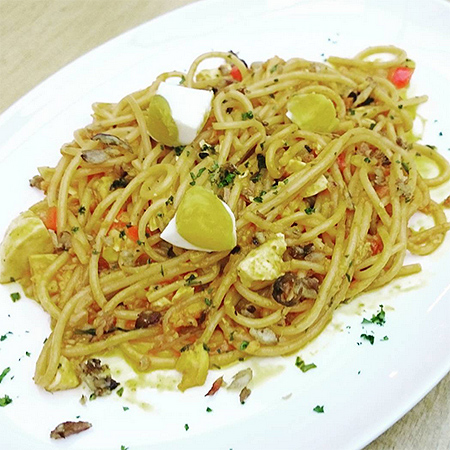 Tinapa Spaghetti from New York Pinoy Deli
By putting together Filipino and New York cuisines, Resorts World Manila just found an excuse to serve pretty much whatever their taste buds fancy from around the world. We're not complaining because the food is great. Out of an entire slew of delicious dishes, this Tinapa Spaghetti is the most successful. The flavor of the smoked fish comes up nicely and you can get that intense sea taste from the crab-roe infused sauce. It reminds us of a very sophisticated palabok.
ADVERTISEMENT - CONTINUE READING BELOW
New York Pinoy Deli is at G/F Casino Area, Resorts World Manila, Pasay City. Read more about New York Pinoy Deli.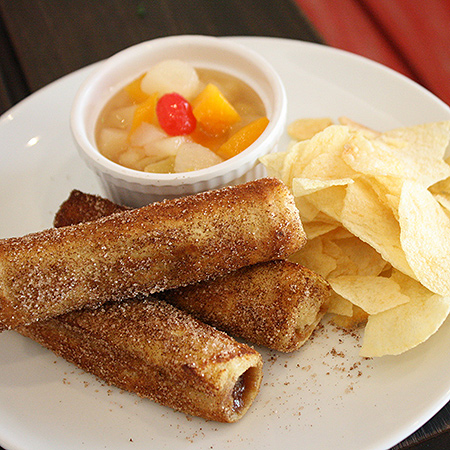 Peanut Butter and Jelly Rollups from Seattle's Best Coffee
This is a left-field choice, but nostalgia is one of the best seasonings out there. These lovely cinnamon-sprinkled things answer the question: What would a grown-up peanut butter and jelly sandwich look like? White bread is flattened to a crepe-like thinness and filled with an delightfully nutty peanut butter and just a smidgen of jelly. What you get are three delicious rolls tinged with the unique sweetness of cinnamon. Get some tea, too.
Available at selected Seattle's Best Coffee branches only. Read more about Seattle's Best Coffee's new all-day breakfast menu.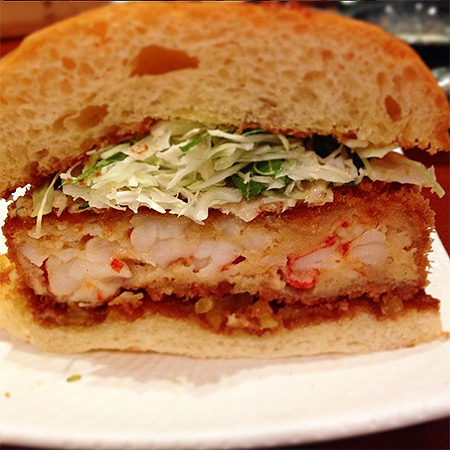 ADVERTISEMENT - CONTINUE READING BELOW
Yabu's limited edition Ebi Katsu Burger
The good news is that this burger is absolutely terrific. The patty is made from prawns, but don't except something of a mushed-up fish cake. They are chopped roughly for you to still get that authentic feeling with every bite. Battered and fried to a crisp, you're rewarded with a golden crunchy coat that does wonders texture-wise. Instead of tonkatsu sauce, this burger fancies itself with a spicy aioli that will knock your socks off. The bad news? Yabu loves toying with our hearts. This one's on the menu for only a few months.
Click here for a list of Yabu branches. Read more about Yabu's new katsu burgers.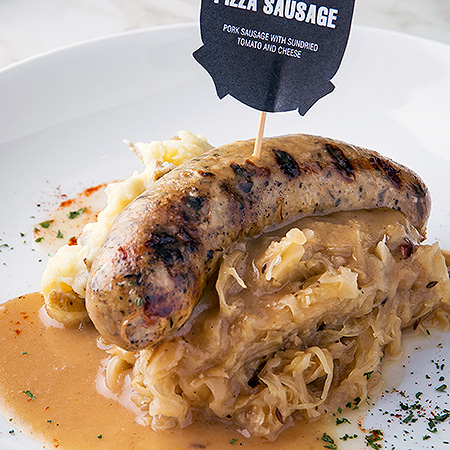 The Pizza Sausage from Spice & Cleaver
It used to be that you put sausages to flavor your pizza. Now, you have this sausage that's actually flavored pizza. Slightly unnerving, we must say, but there's cool confidence in this link (P280/one-piece, P480/two-piece). The blend comes with sun-dried tomato and cheese—a classic pizza combination! Spice & Cleaver boasts sausages that have no extenders, are made of pure meat, and contained in non-synthetic casings. Peer through the yummy grill marks, past that non-synthetic casing, and you can clearly see the ingredients. This one sits in a bed of sauerkraut.
ADVERTISEMENT - CONTINUE READING BELOW
Spice & Cleaver is at G/F Estancia Mall, Capitol Commons, Pasig City. Read more about Spice & Cleaver.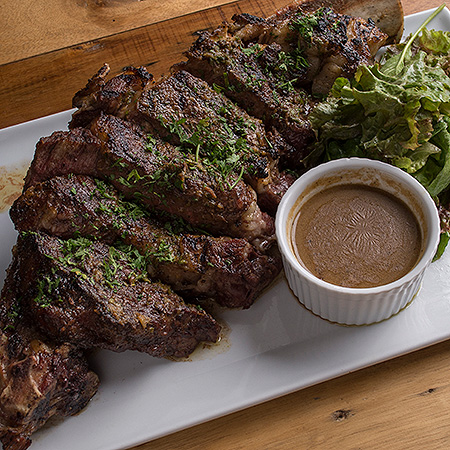 The Brewery's U.S. Angus Tomahawk
There's not much we can say about this steak except that it's ginormous (P300/100 grams). That's pretty much it. Chef Carlo Miguel doesn't do much else to this beauty—just good beef, Café de Paris butter, and a succulent medium-rare. That's impact.
The Brewery is at The Palace, 10th Avenue corner 38th Street, Uptown Fort, Bonifacio Global City. Read more about The Brewery.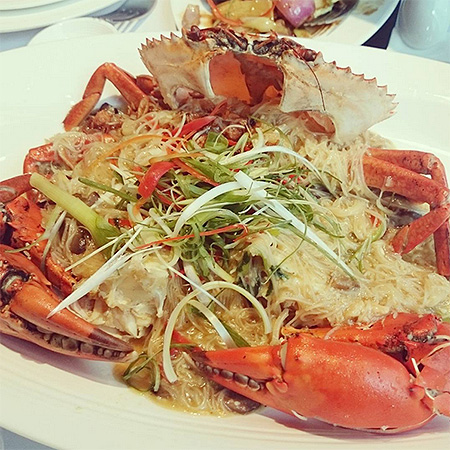 ADVERTISEMENT - CONTINUE READING BELOW
Triple Cooked Crab Beehoon from Ming Kee
This dish is so subtle that you're going to wonder if you dreamed that first bite. The only proof you have is the giddy feeling in your stomach. Ming Kee is famous for their live seafood, and for this pièce de résistance, the fresh crab is steamed, braised, and stir-fried before settling in a throne of soft, stringy noodles. There's nothing particularly bold about the flavor—the sweetness doesn't stand out, there's no trace of heat, the saltiness is very even—the overall profile very delicate yet complex. You'll just love it without contemplation.
Ming Kee is at 7852 Makati Avenue corner Kalayaan Avenue, Makati City. Read more about Ming Kee.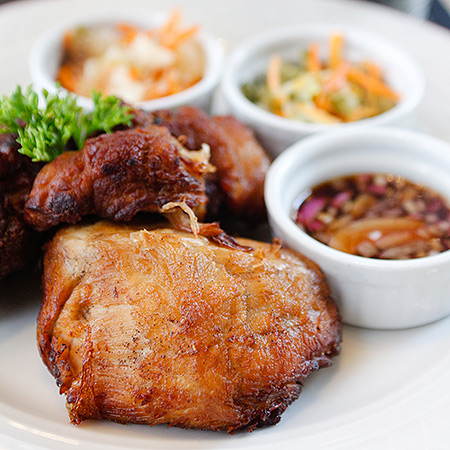 Rural Kitchen's Pork Adobo
Purist? You might want to take a step back because you might have a bit of a shock when you see what Chef Justin Sarabia has done with this Pinoy classic. He deconstructs it, serving the pork fried and out of its stew-y splendor. Instead, he offers up the taste via a trio of sauces that you can add to your liking. Now, before you can point out this seeming blasphemy, the young chef manages to successfully recreate those tangy-savory flavors you love so much in this national dish. Rural Kitchen puts to the fore the owners' lola's recipes, so you know that no matter how it looks, nothing's ever really crazy.
ADVERTISEMENT - CONTINUE READING BELOW
Rural Kitchen is at HRC Center, 104 Rada Street, Legazpi Village, Makati City. Read more about Rural Kitchen.
---
Help us make Spot.ph better!
Take the short survey
Load More Stories