New Restaurant Alert: The Brewery at The Palace, Bonifacio Global City
Chef Carlo Miguel's grub plus beer equals a fun time.
The Brewery
The Palace, 10th Avenue corner 38th Street, Uptown Fort, Bonifacio Global City
Contact: 0917-813-9429 (reservations), 0917-638-3339 (events)
Open daily from 11 a.m. to 2 a.m.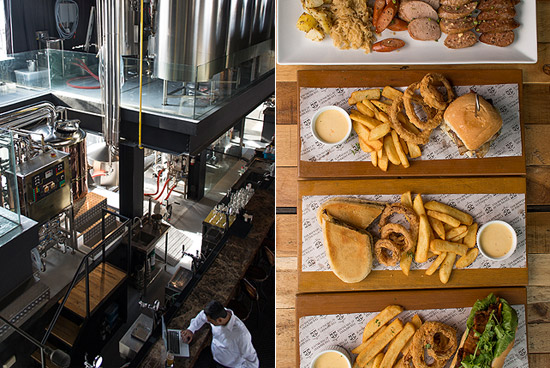 (SPOT.ph) "It took us some time to get the permits straight, but now we're all set," whispers an excited staff member as we sat down to dinner at The Brewery—the spiffy, new microbrewery and restaurant in BGC.
ADVERTISEMENT - CONTINUE READING BELOW
CONTINUE READING BELOW
Recommended Videos
Any bar owner knows how tricky and pricey it is to navigate the permits and clearances to sell liquor in this town. However, The Brewery is not your ordinary watering hole. These guys are not just importing or selling beer—they make it themselves on-site.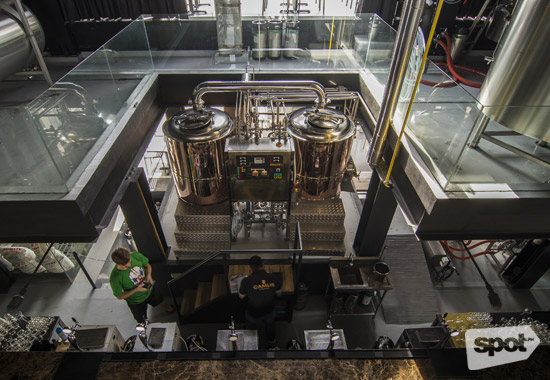 Machinery!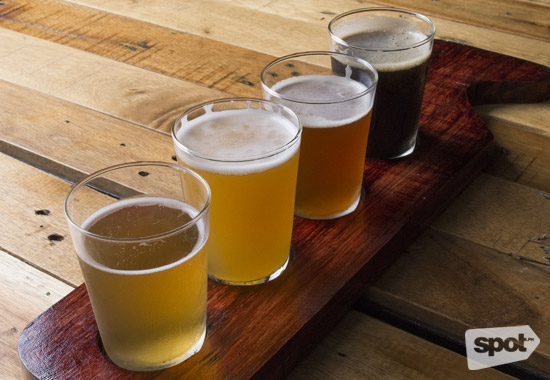 ADVERTISEMENT - CONTINUE READING BELOW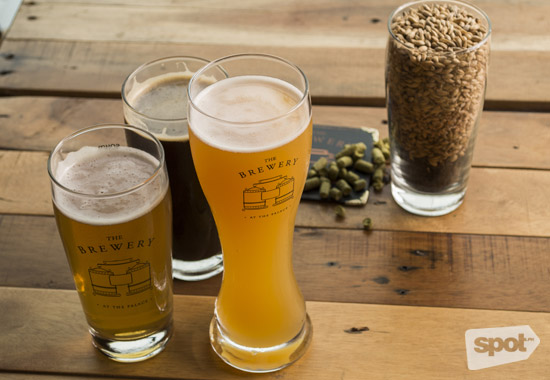 Beers prepped according to German brewing standards
Beer buff and CEO Raj Sadhwani gives us a tour of the sprawling, two-storey establishment that houses the tanks where the brewing process takes place. Our favorite part, of course, is those dispensing containers that stock the different varieties of beer the house has to offer. At the moment, they have four basic beer types, prepared according to German brewing standards—pilsner, wheat beer, IPA, and brown ale (stout). These are offered on tap in either 300- or 500-ml glasses, with prices ranging from P180 to P310. Not bad for beer that is offered at its freshest state possible and made of the highest quality ingredients.
ADVERTISEMENT - CONTINUE READING BELOW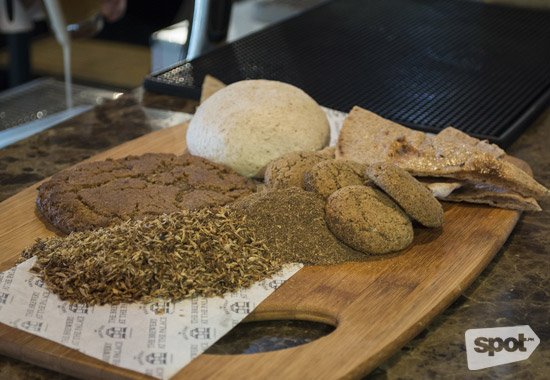 Beer by-products used for the dishes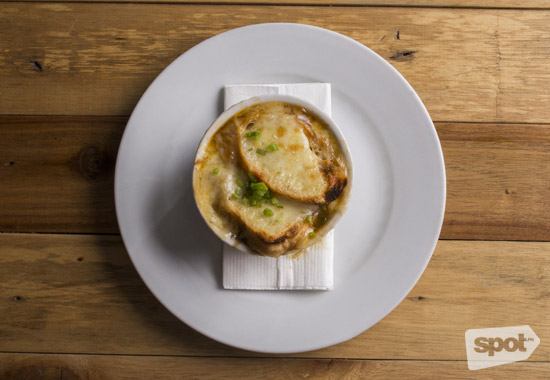 ADVERTISEMENT - CONTINUE READING BELOW
Stout and Onion Soup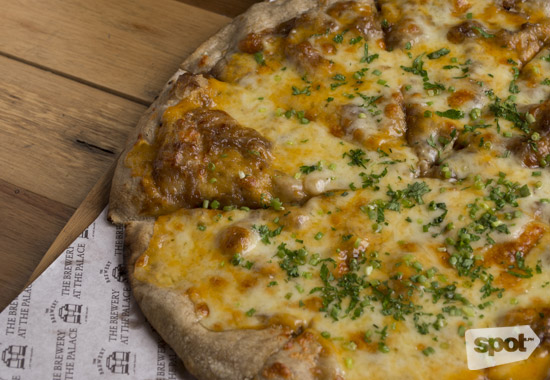 Microbrewery Cheese Pizza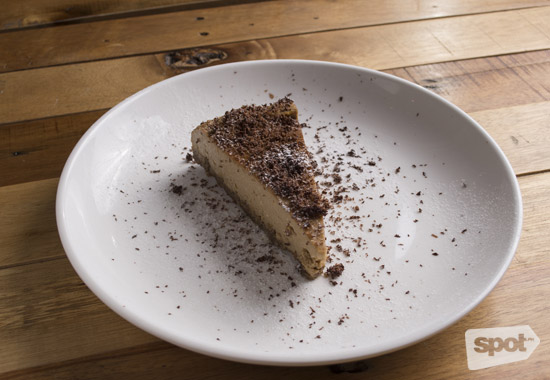 ADVERTISEMENT - CONTINUE READING BELOW
Brewer's Cheesecake
On the gastro side is ace chef Carlo Miguel, who's the best when it comes to crafting dishes perfect for a bit of buzz. Chef Carlo incorporated some beer by-products in his dishes when he formulated the menu. The most memorable ones are also the cheesiest—the Stout and Onion Soup (P220), Microbrewery Cheese Pizza (P520), and the Brewer's Cheesecake (P350).
The soup is rich and comforting with just a touch of sweet from cooking down those onions. The pizza's star was the crust—crisp, but with that slight chewiness you get from well-made dough. Dessert lovers will appreciate the thought put into the cheesecake—the addition of stout highlights the flavors of coffee and chocolate, while the crust itself contains ground grains used in the beer-making process.
ADVERTISEMENT - CONTINUE READING BELOW
Chef Carlo Miguel is the master of Fish and Chips. At The Brewery, that expertise is exemplified in the Fisherman's Basket.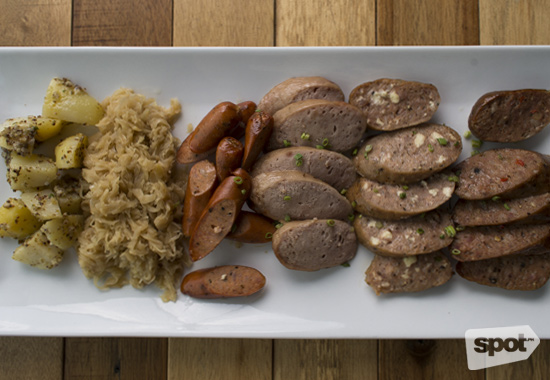 Sausage Platter
The bar chow is for sharing, especially the Microbrewery Nachos (P450). That combo of the garlic aioli, chipotle aioli, and beer cheese sauce makes all the difference. The Fisherman's Basket (P690) is a crispy mix of wheat beer-battered sole fillet, mussels, calamari, and soft-shell crab with fries, tartare sauce, and tomato salsa.
ADVERTISEMENT - CONTINUE READING BELOW
Beer and sausage? Now that's a classic pairing. Go for their Sausage Platter (P580)—they serve a selection of sliced Hungarian, Bratwurst, Wienerli, and Cheese Hungarian with some pretty legit warm potato salad and sauerkraut any self-respecting German would love.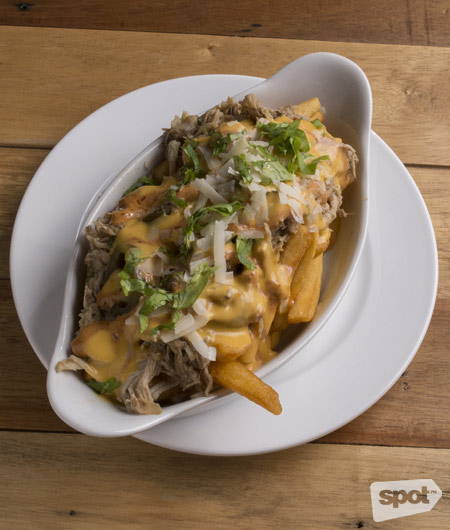 Pulled Chicken Frites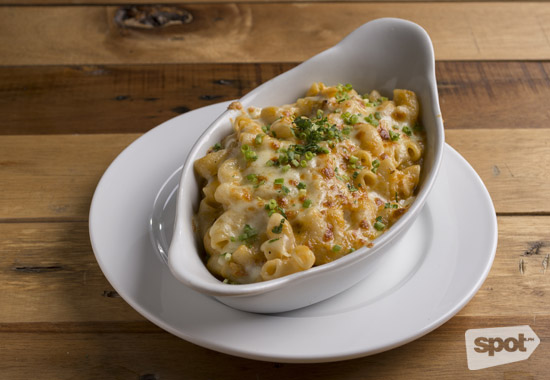 ADVERTISEMENT - CONTINUE READING BELOW
Crab Macaroni and Cheese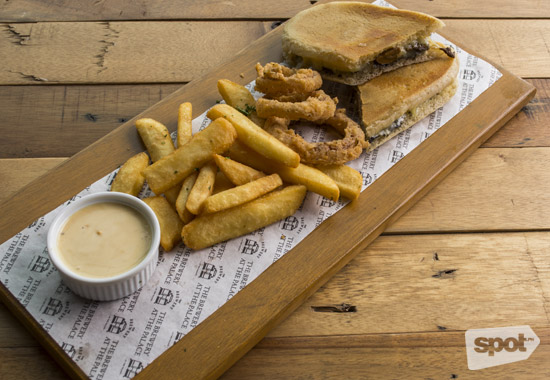 Grilled Cheese and Mushroom
If you must have a burger in this joint—and we suspect it will happen—we recommend the G.O.A.T Burger (P540). No, it doesn't taste like kaldereta. It's G.O.A.T as in Greatest of All Time. It does have the trimmings of the dream burger—melted Gruyere, double-smoked bacon, caramelized onion, foie gras, and a balsamic vinegar gastrique, all atop a Wagyu beef patty. The flavors come together quite nicely. If you're looking for greens in between those buns, the Banh Mi (P330) is a porky yet slightly more fibrous alternative.
ADVERTISEMENT - CONTINUE READING BELOW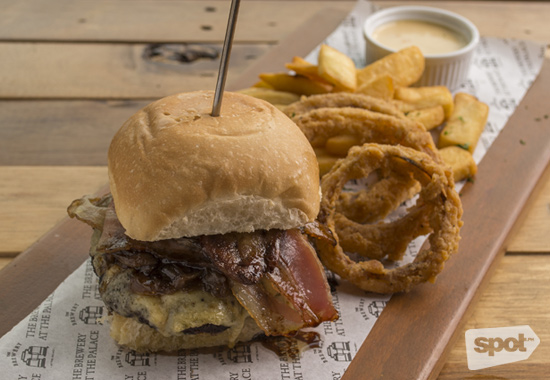 G.O.A.T. Burger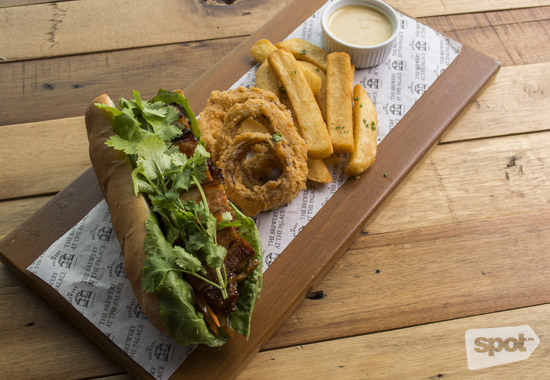 ADVERTISEMENT - CONTINUE READING BELOW
Banh Mi
A bar in Manila is not a bar without sisig, and this being Carlo Miguel's kitchen, it is given the best treatment. After the pig's head is roasted and braised, the skin is broiled until crispy then added to the chopped pork sautéed with all the traditional sisig aromatics. It is then served with a 62-degree egg, garlic fried rice, and calamansi foam to make the Modern Sisilog (P380).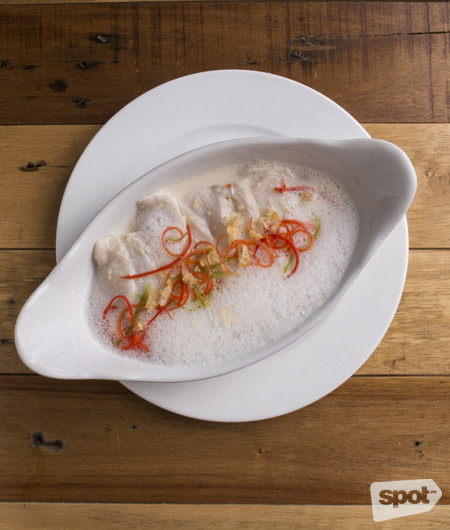 ADVERTISEMENT - CONTINUE READING BELOW
Modern Kilawin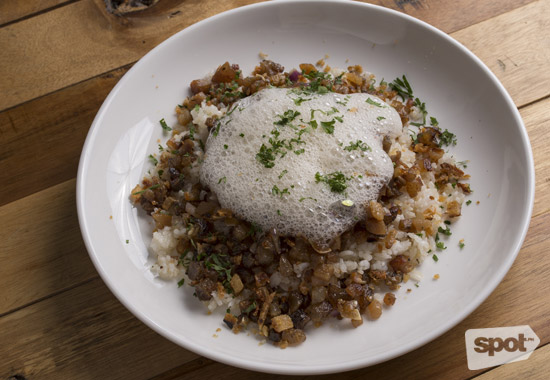 Modern Sisilog
Other steaks need not try so hard to be outstanding. The U.S. Angus Tomahawk (P300/100 grams) is the biggest and baddest of them all. And by bad, we mean good—served simply with some café de paris butter and done a perfect medium-rare. No words.
ADVERTISEMENT - CONTINUE READING BELOW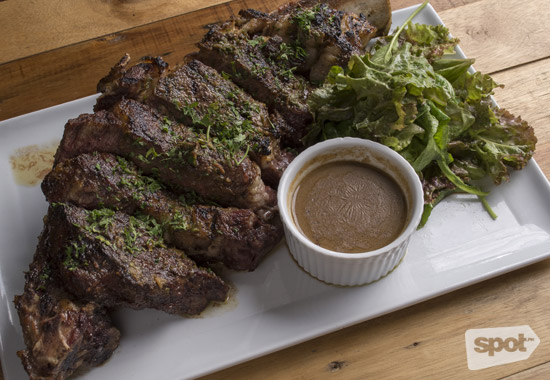 U.S. Angus Tomahawk
Aside from the excellent cheesecake, another possible way to end a meal at The Brewery is with the Skillet Cookie (P280). It is literally a chocolate chip cookie on a skillet, topped with beer caramel and homemade vanilla ice cream. Rich and comforting.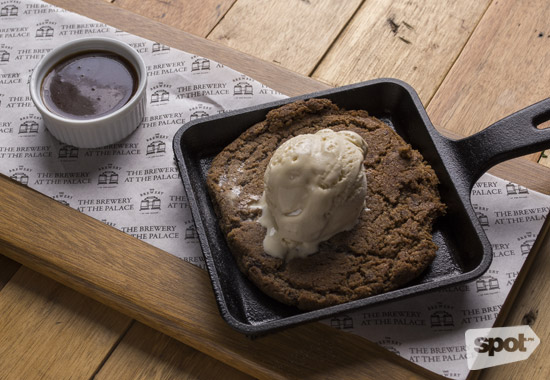 ADVERTISEMENT - CONTINUE READING BELOW
Skillet Cookie
Rock star Rico Blanco is one of the partners of The Brewery and has taken it upon himself to ensure that guests are properly entertained. When the speakers are not emitting some Pearl Jam or INXS, there will be some featured bands performing their originals or some popular covers. Once time, it was Nicole Asencio (formerly of General Luna).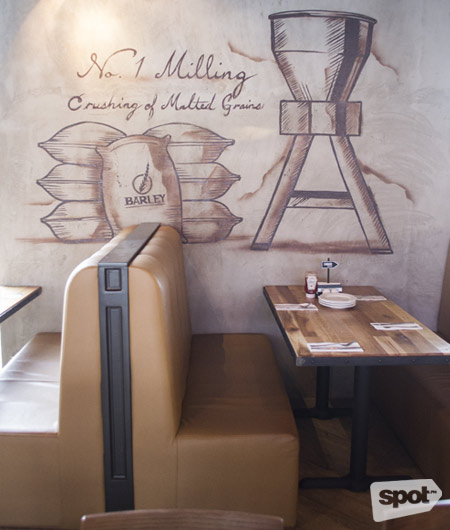 ADVERTISEMENT - CONTINUE READING BELOW
Good times will happen here.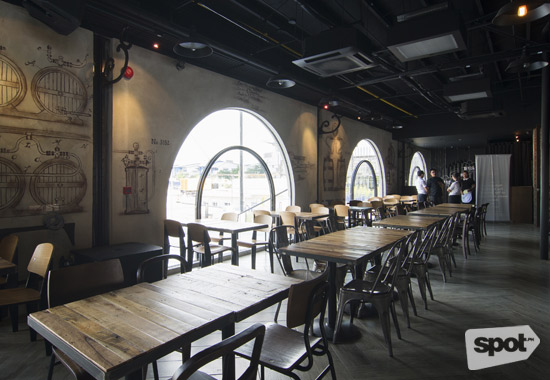 That whole gastropub feel
The freshest beer, a well-conceptualized food menu, and music you can definitely bob your head to—The Brewery has all its bases covered for a rockin' good time. Mitch Malli, operations director, shares that "The Brewery is the perfect mix of a relaxing and kick-up-your-heels kind of night." However, it is also open for lunch daily which is perfect for young professionals looking to grab a hearty meal. Malli promises, "Those who come here, anytime of the day, will not be disappointed."
ADVERTISEMENT - CONTINUE READING BELOW
Photos by Hans Fausto
Load More Stories