New Restaurant Alert: Wishbone at Kapitolyo, Pasig
They have Salted Egg and Srirachamansi Wings!
Wishbone
56B East Capitol Drive, Kapitolyo, Pasig City
Contact: 0916-697-4992
Open from 11 a.m. to 2:30 p.m. and 5:30 p.m. to 10 p.m. (Monday to Thursday) and 11 a.m. to 12 a.m. (Friday to Sunday)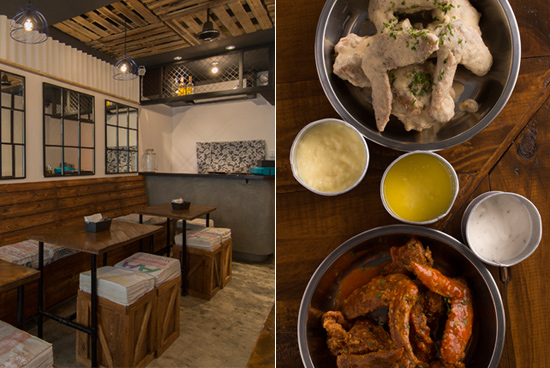 (SPOT.ph) Kapitolyo has become a dining paradise, what with new restaurants popping up almost every month. One of the newest players in the area is Wishbone, which offers wings, burgers, and other American-themed comfort food.
Wishbone is run by Ram Morales and Mandy de Guzman, the couple also behind Pomodoro Pizza, an Italian restaurant nearby. "Wishbone is a product of our love for wings. We like to put up restaurants that serve food that we love to eat," Mandy explains. "(For example), we put up Pomodoro because we love pizza so much."
Aside from their love for wings, Wishbone was also the result of something they noticed within the industry: "What we noticed with wings places is that, apart from the wings, the other items on the menu are not that good. We wanted to put up something where everything is good," Ram says.
ADVERTISEMENT - CONTINUE READING BELOW
"We're not saying that everything here is good, but that's what we're trying to do," Mandy adds.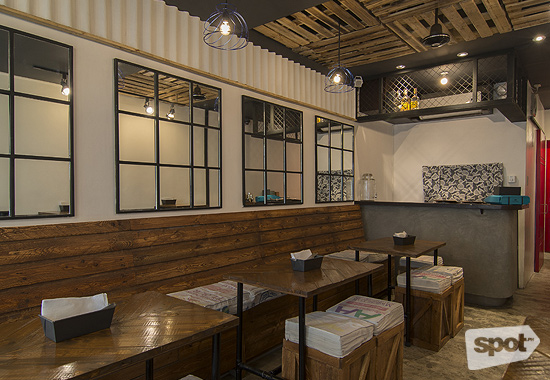 CONTINUE READING BELOW
Recommended Videos
Those crate seats are cute!
Wishbone's menu, while still growing, hopes to read like a what's what of American-inspired comfort food. The couple researched each U.S. state's favorite comforting snack, hoping to showcase all of them in one form or another in the restaurant.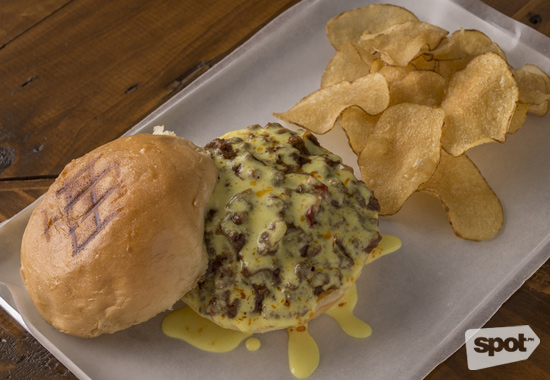 ADVERTISEMENT - CONTINUE READING BELOW
Sloppy Juan
The Sloppy Juan (P139) is the Filipino version of the Sloppy Joe. "The American version of it is a little sweet; this one is a little sweet and salty," explains Mandy. This version does away with the burger, going straight for the chili, slathered in cheese sauce, in between the buns. Like she says, the chili is salty-sweet, and the lack of a burger patty makes the sandwich more Pinoy.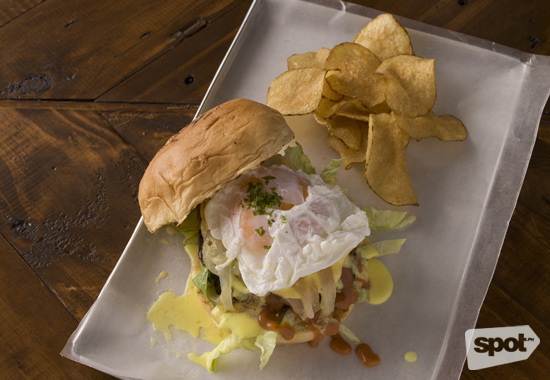 Chori Burger
The Chori Burger (P219) is Wishbone's take on Boracay's famous burger of the same name. "Basically, it's chorizo made into a patty," Mandy says. The patty has a distinct spiciness and meat-sweetness that differentiates it from a regular burger. "We wanted to sell something unique, not just your normal cheeseburger. This is the first thing we came up with," Ram adds. "I can say that this is more refined. People have been raving about this." The fact that almost anything with an egg on it is automatically delicious doesn't hurt.
ADVERTISEMENT - CONTINUE READING BELOW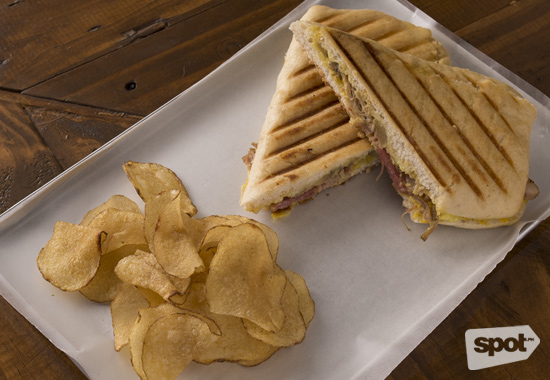 Classic Cubano
The Classic Cubano (P239) is on the menu because of a movie. "We watched the movie Chef, and they had the Cubano, which is why we tried to make one," Mandy says. The pork is slow roasted for four to six hours, resulting in juicy, tender bites.
All of Wishbone's sandwiches are served with homemade potato chips that are made on the spot. "Nothing is pre-cooked," Mandy stresses. Extra chips can be ordered on the side (P30), too.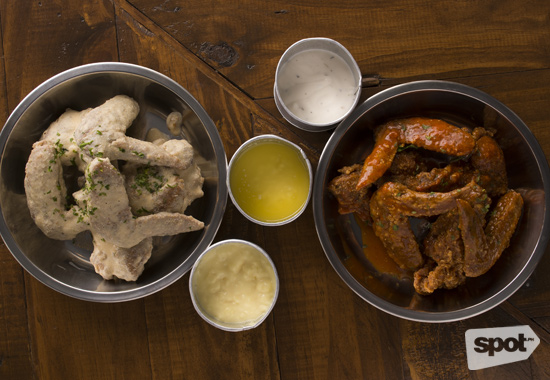 ADVERTISEMENT - CONTINUE READING BELOW
Salted Egg Wings or Srirachamansi Wings?
Wings-wise, the Salted Egg Wings (P199/half dozen) is the crowd favorite. Again, wanting to come up with something unique, the couple experimented with their favorite comfort food flavors. These babies are coated in a salted egg batter, resulting in an interesting disconnect as your taste buds and your brain try to catch up with each other. Customers have been requesting a side of salsa, just to complete the salted egg experience.
The Srirachamansi Wings (P209/half dozen) is great for folks who are looking for something spicy but want to try something other than the usual Buffalo flavor. The Srirachamansi heads straight to the taste buds, a delightful Asian mix of Vietnamese-style hot sauce and Pinoy calamansi.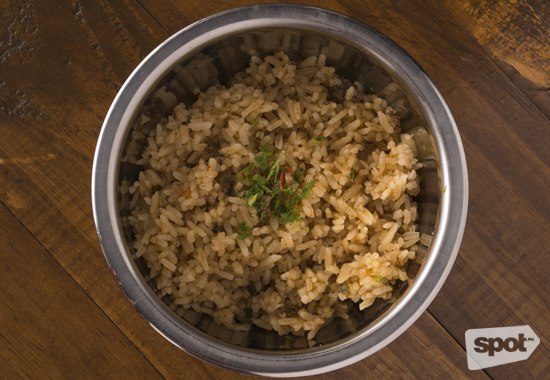 Dirty Rice
The Dirty Rice (P55), a New Orleans staple, is made as close to the original recipe as possible, with chicken liver used to give the rice its characteristic "dirtiness." The rice is delicious, with just enough umami so that it can be eaten on its own, or used to boost the flavors of an accompanying dish, be it a plate of wings, or the chili from the Sloppy Juan.
ADVERTISEMENT - CONTINUE READING BELOW
Wishbone has more interesting dishes in the works—Mandy mentions aligue and chipotle wings, as well as homemade s'mores, and homemade Kool Aid.
The mission? "We're trying to bring back childhood memories," explains Mandy.
Photos by Hans Fausto
Share this story with your friends!
---
Help us make Spot.ph better!
Take the short survey
Load More Stories