Top 10 Waffles in Manila (2015 Edition)
Best doused with looots of syrup!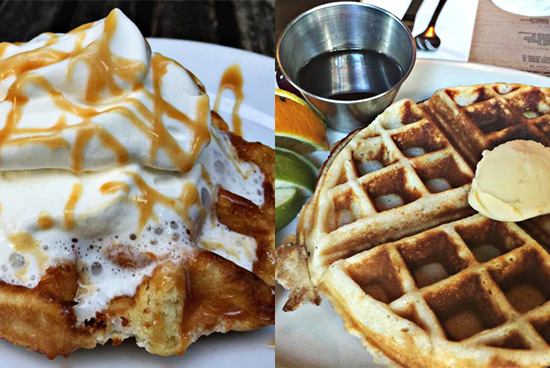 (SPOT.ph) If you don't own a waffle maker (or even if you do), chances are, you only ever eat this breakfast dish in restaurants. Besides, it's actually pretty tricky to master the art of creating the texture of toasted-on-the-outside-but-fluffy-on-the-inside. One thing's for sure: We like them golden, crunchy, fluffy, and with loooots of syrup. These are the top 10 that did not disappoint.
All SPOT.ph Top 10 lists are researched, paid for, tested, and selected by the writers and editors. They are discreetly conducted without any notice made to the restaurants or their owners.
Also read:
12 Breakfast Places to Start Your Day Right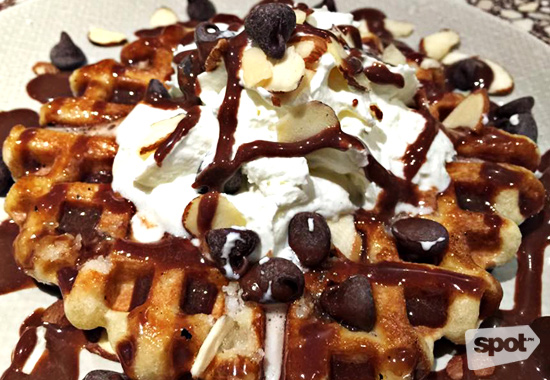 ADVERTISEMENT - CONTINUE READING BELOW
10. Nutella Waffle (P180) from Duck & Buvette
It has Nutella in the name. What's not to love? This sweet treat looks like a party on a plate—a thin waffle bed topped with whipped cream, chocolate chips, and of course, zigzags of glorious Nutella. If you're a sweet tooth, just the sight of it will make you fall in love, while a chunky bite with all the elements will send your taste buds to waffle heaven.
Duck & Buvette is at G/F Shangri-La Plaza, Mandaluyong City. Read more about Duck & Buvette.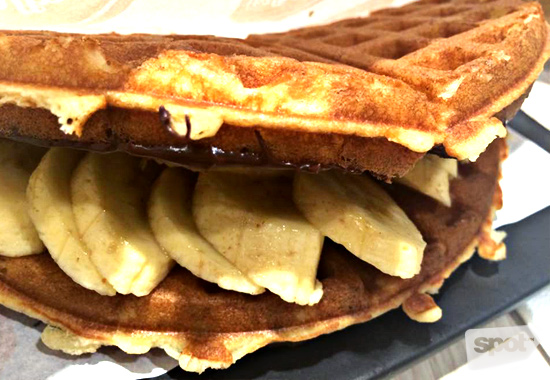 CONTINUE READING BELOW
Recommended Videos
9. Chunky Monkey Waffle (P115) from Waffos 

There's no need for a fork and knife here—the waffles, smeared with cocoa spread, envelop slices of banana. It's crisp and firm enough, making it effortless to hold. Give it a big bite and you'll see that the toasted grids hide a fluffiness that's buttery enough to balance all the flavors.
ADVERTISEMENT - CONTINUE READING BELOW
Waffos is at 5/F SM Megamall, Mega Fashion Hall, Mandaluyong City.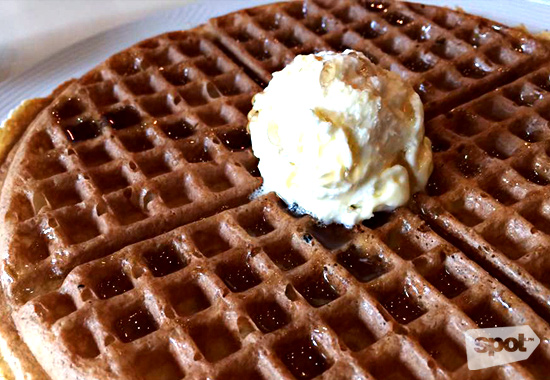 8. Golden Brown Waffle (P188) from Pancake House
The Golden Brown Waffle from Pancake House cannot be absent in this list—it's a classic, and it's probably got a cult following. We find ourselves falling in love again and again with its simplicity—a generous serving of a crisp, golden waffle topped with a scoop of whipped butter. The size won't intimidate you because you can already tell that underneath the golden grid is a light and airy treat, which is best doused with lots of syrup (in our opinion, anyway).
Click here for a list of Pancake House branches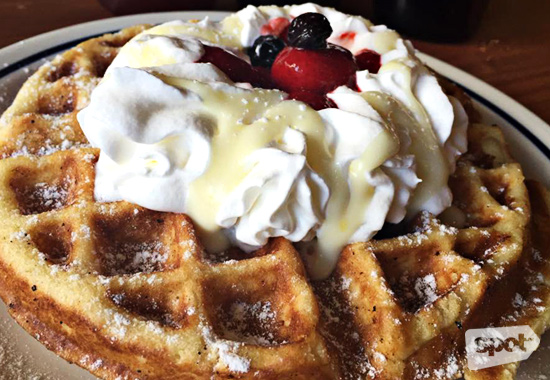 ADVERTISEMENT - CONTINUE READING BELOW
7. Berries and Cream Belgian Waffle (P325) from IHOP
It may not look like it, but these waffles scream "fluffy" in loud volumes. The waffle is toasted in the right places, and one bite gives an explosion of fluffiness (with a touch of saltiness). Berries rest on a bed of whipped cream that's drizzled with condensed milk and sprinkled with powdered sugar. If you're a fan of fluff, this is your best bet. 
Click here for a list of IHOP branches. Read more about IHOP.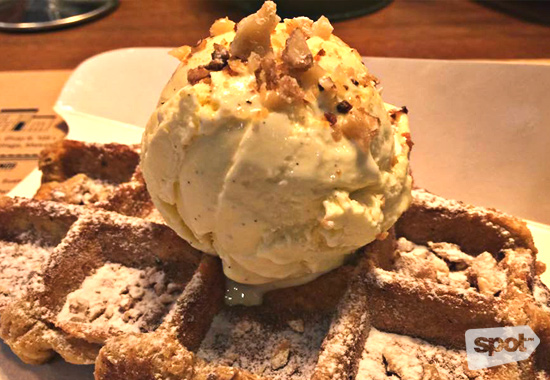 6. Vanilla Ice Cream and Candied Walnut Belgian Waffle (P325) from Toby's Estate 
If you're into muted textures and flavors—or something new, then Toby's waffle is worth a try. It gives a subtle crunch in every bite, but prepare for a mess because the rye-flour based beauty has the tendency to crumble. The warm waffle is topped with a hefty scoop of vanilla ice cream that blends all the rich flavors perfectly.
ADVERTISEMENT - CONTINUE READING BELOW
Click here for a list of Toby's Estate branches. Read more about Toby's Estate.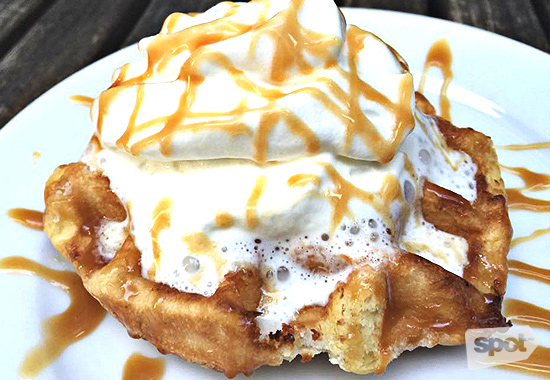 5. Caramel Belgian Waffle (P85) from Starbucks
If you're looking for something to sate your sweet tooth, you can count on Starbucks' Caramel Belgian Waffle. It may be small in serving (about the size of a hand!) but it packs a lot of flavor. The waffle is drizzled with sugar, topped with whipped cream and swirls of caramel syrup. Though there's a lot of sweetness going on, the fluffy waffle is buttery enough to balance out the flavors. We're obsessed with the subtle crunch it's got going on, thanks to the sugar glaze!
Click here for a list of Starbucks branches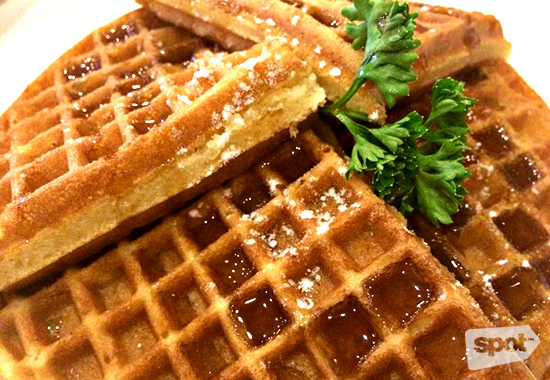 ADVERTISEMENT - CONTINUE READING BELOW
4. Plain Waffle (P229) from UCC
This one is as fluffy as waffles can get, but not because it's full of air. Imagine a super stuffed pancake but with grids that catch the sweet (but not cloying!) maple syrup. Every bite is a sweet, fluffy treat for your taste buds. We like our waffles no-frills.
UCC is at Tomas Morato Plaza, 101 Tomas Morato Avenue corner Roces Avenue, Sacred Heart, Quezon City.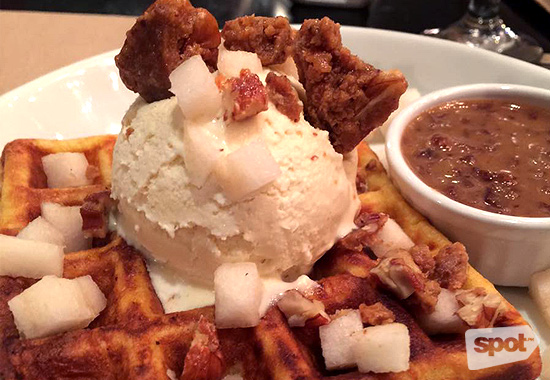 3. Praline Pecan Waffles (P280) from Borough
It's crunchy on the outside and spongey on the inside, but it's not your regular waffle—it's a pumpkin waffle topped with premium praline pecan ice cream, drizzled with pear bits (which add an extra, juicy crunch!), sprinkled with candied pecan that add just a hint of saltiness, and served with praline pecan syrup (which goes so well with the ice cream, btw). Every forkful is as rich as it sounds, and you'll find yourself licking the plate clean.
ADVERTISEMENT - CONTINUE READING BELOW
Borough is at G/F The Podium, 18 ADB Avenue, Ortigas Center, Mandaluyong City.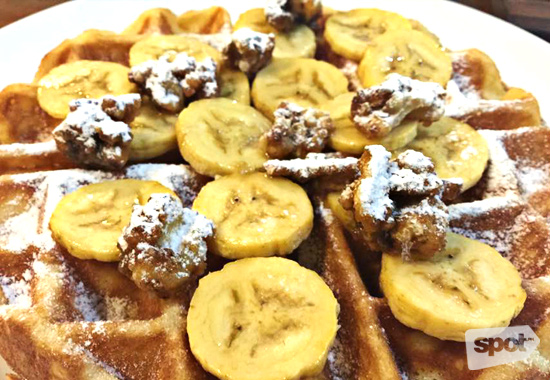 2. Belgian Waffle (P340) from Wildflour
2013's number one drops a spot on this list, but that doesn't mean it doesn't deliver the same glorious flavor. The toasted waffle is topped with banana slices, drizzled with candied walnuts, and sprinkled with powdered sugar. Underneath the crunch is a soft, buttery delight that melds all the flavors really well. Douse each forkful with the Vermont maple syrup, and you'll find that each bite brings you closer to your waffle dreams.
Wildflour has branches at Salcedo Village, Bonifacio Global City, and Podium. Read more about Wildflour.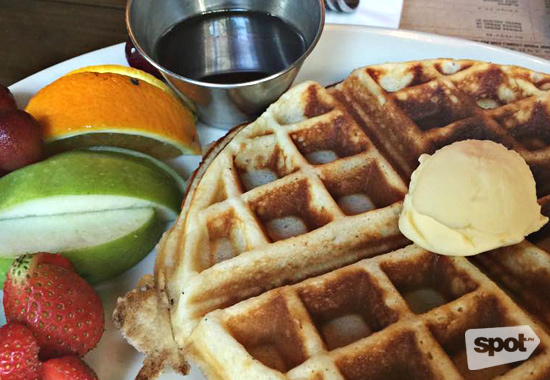 ADVERTISEMENT - CONTINUE READING BELOW
1. Buttermilk Waffles (P320) from The Bowery
It's tricky to perfect the waffle formula, but Bowery was able to pull it off. Sink your fork into the bed and you'll hear a glorious crunch and feel a softness that reminds you of the comforts of home. Chef Cuit Kaufman is a pastry chef, and he knows his sweet stuff well. The waffle is topped with a small scoop of butter and served with fruits on the side. The grids are deep on this one—perfect for filling each square with maple syrup—just the way waffles should be eaten. It's really simple, but it's golden.
The Bowery is at Forbeswood Heights, Burgos Circle, Bonifacio Global City, Taguig City. Read more about The Bowery.
Share this story with your friends!
---
Help us make Spot.ph better!
Take the short survey
Load More Stories