Ruby Jack's Steakhouse and Bar
UG/F City of Dreams Manila, Aseana Avenue, Parañaque City
Contact: 801-8888
Open daily from 11 a.m. to 2 a.m.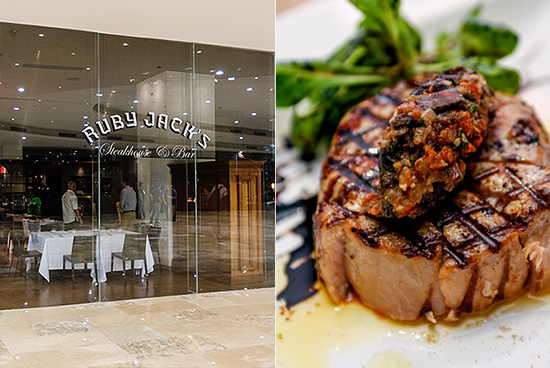 (SPOT.ph) Manila is always on the lookout for a great steak place, and at City of Dreams, Ruby Jack's is more than happy to answer that call. The restaurant is the second branch in the world, the original one established in Tokyo.
The interiors are classic, but with a modern edge; as if the restaurant has been around since the 1900s. It is exactly this era that the name hopes to evoke. "The name Ruby Jack's come from my grandparents' names because they were born in the 1900s, and that brings you back to the vintage side of things," Managing Director and Tokyo partner Matthew Crabbe says. "[The interiors of the Manila restaurant] are basically copied from Tokyo."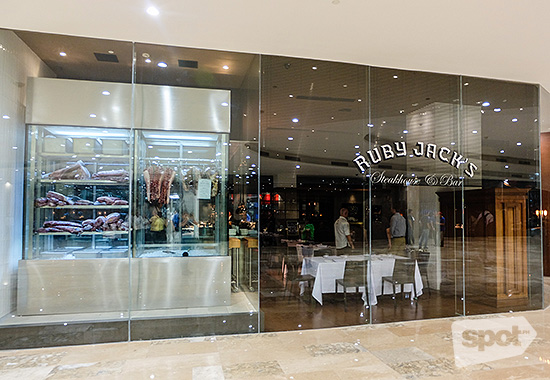 ADVERTISEMENT - CONTINUE READING BELOW
Chilled, not frozen
Ruby Jack's is named after Mr. Crabbe's paternal grandmother and maternal grandfather, both from Sydney, Australia. "Jack was a first-grade rugby union player. He was awarded the Victoria Cross in World War II (the highest military decoration awarded to members of the Australia Armed Forces for valor in the face of the enemy). He was a real man's man. Ruby was a naughty little thing. She ran away from home for six months at 13. She was the youngest of 15 brothers and sisters. She was the only one I got to meet, actually. She was a beautiful person."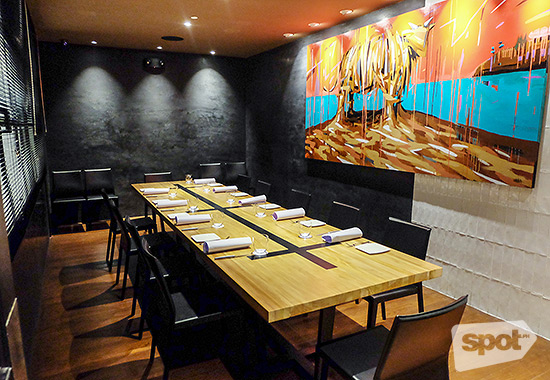 One of the more private areas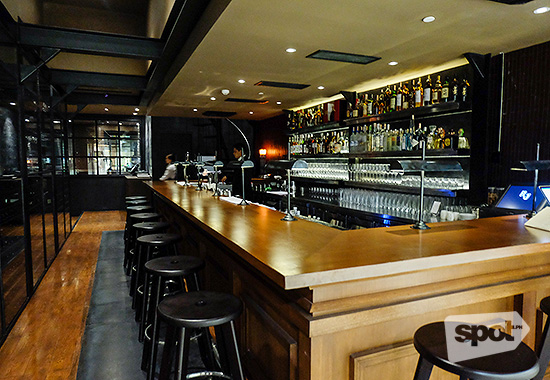 CONTINUE READING BELOW
Recommended Videos
Bar
Needless to say, Mr. Crabbe and fellow Managing Director and Tokyo partner Edward Baffoe are very proud of Ruby Jack's exacting standards of quality. "At Ruby Jack's, we only use chilled meat, not frozen," Crabbe says, adding that they get their meat from Japan, Australia, and the U.S. You can see some of them hanging in the chilled room, whose window forms part of the restaurant front. "We use the A5 OHMI Wagyu, which is consistently the top in the Wagyu competitions in Japan," Mr. Crabbe says. They also use John Dee beef from Australia, the same beef they use in Tokyo, "because the quality is very high and very consistent."
Their U.S. beef is from a company in Seattle called McDonald's Meats. "It's got nothing to do with the hamburger chain. They're very famous for selecting different meats…they pick and choose what they sell. That's why I prefer to use something like that, because they can select from a whole variety of different cattle," Mr. Crabbe says. "We get the primal cuts and we cut them ourselves, the reason being if someone's cutting the meat for you and packaging it, it's not as fresh as it could be and if you're a professional, you should be able to portion your own meat."
"When it comes to the drinks, we are very meticulous about the ingredients we use. It always has to be fresh. If it needs to be two ice cubes, it needs to be two ice cubes," Baffoe says. "Almost all the fresh cocktails we have here uses local products. We're very particular about that. It's the same when it comes to the wine."
ADVERTISEMENT - CONTINUE READING BELOW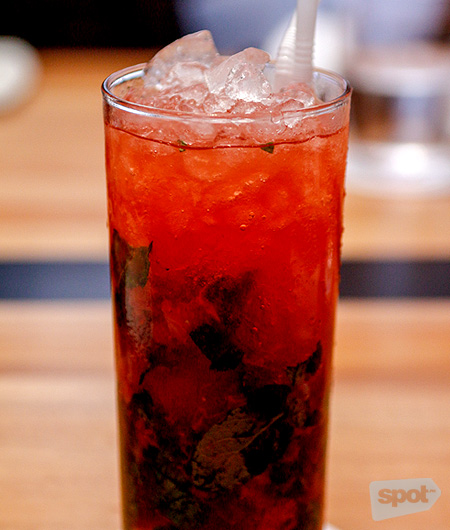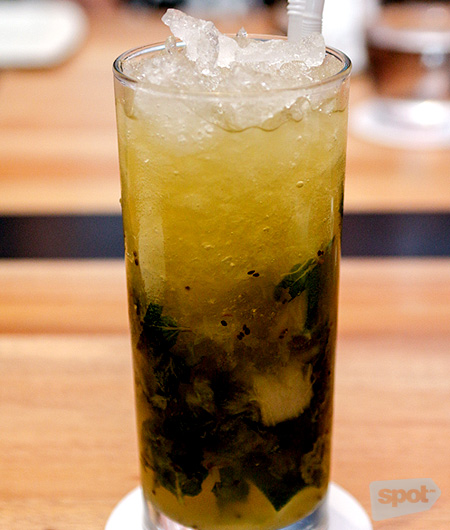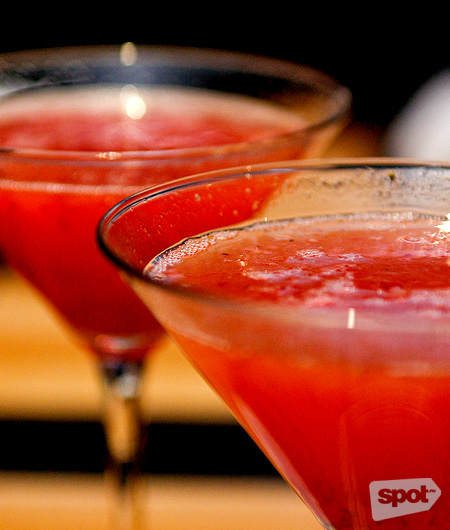 ADVERTISEMENT - CONTINUE READING BELOW
A bevy of quality, local cocktails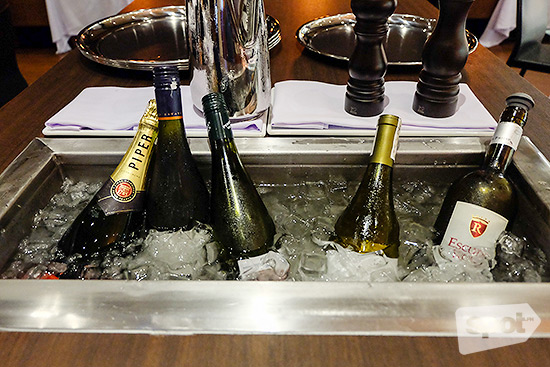 Just a few from the wine selection
Aside from a selection of house reds, whites, and champagne, Ruby Jack's boasts a wine room and attic where guests can choose their desired bottles themselves. The selection is vast, and includes Japanese whiskies, cognacs ("We are the only place in Manila with a good cognac," Baffoe says), and wines that are hard to find in Asia.
The menu contains updated steakhouse classics, as well as simple, straightforward yet decadent dishes you didn't know you had to have in your life.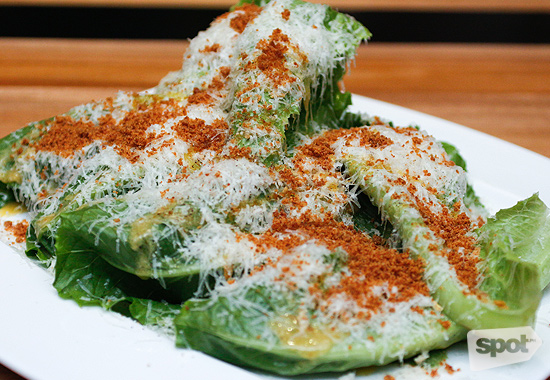 ADVERTISEMENT - CONTINUE READING BELOW
Ruby's Caesar Salad
The Ruby's Caesar Salad (P550), crisp romaine lettuce practically dripping with parmesan cheese, is tossed in Mr. Crabbe's own homemade dressing and finished off with bacon dust.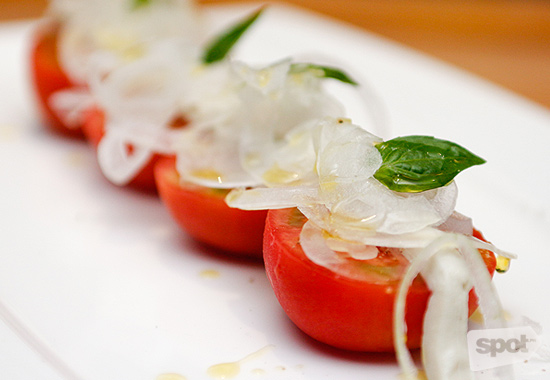 Boutique Tomatoes
The Boutique Tomatoes (P650), served with shaved red onion and Gorgonzola, is popular in Japan but has yet to gain traction in Manila is a simple dish that is delightful on the tongue. "Tomatoes are not fruit tomatoes, they are called sugar tomatoes. Amela tomatoes. They have the sugar content that's seven times of strawberries. They're really sweet, best in the world, as far as I'm concerned," Mr. Crabbe says.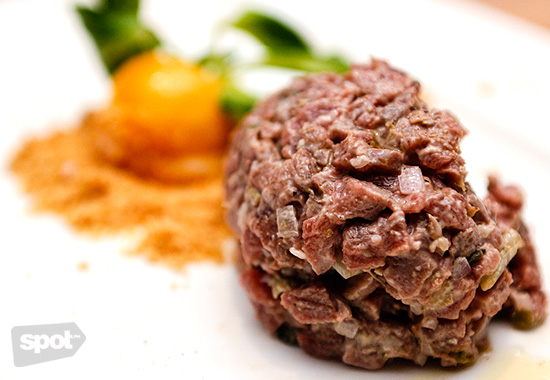 ADVERTISEMENT - CONTINUE READING BELOW
Wagyu Steak Tartare
The Wagyu Steak Tartare (650), served beside a bed of parmesan crumbs on which rests a single organic egg yolk, goes down smooth, and begs to be paired with fine alcohol.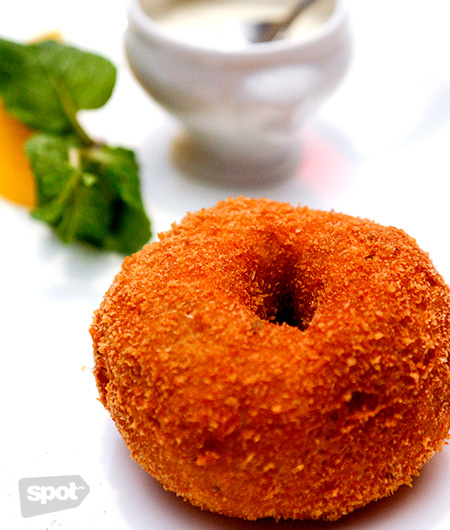 Crabbe Cake Donut
The Crabbe Cake Donut (P650), served with jalapeño tartare, is Mr. Crabbe's own invention. "The crab cakes have many different ingredients but you can't tell them apart and they just work," he says. It's the kind of dish that will be enjoyed by anyone regardless of age, the crust warm and crisp, the inside hot and flavorful, the pudgy donut shape a visual treat, lending a cheeky, playful air to an otherwise grown-up establishment.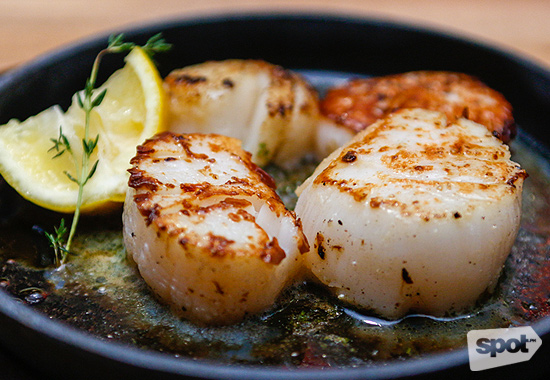 ADVERTISEMENT - CONTINUE READING BELOW
Sizzling Scallops
The Sizzling Scallops (P800), seared on a teppan grill and served with black garlic butter and lemon, are a sight to behold. They are pretty impressive; plump and juicy, with just a hint of smoky flavor.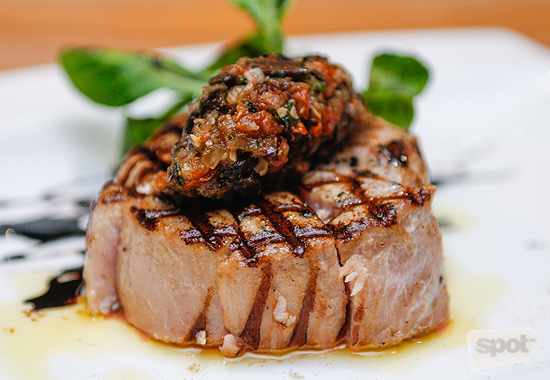 Char Grilled Yellowfin Tuna
The Char Grilled Yellowfin Tuna (P1,100) is simplicity at its finest. "The tuna is local. We leave it outside to get to room temperature and we simply sear it and serve it with a tapenade made with sundried tomatoes and olives and balsamic," Mr. Crabbe explains.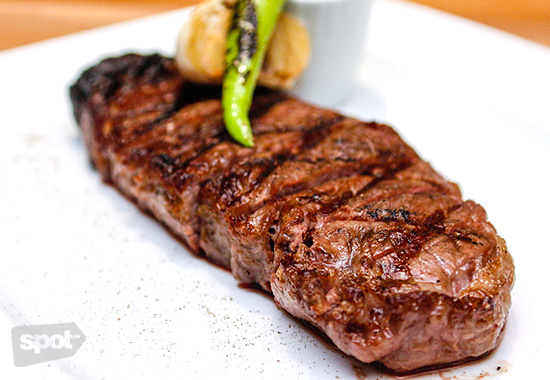 ADVERTISEMENT - CONTINUE READING BELOW
Striploin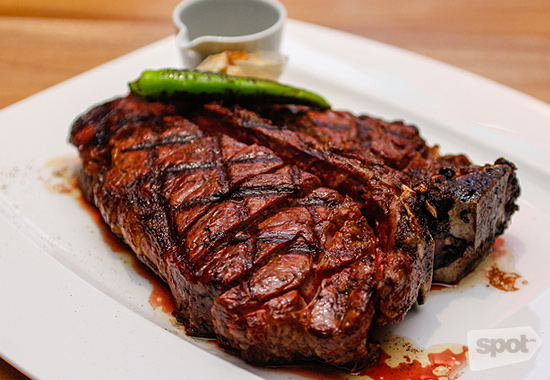 T-Bone
Ruby Jack's being a steak restaurant, it's only natural that their meat selection is extensive and impressive, and does not only apply to beef. But since they are a steak restaurant, beef is what shall be focused on. The T-Bone (P2,800/250 grams) from John Dee is 160 days grain-fed, which Mr. Crabbe says is very unusual, but results in more flavor and marbling. The T-Bone is massive, meant to to be shared…or not. The New York Cut Striploin (P4,000/400 grams) is easier to manage, a slim, if substantial cut of meat made famous in the city it is named after. If you have the budget for it, the Japanese Ohmi A5 Wagyu Striploin (P6,500/300 grams) is a favorite. "It's one of the best you can get in Australia, 300 days grain fed," Mr. Crabbe says, his tone hushed, almost reverential. "It's beautiful."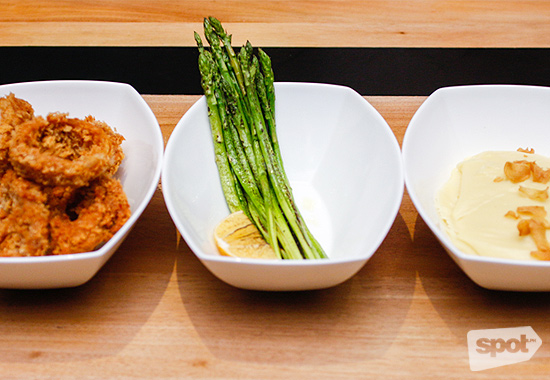 ADVERTISEMENT - CONTINUE READING BELOW
Sides
And even though steak is clearly the star of the show, it seems incomplete without one or two side dishes to amp up its already considerable star factor. The Spicy Onion Rings (P250) are crisp and thickly battered, the onion's natural sweetness cutting through the breadcrumbs. The Mashed Potato (P250), topped with garlic chips, is velvety on the tongue and sits well in the belly. It's the kind of dish that tells you to pat yourself on the back because you've had a good day. Its healthier counterpart is the Torched Asparagus and Lemon (P500), beautifully blackened asparagus subtly flavored with the tang of fresh lemon. And since this is the Philippines, the menu also features Steak Rice (P350), rice fried with bits of steak, for families with kids who need heavy-duty carbs. The rice isn't just for show. It's flavorful enough to be a meal all its own.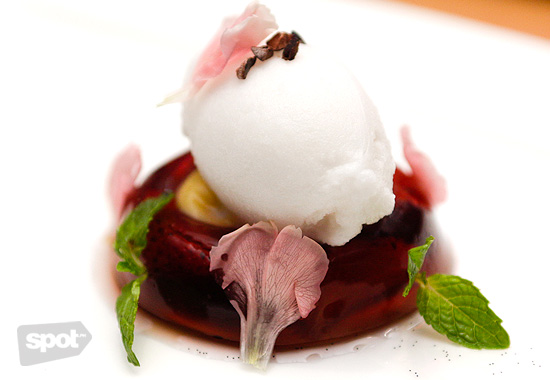 ADVERTISEMENT - CONTINUE READING BELOW
Strawberry Pomegranate Agar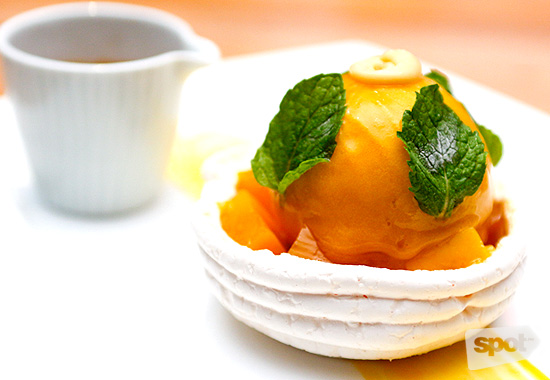 Mango Cajeta Pavlova
Ruby Jack's may call itself a bar and steakhouse, but its desserts deserve special mention. The Strawberry Pomegranate Agar (P400) isn't just your typical jelly. Firm and fruity, topped with coconut lychee sorbet and passion fruit cream, this dessert offers just the hint of sweet. If you're looking for something light to cap a substantial meal, this is for you. The Mango Cajeta Pavlova (P400) is similarly light; a dessert whose textures and flavors—sweet and creamy—contrasts beautifully with the lightness of the meringue that holds everything together.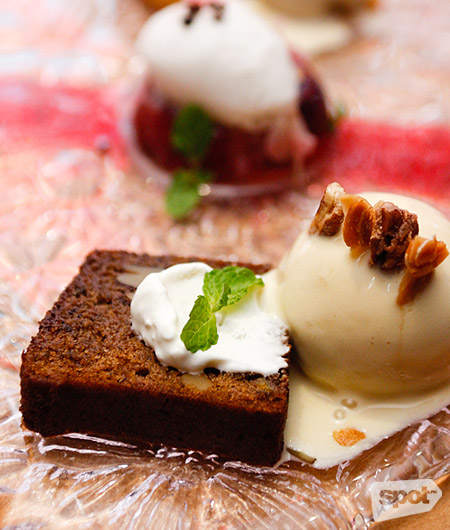 ADVERTISEMENT - CONTINUE READING BELOW
Banana Cake
The Banana Cake (P400), served with maple ice cream, caramelized pecan nuts, and banana-mascarpone, is heavy. It goes very well with coffee, and is perfect for teatime, as are the Assorted Handmade Chocolates (P400), which are filled with delightful yet unusual flavors like raspberry jelly.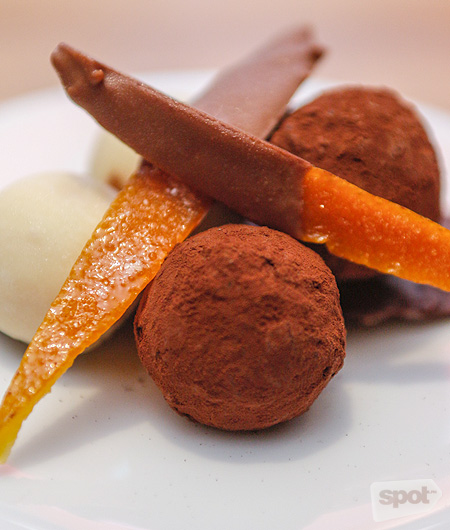 Handmade Chocolates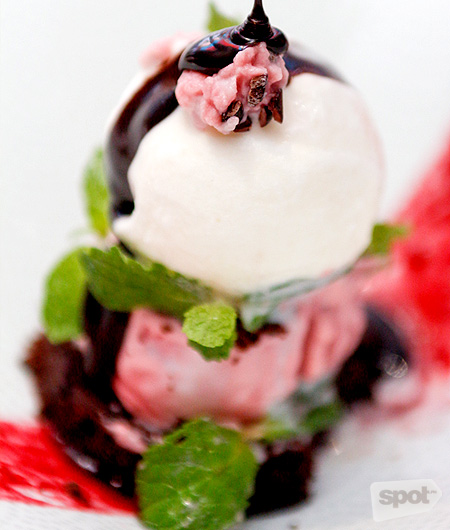 ADVERTISEMENT - CONTINUE READING BELOW
Cookies and Cherry Ice Cream Indulgence
The Cookies and Cherry Ice Cream Indulgence (P400) harkens back to the ice cream parlors of yore, the scoops of cherry ice cream and milk sorbet drizzled with chocolate fudge an update on a favorite that's all but disappeared in today's dessert menus.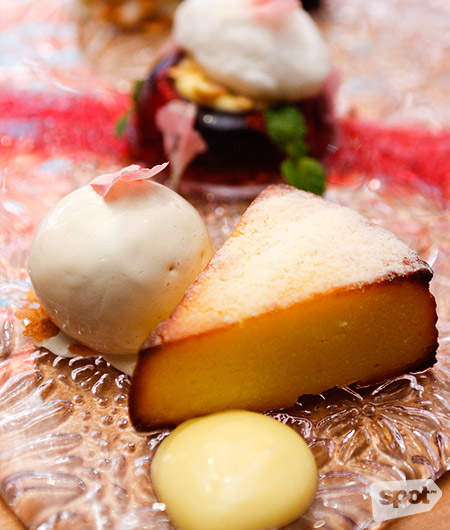 Baked Cheesecake
If you take away just one thing from this article, let it be this: Try the cheesecake. The Baked Cheesecake (P400) takes 15 minutes to prepare because it is baked to order. The cake itself is tiny, a sliver of a thing no bigger than a wedge of cheese. It is served with a dollop of dayap curd and a scoop of Earl Grey ice cream on the side. But it is worth the wait, and worth what you pay for. The cheesecake feels and tastes like an amalgam of a Japanese cheesecake and a regular baked one, light but heavy, subtle but deep, a paradox on a plate. The curd is delightfully tart, and the ice cream is fragrant, with a flavor that dances on the taste buds. It's like getting three different desserts on one plate.
ADVERTISEMENT - CONTINUE READING BELOW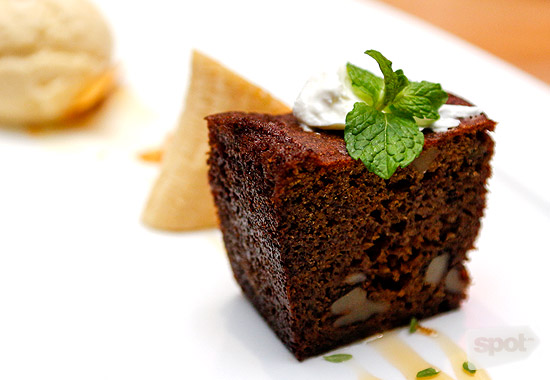 Smaller tasting-sized banana cake from the Dessert Plate for Two
Or if you can't pick, the Dessert Plate for Two (P750) has everything you need—banana cake, jelly, and cheesecake—to end a meal spectacularly. It's big enough to share, of course, but with desserts this good, why bother?
Ruby Jack's also offers lunch and brunch (complete with eggs and bubbly), and has a cigar room, should you wish to partake of some tobacco.
A steak room that knows its stuff is always a cause for celebration. Ruby Jack's is serious about its meat. It's also a little bit of Tokyo, right in the heart of Manila. Mr. Crabbe and Mr. Baffoe's grandparents would be proud.
Photos by Jericho San Miguel
Share this story with your friends!
---
Help us make Spot.ph better!
Take the short survey
Load More Stories