Top 10 Beef Lasagnas (2015 Edition)
A rich meaty sauce and gooey cheese in between al dente pasta sheets? It's both homey and heavenly.
(SPOT.ph) Who doesn't love a good lasagna? Few things are more comforting than layers of pasta, meat sauce, and generous amounts of cheese. Chances are, you know someone who makes a really good lasagna, and you find yourself begging them to bring a tray to the next family lunch or barkada potluck. Beg no more, because we took the liberty of carbo-loading to find the best places to order this rustic dish for yourself or a whole party, from the cafeteria-style lasagna of your childhood to the sizzling, fresh-off-the-oven kind.
All SPOT.ph Top 10 lists are researched, paid for, tested, and selected by the writers and editors. They are discreetly conducted without any notice made to the restaurants or their owners.
Also read: Top 10 Lasagnas (2012 Edition)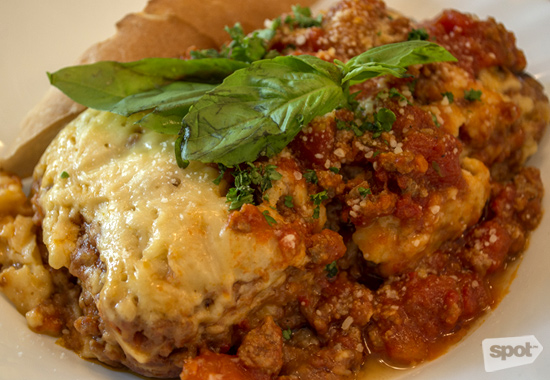 ADVERTISEMENT - CONTINUE READING BELOW
10. Benassi's Beef Lasagna (P410)
Benassi's Beef Lasagna is a carnivore's dream come true. The layers of pasta, béchamel sauce, and cheese serve as sturdy foundations for the generous mound of meat and tomato sauce that is poured on top of them. The Italian herbs provide dimension to each mouthwatering bite, so make sure you bring a huge appetite when you order this dish.
Benassi Ristorante is at G/F The Exchange Regency Residence Hotel, Exchange Road corner Jade Street, Ortigas Center, Pasig City. Read more about Benassi.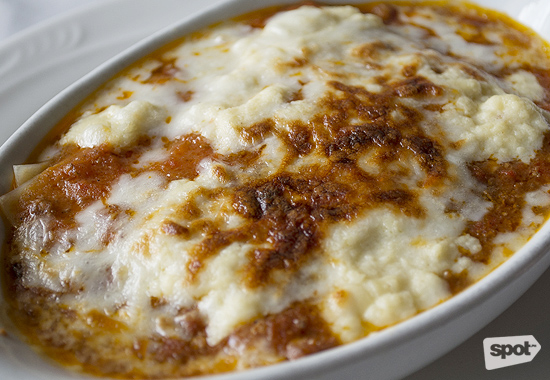 ADVERTISEMENT - CONTINUE READING BELOW
9. Bellini's Lasagna (P300)
This gem of an Italian restaurant has held its place in the changing landscape of Cubao Expo in Araneta Center for years. They are known for using fresh ingredients and making their own pasta. The noodles in their lasagna are delicately layered, not too structured, and almost swimming in the sauce. This homey presentation suggests that each dish is prepared just as it is ordered, and the kitchen takes its time sending it to the table. It is worth the wait though, with flavors so subtle that make you want to take one bite after the other, probably while chomping on their complimentary breadsticks in between.
Bellini is at Stanford, Cubao Expo, Quezon City.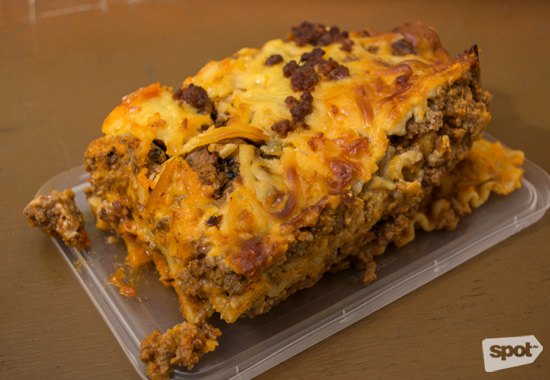 ADVERTISEMENT - CONTINUE READING BELOW
8. La Cuisine Francaise's Meat Lasagna (P350)
We're not about to overlook the lasagnas in weekend markets. Those who like their lasagna on the dry side, as opposed to saucy, will really enjoy digging their forks into this Saturday habit. It is hearty, savory, and filled with meat, and one slice, depending on one's appetite, is heavy enough to share. Make sure to come early because this crowd favorite is one of the first things to go from the weekly spread.
La Cuisine Francaise is available at the Salcedo Saturday Market from 6:30 a.m. to 2:30 p.m.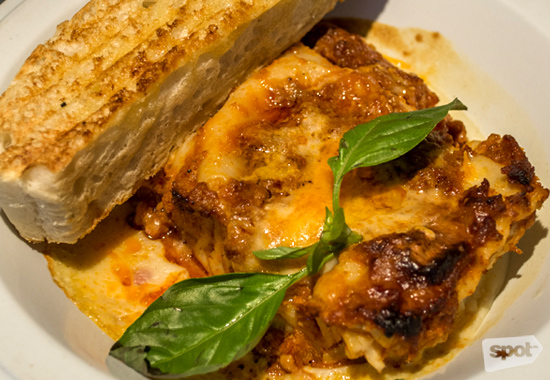 ADVERTISEMENT - CONTINUE READING BELOW
7. CIBO's Lasagna Classico (P320)
We didn't even miss lasagna on CIBO's menu before they added it in 2014, but we are delighted that they did. In true CIBO fashion, the Lasagna Classico is satisfying without being too fancy or overwhelmingly rich, and highlights the use of good ingredients. The sauce is on the runny side, though we don't mind using a spoon to slurp up all of that cheesy goodness. This dish is another hit on the long list of pasta favorites at this well-loved chain.
Click here for a list of CIBO branches. Read more about CIBO.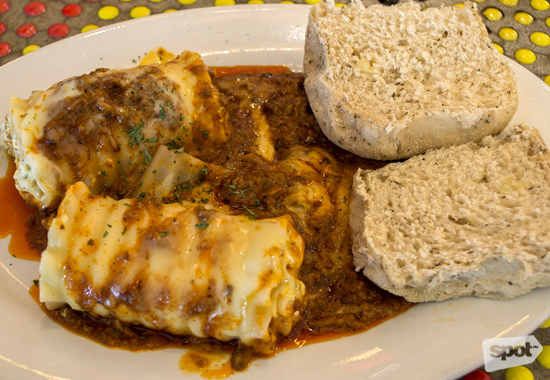 ADVERTISEMENT - CONTINUE READING BELOW
6. Banapple's Lasagna Roll Ups (P210)
The Lasagna Roll Ups are filled with herbed cream cheese and Parmesan, ensuring creamy goodness in every bite. They lie in a meaty pool, which gives you the freedom to adjust how much of the sauce you want with each bite. The pasta is cooked al dente to make nice rolls, so there is hardly a chance of this lasagna getting soggy and overcooked. It's genius, really, and it also tastes good. This is something that kids will enjoy as much as the adults do.
Click here for a list of Banapple branches. Read more about Banapple.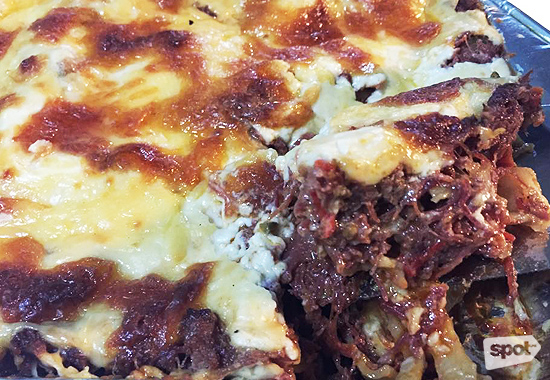 ADVERTISEMENT - CONTINUE READING BELOW
5. Ladera's Caldereta Lasagna (P1,ooo to P1,900)
Ladera Culinary Services is run by the same group that makes Delimondo Corned Beef. Instead of the usual ground beef, their Caldereta Lasagna uses corned beef, simmered in a rich caldereta sauce, as the star ingredient of the dish. It is so decadent that you hardly notice the sheets of noodles, and you almost want to reach for that bowl of rice (okay we have to admit it's been done). Think of your favorite breakfast protein in a cheesy pasta dish. It makes for the perfect brunch fare...or dinner...or midnight snack. Heck, stock some in your fridge for, you know, emergencies.
Ladera Culinary Services is at Jaka Center Building, Exportbank corner Chino Roces Avenue, Makati City. To order, contact Ladera at 887-5168. Order a day in advance.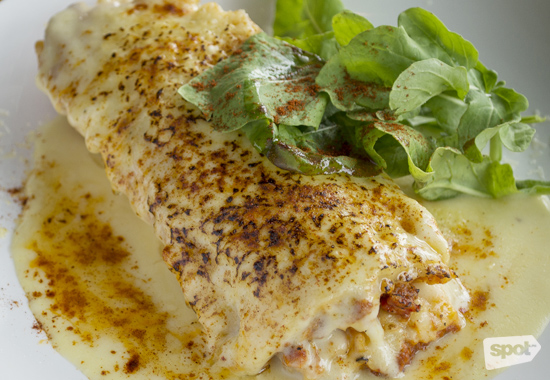 ADVERTISEMENT - CONTINUE READING BELOW
4. Tipple & Slaw's The Chorizo Lasagna (P480)
It's a simple enough concept, but people are still surprised when they learn that Tipply & Slaw serves lasagna. The thought of chorizo in lasagna alone is enough to make our mouths water, and the idea is executed beautifully, with a silky fennel béchamel sauce and mozzarella cheese. It is served with arugula on the side, which is a perfect contrast to the richness of the dish. Now you know why arugula on pizza is great. When you find yourself in the BGC area, it is worth stopping by Tipple & Slaw for this indulgent treat.
Tipple & Slaw is at 2/F Forum South Global, 7th Avenue corner Federacion Drive, Bonifacio Global City. Read more about Tipple & Slaw.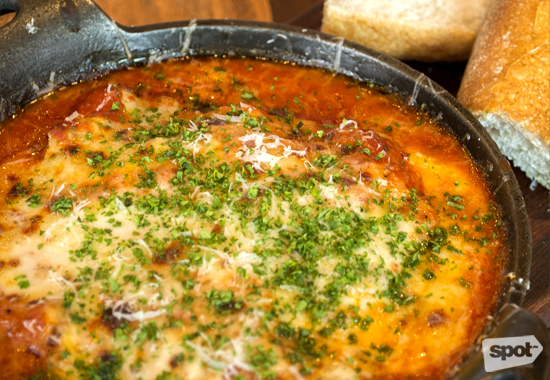 ADVERTISEMENT - CONTINUE READING BELOW
3. Wildflour's Lasagna Bolognese (P350)
Wildflour is just one of those restaurants that makes you want to check out what the people at the next table ordered. That's how we chanced upon their Lasagna Bolognese, and we haven't looked back since. The ground beef, pork sausages, Mornay sauce, and mozzarella cheese make the dish hearty, while the light and tangy tomato sauce complements. It is served on a hot skillet, the perfect vessel for scooping up the leftover sauce with their freshly made baguette. That's when the complimentary bread comes in handy, and if you eat like we do, there is no shame in asking for more.
Wildflour has branches at 4th Avenue corner 26th Street, Bonifacio Global City; The Podium, Mandaluyong City; Rada Street, Legazpi Village, Makati City; and L.P. Leviste Street, Salcedo Village, Makati City. Read more about Wildflour.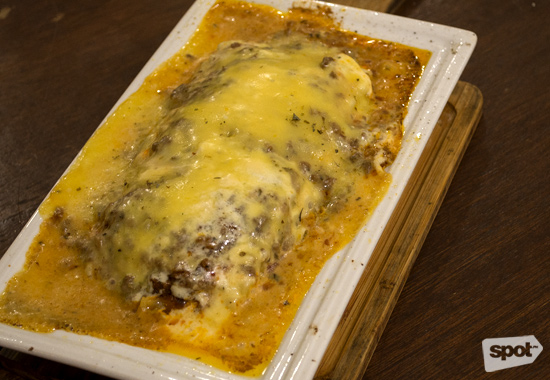 ADVERTISEMENT - CONTINUE READING BELOW
2. House of Lasagna's Beef Lasagna (P280)
This is the chain that lasagna built. From a small restaurant in San Juan to several branches at malls, House of Lasagna has something for everyone who loves the famous pasta dish. They have seven variants available, with the Beef Lasagna being the top favorite (because everything is a favorite here). It is served straight out of the oven, and the smell alone will make you want to dig into its cheesy, saucy, bubbling hot goodness. The servings are generous, and even though a portion may seem hard to tackle, the whole thing goes down easy because the ratio of meat to noodle to sauce is just right and the flavors go so well together. If you have enough space and are a fan of white sauce, we recommend that you also try the Carbonara Lasagna (yes, it exists!).
Click here for a list of House of Lasagna branches.
ADVERTISEMENT - CONTINUE READING BELOW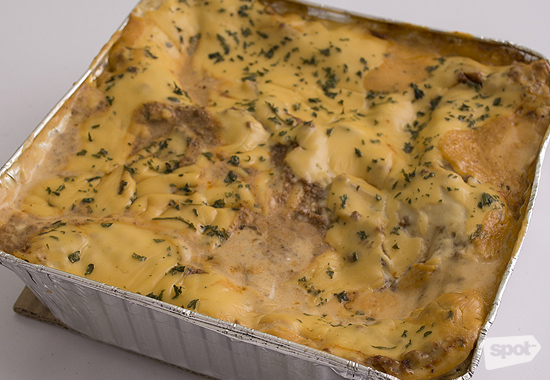 1. Bhe'st's Beef Lasagna (P350/good for two to P2,000/serves 24)
It's hard not to be skeptical of a brand that claims they are the Bhe'st, but try their Beef Lasagna and you'll understand that Bhe'st, which is a play on the owner's name, is truly the best. The flavor is intense, but the kind you can't get enough of. Everything about it is so spot-on, from the firm pasta, to the tasty beef, to the rich cheese sauce, to the garlic bread that you can order on the side (you should!). It is like the comfort food lasagna that we grew up eating, but a much better version. Equal parts rustic and sophisticated, it makes you want to take bite after bite, diet be damned. We guarantee that guests will be talking about this dish when you bring it to a potluck party, although sharing might be difficult once the first bite has been taken. For your sake, order several trays.
ADVERTISEMENT - CONTINUE READING BELOW
For orders, contact Bhe'st Beef Lasagna at 0917-836-0160. Order two days in advance. Delivery costs extra.
Photos by Hans Fausto
Recommended Videos
Load More Stories