Peanut butter in burgers, pasta, noodles, and fish? It's pretty good!
The Peanut Butter Company proves that everything is STILL better with peanut butter.
PB Co.
Basement Level, Estancia Mall, Capitol Commons, Kapitolyo, Pasig City
Open from 11 a.m. to 9 p.m. (Monday to Thursday) and 10 a.m. to 10 p.m. (Friday to Saturday)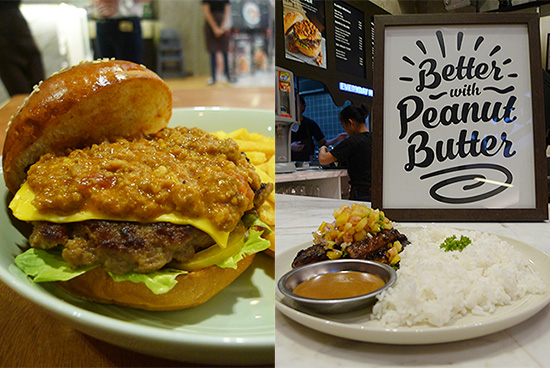 (SPOT.ph) The Peanut Butter Company has gotten a facelift. Relaunched as PB Co., the restaurant dedicated to making everything taste better with peanut butter doesn't only have a new name, it has a new look and new items on the menu as well. "We're staying true to using peanut butter in most of our food items just because we really believe that everything tastes better with peanut butter," says co-owner Pamela Chua.
Located in Estancia Mall in Pasig, their newest store boasts industrial and diner-inspired interiors designed to make diners feel at home. "We want people to come in and they feel comfortable and happy (even) before they start eating," Pamela says.
The menu is extensive, but not unfamiliar. "We started with familiar food," Pamela explains. "We didn't innovate anything—spaghetti, burger, soup—but what makes it special is you can never taste that type of food anywhere else because only ours contain peanut butter."
ADVERTISEMENT - CONTINUE READING BELOW
When asked what her favorites were, Pamela takes a deep breath and adds, "Everything."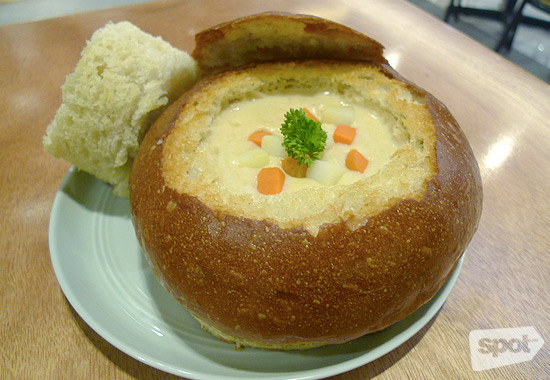 CONTINUE READING BELOW
Recommended Videos
Cream Cheese Chowder
Start off with the irresistibly named Cream Cheese Chowder (P168), a soul-warming mix of cream cheese, carrots, and potatoes served in a bread bowl.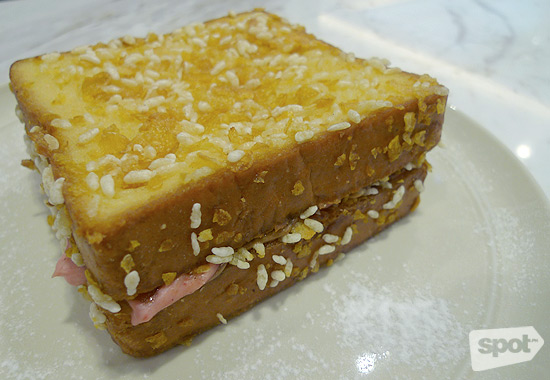 Crunchy Jamberry
"For merienda, definitely try our Stuffed French Toast selection." Her personal favorite is the Crunchy Jamberry (P320), French toast stuffed with cinnamon peanut butter and jamberry ice cream. "It's got a different texture," she inputs. "It's not your usual soft French toast. There's a cereal coating, so eating it is a different experience."
ADVERTISEMENT - CONTINUE READING BELOW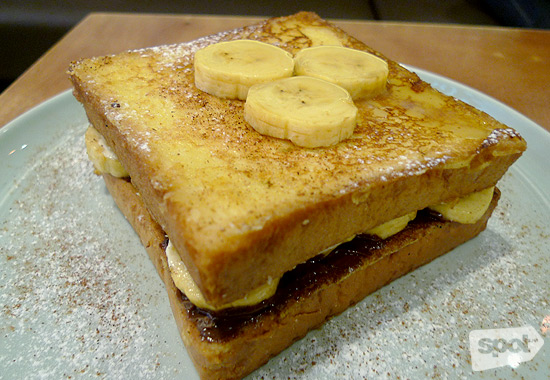 Stuffed Monkey
There's also the Stuffed Monkey (P245), French toast filled with dark chocolate peanut butter, fresh banana slices, and vanilla cream cheese. The cream cheese and the dark chocolate peanut butter add a little oomph to a comfort favorite.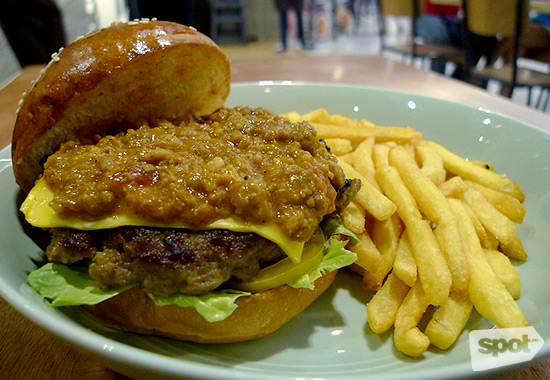 Sloppy Burger
"For burgers, definitely try the Sloppy Burger (P295). That's one of my favorites. It's different. We put the peanut butter in the Sloppy Joe," Pamela shares, before launching into Filipino. "Hindi ko ma-describe."
ADVERTISEMENT - CONTINUE READING BELOW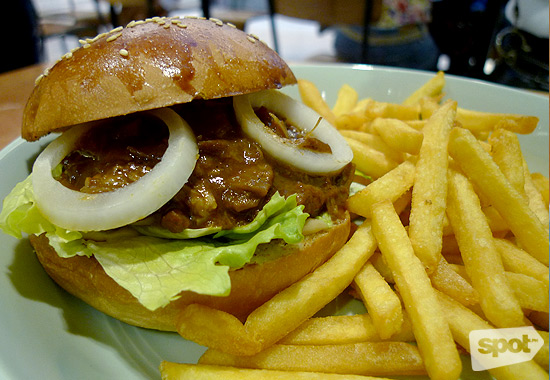 Pulled Pork Burger
Another American favorite is the Pulled Pork Burger (P285), pull-apart pork slathered with hickory peanut sauce.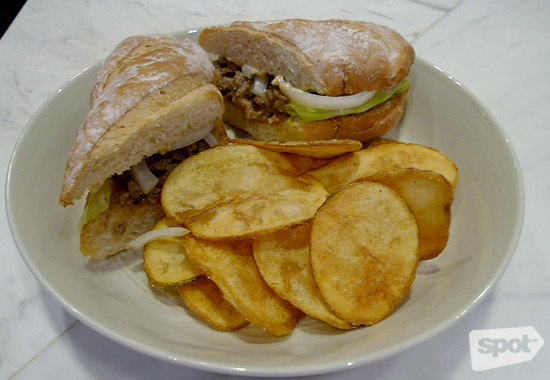 Roast Beef N' Gravy
The restaurant also offers sweet and savory sandwiches, all served with fries. The Marshmallow Dream (P185) is stuffed with marshmallow fluff, while on the opposite end of the spectrum, the Roast Beef N' Gravy (P285) has beef slices liberally covered in gravy served in a grilled hoagie roll.
ADVERTISEMENT - CONTINUE READING BELOW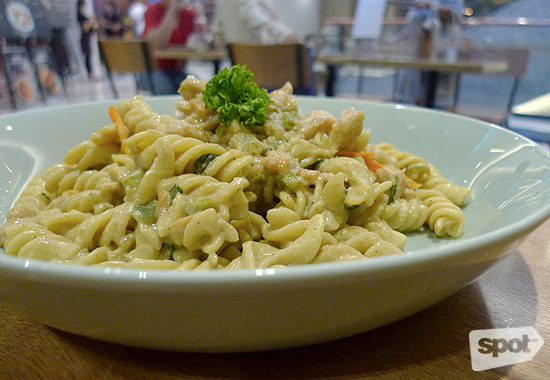 Creamy Curry Pasta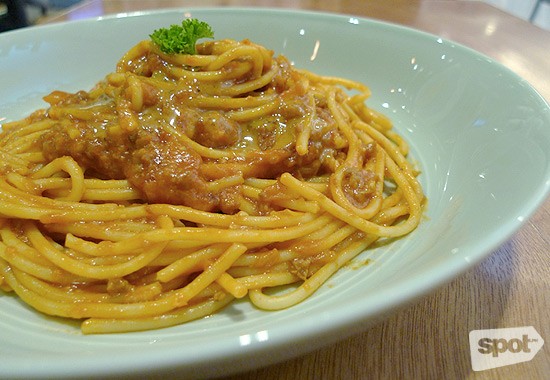 Classic Spaghetti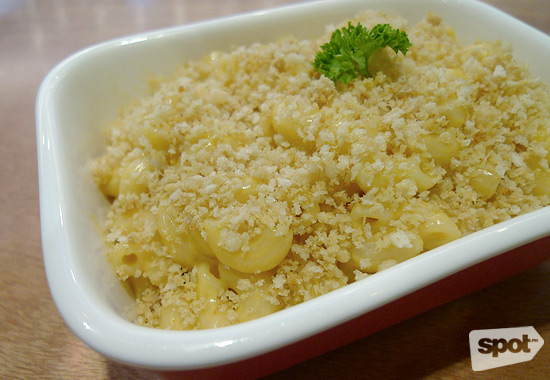 ADVERTISEMENT - CONTINUE READING BELOW
Mac & Three-Cheese
But wait, there's more! "When it comes to pasta, my favorite is the Creamy Curry Pasta (P220)," says Pamela. The dish is composed of spiral pasta in curry cream sauce with chicken pieces. A must-try is the Classic Spaghetti (P165), their take on tomato-based sauce made sweetish by the addition of peanut butter and tasting remarkably like a certain fast food chain's popular pasta. It's sure to be a hit with kids, and adults looking for a childhood comfort fix. The Mac & Three-Cheese (P165) is sprinkled with crunchy nut-crumb topping. It is small enough that it looks like you could finish it in one sitting, but ultimately so filling that you realize, nope, you really can't. "If I could eat a whole plate of that, I would, just because it works really well with the bread crumbs and peanut butter," Pamela says.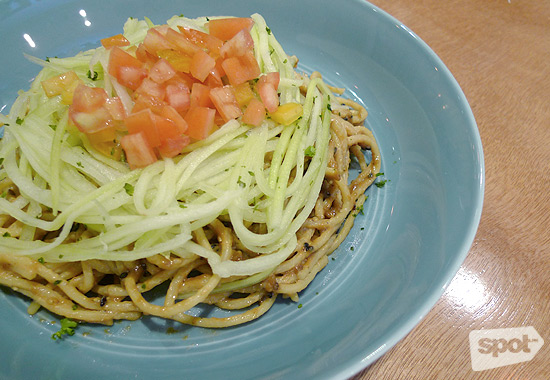 Cold Asian Noodles
ADVERTISEMENT - CONTINUE READING BELOW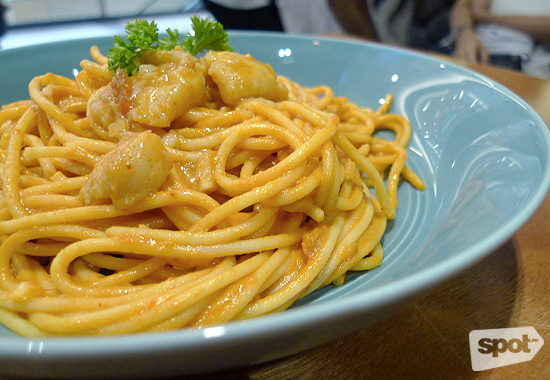 Fish Diablo Pasta
There are also more exotic offerings. The Cold Asian Noodles (P185), traditionally made with peanut sauce, fits perfectly in PB Co.'s repertoire, the peanut butter vinaigrette and fresh vegetables resulting in a light, refreshing dish. For people craving light protein, the Fish Diablo Pasta (P220), with spicy red sauce is topped with fish fillet pieces.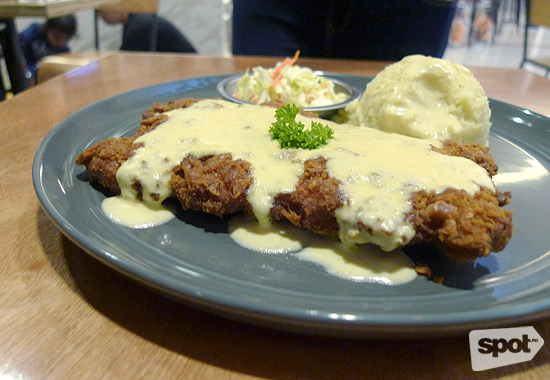 ADVERTISEMENT - CONTINUE READING BELOW
Country Chicken Steak
But it's in their signature meals that PB Co. truly gets to shine. The Country Chicken Steak (P320), chicken breast cutlet breaded in seasoned crackers and smothered in milk gravy served with mashed potatoes, is delicious. "It's marinated in peanut butter, so you can really appreciate how peanut butter works—this dish made me appreciate that there are really a lot of ways to incorporate peanut butter into your everyday meals," Pamela details. The peanut butter adds extra depth to the chicken, with the milk gravy inputting even more umami. The dish may sound strange to some, but it works.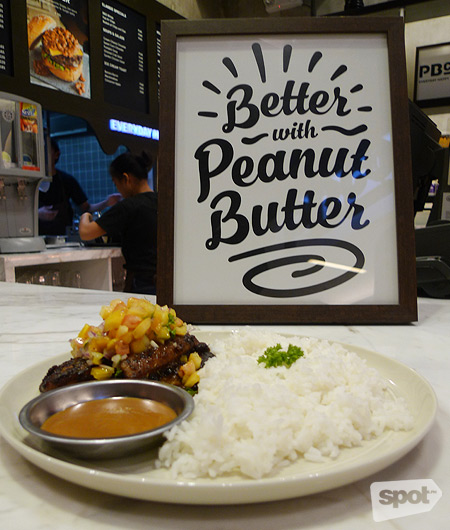 Cajun Fish Fillet
The Cajun Fish Fillet (P265), Cajun-seasoned, blackened fish fillets topped with mango-tomato salsa and served with peanut sauce dip, is a less extreme version of the Country Chicken Steak, since you get the peanut butter sauce on the side. If you're allergic to peanuts and or some reason find yourself in the restaurant, this seems like a safe dish to eat.
ADVERTISEMENT - CONTINUE READING BELOW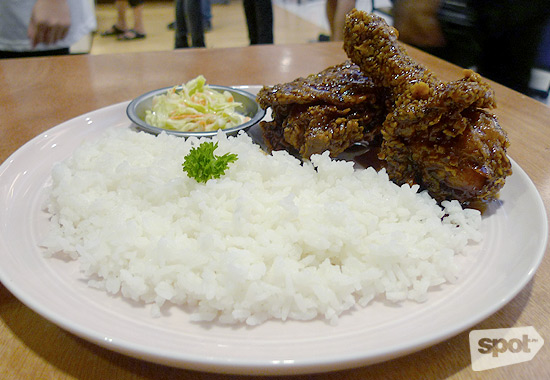 Hometown Fried Chicken
What you see is what you get with the Hometown Fried Chicken (P330). Coated in sweet soy garlic peanut butter glaze, the chicken pieces are tender, the skin crisp and umami-sweet.
There is also a large drink selection, with shakes such as the surprisingly light (for a shake) White Choco Cherry (P125), which features Maraschino cherries with white chocolate peanut butter, as well as lighter drinks like Basil Lemonade (P85), and a wide range of soda that includes hard-to-find drinks like Cherry Coke, Cherry Seven Up, and Dr. Pepper. "Mahilig mag-soda 'yong family ng husband ko, so we're always looking for different sodas," Pamela says. "It's a personal preference that we have variants."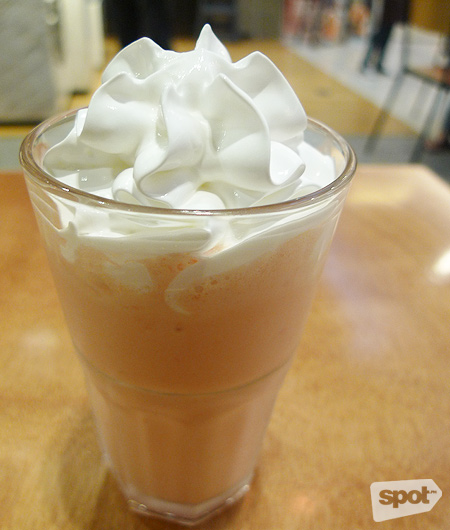 ADVERTISEMENT - CONTINUE READING BELOW
White Choco Cherry Lemonade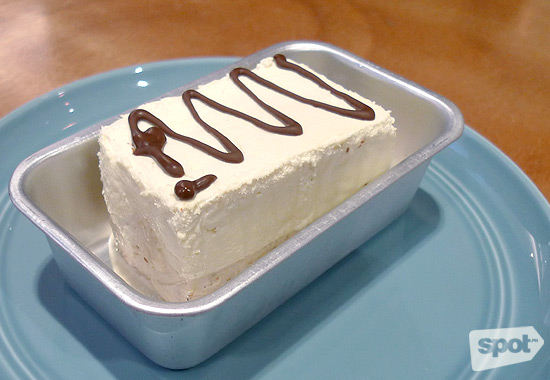 Marshmallow Ice Cream Toast
Another must-try are the Ice Cream Toasts—a cross between an ice cream cake and an ice cream sandwich. The Marshmallow (P165), for example, features marshmallow ice cream topped on toast ice cream with creamy peanut butter syrup. Try it because you're probably wondering how toast can become ice cream, then forget about the question as you absorb yourself in the dessert. "We also have a selection of cakes and pies. Favorite sa selection, crack pie, kasi addictive. My daughter's favorite is the S'mores pie. We really toast the marshmallow on top, so it's really good," Chua says.
Customers of the old Peanut Butter Company will notice a lack of exotic peanut butter flavors that used to line the shelves of the older restaurants. This is intentional. "We went back to basics in launching our peanut butter flavors because we don't want people to get confused," Pamela explains. "I want them to appreciate the peanut butter. After eating here, they want to have the peanut butter at home, it's easier to choose from selections that are familiar. We have creamy, crunchy, dark chocolate, white chocolate. Will we be launching the other flavors? Yes. Eventually, we'll bring them out, because people are looking for it. We just don't want to confuse people because most of the other flavors are savory and people don't know how to apply it yet. We'll give them something basic first, and if you want something a little different in your food, you come to PB Co. and eat it. For now."
ADVERTISEMENT - CONTINUE READING BELOW
But wait, there's still more! "We're hoping to bring out a couple more dishes, and then most probably put more peanut butter flavors out," Pamela says.
PB Co. may have been around for a while, but it seems that, especially with the makeover, the rest of Manila is finally catching up to what Pamela and her partners have known all along: that peanut butter really does make everything better.
Share this story with your friends!
---
Help us make Spot.ph better!
Take the short survey
Load More Stories