Top 10 Milkshakes in Manila (2015 Edition)
Which frothy, chocolatey goodness reigned supreme?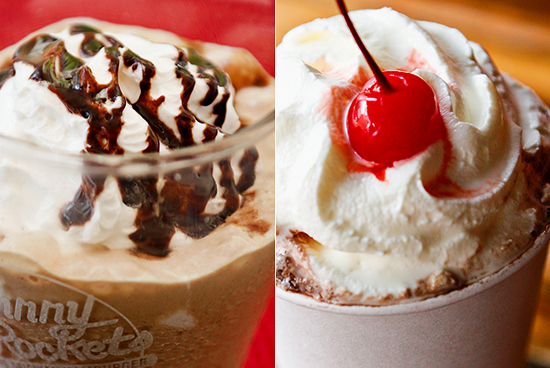 (SPOT.ph) Extremely ornate and too-sweet milkshakes from Down Under have gone viral over the past few months. See, milkshake joints all over Australia are cooking up ways to get mates to sample shakes that they garnish with anything and everything, from the classic and acceptable (e.g. sprinkles and cream) to the wild and decadent (e.g. popcorn, donuts, and even pecan pie).
While Manila has yet to jump on this sweet, crazy train (though we personally believe we're not that far behind), we give the city props for creating a solid milkshake following, thanks to foodstops that show us that classic, stripped-down milkshakes are every bit still special.
We round up the best of the best milkshakes in the Metro, and for comparative purposes, we've narrowed it down to just chocolate. Each one is a proud testament to how local milkshakes are still very much the real deal, and it goes without saying, a cause worthy of battling added inches on the waist and a serious case of brain freeze.
ADVERTISEMENT - CONTINUE READING BELOW
All SPOT.ph Top 10 lists are researched, paid for, tested, and selected by the writers and editors. They are discreetly conducted without any notice made to the restaurants or their owners.
Also read:
Top 10 Milkshakes (2011 Edition)
Top 10 Milkshakes (2013 Edition)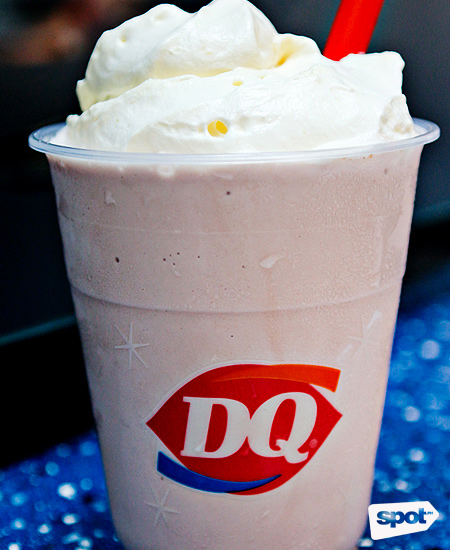 CONTINUE READING BELOW
Recommended Videos
10. Dairy Queen's Chocolate Milkshake (P98)
Securing a spot on our list is a trusty go-to for cold dairy treats: Dairy Queen's classic chocolate milkshake, a melted take on their famed ice cream base, infused with some chocolate syrup, and topped off with a dollop of sweet whipped cream. Because Dairy Queen has the foundation down pat—a brilliant soft-serve with a distinct flavor—do expect the drink to be naturally creamy and rich, exactly how a good milkshake should be.
Click here for a list of Dairy Queen branches.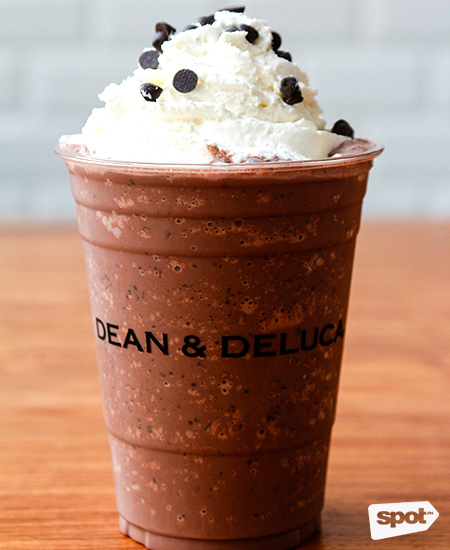 ADVERTISEMENT - CONTINUE READING BELOW
9. Dean & DeLuca's Dark Chocolate Chip Milkshake (P185)
The popular deli hailing from New York may be known primarily for its selection of specialty goods, but word is slowly spreading on their A+ milkshakes. Dean & DeLuca's dark chocolate chip variant, in particular, is a fresh addition to Manila's chocolate milkshake craze—one anchored primarily on sweet chocolate bases that appeals to the Pinoy palate. Dean & DeLuca's milkshake contains dark chocolate bits tossed in a velvety and pronounced chocolate blend, gritty sips of which prove that both rich and refreshing make a good combo.
Dean & DeLuca is at Rockwell Edades, Makati City. Read more about Dean & DeLuca.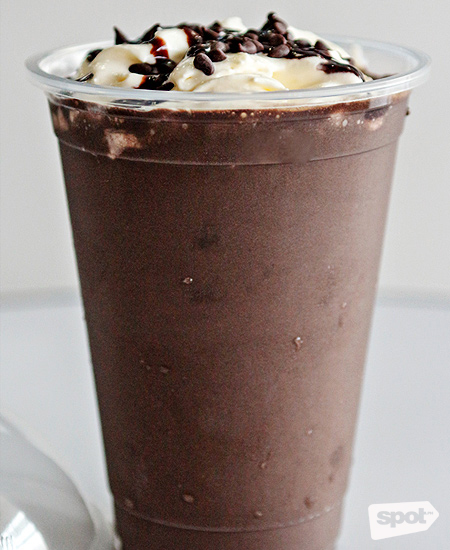 8. Sebastian's Artisan Ice Cream's Ultimate Chocolate Shake (P125)
We know unique flavors are the lifeblood of Ian Carandang's famed ice cream chain, so imagine our excitement when news spread that the same would be used for their latest addition to the menu—milkshakes! If you are a fan of their chocolate ice cream (as are we), know that with the milkshake counterpart, you'd be in for a treat. Just like the ice cream, the drink is as good as it gets: pleasantly thick and fudgy, but still with a consistency you can work with using your straw.
ADVERTISEMENT - CONTINUE READING BELOW
Click here for a list of Sebastian's Artisan Ice Cream branches. Read more about Sebastian's milkshakes.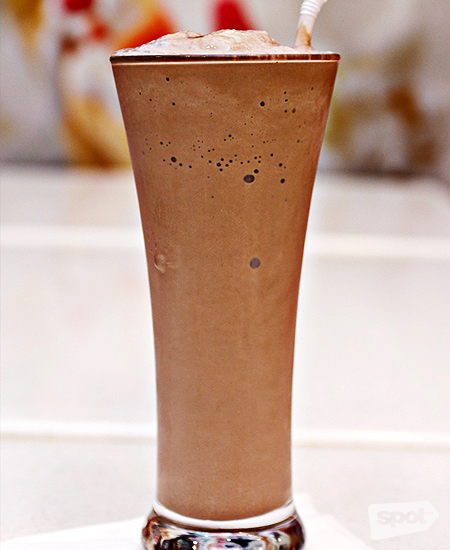 7. Cold Stone Creamery's Oh Fudge! Shake (P198)
Cold Stone Creamery is another ice cream chain that capitalizes on its range of superb frozen delights. The Oh Fudge! shake is a heavenly blend of the chain's bestselling chocolate ice cream, plus milk and fudge. The best thing about this milkshake is that it's free from pretense—just a no-fuss drink right off the blender. You just need a sip of this drink to validate its inclusion on the list; it's an obvious pleasurable treat for big fans of milk chocolate with a fudgy kick.
Click here for a list of Cold Stone Creamery branches. Read more about Cold Stone Creamery.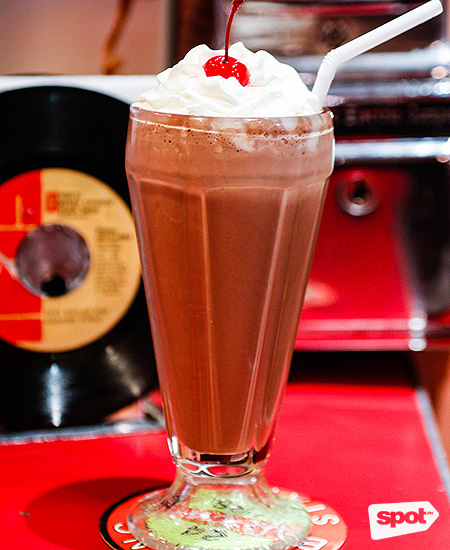 ADVERTISEMENT - CONTINUE READING BELOW
6. Filling Station Bar and Café's Chocolate Milkshake (P280)
What's a trip to a local diner without grabbing a milkshake to go with that burger? The Filling Station knows this trend all too well. It complements its savory dishes with a line of milkshakes that are carefully prepared to satiate cravings. Their chocolate milkshake is a crowd favorite and we clearly see why: this drink-dessert confirms that this diner does not scrimp on the necessary ingredients that make for an undeniably creamy, concentrated chocolate milkshake. While the drink is priced at a steep P280, you know you're paying for both quality and quantity (each glass comes with an extra helping!).
Filling Station Bar and Café is at 5012 P. Burgos Street, Barangay Poblacion, Makati City.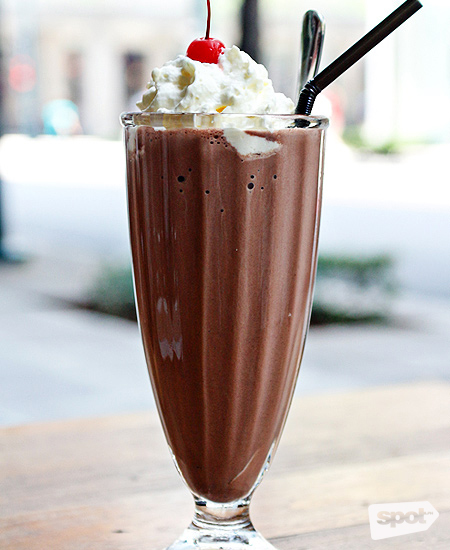 5. Farmacy's Very Thick Chocolate Shake (P260)
If consistency were to be measured on a dense-to-icy scale, Farmacy's chocolate milkshake would fall a little past the middle—leaning towards the too-dense extreme. Think slightly melted ice cream. In other words, consistency is ace here. Another reason why this milkshake is a keeper? It's the kind you can expect to be ridiculously delicious and smooth from start to finish. We attribute the decadent mix to the shop's commitment to use only ice cream made daily from natural ingredients, coupled with some malted milk and whipped cream.
ADVERTISEMENT - CONTINUE READING BELOW
Farmacy is at Net Lima Building, 4th Avenue Corner 26th Street, Bonifacio Global City. Read more about Farmacy.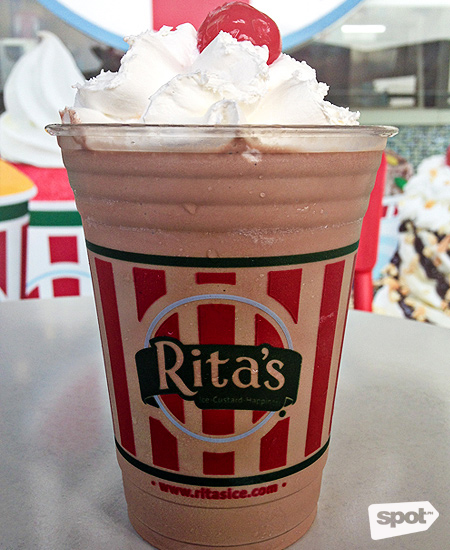 4. Rita's Italian Ice Chocolate Milkshake (P160)
Rita's milkshakes have taken the backseat from their Italian ice and frozen custard offerings, but we discovered that these gems are, on their own, quite a contender. Their chocolate milkshake, a spin-off on their well-loved frozen custard (only with more milk and cream) is heavy from top to bottom, the kind you could take as a snack, pre-meal. Servers make sure to pack each cup with as much melted custard as possible, before topping it off with a generous dollop of whipped cream and a large candied cherry.
Rita's Italian Ice has branches at V-Mall, Greenhills Shopping Center, San Juan City; and UP Town Center, Quezon City. Read more about Rita's Italian Ice.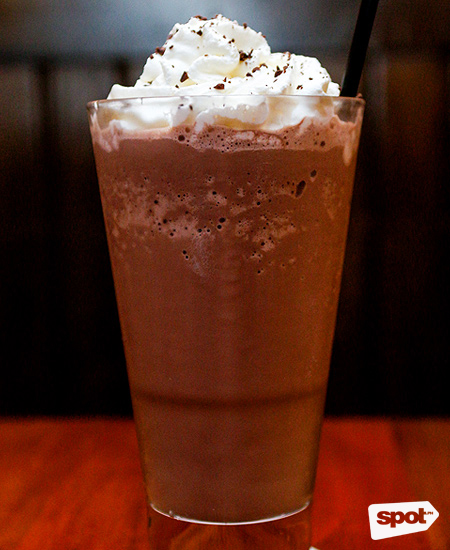 ADVERTISEMENT - CONTINUE READING BELOW
3. T.G.I. Friday's Double Chocolate Milkshake (P245)
If sweet and silky set the measure for an indulgent chocolate milkshake, T.G.I. Friday's Double Chocolate variant might just be your best bet. This too-good concoction slides down your throat almost effortlessly and leaves a light, fragrant brush on the lips after each sip. While the drink is served in a big glass filled to the brim, just a few sips in and you'd surely be thinking about another round. But we're not judging. After all, you can never really have too much of a good thing. At least not when it's chocolate.
Click here for a list of T.G.I. Friday's branches.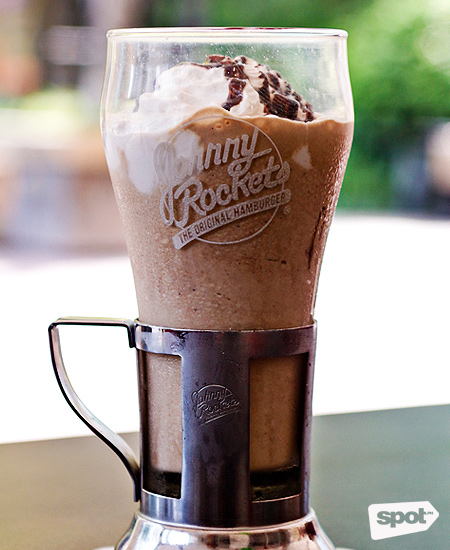 2. Johnny Rockets' Chocolate Milkshake (P215)
Johnny Rockets has long been a default stop for some quality-made milkshakes in Manila. This year, their chocolate milkshake, an impressive jumble of ice cream, malt, milk, and cream, is hailed the deserving runner-up. The drink reminds us of a fast-food favorite: a chilled treat that shares the same name as a popular snowman. The only difference is that Johnny Rockets' is more airy and slightly less sugary, a combination that fares perfectly well in our book. And if you get your fix on a Sunday, you get to enjoy it for just P150 as part of an ongoing promotion.
ADVERTISEMENT - CONTINUE READING BELOW
Click here for a list of Johnny Rockets branches.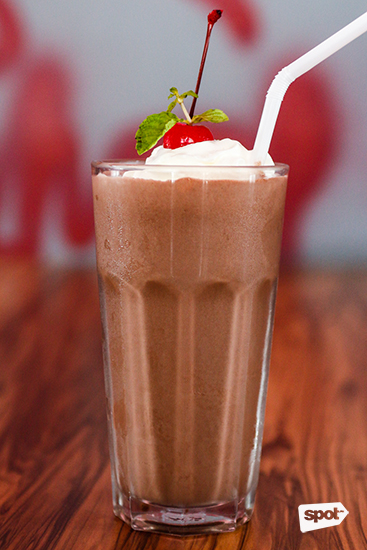 1. GRAMS Diner's Old Fashioned Chocolate Milkshake (P195)
It shouldn't come as a surprise that GRAMS Diner has once again topped our list, but for a different flavor, Old Fashioned Chocolate. (Their Whoppers Malt Milkshake topped our 2013 list.) We are again reminded that the diner can do a mean milkshake by ticking off several boxes: bold and distinctive flavors, a perfectly even thickness, the right amount of cream, and the addition of a surprising element just to set it apart from the pack. The most important qualifier, however, is its ability to distinguish a blend that cannot be replicated elsewhere. We say this with confidence: There's really nothing quite like GRAMS' Old Fashioned Chocolate Milkshake in Manila.
GRAMS Diner is at Crossroads Building, 32nd Street, Bonifacio Global City.
Photos by Jericho San Miguel
Share this story with your friends!
---
Help us make Spot.ph better!
Take the short survey
Load More Stories