10 Pizzas You Would Totally Love
But, surprise! They're not from pizza restaurants!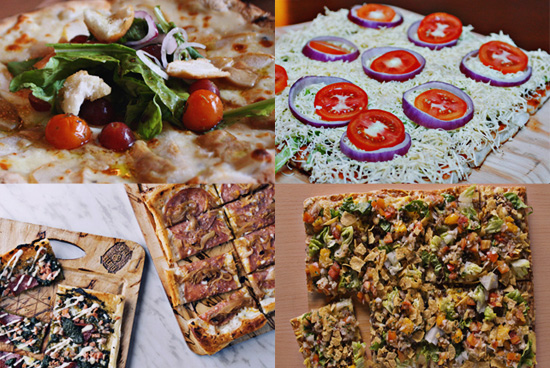 (SPOT.ph) We all have our pizza habits—from the convenience of a big chain to the comfort of a neighborhood joint to the surprises of more avant garde creators—but the versatility of this favorite food group makes it easy to integrate into any menu. Behold, 10 restaurants that don't exactly put their pizzas on the forefront, but with flatbreads that deserve recognition. Now, we're giving them their time center stage. These babies may be overlooked compared to other restaurants or other dishes, but when you're looking for the solace of a good ol' "picha pie" (Italians, don't kill us)—plus a little extra ingenuity—here's where you should go.
Also read:
SPOT.ph Round-Up: Where to Get Giant Pizzas in Manila
Top 10 Cheese Pizzas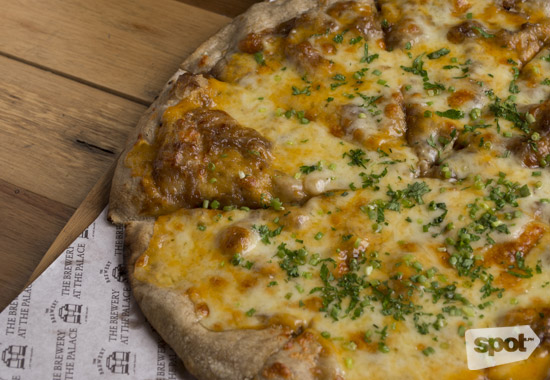 Microbrewery Cheese Pizza (P520) from The Brewery
We know Chef Carlo Miguel aces fish and chips, but he also rocks this gorgeous pizza. The crust has all the beautiful qualities we love about a handmade dough—crisp, but with a slight chewiness. The Brewery brews their beers in-house and this gooey wonder is one of the dishes that utilizes the beer's by-products. The crust is so superb, any topping they put on it would shine.
ADVERTISEMENT - CONTINUE READING BELOW
The Brewery is at The Palace, 10th Avenue corner 38th Street, Uptown Fort, Bonifacio Global City. Read more about The Brewery.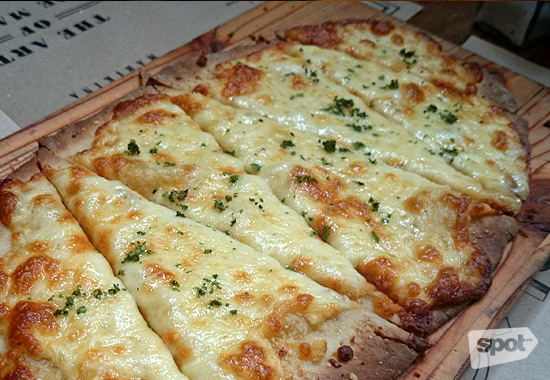 CONTINUE READING BELOW
Recommended Videos
Bianca (P285) from Industriya Marikina
A restaurant of this magnitude needs a menu that's just as expansive. Industriya Marikina has a 12-page "book" of dishes—plus a lot of off-menu items. Amid the round-the-world fare, this pizza stands out. It's a three-cheese, with the Gruyere breaking through wonderfully. The crust is toasted—taken off the oven just a second before it gets totally charred—and the crispiness is absolutely spot-on. There's a touch of smokiness, too!
Industriya Marikina is at 23 M.A. Roxas Street, Calumpang, Marikina City. Read more about Industriya Marikina.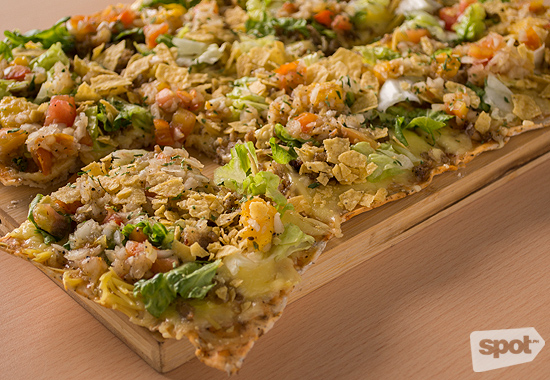 ADVERTISEMENT - CONTINUE READING BELOW
Tex-Mex (P305) from Olivia's Concept Cafe
If you can help yourself, try not to take too long finding the right Instagram angle for this pizza. It's best hot and fresh. Taking your time to eat it might turn the tortilla-thin crust into stale-nacho mush. Three hard cheeses, slaw, mango salsa, and crushed corn chips—this is actually a Tex-Mex taco converted to a pizza.
Olivia's Concept Cafe is at 102 Blue Residences, Katipunan Avenue, Quezon City. Read more about Olivia's Concept Cafe.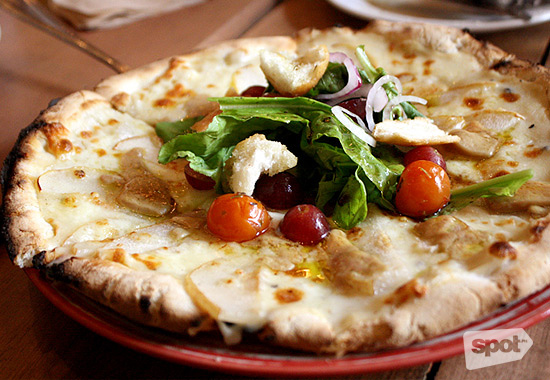 The Italian Market's Roasted Pear and Foie Gras (P650)
The linchpin of this restaurant is a P1.3-million wood-fire oven that burns as high as over a thousand degrees. Nearly everything on the menu is a product of this hunk of metal and because the temperature is difficult to control, no dish is exactly the same. The pizzas, for example, sometimes turn out extra crispy (should we say extra yum?). We love how The Italian Market plays with their combinations. There's an interesting combo of ham and fig, but this foie-gras topped flatbread is the real winner. Pears and grapes—very unlikely toppings—cut the richness while arugula furthers the complex profile with a dash of bitter nuttiness.
ADVERTISEMENT - CONTINUE READING BELOW
The Italian Market is at G/F Newport Mall, Newport Boulevard, Resorts World Manila, Pasay City. Read more about The Italian Market.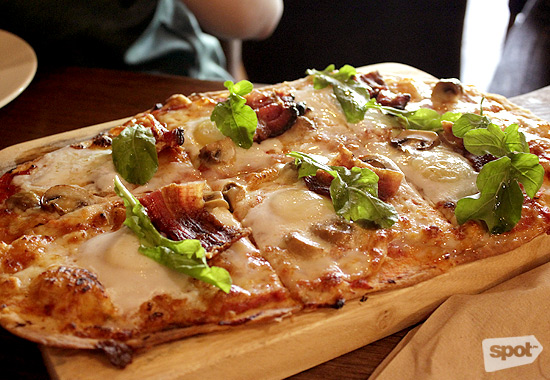 Breakfast Pizza (P295) from Single Origin
This pizza is pretty affordable for BGC prices. The crust is as thick as a cracker, deliciously crisp and toasted at all the right edges. It doesn't bend with the effort of carrying the load of toppings: quail eggs, crispy lean bacon, button mushrooms, and that spark from rocket. The quail eggs, by the way, are cooked soft and add extra finesse to this everyday dish. We could finish this oblong disc easy, and we'd have space for coffee, too!
Single Origin is at C3 Bonifacio High Street Central, Bonifacio Global City. Read more about Single Origin.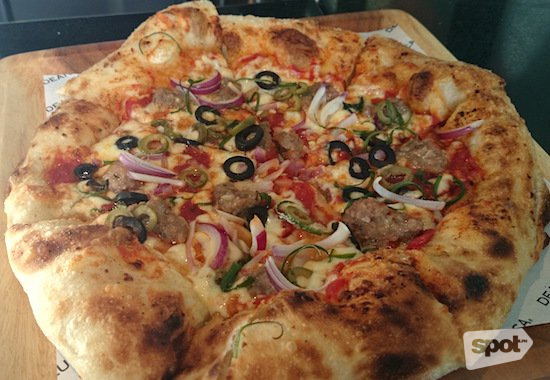 ADVERTISEMENT - CONTINUE READING BELOW
Dean & DeLuca's Homemade Sausage Pizza (P520)
New York's famous deli-boutique-restaurant churns out yummy homemade pizzas. It's the imperfect kind of dough, with random burned spots from the wood-fired oven, a rather bubbly crust, and a soft, soggy-ish center reminiscent of the Neapolitan style. It's loaded but not overwhelming. The sausage is delicious and deeply flavored; the melted cheese leaves delicious strings; and the olives, onions, and peppers even everything out.
Dean & DeLuca is at Rockwell Edades, Makati City. Read more about Dean & DeLuca.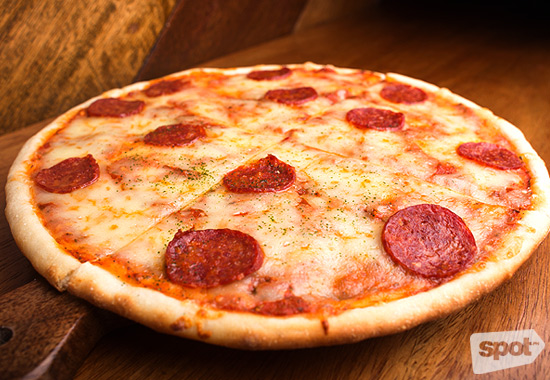 Frank & Dean's Pepperoni Pizza (P399)
This hipster-looking venue peddles surprisingly straightfoward pepperoni pizzas. The crust is textbook; you won't find any burned flaws in there, even when you're looking for them. The crunch feels like a slightly saltier breadstick, with a texture reminiscent to the old square-shaped Greenwich pies (those were the days). As for the toppings, well, nothing really beats pepperoni and cheese.
ADVERTISEMENT - CONTINUE READING BELOW
Frank & Dean is at G/F Forbes Town Center Open Garden, Burgos Circle, Bonifacio Global City. Read more about Frank & Dean.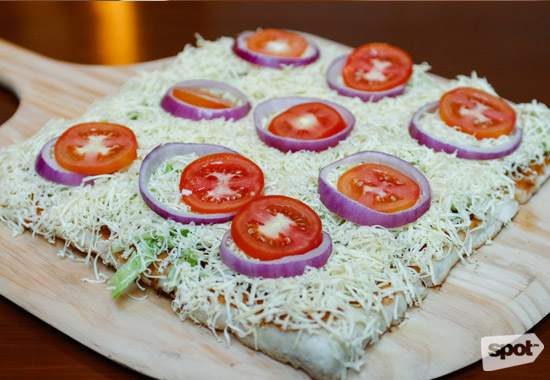 Comfort Tuesdays' El Taco Pizza (P489)
This Century City gem admits to taking inspiration from '80s classic Di Marks for their pizza. The El Taco has the thick white crust from our childhood and flourished with ground beef sauce, lettuce, onions, tomatoes, and cheese—all good stuff. Add some hot sauce on top of that nostalgia and you're good to go!
Comfort Tuesdays is at 4/F Century City Mall, Kalayaan Avenue, Makati City. Read more about Comfort Tuesdays.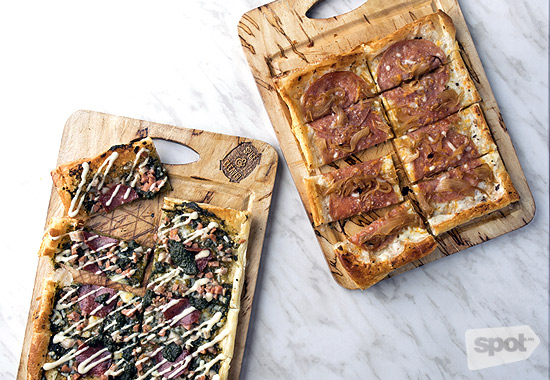 ADVERTISEMENT - CONTINUE READING BELOW
Miss Piggy Puffiza (P399) from Spice and Cleaver
This sausage haven doesn't bake your usual pizzas. To deliver an extra crunch, the folks behind Spice and Cleaver use puff pastry for their crust. It's a delicate yet hardy canvas for their creative formulae. The Miss Piggy, for example, is a throwback to the affair between Kermit and the former love of his life and the namesake of this dish. It's an intense pork-heavy arrangement of pesto with sausage, salami, pork face, forest ham, and bacon.
Spice and Cleaver is at LG/F Estancia Mall, Capitol Commons, Pasig City. Read more about Spice and Cleaver.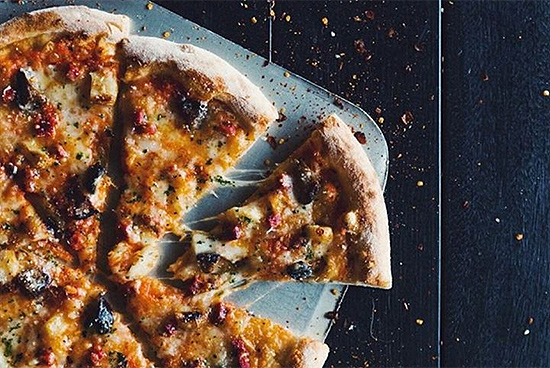 The Wholesome Table's Barcelona (P690)
It's not exactly surprising that The Wholesome Table makes pretty darn good pizzas. Owner Bianca Araneta Elizalde is married to Aria's Juan Elizalde (the first The Wholesome Table replaced Aria in Bonifacio Global City) so this restaurant obviously has some good pizza cred. When her all-organic sanctuary took over, Juan insisted that Bianca keep the oven, which she had to make room for in the kitchen! The Wholesome Table's pizzas are all freshly made and hand-stretched. In keeping with the supermodel's rules, there are no enhancers or additives. The Barcelona is a bestseller: tomato sauce and veggies partying with turkey chorizo, mushrooms, Pecorino Romano, and Parmigiano Reggiano.
ADVERTISEMENT - CONTINUE READING BELOW
The Wholesome Table pizzas are available at the C3 Bonifacio High Street Central, Bonifacio Global City branch. Read more about The Wholesome Table.
Barcelona photo from The Wholesome Table's Facebook page; other photos from SPOT.ph archives
Also read:
SPOT.ph Round-Up: Where to Get Giant Pizzas in Manila
Top 10 Cheese Pizzas
Share this story with your friends!
---
Help us make Spot.ph better!
Take the short survey
Load More Stories