Drink-all-you-can martinis and nostalgia mingle at Comfort Tuesdays
It's good any other day of the week, too!
Comfort Tuesdays
4/F Century City Mall, Kalayaan Avenue, Makati City
Contact: 938-0958
Open from 11 a.m. to 10 p.m. (Monday), 11 a.m. to 11 p.m. (Tuesday to Friday), 11 a.m. to 1 a.m. (Friday and Saturday), 10:30 a.m. to 11 a.m. (Sunday)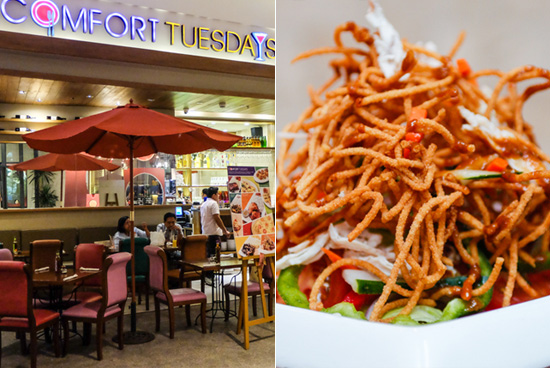 (SPOT.ph) After years of telling restaurant owners and caterers how to do it, R&D consultant Mat Tee decided it was his turn. "I like to research, I would do all the recipes, the costing, and the menus, " he said. "That was really my thing."
All this know-how obviously came in handy when he partnered up with a friend (a civil engineer by profession who has built her fair share of restaurants) to put up something of his own. He understands the importance of location, so when he saw the narrow space outside Hole in the Wall, a popular upscale food court concept in the sleek Century City Mall, he knew exactly what he wanted to do with it.
ADVERTISEMENT - CONTINUE READING BELOW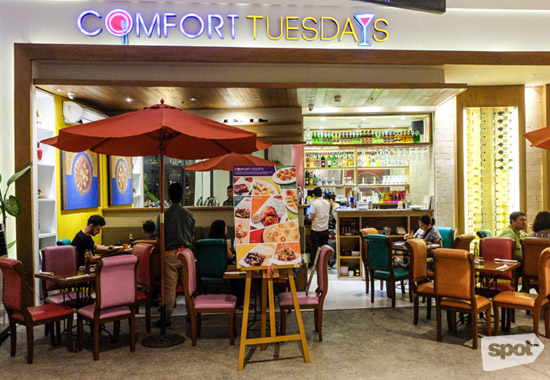 CONTINUE READING BELOW
Recommended Videos
Sandwiched between Hole in The Wall and Arrozeria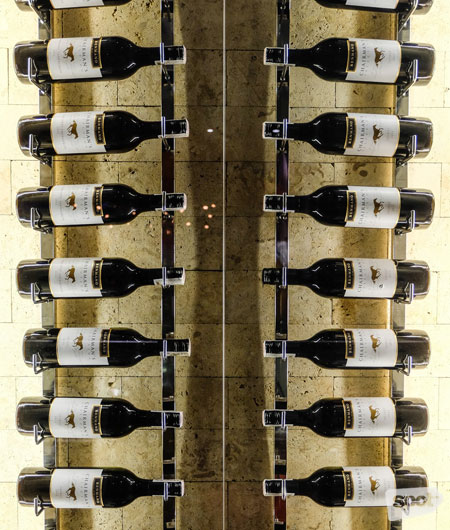 Comfort
Comfort Tuesdays sends out a very simple message: "Come by for a drink anytime, any day. Don't wait for the weekend, buddy. You've worked your butt off." The summer colors and beach umbrellas transport you to somewhere tropical and fun, while racks of wine promise to quench your thirst. Technically, they're indoors, but Comfort Tuesdays does have an extension in the al fresco area for those who prefer some Makati air.
ADVERTISEMENT - CONTINUE READING BELOW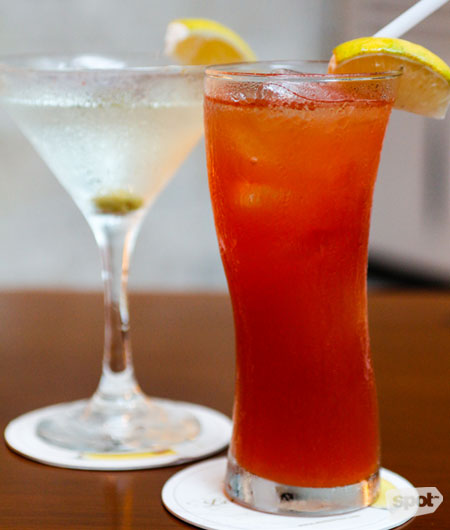 Comfortini and Sangria
The afternoon we dropped by was a warm one, so we cooled down with some martinis and sangrias. The Comfortini (P139) is a citrusy twist on the classic dry martini. They use vodka here, so if you want the traditional mix, you have to tell them. Non-drinkers do not have to feel left out with their Virgin Sangria (P125/glass, P379/carafe)—an effervescent concoction of orange, apple, and cranberry juices; their house iced tea; club soda, simple syrup, and lime.
We are happy to report that the food in this bar is not an afterthought. In keeping with the moniker, Comfort Tuesdays offers comfort food. There's a nostalgic element, which was really Mat's plan. He says, "Since I'm an R&D guy, I like to replicate my favorite dishes from restaurants at home." Some dishes, he adds, are combinations of different elements he picked up along the way, while others are his personal versions.
ADVERTISEMENT - CONTINUE READING BELOW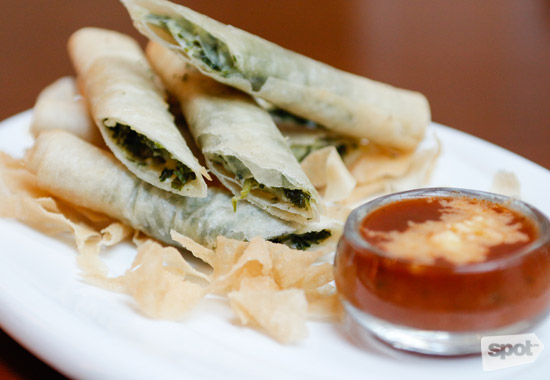 Comfort Spring Rolls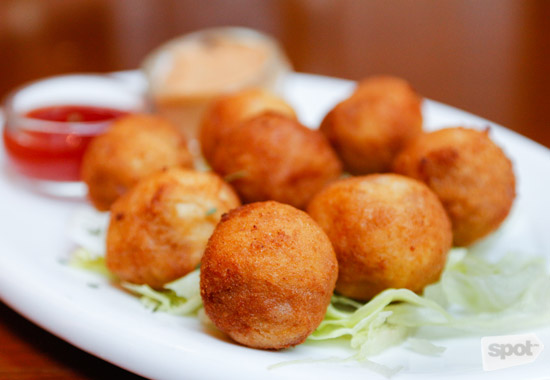 Chicken and Ham Croquetas
If you close your eyes, the Chicken and Ham Croquetas (P199) will trick your mind into thinking that you're biting into a creamy and cheesy cordon bleu. A crowd favorite, Mat reveals that this dish seals the deal when they do food tastings for catering accounts and lease applications (like for their soon-to-open branch at McKinley Hill). We wish we could order a bag of this to bring to the cinema! Another popular starter—or light lunch—is the Oriental Chicken Salad (P279), the crispy noodles and sweet Asian dressing playing on textures and bold flavors.
ADVERTISEMENT - CONTINUE READING BELOW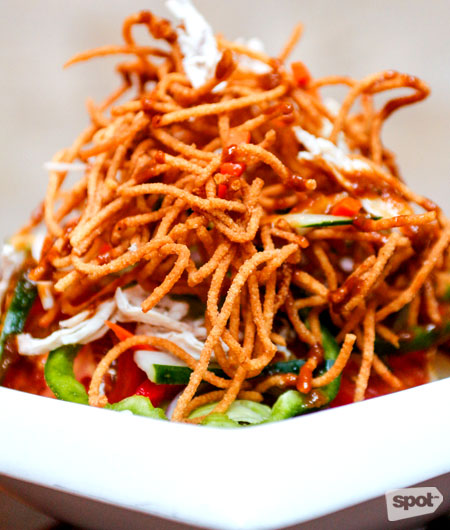 Oriental Chicken Salad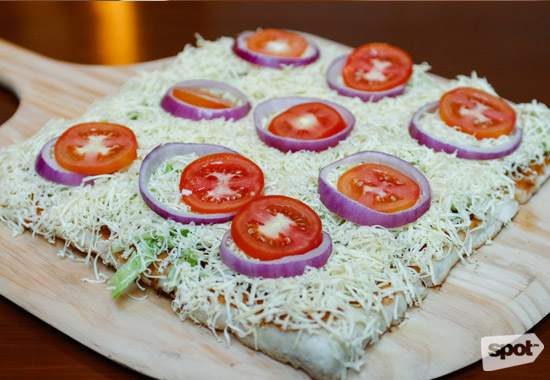 El Taco Pizza
The El Taco Pizza (P489) got us excited because it reminds us of a similar invention from a classic Italian joint from the '80s. True enough, Mat admits where he took his inspiration. "Yes, I love the taco pizza of Di' Marks so I tried to copy it. Why not? It's delicious!" We think so, too. There's a giddy feeling with every bite of its thick-yet-crisp flatbread crust, topped with a ground beef sauce, lettuce, onions, tomatoes, and cheese. A splash of chili oil adds just enough heat to complete the experience.
ADVERTISEMENT - CONTINUE READING BELOW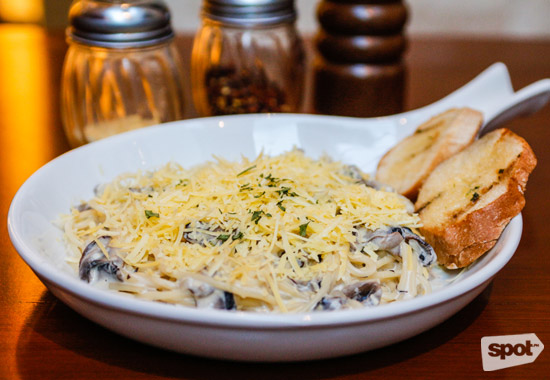 Portobello Mushroom Creamy Pasta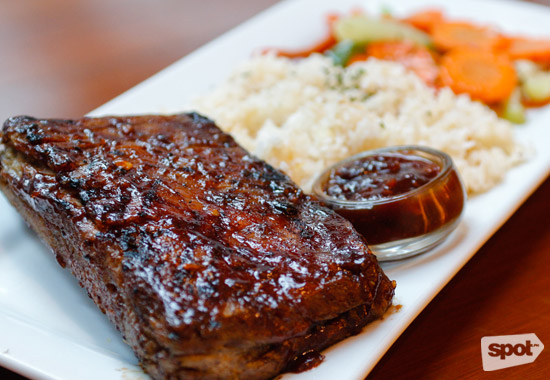 BBQ Grilled Short Ribs
The Portobello Mushroom Creamy Pasta (P359) is exactly what it says it is, and fits right into the comfort food theme. What just might get us to come back, though, is their BBQ Grilled Short Ribs (P439)—glazed with a sweet hoisin-based sauce, the meat is fall-off-the-bone tender and juicy. To keep with the Asian flavors, they serve this with garlic rice and it's a perfect match. Truth is, we could eat this dish for days.
ADVERTISEMENT - CONTINUE READING BELOW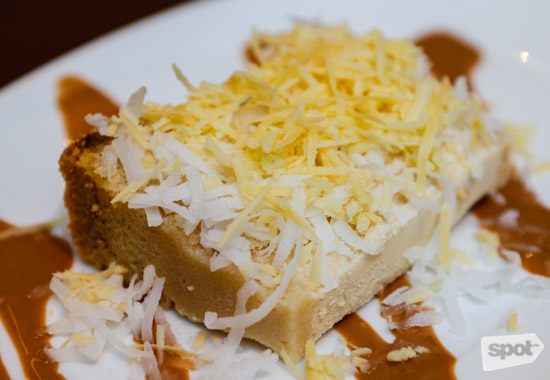 Homestyle Coconut Cheesecake
Dessert lovers can end their meals here with the Homestyle Coconut Cheesecake (P229)—baked, and topped with cheese, pastry cream, and dried coconut. You get the classic flavors with an island twist.
You might come for their crazy drink promos: the all-day unlimited wine for P499 or drink-all-you-can Comfortinis for P269. You will, however, definitely stay for the nostalgic comfort food. Who cares if it's the beginning of the work week? You deserve it!
Photos by Jericho San Miguel
Share this story with your friends!
---
Help us make Spot.ph better!
Take the short survey
Load More Stories