New Restaurant Alert: Anu'man Kitchen + Pub at Kapitolyo, Pasig
This restaurant prides itself on being an LGBT-safe space.
Anu'man Kitchen + Pub
Unit H, 16 United Street, Kapitolyo, Pasig City
Contact: 0917-856-4511, 0905-209-1207
Open from 5 p.m. to 12 a.m. (Tuesday to Thursday), 5 p.m. to 2 a.m. (Friday to Saturday), 3 p.m. to 12 a.m. (Sunday)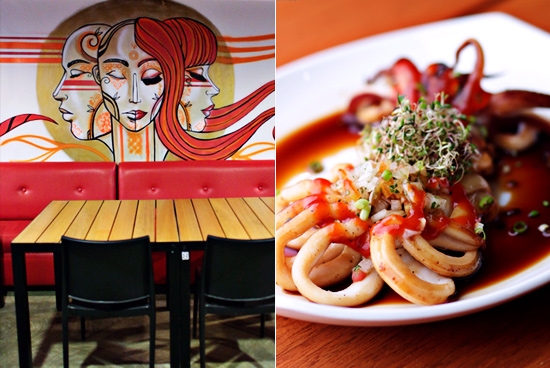 (SPOT.ph) Anu'man, which bills itself as an LGBT safe space, is a bit of a challenge to find. It's located across Ace Water Spa in Kapitolyo, but to get there, one has to enter a nondescript entryway that looks like the entrance to another place, which leads down a charming alley lined with shipping containers that have been converted into restaurants. An apt metaphor, if there ever was one.
We asked Tina Agel-Romero, a partner at Anu'man, why they needed to advertise it specifically as an LGBT-friendly space. "It's not that we're playing it up," she explains. "We wanted to be proud of what we are and who we are. We wanted a place where we could be safe. There are no restaurants currently catering to that need, so it's a necessity for us."
ADVERTISEMENT - CONTINUE READING BELOW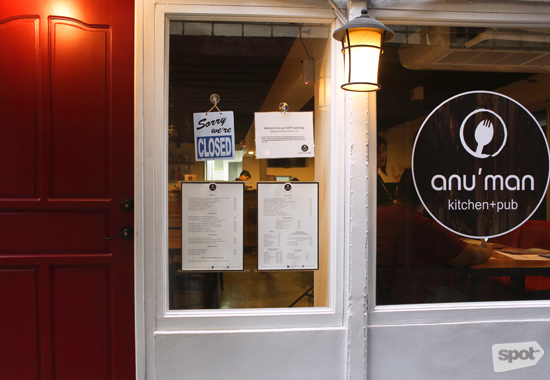 CONTINUE READING BELOW
Recommended Videos
Look for this door.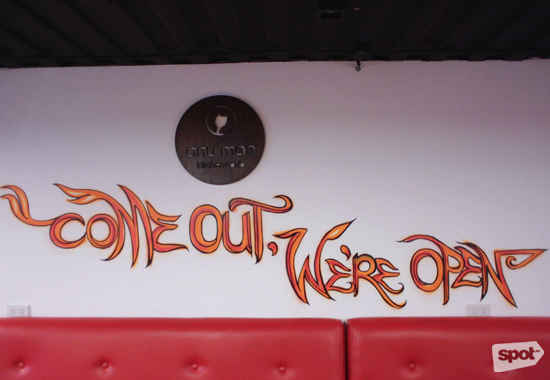 The tagline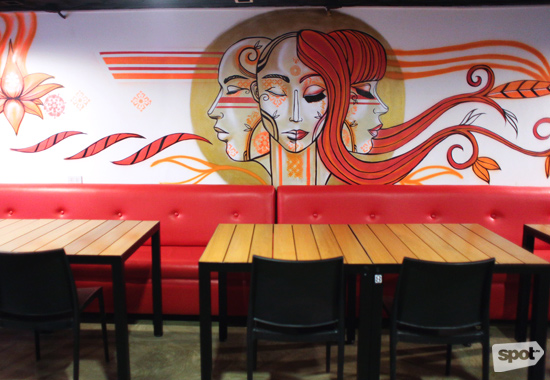 ADVERTISEMENT - CONTINUE READING BELOW
Dee Jae Pa'este's signature art
The restaurant is intentionally sparse, with wooden tables amid white walls, the main one decorated with a mural by Dee Jae Pa'este, whose works dot the urban landscape. The lights are mellow, the music is a mix of chill and clubby. Anu'man's logo is a spork (we see what you did there); its tagline, printed on the menu, is 'Come OUT, we're OPEN.' "It's about us being comfortable, so when you come into a restaurant with your partner, you want a place na di kayo pag-uusapan or anything like that," Tina adds. "Not to belittle any restaurant; this is just our take on that."
The dishes are a mix of comfort food from different cuisines, all of them with amusing names. "I thought of all of the names because I wanted something funny so it's interesting for guests," Tina says.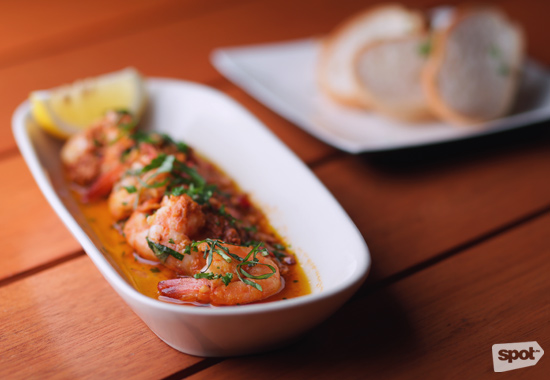 Hot na Hipon
ADVERTISEMENT - CONTINUE READING BELOW
The Hot na Hipon (P250), spicy aligue gambas served with baguette slices, is delicious. Plump shrimp are fried in butter with generous helpings of crab fat. It's artery-clogging and nape-ache inducing in all the best ways.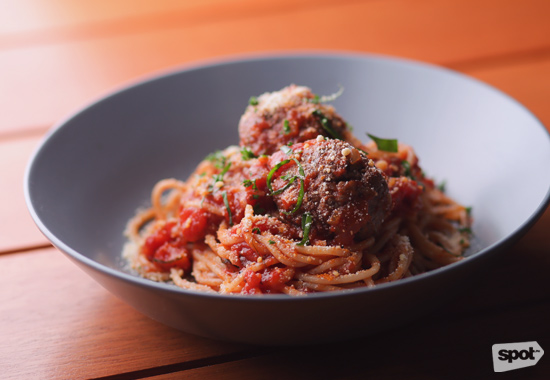 Kilig to the Balls
Kilig to the Balls (P175) is described as a mozzarella-stuffed meatball pasta. The pasta is good; it's not sweet but full of tomato flavor. There are plans to adjust the mozzarella content to meet diners' expectations, but as regular meatballs go, their version is not bad.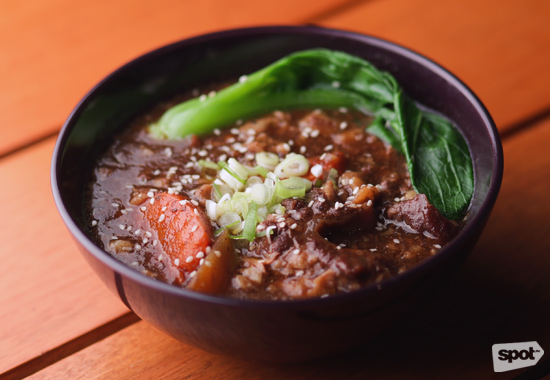 ADVERTISEMENT - CONTINUE READING BELOW
Tipsy Beef
The Tipsy Beef (P225)—nope, not pig—is described as "beef short ribs in red wine stew," except it looks and tastes more like Korean beef stew. Yummy Korean beef stew with tender meat swimming in savory-sweet gravy with root vegetables and a single green for color. It's perfect with the aptly named White Lies (P30), Anu'man's moniker for that insidious agent of goodness, plain rice.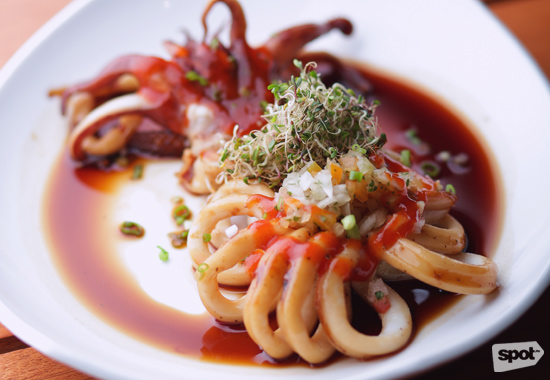 Pusit Pusit Some More
Pusit Pusit Some More (P250) is grilled squid in a sweet mixture drizzled with hot sauce, served with sprouts and salsa. The squid is tender, the sauces blending well together as far as flavor profiles go. It's a dish that goes well with rice and beer, or just beer, actually.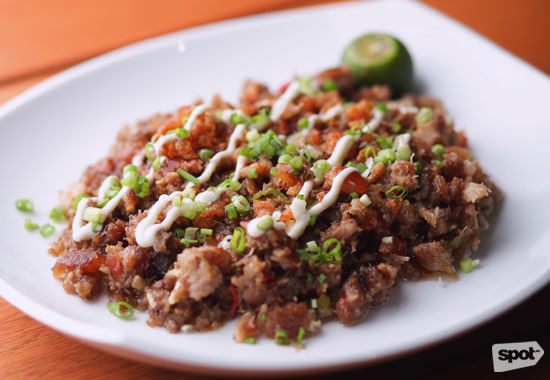 ADVERTISEMENT - CONTINUE READING BELOW
Ang Pinakamakisig na Sisig sa Balat ng Lupa
The Ang Pinakamakisig na Sisig sa Balat ng Lupa (P185) distinguishes itself from regular sisig through its taste and texture. The minced pork is served with a ring of barbecue sauce and mayonnaise, and though mayo on sisig is a contentious subject, this particular pairing works to boost the smoky-sweet flavor. The dish tastes like warm spicy pork floss, an element that has been described as "pulled pork-like." Anu'man doesn't pull punches when it comes to the spice levels in their dishes, so folks with tender taste buds should request less heat in advance.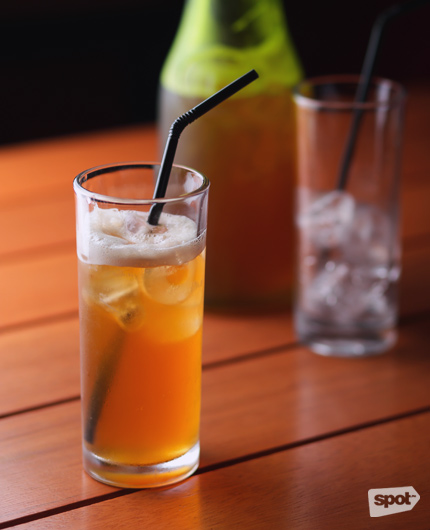 Houseblend Iced Tea
Anu'man's Houseblend Iced Tea (P55 to P175) is a less sweet version of regular iced tea. Trust us, this is better than it sounds. The tea has a sweetness level that can only be described as tantalizing. Neither too sweet or not sweet enough, it's a drink that sits back and lets the food take over, coming in to quench thirst at the last moment; the sidekick to the meal.
ADVERTISEMENT - CONTINUE READING BELOW
The restaurant is still on soft opening, so the dishes are in a state of flux, and the owners are always interested in hearing about how they can make the dining experience more memorable. It's not a bad start as it is, and one hopes that things will only get better. And you don't have to be part of the LGBT community to dine here. "We're not closing our doors to the straight community. It's basically for everyone and anyone, hence the name Anu'man," Tina says. "We feel that we're unique, but that it's a necessity, that there's a need for a place like this. For example, in terms of the feedback we've gotten, people are messaging us that they're really glad that they have a place to go to where they can hang out because currently, the places that cater to the community are bars, there's no restaurant na kakain ka lang, then you can chill."
Tina adds that there are plans to host activities like film showings, quiz nights, and speed dating events to bring the community together, and who knows, maybe prompt the beginnings of a few couples as well.
Anu'man's existence raises an interesting point: Manila may claim to be more tolerant than most places when it comes to gender equality, but "more tolerant than most" is not enough. While the LGBT continue to press for equal rights, places like Anu'man exist for them to be who they are without fear of judgment, all while eating good food.
ADVERTISEMENT - CONTINUE READING BELOW
Photos by Majoy Siason
Share this story with your friends!
---
Help us make Spot.ph better!
Take the short survey
Load More Stories